Week 6, maybe 7 of stay at home because of the virus. It has been truly a time of doors closed to us. It's been difficult for all of us, reduced to telephone and facetime conversations. My granddaughters have been especially on my mind.
So when I got the idea to use a door to absorb my energy (and no, not by slamming it a few dozen times, tempting as that might have been), I couldn't undo the thought.
I picked a door that is part of the core space of our open kitchen and dining area.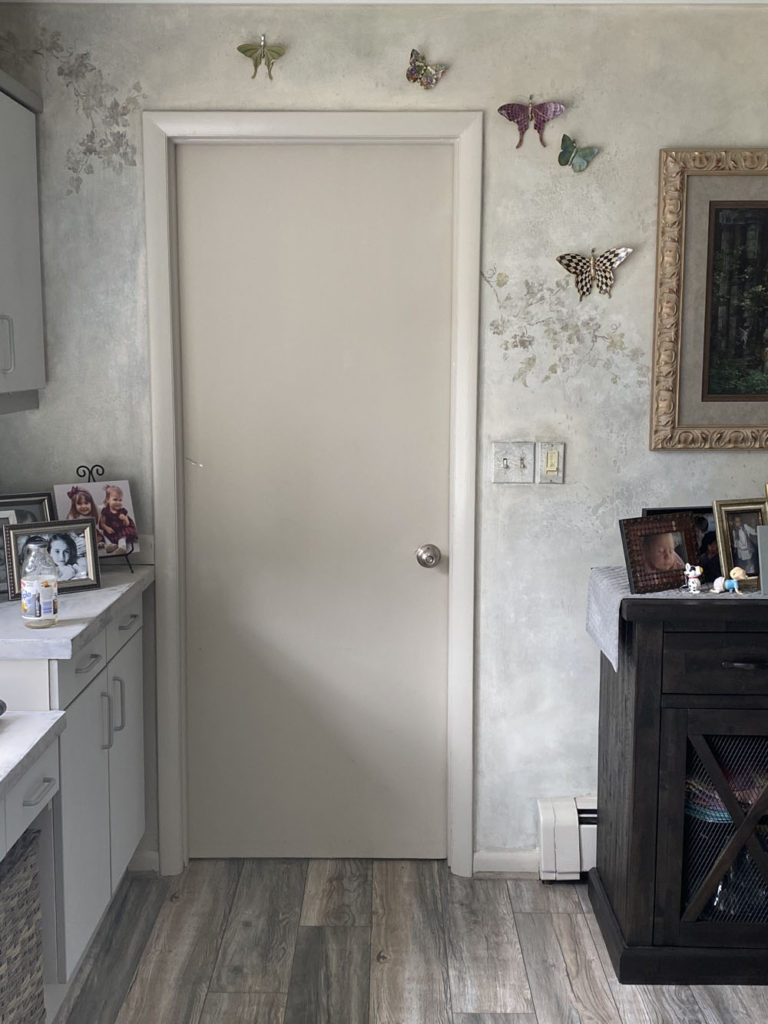 I'd paint this door to fill that void in my heart.
While deliberating which photo I'd use, top choice became an older picture that captured my two older granddaughters perfectly. It's three years old now. Harper was just a few months shy of her fourth birthday, Darcy was two years and three months. I loved their sturdy little legs and Harper's protective arms around Darcy's shoulders. My son Ryan had caught this perfect moment.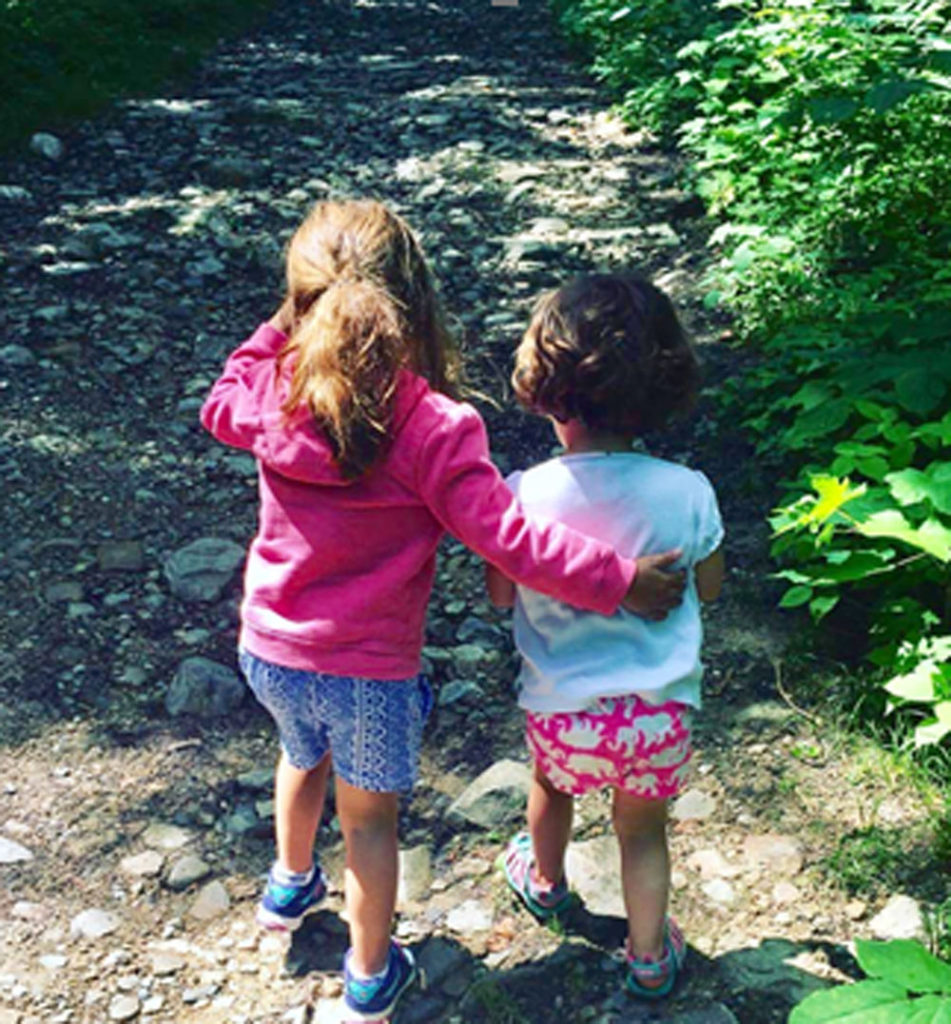 In fact, I liked this photo so much, I'd painted it once already on a 3′ x 3′ canvas for their bedroom a few years ago.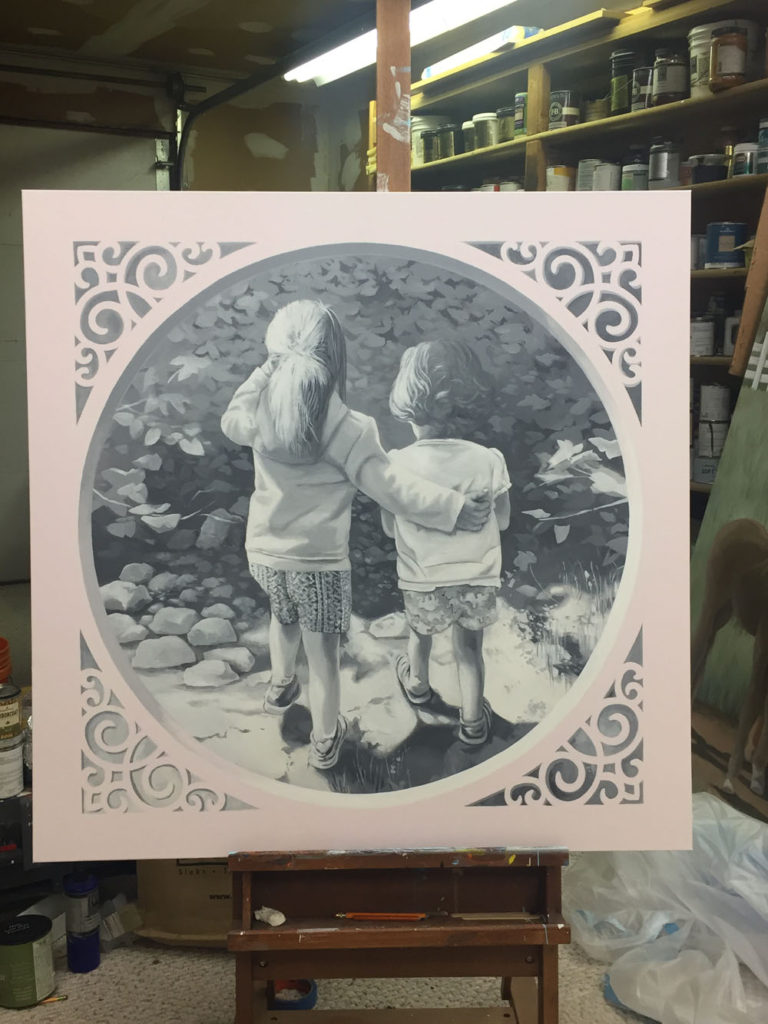 But this would be much more of a challenge, painting it in color. I used one of my favorite trompe l'oeil vehicles, an open garden gate to situate the girls and created a whimsical forest background in the distance.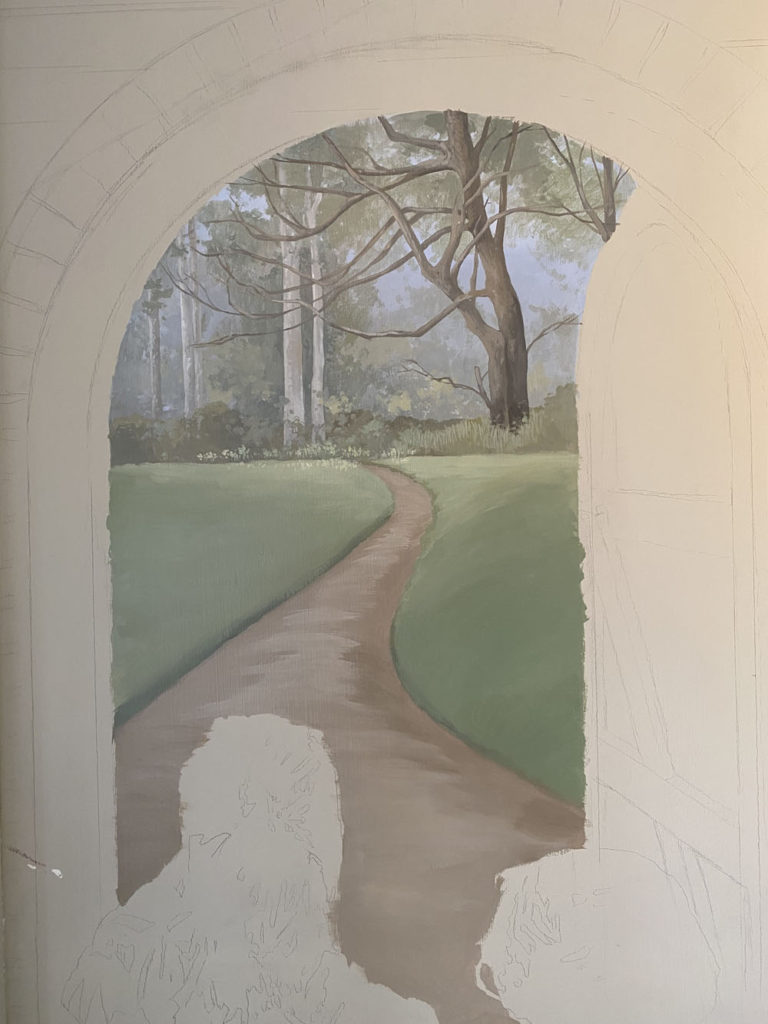 I also admit to copying myself here from a recent mural that had painted brick with ivy. Here's a closeup of the mural featured this past October's newsletter.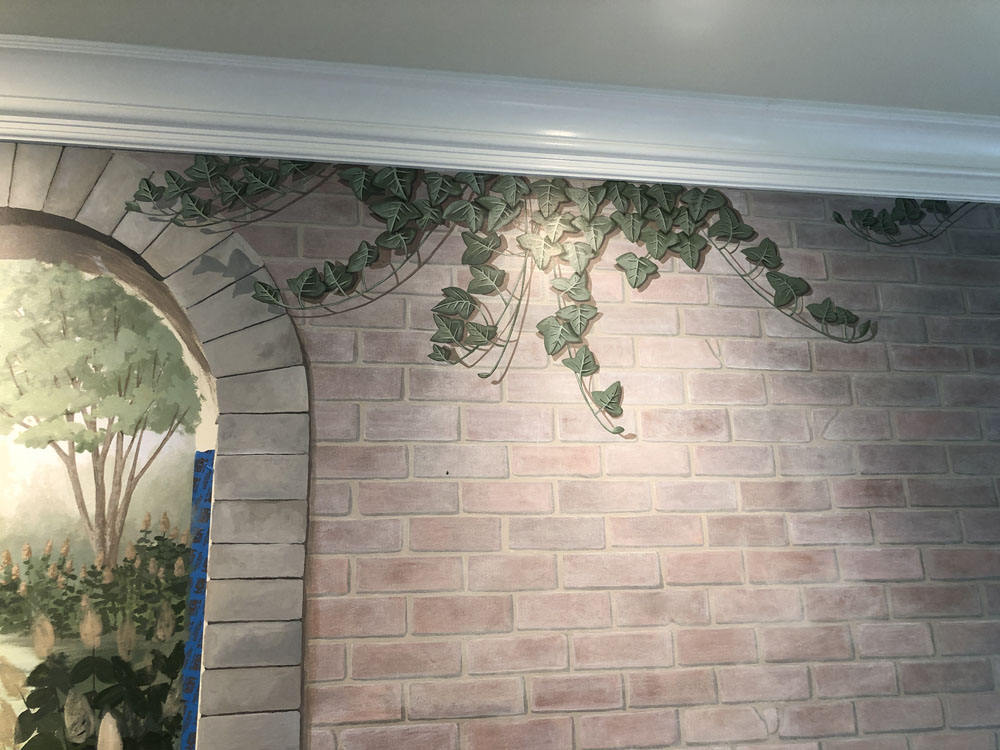 Pat myself on the back here. I'd loved the result of that painted ivy, and thought what a perfect addition to my own mural.
And the painting continued. I found myself lost for hours in fabric details.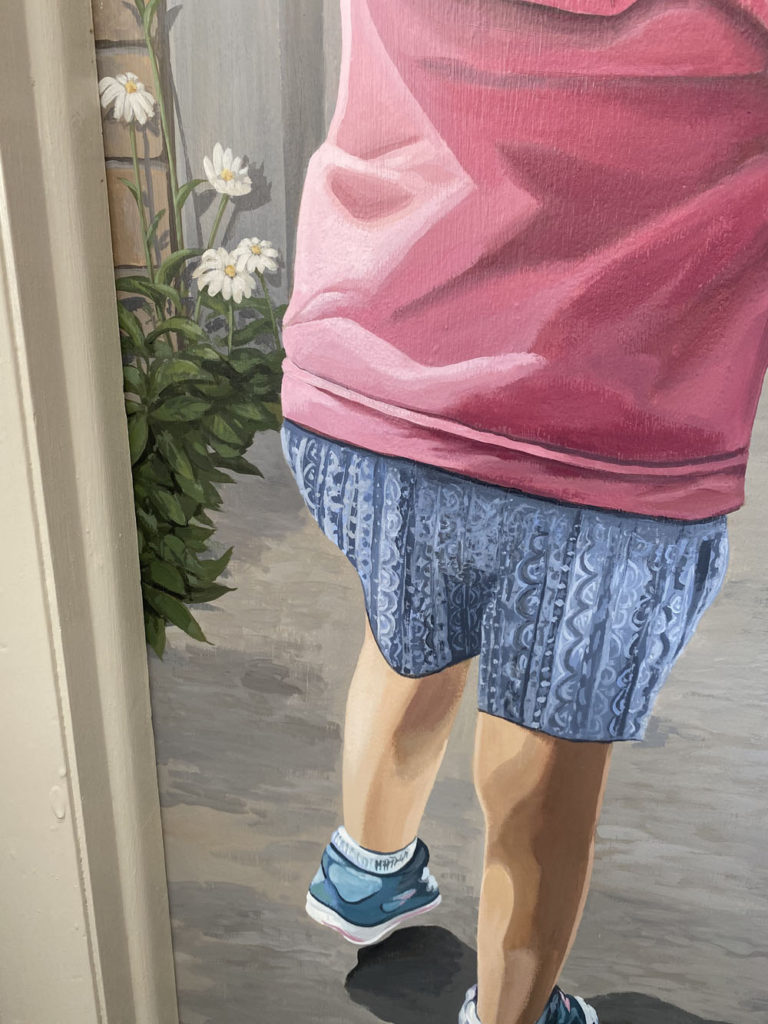 I admit, I was glad to have the time to get this as perfect as I could, knowing I am my own harshest critic.
And then it was done. Here are two views. One straight on, and one from an angle so you can see it from where I sit and drink my coffee. I have a big smile every time I look at it.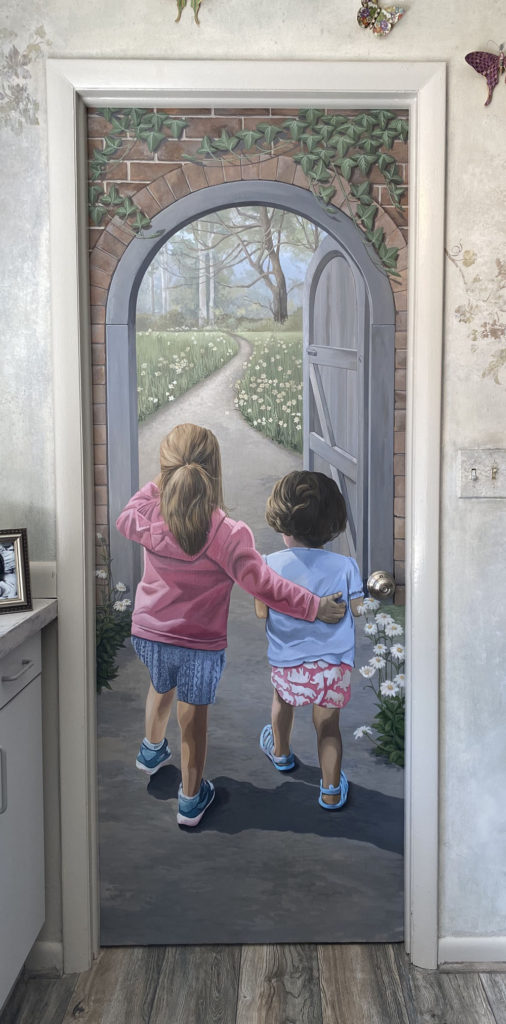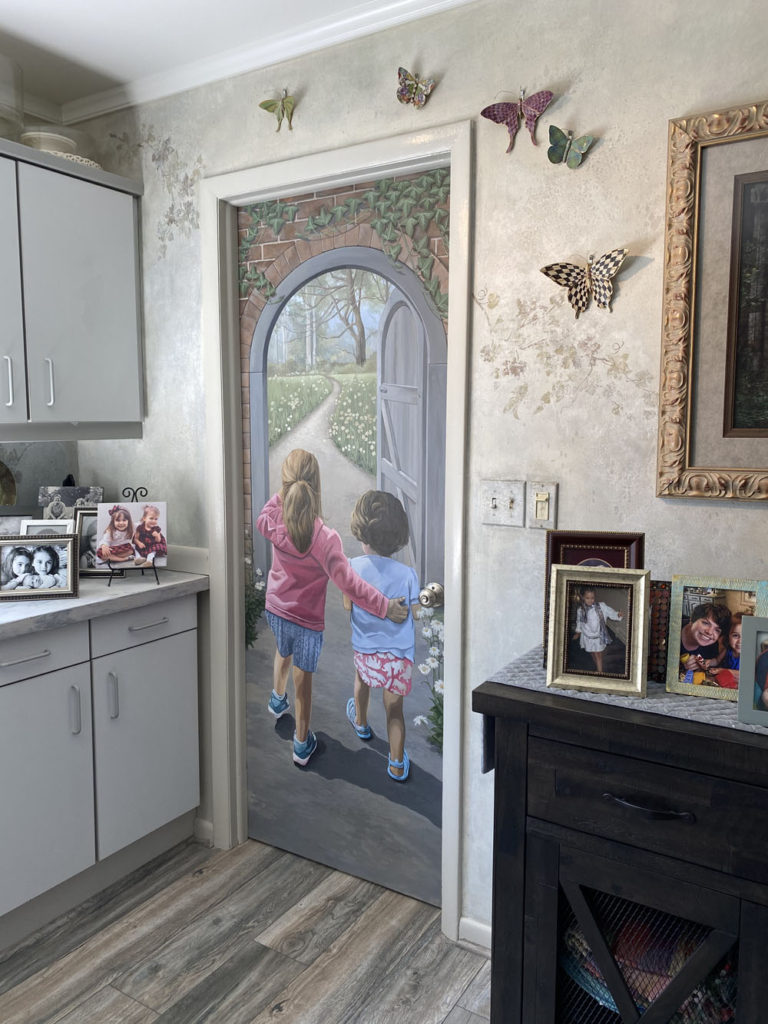 I haven't forgot my youngest granddaughter, Greta. She turned one during our quarantine. As soon as she is a little older, I will find that perfect photo and voila! I will paint another doorway with that sweet baby.
I hope this newsletter finds you and your family well. Perhaps this little dose of what is possible in paint has lifted your spirits a little bit.
Stay well!