Ceilings
Ceilings by Leichsenring Studios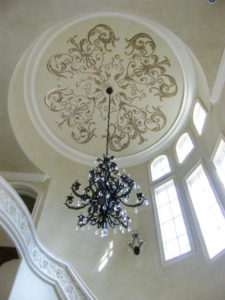 That's right; designers today refer to ceilings as the fifth wall. Can you imagine ignoring it or just giving it a fresh coat of ceiling white?
A plain unadorned ceiling is a canvas. Using paint, I can build a skylight and fill the view with cheery cumulous clouds or the peacefulness of a spring mist. Your chandelier, hovering on a small medallion over your dining room table, can be enhanced with a wonderful grand panel, with the illusion of a carved molding. Painted wrought iron or trellis wood can form a breathtaking framework for a cloudscape. Powerful art deco design makes a statement when placed on the ceiling.
Coffered ceilings offer unlimited possibilities for textured finishes, clouds or perhaps oversized Victorian tiles. The fifth wall can perhaps be the finest.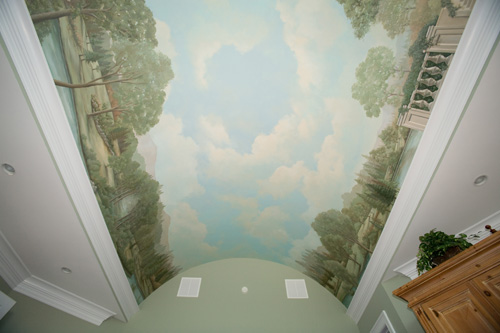 So, your room doesn't have the grand dimensions of the Sistine Chapel. Don't eliminate decorative painting as an option for a ceiling in your home.
The warmth of a textured finish, such as glazed tissue, is just one possibility. It adds color, depth and texture bringing another layer of sophistication to the space.
Are you lucky enough to have a wonderful architectural detail such as a tray in your ceiling? Please don't leave poorly dressed in ceiling white!
Rolling soft clouds add additional height, and more importantly, such character to the room.
If you're thinking I can't imagine it, remember, I can. Let's talk so we can discuss the possibilities.