Trompe L'oeil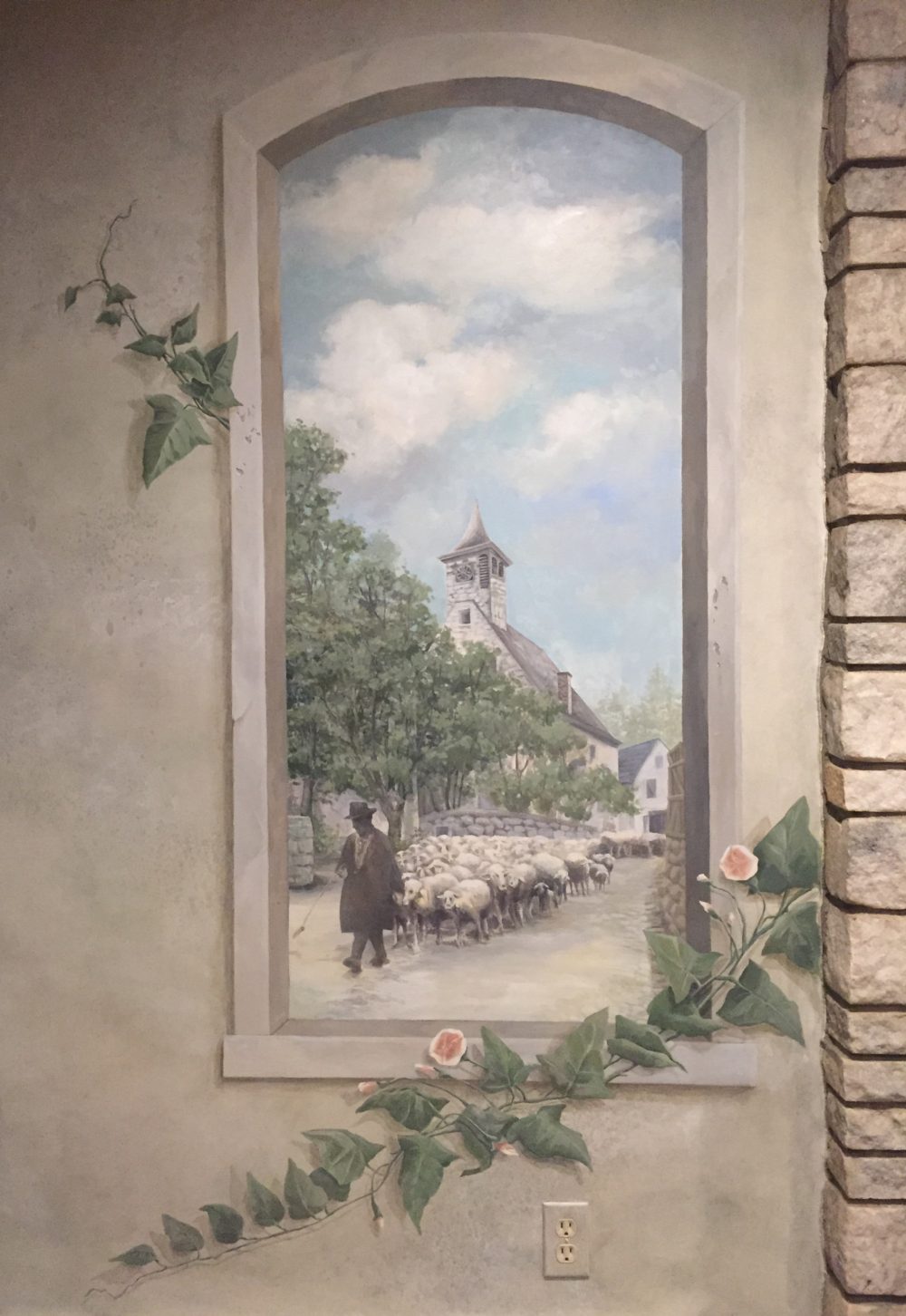 Trompe L'oeil – "To Fool The Eye".  If a picture is worth a thousand words, let's use one or two. The first picture shows a framed scene from a village in 1950s Musberg, Germany (my husband's home as a boy). The "view" is more convincing when seen through the "painted" window opening. The accompanying morning glory does its job with the faint shadows on the wall, hinting you could flick a leaf with your finger.
The mural below was designed to integrate the existing chair rail. The stone balustrade helps give greater depth to this scene. There's another illusion happening here as well. On the walls adjacent the mural wall, that is actual wallpaper above the chair rail. It's multicolored and slightly textured. I duplicated that paper in the areas surrounding my mural with paint and plaster. It wasn't possible to cut the wallpaper around the mural because when I added the necessary shadows onto the wallpaper, actual paper would bleed and swell, so I recreated it in paint. Most guests in this dining room don't see the difference until it is pointed out. My client enjoys the look of surprise when her guests need to actually get up and give a closer look, and perhaps touch it as well.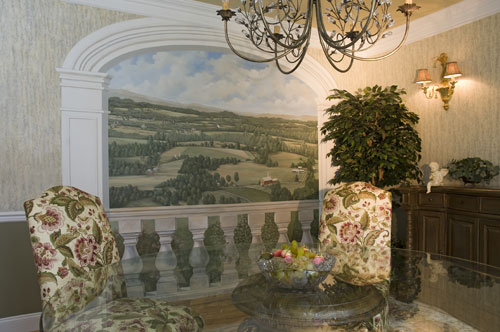 Trompe l'oeil. You've seen the term and wondered, first, how to pronounce it.
It's easier than it looks: it's "tromp" (like romp plus a "t") and "loy" (rhymes with boy). The accent is on the first syllable.
Now, what is it? Trompe l'oeil is a French term that translates loosely as "fool the eye". As a painting term, it refers to the artist's ability to paint light and shadows with warmth and coolness so effectively that the work has the illusion of dimension and depth.
While we're discussing terminology, you may not be familiar with this word. The French word "Grisaille" (pronounced grizz-eye with the accent on the second syllable) translates as "shades of gray". It can also be used when the work is done in any one color, and you may hear it described as "tone-on-tone" or Sepia.I find the use of Trompe l'oeil very effective in my murals, particular when there are areas of architectural interest, such as frames and molding.