So, just how big, or small, is 70 cubic feet? In the four thousand square foot home where I was recently working , that amounts to a very small space that is 3 feet by 3 ½' in floor space and not quite 7 feet tall. Admittedly, a very small part of this home, but what huge results!
Let me tell you the story. The contemporary home, owned and designed by Dyane of Dyane Prezioso Interiors of Shelton, CT is a sophisticated study in beige, taupe and black, with subtle metallic accents. The small portion of her foyer had been occupied for some twenty-eight years by her beloved family companions, a pair of blue gold macaws. Their cage nestled in that space and they were the official greeters to visitors.
They may be gone, but their memory holds a special place for the family. Once the cage had been removed, its emptiness served as a constant reminder. And then inspiration struck!
Originally, Dyane requested the pair of macaws to be painted on one wall. The riotous colors found in the blue gold macaws dictated an equally vibrant palette.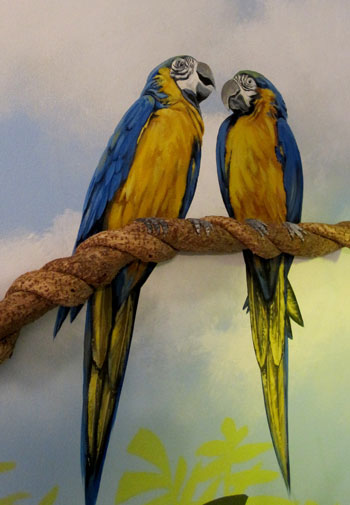 A decision was made to include painting a Scarlett macaw which had belonged years ago to her mother.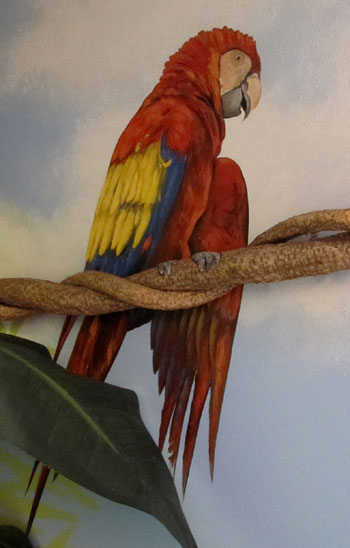 A wonderfully gnarled branch was attached to the wall for the painted birds to set their feet. Appreciating the realism the branch brought to the composition, I piped plaster which I then painted to create dimensional feet.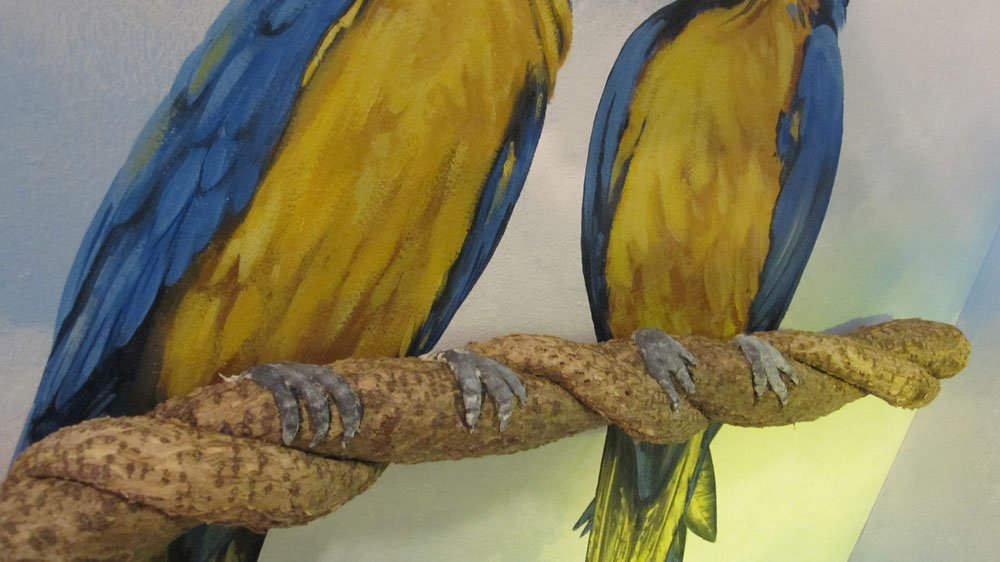 Large graphic foliage silhouettes filled the lower part of the space, and with the backdrop completed, Dyane with her friend and associate Phyl of Phyl's Flowers & Fruit Baskets in Stratford, CT placed the remaining key elements. A lighted water feature tumbles in the background. The base is filled with smooth rocks and fantastic pieces of agate stone. Birds of paradise and complimentary greens complete the space.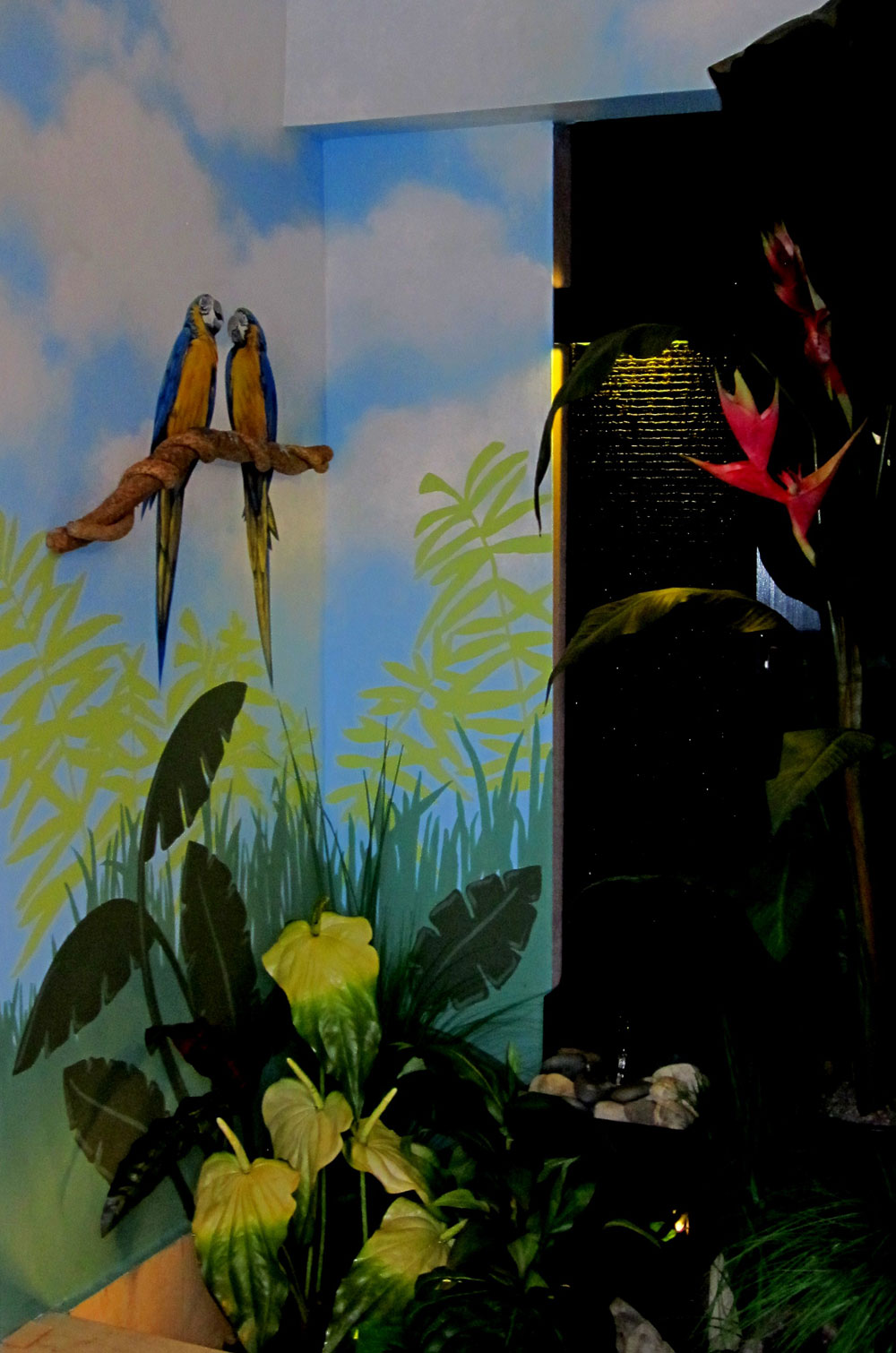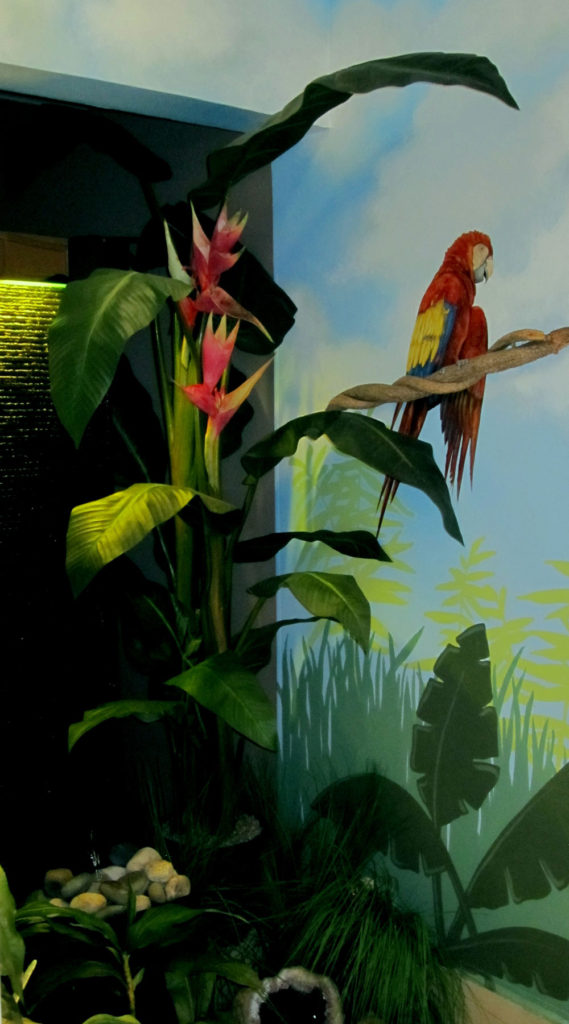 Magic!
I've got some to spare. Might there be a place you could use a little?
And before I sign off, for those of you who might be in the Newtown area, one of my most gracious clients is hosting an open house to showcase the work I've done in her home. You may have seen my samples, but there is no comparison to seeing the finished products. I'd love to spend some time with you in person. It is on Friday, Nov.9th, from 6 to 8pm in Sandy Hook. If you're interested, call (203-556-9491) or email me for more info.