"Tale as old as time, as true as it can be…"
Yes, the story of this hutch's final transformation is a love story, indeed. My client's husband built this hutch as a Christmas present to her, back in 2003. It was always supposed to be "French country" but someone how it ended up a curious green, sporting dentil molding.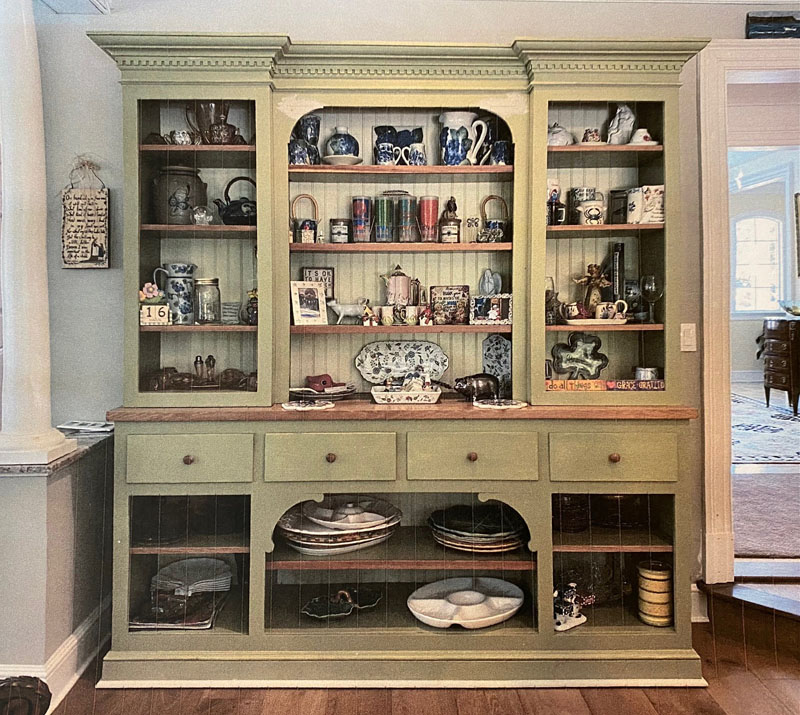 It stayed that way for a while. I met my clients in 2016. We talked about many projects, and a nod to the big green elephant in the room. The house was in a transition mode. Huge and grand scale. A two story foyer with a barrel ceiling, which I would come to paint with voluminous clouds. A new master bedroom suite and a new kitchen. Wow!
I actually started working in the home in 2018. We talked about that hutch. Could it be something outrageous jade green, or perhaps magenta? No. And No. Could it have copper chicken wire inserts. Oh, no.
The hutch went to the back burner. Other projects moved up the to do list. And I was part of the race for time. My client's husband was fighting a heroic battle with cancer, and he so wanted not to leave his wife with this construction that needed to be completed. The hutch moved to the bottom of the list.
He lost that battle in 2019. His masterpiece, his gift of love to his wife could and did move forward and was completed. His presence is strong in this home. And never stronger, I think, than when I recently finished the last piece, the hutch.
It was a constant conversation. Would he mind pulling of the dentil molding? Off it came and graceful crown replaced it. Here it is ready to start.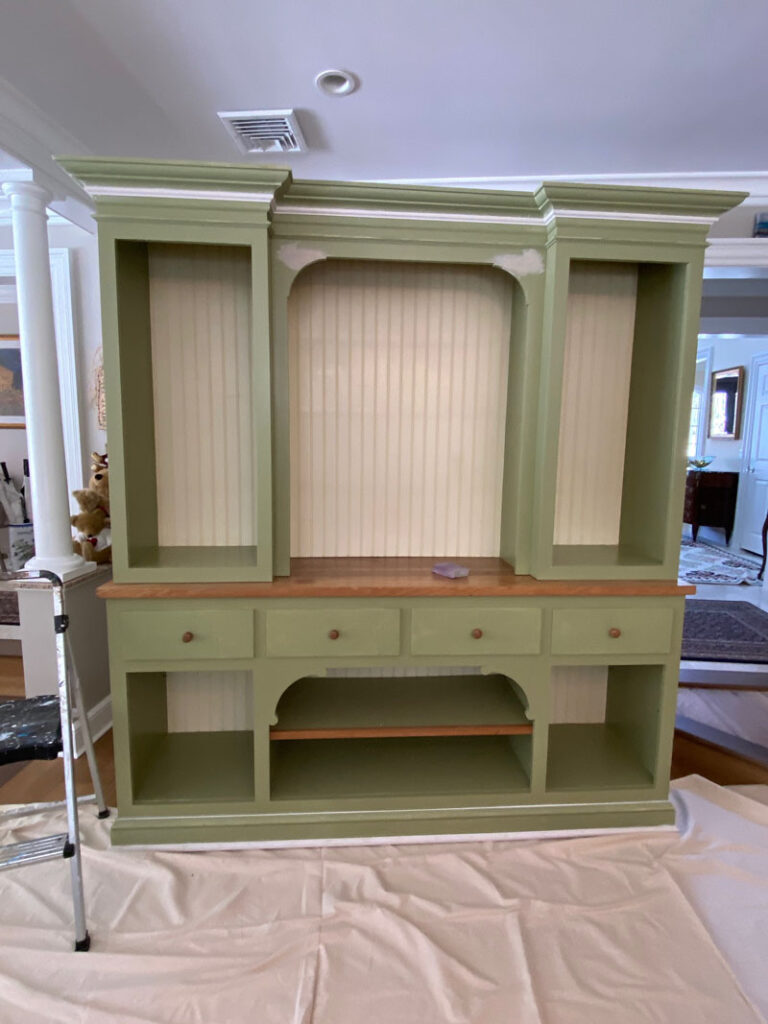 I think I heard a laugh when I tried to remove the bottom shelves. He had added the curved pieces to the frame after the shelves were in place. There was no way I could remove them to basecoat them. I found my head literally getting stuck trying to reach into the space. Someone where, some one smiled watching me hit my chin more than once.
Here is the layout of how I envisioned bringing the piece to what my client wanted, because it was her gift after all, and we knew her husband would be happy in bringing this to her vision. The layout shows adding trompe l'oeil "carving" to add detail to its somewhat plain and boxy shape.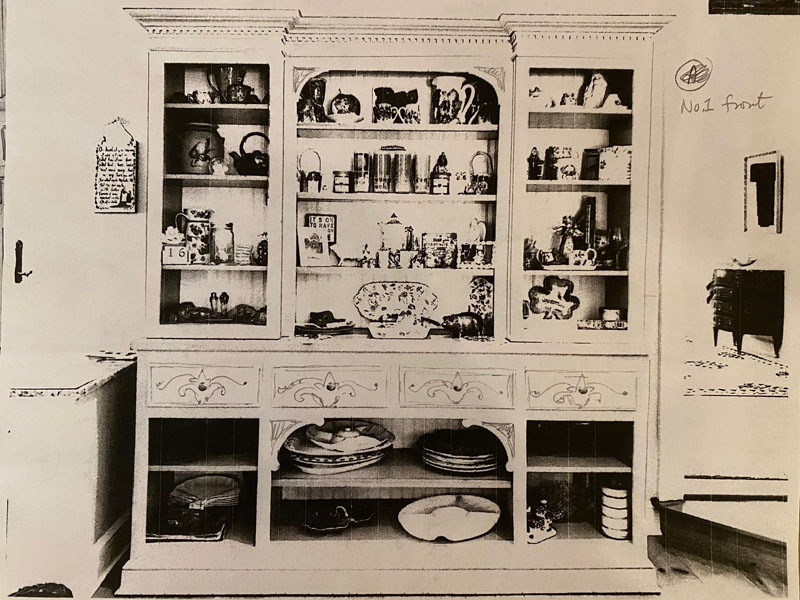 Here is the glorious marble used in the room as part of the fireplace surround and adjoining shelves.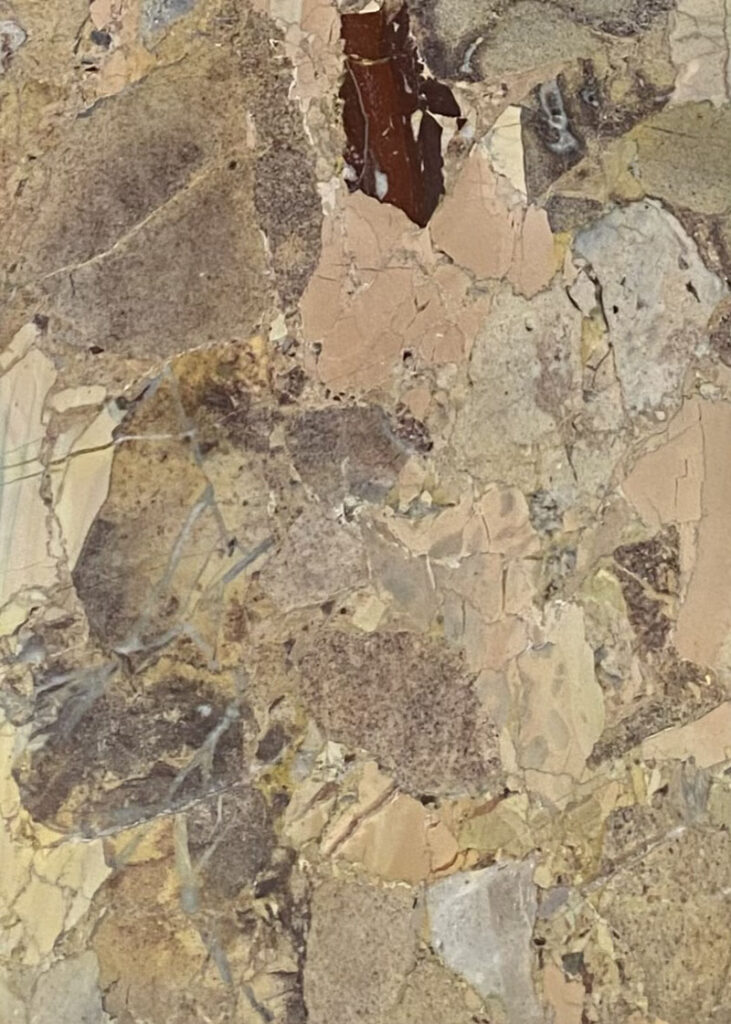 Ochre and soft rose. Now we are talking French country.
Once the basecoat colors were done, I started glazing the piece with a warm, sienna brown. Take a look at this picture where you can compare glazed and unglazed areas. The glaze marries the two colors.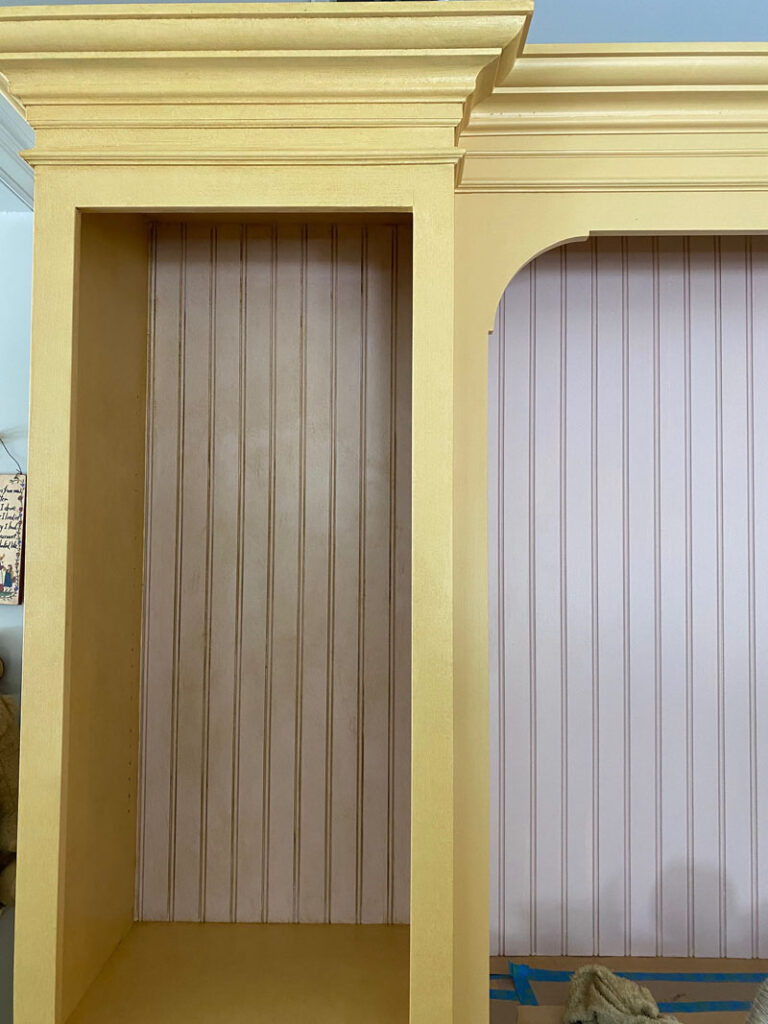 I found it easier to cut paper templates to transfer the patterns.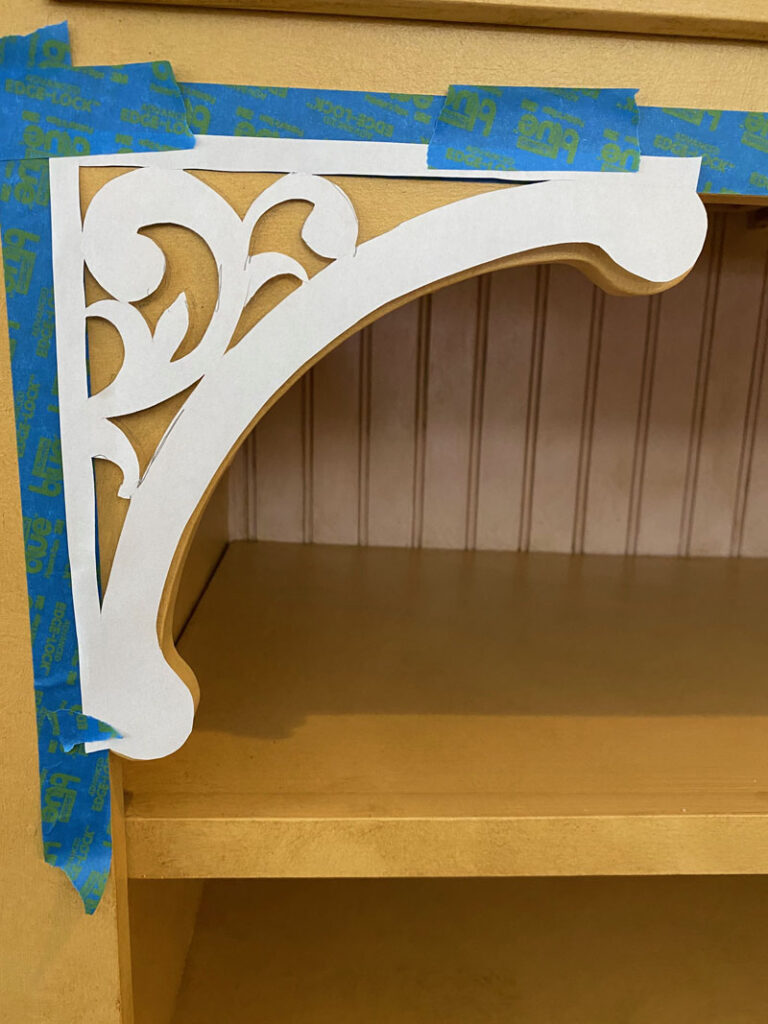 Now look how simple trompe l'oeil brings the carving to life.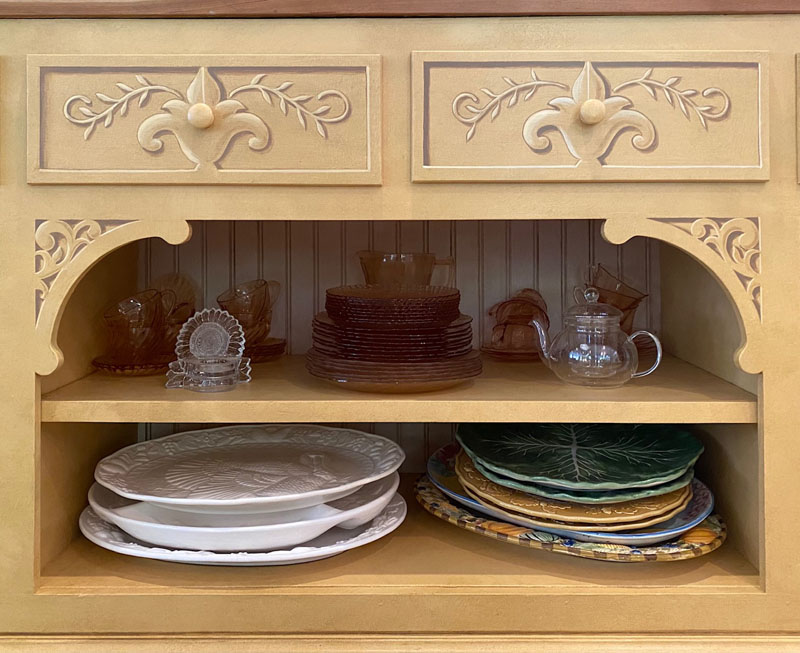 Protective topcoat and we are done. Take a look.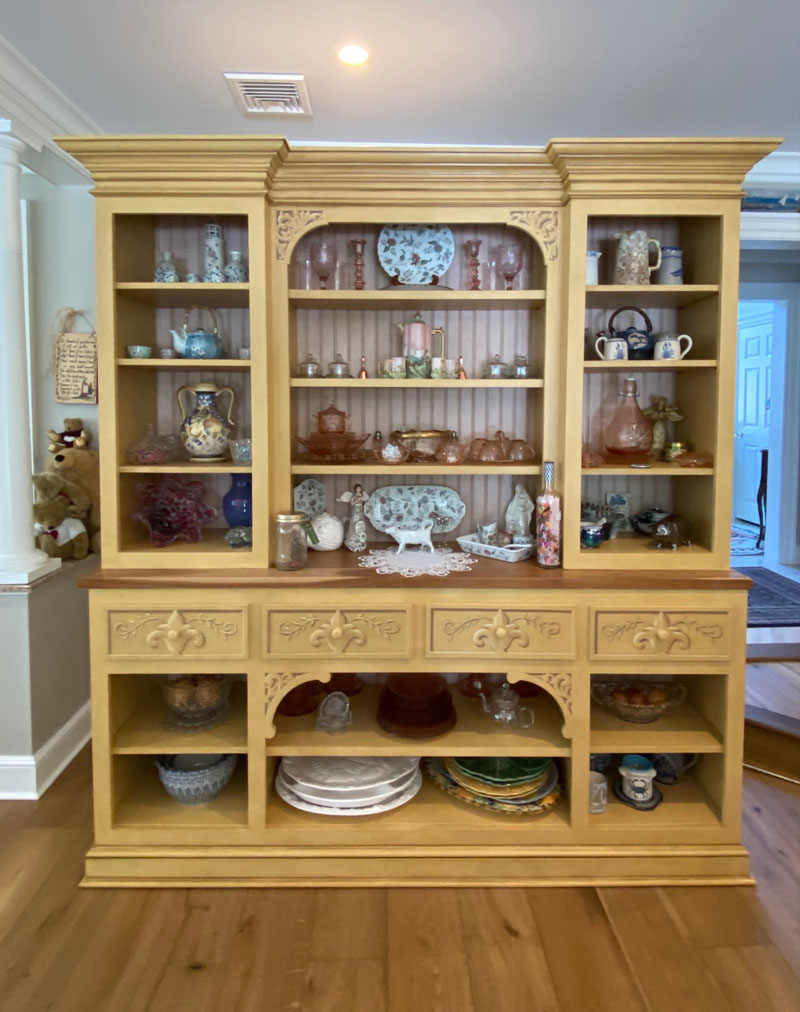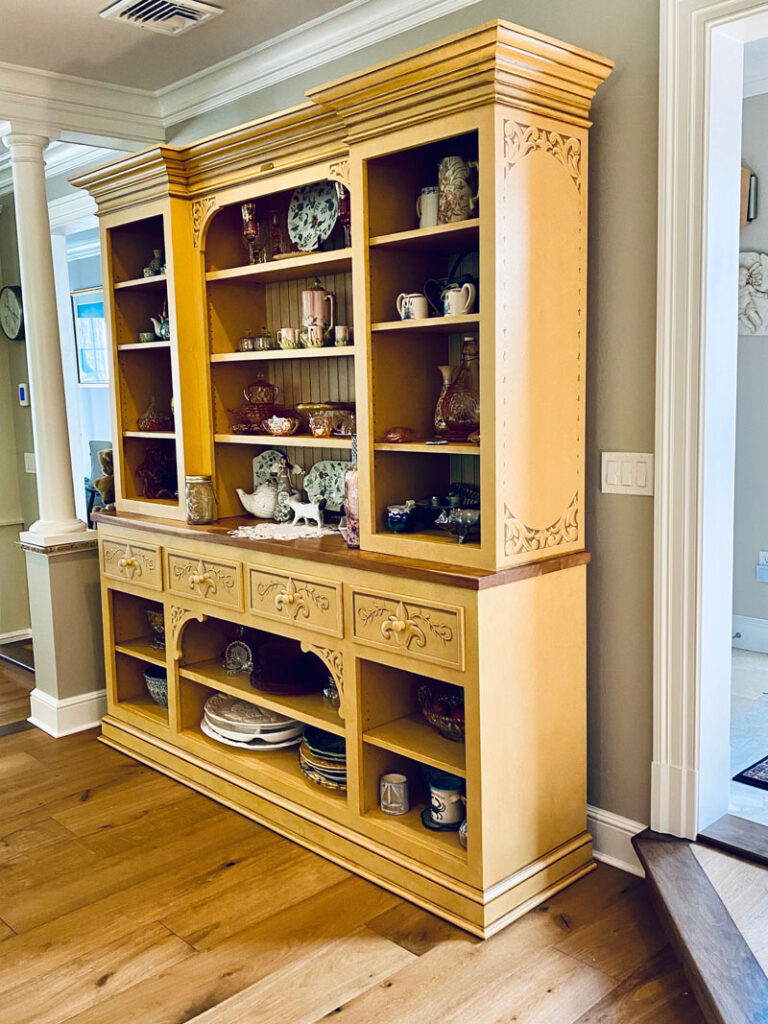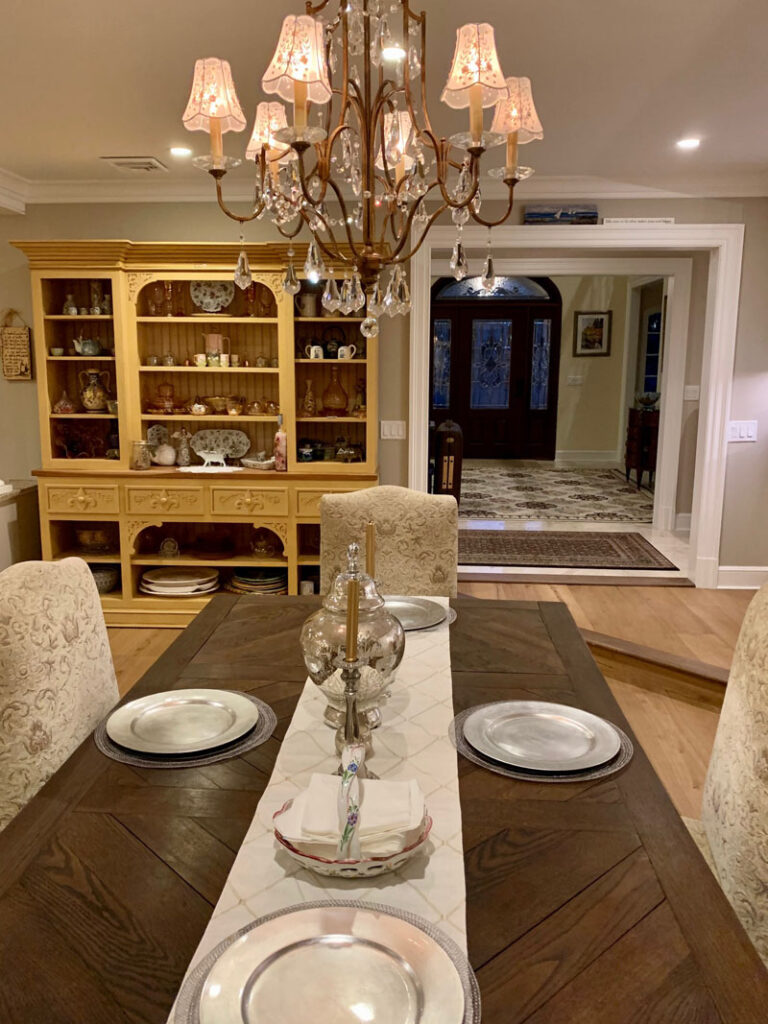 Each piece placed on the shelves are memories. They are gifts. They are love. When the glaze is hard, there is a small copper plaque my client's husband had made back in 2003. He knows everything is as it should be. Privacy prevents me from sharing the words, but all you need to do is know it says it was made with love.
It was an honor to work on this. Once we got everything back on the shelves, my client and I stepped back and took a good look. We are sure we had company there with us.