One of the best parts of my schedule is the wide scope of work that comes my way. Here are two projects that illustrate my point.
The first is an elegant and sophisticated powder room. My part in it was quite small, a painted floor cloth. The cloth, a mere 27″ x 3″, was the perfect solution for the space. More importantly, it provided a vehicle to tie the palette of the room together.
Here's a picture of the cloth, the wallpaper and the fabric trims for the window treatment.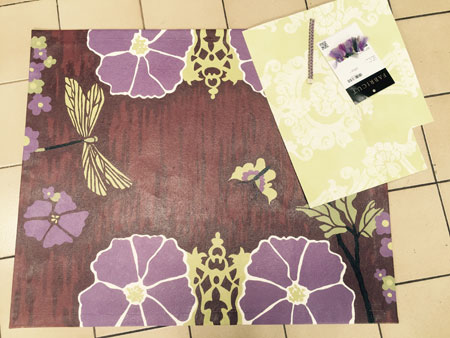 Kudos to Linda Brencher Interiors of Branford  for t the design found in this lovely powder room. The Anna French wallpaper in a light apple green sets the perfect crispness for every detail.
Take a look at the floor cloth.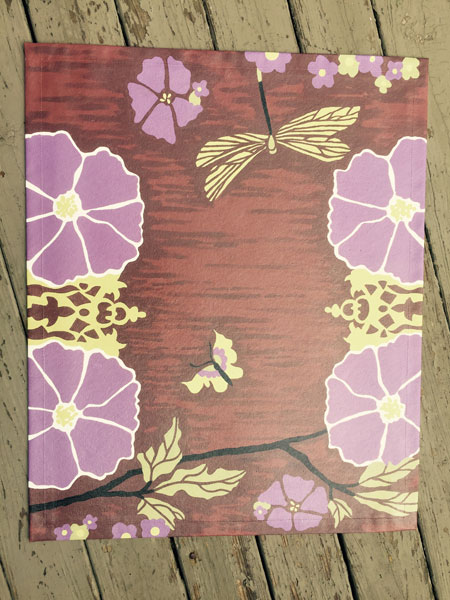 This powder room is a busy place, so the protective topcoat will keep it looking like new for years.
Here's the finished project. The nightstand refitted as a vanity base with a new marble top and vessel sink is brilliant.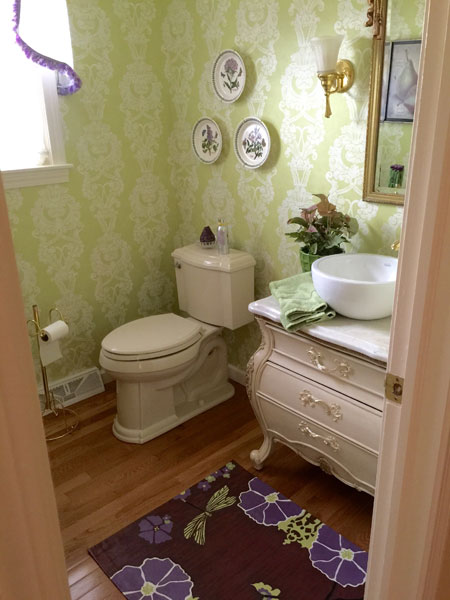 The second project called for an entirely different direction.
My client commissioned me to create a 24″ by 36″ painted canvas as a birthday gift for her husband. The photo, one of dozens she emailed me, that provided the theme showed her husband wearing a shirt that read "Still Plays with Tractors". Take a look at the process involved. The center picture was the accepted layout.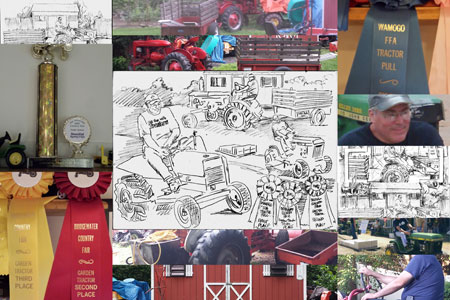 There were many items to include, his tractor with a trailer, a John Deere used for a tractor pull event and a gravely. A trophy is perched on an open window of the shed and prize ribbons from competitions needed to find a place.
Take a look at the finished piece.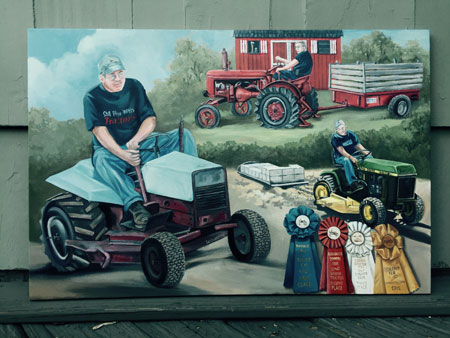 My client was delighted with it.  Below is a picture of him.  I think I captured his face.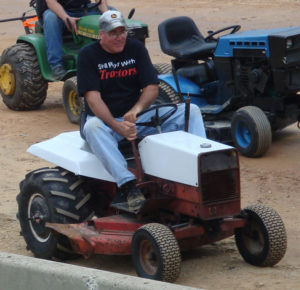 I like to keep on my toes. Fielding challenges makes my day