It happened in Fairfield, CT a few years ago. I didn't mean to, but despite my best efforts to avoid doing so, I fell in love.

With a carpet.

And not just any carpet. It was painted directly on the floor and I was reluctant to finish because I wanted to stay and enjoy the process forever. Here it is.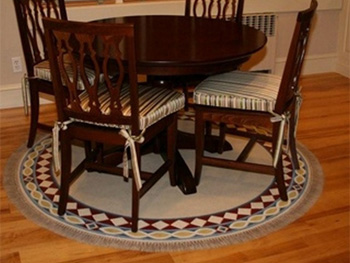 Here is the detail.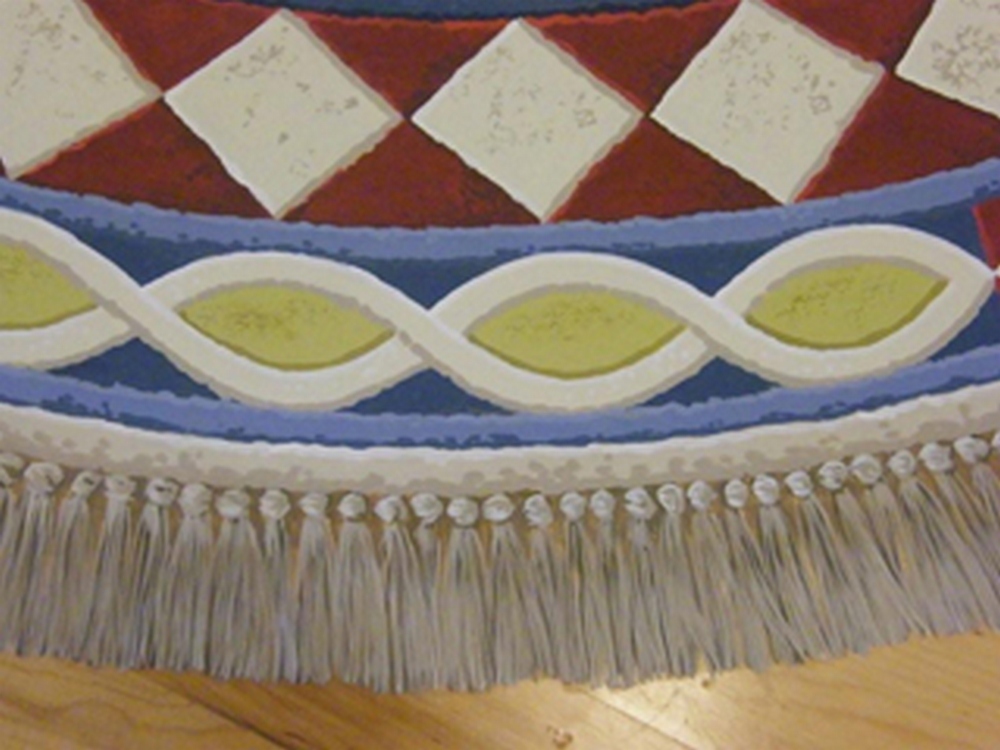 I couldn't put the idea out of mind. I wanted my very own carpet. I fantasized over the design, the colors. Until I knew I had to face the ugly truth. My floors were just not "carpet worthy".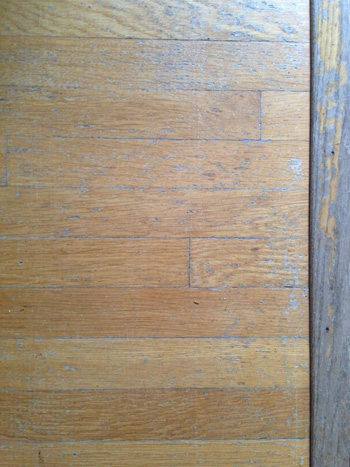 They were old, chipped and a very unsuitable yellow oak with thin planks, only 2 ¼" in width. The husband and I debated sanding them, replacing them, forgetting this idea altogether…
And then serendipity intervened, in the form of a posting by a Michael Pietro on LinkedIn. He was looking for any interest in the decorative painting community to try a new product, Coat of Armor.
The wheels started turning after I spoke to Mike directly. As soon as I received my product, I decided to test an area that would receive a tremendous amount of daily traffic. The area was washed with TSP and lightly sanded. Afterward, I applied Coat of Armor with a trowel. It went on effortlessly (OK, you get to do this entire project on your knees, but who's complaining?) . Once dried, I painted it with a caramel color high quality Benjamin Moore paint. And then, I waited several months, to make sure the adhesion was great and the base coat was flexible enough for changes in temperature. Here's a picture of the floor with the Coat of Armor trowelled on. The red lines you see are for me to remember where my carpet was going to start.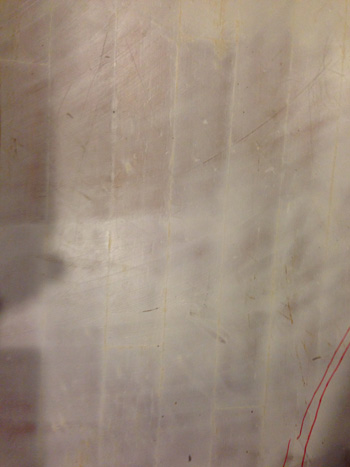 And finally, it was time to rock and roll. I mean, I was committed to this, was I not? I had a patch 5′ x 8′ smack in the middle of my kitchen; there was no walking away from this. I have already admitted to a wee bit of the crazy already, so I'll share the actual measurements of the space I was contemplating. My house is a ranch, with the traditional "L" shaped living room and dining area. The long part of the living room measure 22′ by 13'6″ in width. The dining area adds another 12′ by 9′. I'll let you do the math, but it adds up to a lot of square feet. I no longer had to be restricted by 2 ¼" wide planks, and chose to make mine 6 ¾" wide. My process for the faux graining was two steps: the first an application of glaze applied by a wide, very long-haired brush called a flogger. Once the glaze is spread evenly, and then flogged, the result gives the appearance of wood spores. The second coat of glaze added depth and some graining characteristics.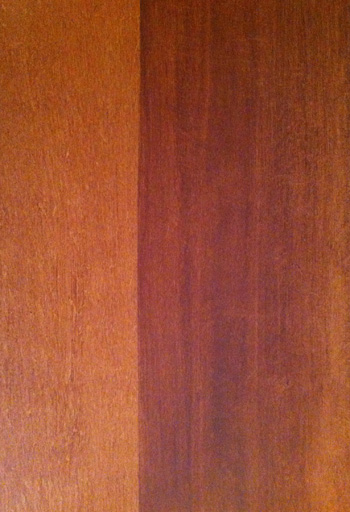 To achieve the look of planks, I had to do alternating stripes of wood, separating each piece from the next. I overlapped each plank by 1/16″ of an inch to create the effect of separate planks. Here's a look of the planking in progress.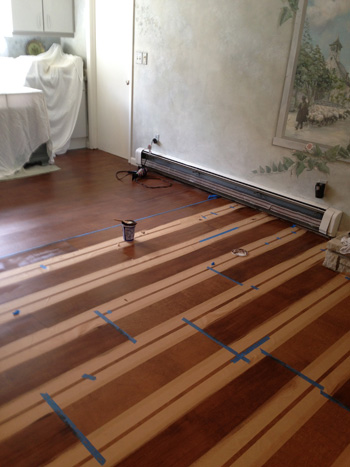 With the floor completed with three coats of clear topcoat for extreme durability, I laid out the carpet. It measures 8′ by 12′ with rounded corners. Take a look.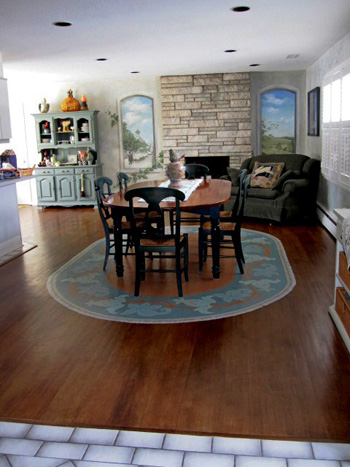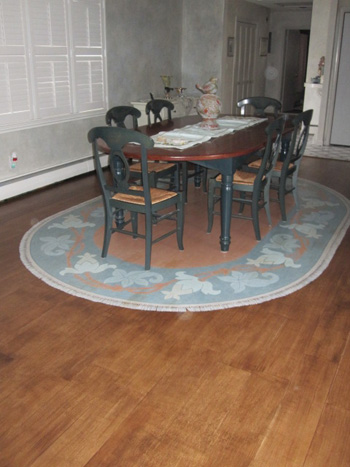 Check out the detail here.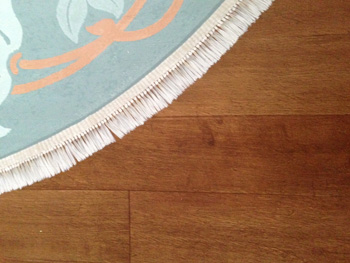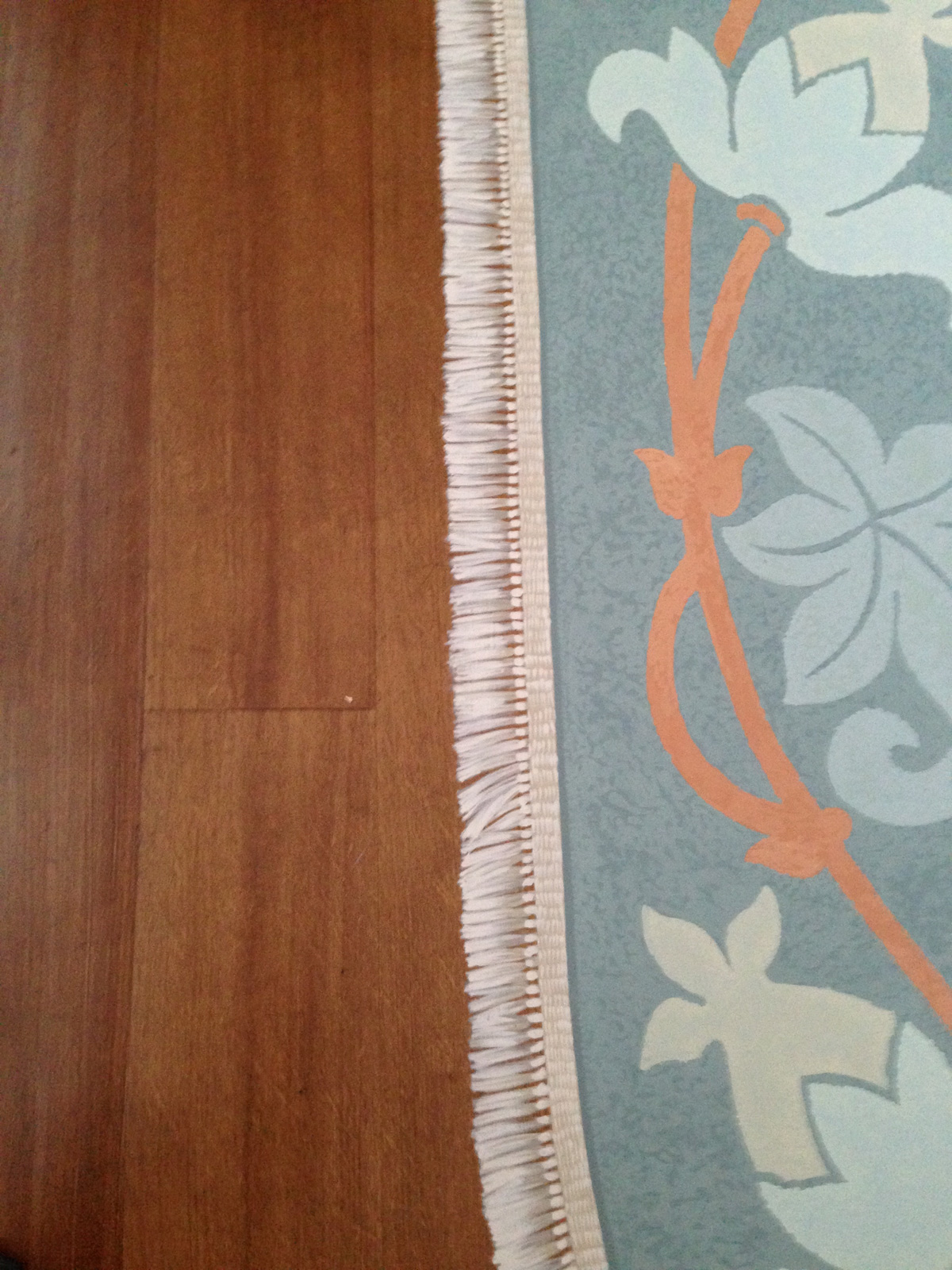 If you're shaking your head and thinking, she must be nuts to want to do this, I'm agreeing with you. But you've got to understand, I had a ball! And I get to enjoy it every day.
If you have any questions about the material I used, you can contact Mike about Coat of Armor at info@elastobasement.com.
And if you've got an idea floating around in your head and you want to chat about it, give me a call.
I'm looking forward to a prosperous and healthy new year. I wish the same to each and every one of you.