There's no other way to describe this home media room project: it's one of my most favorite jobs, ever! Kudos to my client for having such a clear vision of what he wanted, and allowing me to bring it from concept to completion.
Here's the entry. I relied on my old sign painting skills to make templates for the dimensional marquee. They were then cut and assembled with column support. The columns were cut and inserted to add depth to the opening. Made of PVC pipe, a faux marble was painted on the surface of the pair of columns. They were top coated with a high gloss sheen to enhance the finish. The doors are stippled with an antique bronze metallic finish . I painted an art deco motif on the doors. The painting has a dimensional style of its own. It is painted in trompe l'oeil style. This French term, meaning "to fool the eye" uses a complex system of painting values ranging from bright highlights, to deep cast shadows.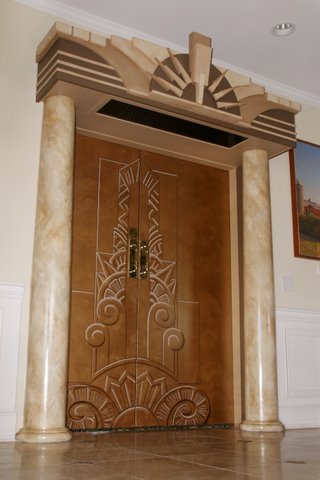 Come on in! A visual feast awaits within. A giant starburst was constructed on the ceiling. The bronze palette continued with gold and dark chocolate accents. All the wood was glazed with bronze metallic highlights. The 14 foot wide "screen saver" features an enlarged painted poster of the owners' favorite move, "It's a Wonderful Life".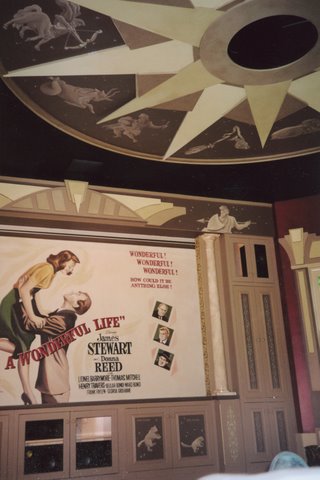 A close-up from the zodiac starburst, showing the monochromatic palette.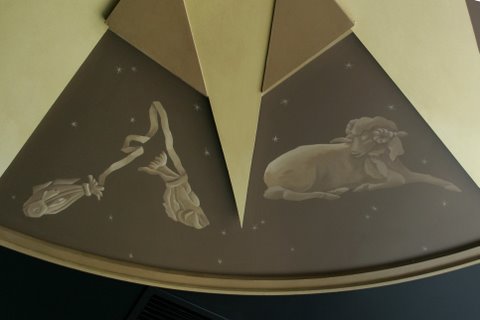 There are wonderful details in every nook and cranny. All of the cabinetry doors, housing the sound equipment, were treated to variations of the theme. Shown here is a pair of cabinets with constellations painted on them.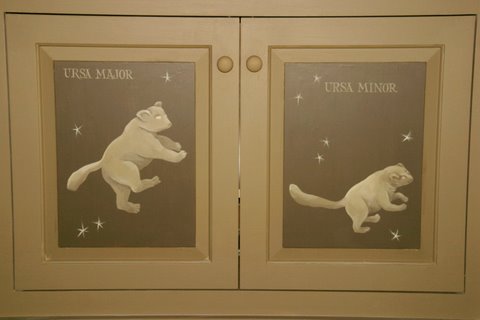 Here are the upholstered doors from the inside.  A heady merlot glaze was applied to the wall surfaces.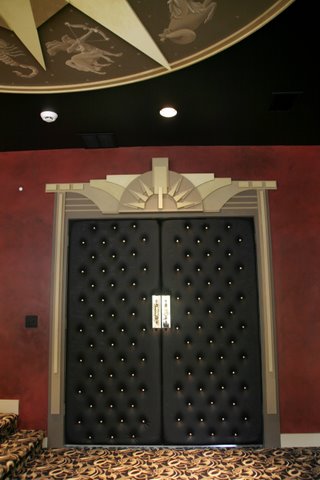 I hope you enjoyed this project. What's your favorite part? You know, I'd love to hear your responses.