This month's project was literally a dream commission. My client, the fabulous Ms.M, was a person I'd done work for many years ago. A move to a new home precipitated a call to come fix these blah walls and make it look as beautiful as my old home.
So I ask, so what do you see happening here, pointing to this huge blank wall measuring 14 feet in width, and ten feet high.
"Oh," says she , "I'm leaving that up to you. You know what I like."
And yes I did know.
A long perusal of fabrics in window treatments, throws and furniture kept turning up a recurring element of scrolls. Throughout the home, I also spied dragonflies.
Could it be? Truly two of my favorites themes combined?
I drew my proposal on top of a photo of the wall, the dining room table marking the visual bottom of the design.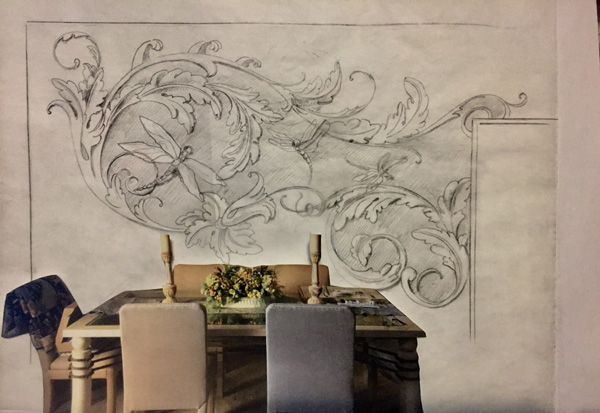 She loved it! I love it! We are calling this work? I am in love.
The idea to use scrollwork as a frame surrounding a field of blue had been floating in my wish list for a long time and here I was, with the entire room dictating this as the perfect color combination.
Using the sketch, I lightly charcoaled the design and blocked in the scroll. Mixed a lovely blue that was floating throughout the space. A soft blue, with a hint of a warm grey and green.
Time to trompe (trompe l'oeil that is). French meaning "to fool the eye". The shadows and highlights do just that: the two dimensional shifts in front of your eyes and the scroll magically becomes three dimensional, with the sense you can literally feel the edges.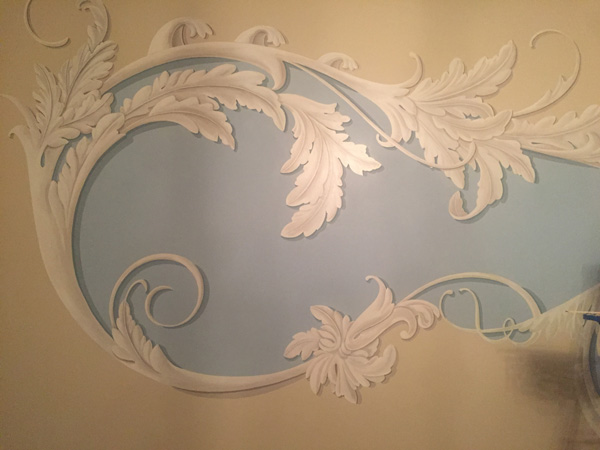 Time to add more love. Here is the first dragonfly.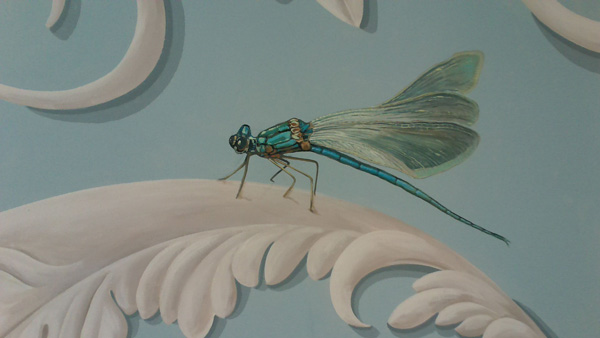 I was delighted with the gossamer quality of the wings.
Here's two more.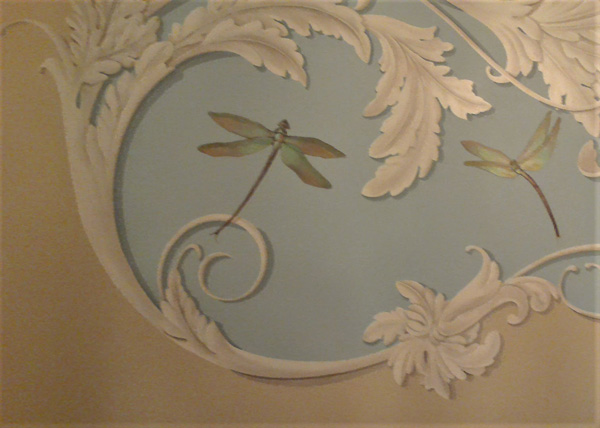 And without further ado, here's the completed wall.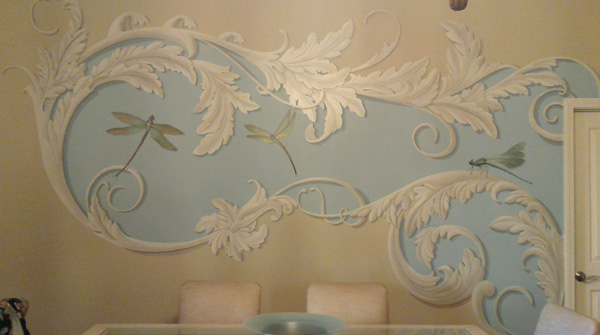 I don't often have the perfect scenario happen, my client and I wanting me to paint exactly what I saw in my mind's eye. I'm glad Ms.M lives close enough to visit. She is great company and my dragonflies are calling.
Is there a dream you'd like to see on your wall?