Along the way, there have been more than a few projects that have tested me as an artist. However, and that's a big however, this one surely tops the list in so many categories. It needed a great deal of research, a tightly maintained sepia palette and a design that could transition from different scenes as one ascended the staircase.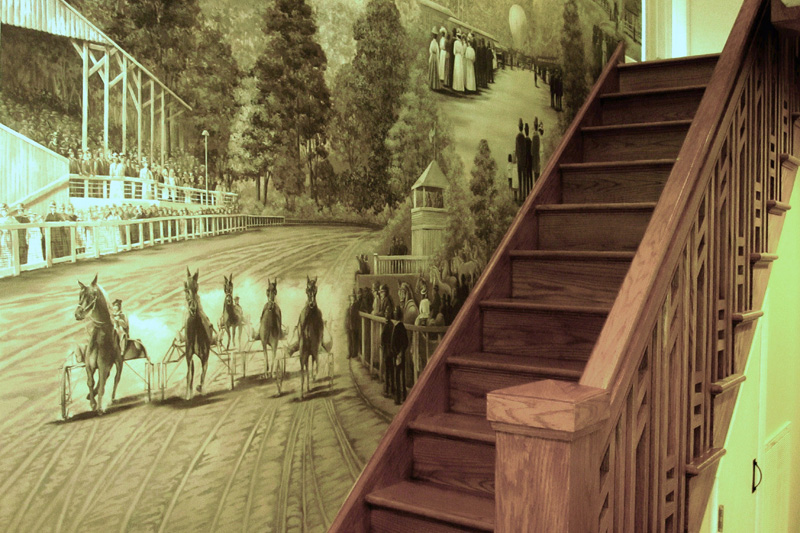 I'm going to take advantage of the wonderful writing of Robert Pollack, who authored the following article which appeared in the Shoreline Times of Branford, CT. There are more pictures at the end of the article.
Wall of history: Muralist paints life as it was in Gibson Girl era
Published: Thursday, November 04, 2010
By Robert C. Pollack
Special to the Times
BRANFORD – The sepia mural that adorns the wall alongside a staircase and reaches up to the second floor of a seven-room 1925 house takes the viewer into another era. The time of the Gibson Girl and the bowler hat.
It seems incongruous that this local historic scene in this old house is near Planet Fitness and busy Boston Post Road.
Spanning 13½ feet in length and sweeping up 14 feet, the mural typically evokes this reaction from first-time visitors: Wow!
The reaction is more than justified – for this unique work by muralist Sharon Leichsenring is not just a work of art, but a slice of town history.
It seamlessly puts you inside the half-mile oval horse racing track that operated for one year on the site in 1899 and the auto racing track with steam operated cars that later replaced it. Back then this "driving park" was called the "trotting district" by locals.
Then there was the annual Branford Carnival with hot air balloons floating toward billowing white clouds and a midway with amusements that attracted big crowds to the site for many years. The fair was founded by the Branford business Men's Association in 1905, replacing the old agricultural fair held in Branford.
Indeed, the grandstand is filled to capacity with an audience dressed in early 20th century garb – men in derby hats and corseted women wearing bustles in the famous Gibson Girl style.
All this detail turns this remarkable mural that took three weeks to paint, into a window onto another time. This illusion continues up past the second floor landing. And, the work wasn't just labor intensive.
"But it took me three weeks to do the research," Leichsenring says at the bottom of the staircase.
She praises Town Historian Jane Bouley and Zoning Enforcement Officer Laura Magaraci for "giving me facts about the site without which I could never have painted the mural."
In fact, Leichsenring based some of her images on actual old newspaper clippings and brochures from the era.
It was from these that she learned that the "The Big Branford Fair" was a full three days of "Instruction and Amusement" and included a "fine display of sheep, cattle, poultry and farm products."
One old hand-out boasts: "2 harness races daily, the human canon ball Professor A.T. Glascow ascends 2,000 feet daily in his Mammoth Balloon and is fired from a canon, descending to earth in a parachute – the most thrilling site ever witnessed. All for 50 cents an adult, children under 12, a quarter."
The auto race depicted in the mural is famous – it was the first in the nation, she notes. Leichsenring learned that the winning car was driven by the Hartford inventor and industrialist, Hiram Percy Maxim. She discovered this from reading accounts of that race and the autobiographical "How I Beat the Stanley Steamer." The losing Stanley Steamer brothers are pictured in the second car.
Leichsenring adds that Louis Fisk, original owner of the Branford Driving Park, installed his own power plant at the park to illuminate the track for night time racing. The light pole and fixture can be seen in the mural .
The owner of the house, who does not want to be named, calls the mural "an amazing work of art" and praised Leichsenring for other artistic flourishes she provided.
Leichsenring, now 58, was a sign painter for 28 years before deciding that she wanted to spend the rest of her life pouring herself into her art – mainly murals – and has been doing it full-time for the past nine years or so.
But if you look at any of her murals it would seem she has been painting them all her life. And if you talk to any of her former clients or those who know her work, all you get is raves.
"She is absolutely amazing," says Sharon L. Hibbard, a New York designer.
She is one of the best mural artists and faux finishing specialists I have ever worked with. Her painting technique completely transforms the look of an ordinary space to make it special and extraordinary."
Client Jeannie Murphy of Sandy Hook was equally enthusiastic, saying Leichsenring, who lives in Trumbull, with Hans, her husband of 32 years, "totally transformed my new place. She is astonishing."
"Her art is positively breathtaking," says another client, Robin Bobinski, a residential builder. "She can turn any space in your home into a true delight."
"There's a sense of wonder having an artist create that special world for you in your own home that is truly yours." Leichsenring writes on her web page, www.sharonpaintsmurals.com.
"It's more than finding the correct palette and reference materials – which are important – but, the core of the successful design is being able to take your client's wish and translate it into that emotional response which they are seeking. A well-designed mural or vignette should be able to evoke that response every time it's viewed."
Those are her words – written in her Trumbull studio – but they spring to life when you climb the staircase to look at her latest mural in Branford.
For her work thrusts you back in time to the late 1890s and beyond – to the railroad tracks that ran near the site, to a time when the world was a far simpler place than it is today.
Leichsenring had to use special ladders to paint the mural – and the only way to capture its full perspective is to climb the staircase.
While studying the acrylic work with its subtle sepia tones you can almost hear the pounding hoofs of the horses, the roar of the steam engines, the noise and applause of the crowds, the excitement as a hot air balloon drifts off the ground.
It puts you there, really puts you there.
"It is what I do," Leichsenring said softly. "It is my passion – and I am lucky to have found a way to make it a key part of my life."
Robert C. Pollack can be reached at [email protected].
* * * * * * * * * * * * * *
A special thank you to my client for the opportunity to paint this project and who graciously granted permission to photograph my work. In the event there are any of you reading this that have any information regarding this race track, and the train spur called the Damascus Line which connected the site via the Shoreline Division of the New York, New Haven and Hartford Railroad, please contact me.
Lastly, here are a few of my photos with close-ups of key areas.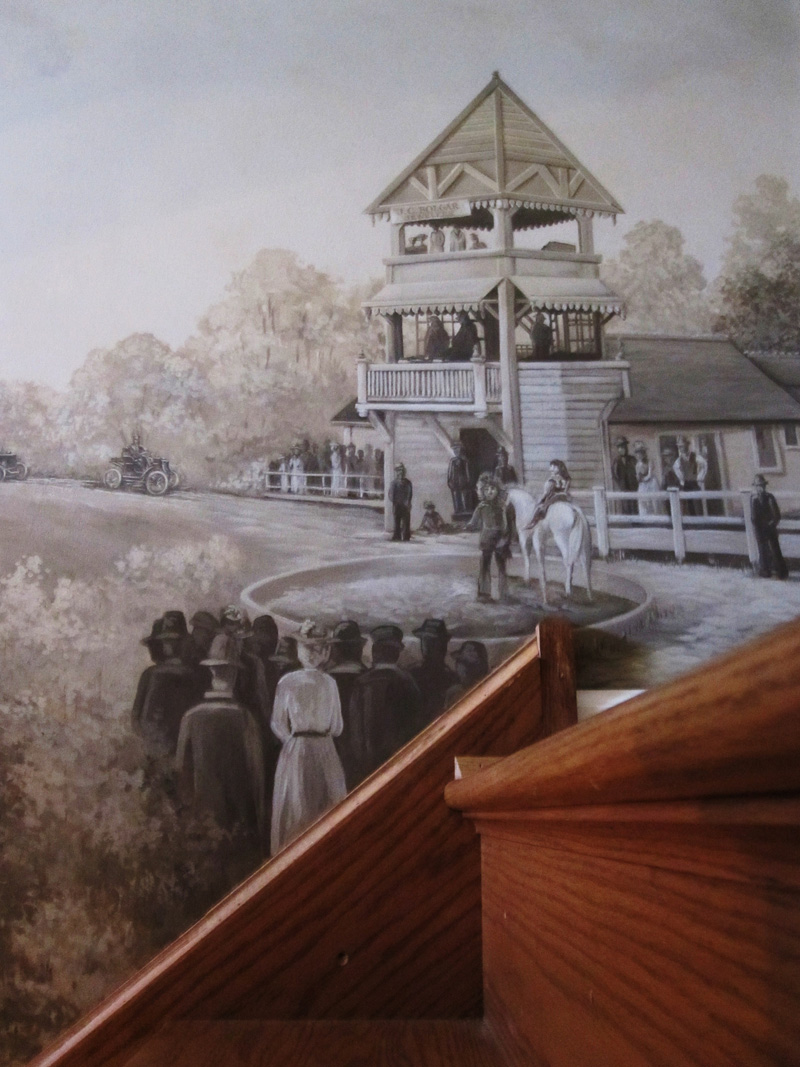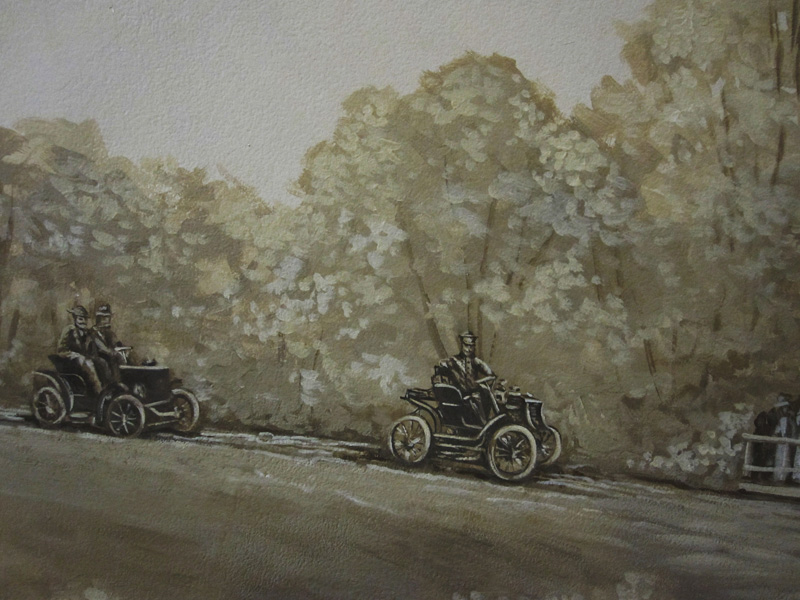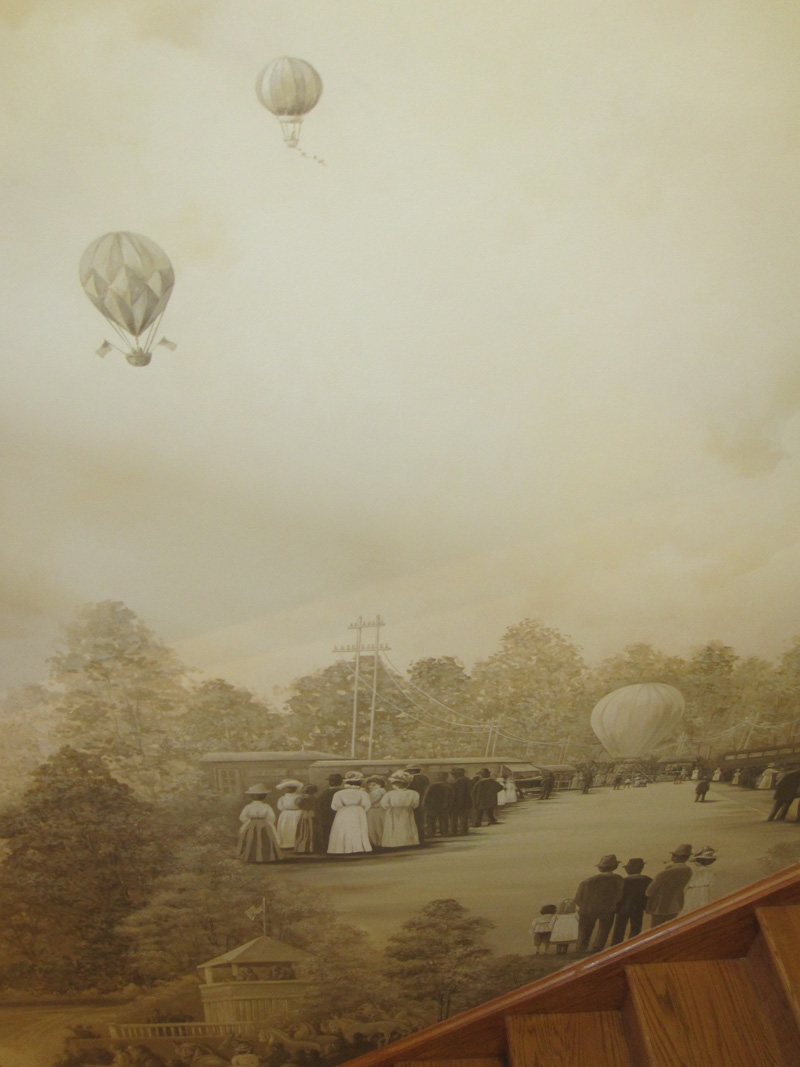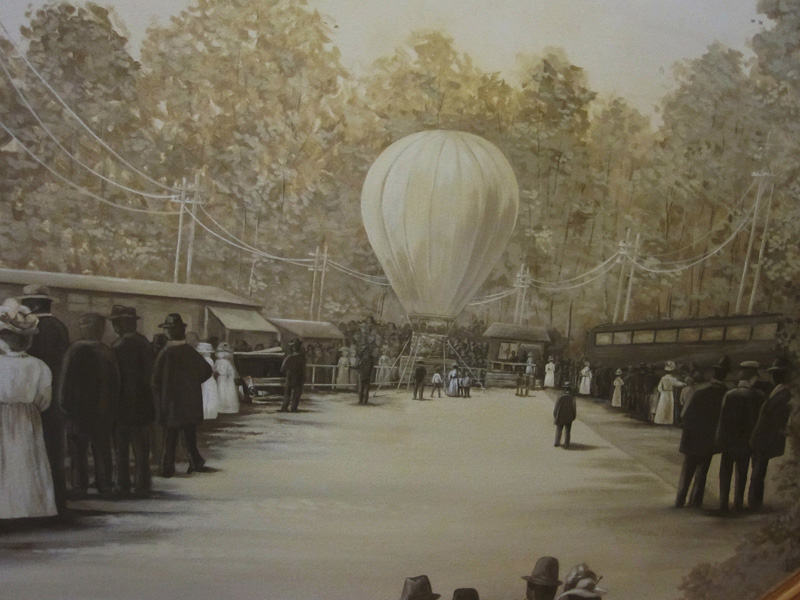 This was a wonderful mural to end my newsletter for the year. I wish you and your families a Holiday Season of peace and joy.