The only thing that has finally stopped surprising me in the roster of types of work I do is the vast differences of tasks I'm called on to do as a decorative painter. From the intensity of designing tightly composed murals, to free fall painting clouds and onto the hardier workload of plaster textures, I have learned to shift my focus from all, and concentrate on the task at hand.
And right now, it's bricks. Bricks, bricks and more bricks. And what to do.
So let's just get this technique out of the way. Whitewash. Diluted paint (just thinned with water). Apply and rub off. Many thin coats til you get the look you want. I must confess, I've never actually EVER used white paint to white wash. I like a dirty gray or taupe. Use white on red brick and there's no getting around the pink overtone. Here's a section in progress.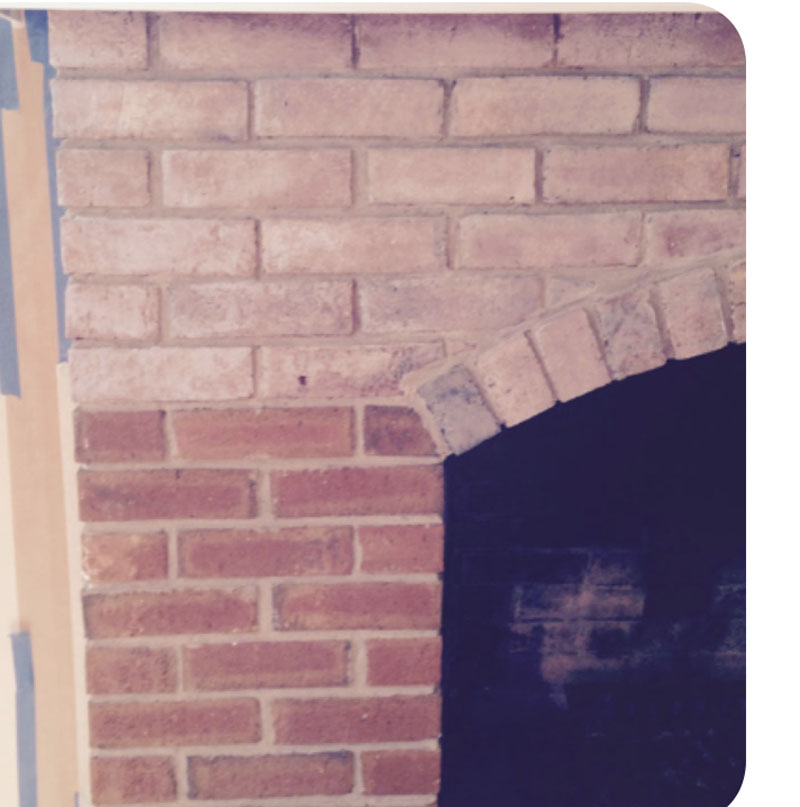 There's little use discussing it. I'm not a great fan. I still see pink. Not as bad diluted with a dirty color white, but it's there. Pink.
So time to move on to some fun stuff. You want to change the look of that brick you just can't live with any longer? Let's seriously change it. Enter the German Schmear. The term maybe new to some of you, but the technique has been around for centuries. In the decorative paint world, it mimics heavy mortar joints, with the excessive mortar being "schmeared" if you will on the brick face surfaces. There are so many variations and possibilities. Sometimes on all red brick, I change the coloration to have some variety before schmearing. Then the call to do it light, heavy, or a mixture? Here is a sample I made of a schmear with fairly full coverage. The brick is all red in this sample. I also tinted my "mortar" mixture. I find pure white very harsh.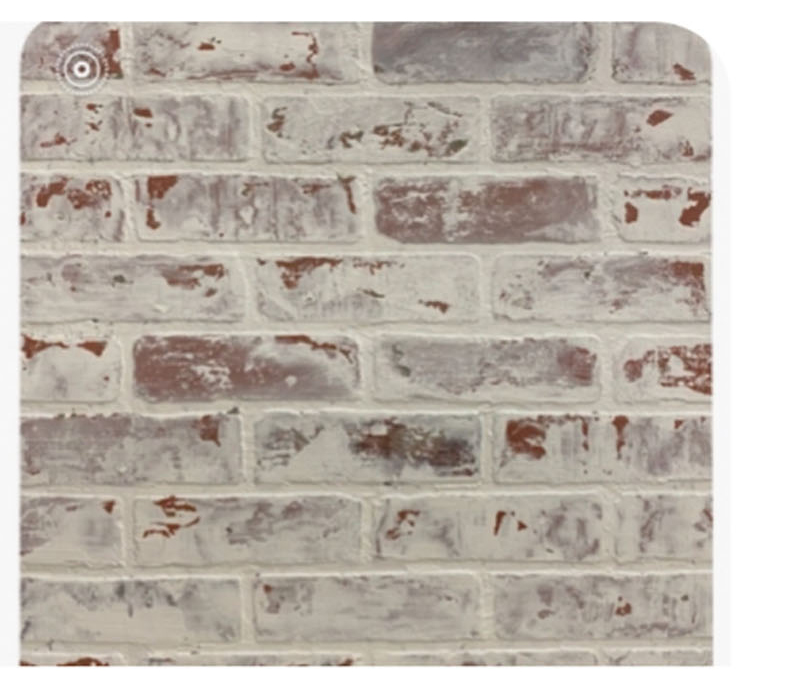 So let me show you what is my all time favorite brick wall. to date. My client wanted to have the look of a centuries old English cottage brick wall for the master bedroom. I think I delivered. Here is the beginning stage. I have added some additional plaster to bricks and have applied a diluted schmear to the brick.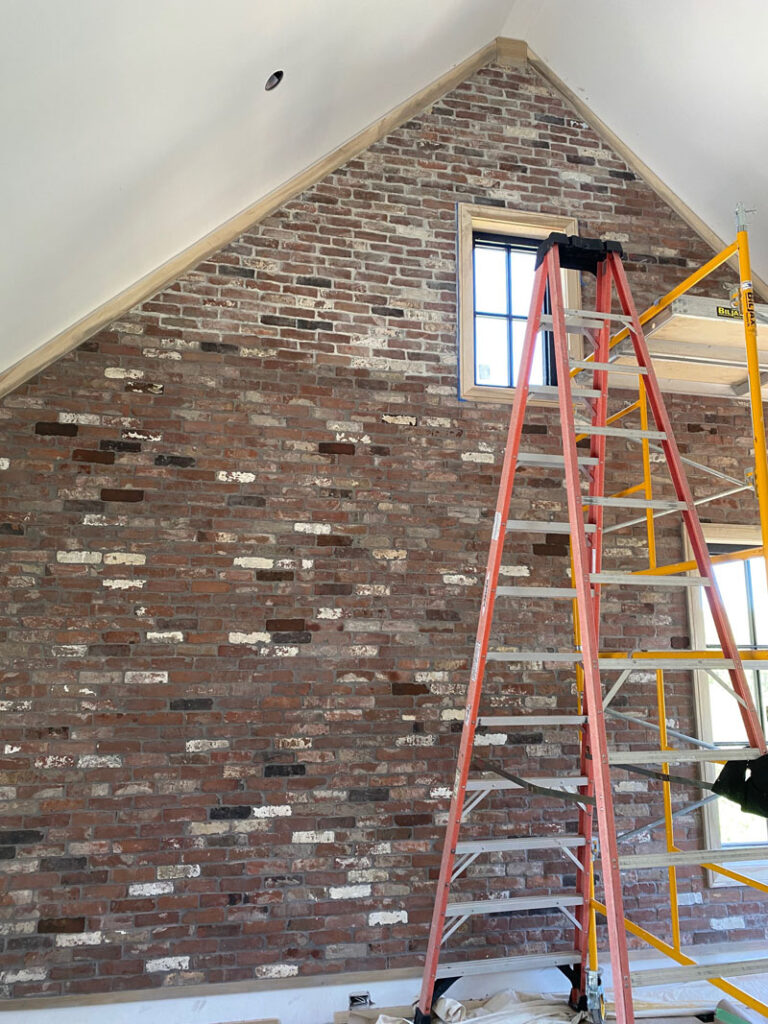 The brick used already had uneven corners and great color variation. They just looked too new. I want to share a picture of me working on the scaffold. The ceiling didn't allow for guard rails for the very top. It's good you can't see my face because I am a wee bit out of my comfort zone. Thank you for the nice comments from designer Arianna Thill (check out her cutting edge work at actdesignct.com).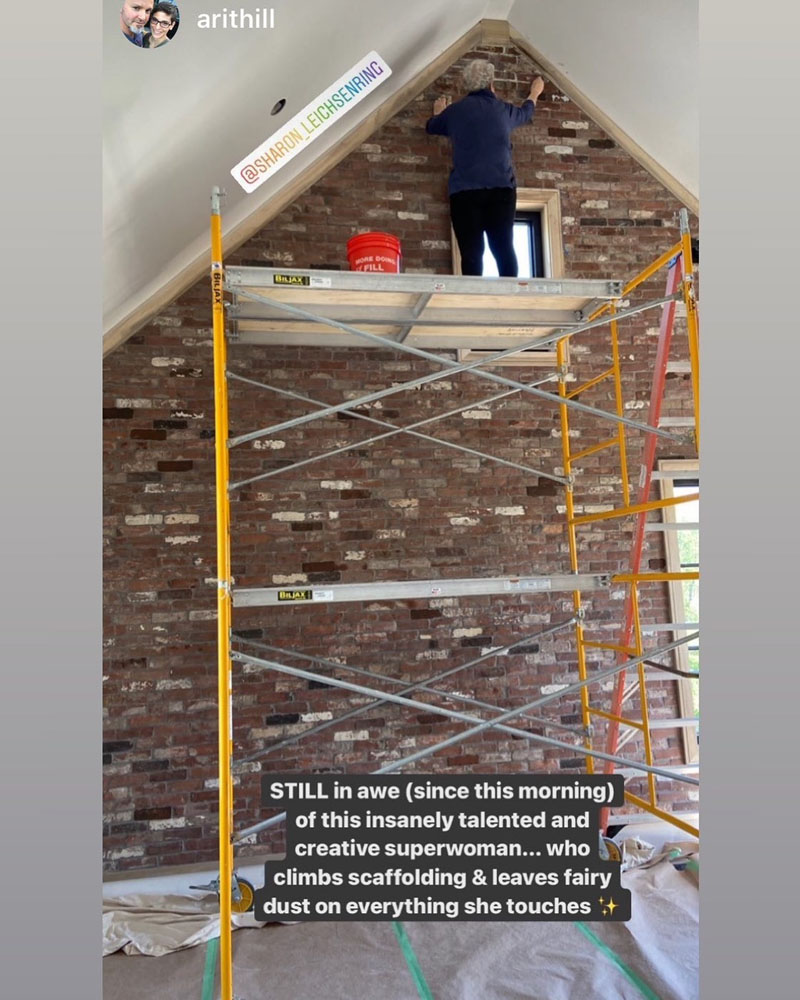 She totally made my day with her kind words.
Here's a closeup of adding plaster to create more texture.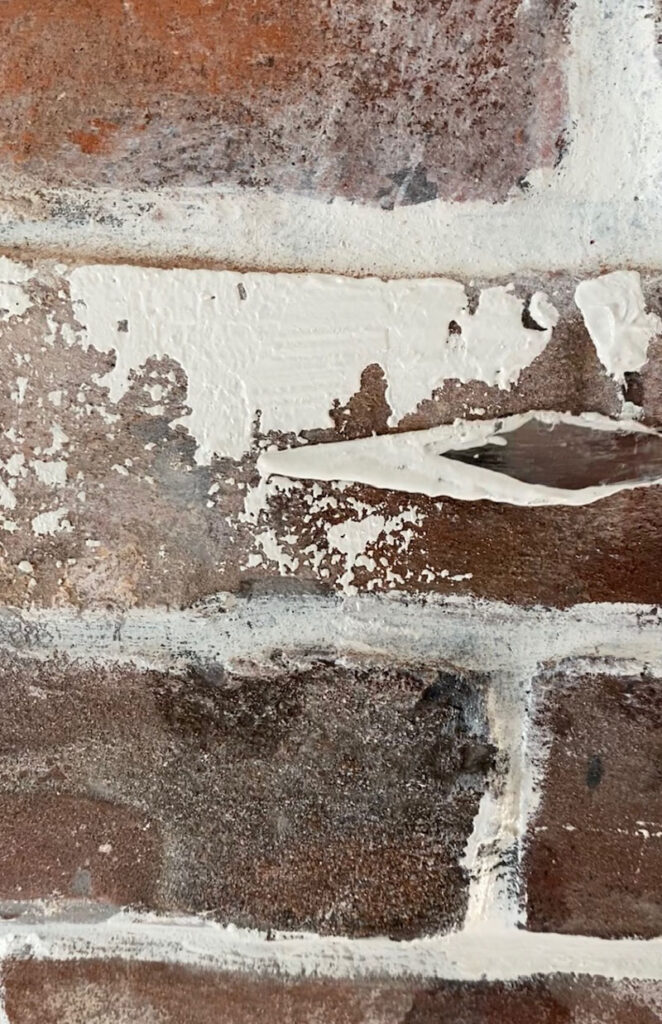 I am in love with this wall. And here it is.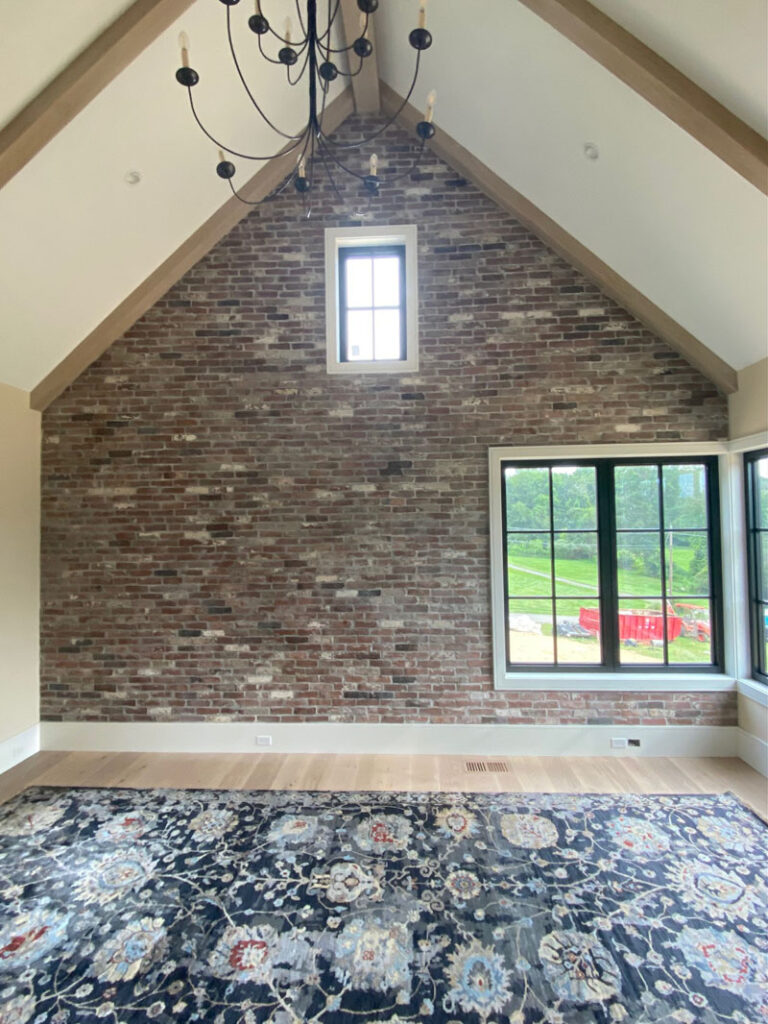 I'm adding one more picture. My client has such elegant taste. She sourced this lampshade; a perfect pairing with the carpet and look at the tones it borrows from the brick.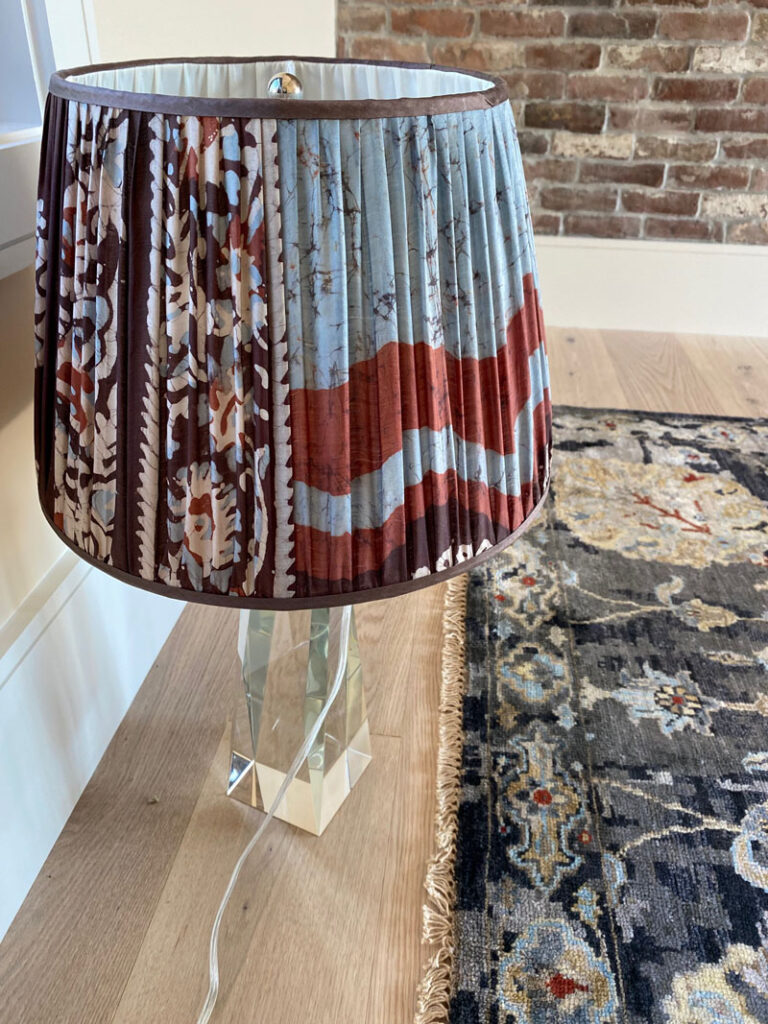 While we're still talking brick, there's more than one way to change brick and not use the German Schmeer. Layers of paint can create a wonderful new "aged" finish. Here's a sample of a finish mimicking old, chipped, whitewashed brick. It was originally red, very machined looking brick with sharp square corners. The finish distracts from the corners and I refer to it aptly as "red brick be gone".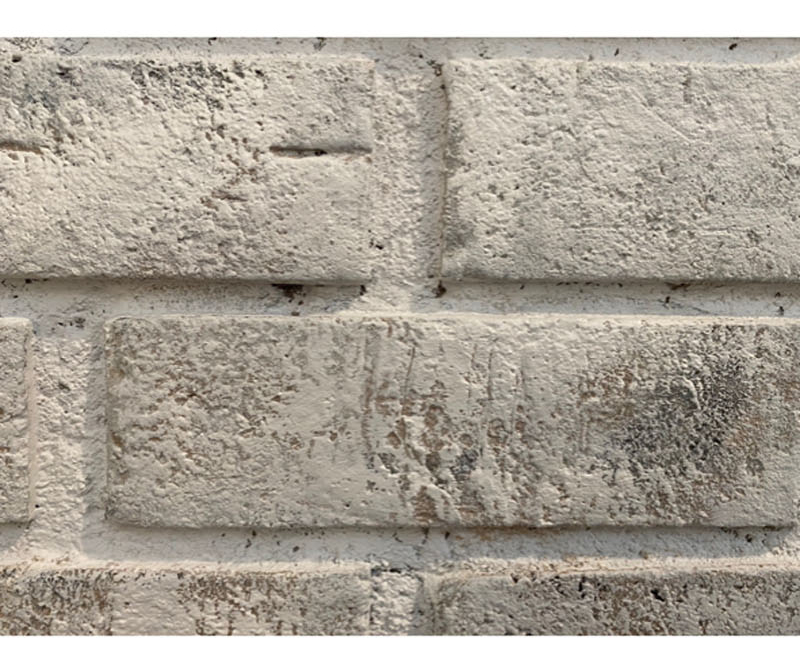 Another way of tackling the dreaded boring red brick scenario is to hand paint each brick and add a little new color and mortar to the grout. It's helpful to have a good inspiration photo when on this path. I was supplied with one and chose my palette from it. My client supplied this before and after picture.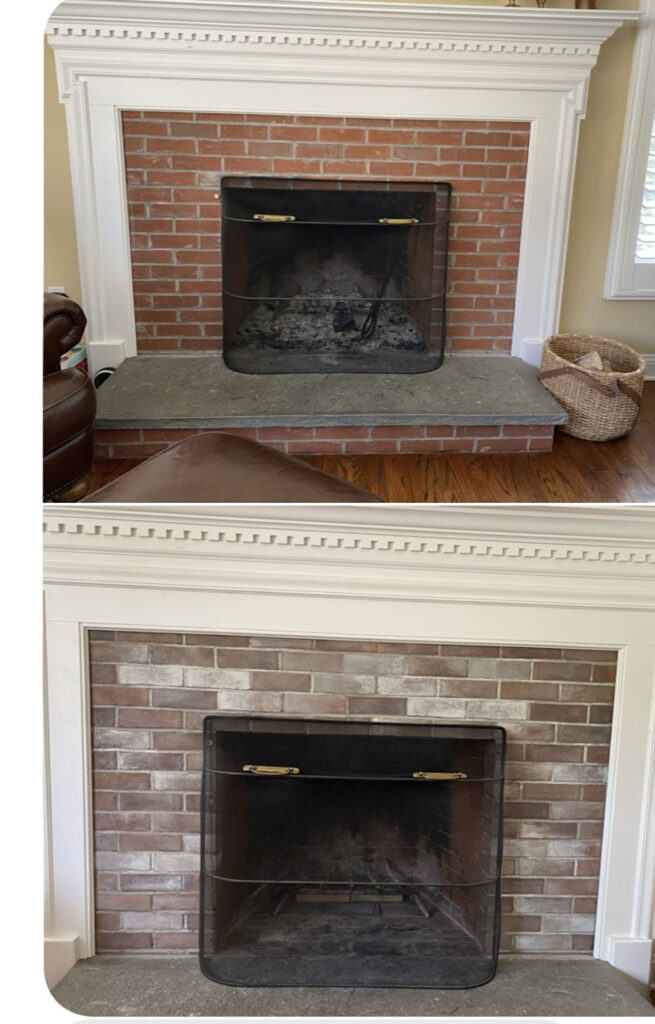 And lastly for today, when you need a brick wall, and you don't have one…you paint it. Here's a progress and finished shot of a hand-painted wall I painted for a master bedroom mural.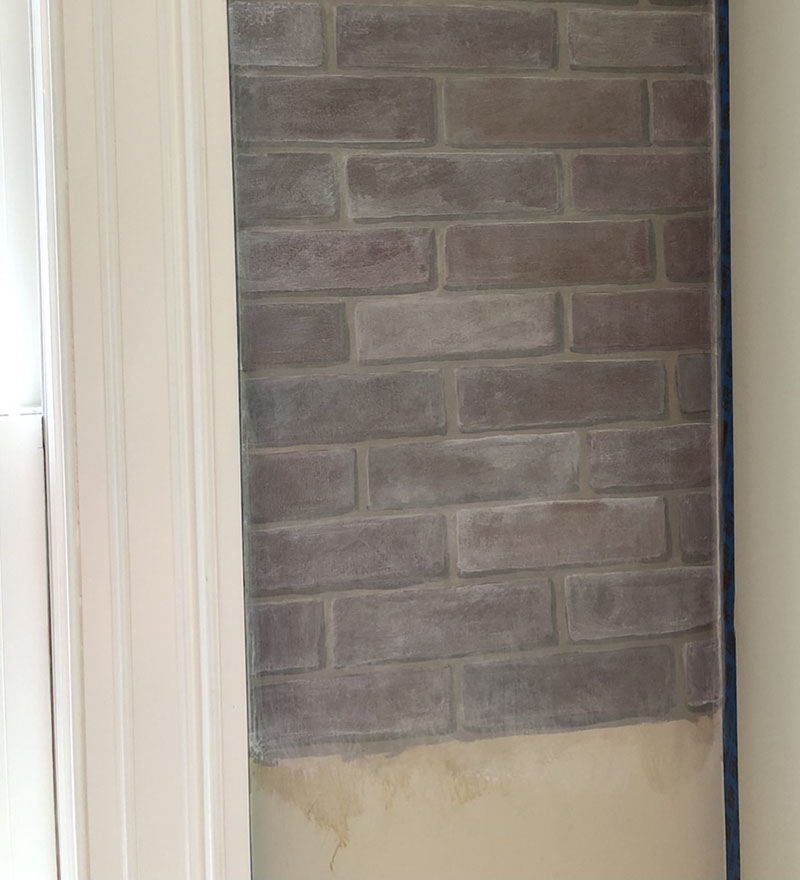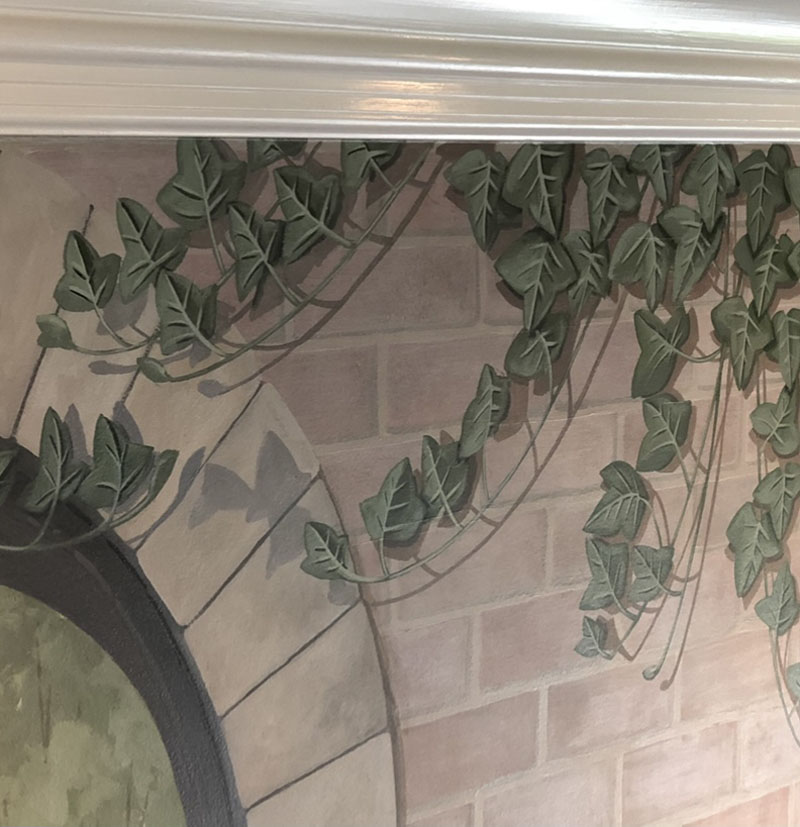 Looking at your own brick fireplace or wall. Make sure you love it. If you don't, give me a call and I'll make it brick we will both fall in love with.