Clouds have always fascinated me.  I have literally thousands of pictures I've taken, or friends have sent me, of simply beautiful clouds. And I've painted them. Each cloudscape calls for different palettes and approaches.
I am grateful to have been brought to this project by JoAnn Clapp of the Stone House Studio in Woodbury (www.JClappDesigns.com).  JoAnn and I both paint custom headboards for the I.M. Smitten gallery in Trumbull.
I have painted larger sized ceilings and domes than this one, but these had other design components: architectural details such as trellises, vines and birds. This was the largest that I had approached that was pure and simply JUST Clouds. No distractions. So, I had to plan a cloudscape that met the client's wishes for calm and peaceful clouds, with no hint of storminess, and yet, I knew it had to have oomph!
The dome measures 30 feet in diameter with a rise of 8 ½'. The bottom of the dome is about 18′ above the platform that covers the pool which it is over.
Here's a picture of the dome structure just after installation. It would still need to be smoothed, primed and basecoated before work could begin.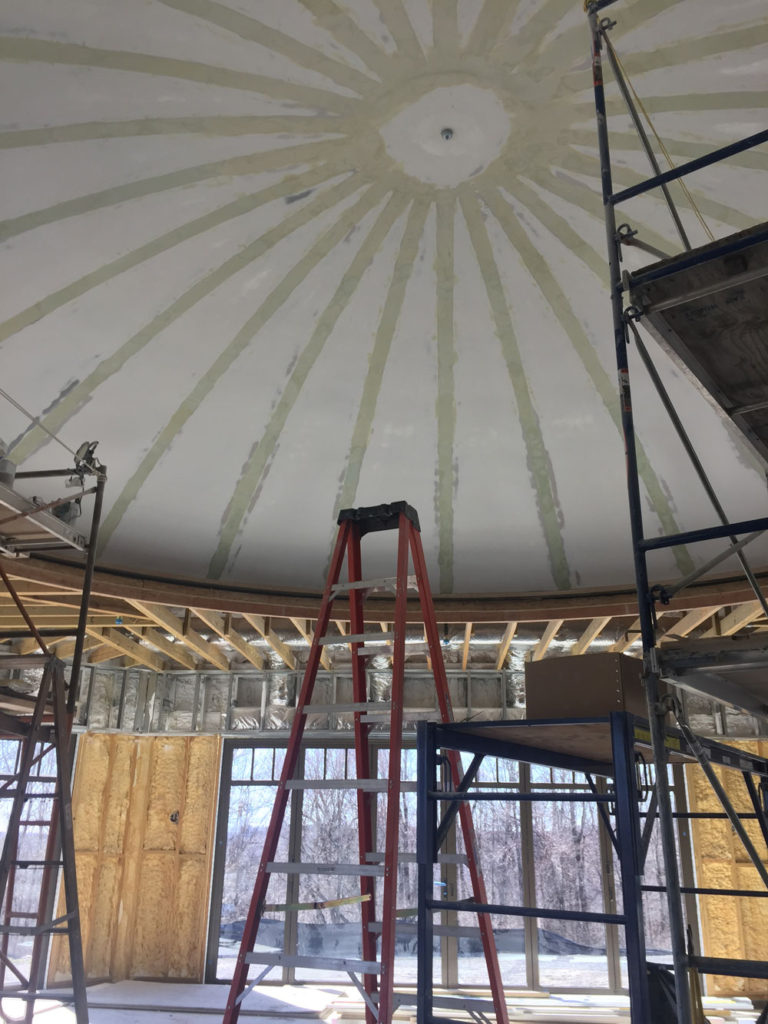 I prepared a sample in a bowl that was similar in contour so that the layout could be appreciated. I also painted a pair of 30″x 40″ canvases to illustrate the color palette.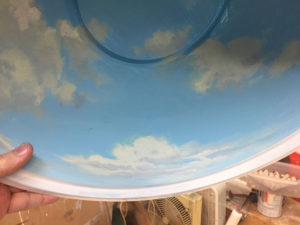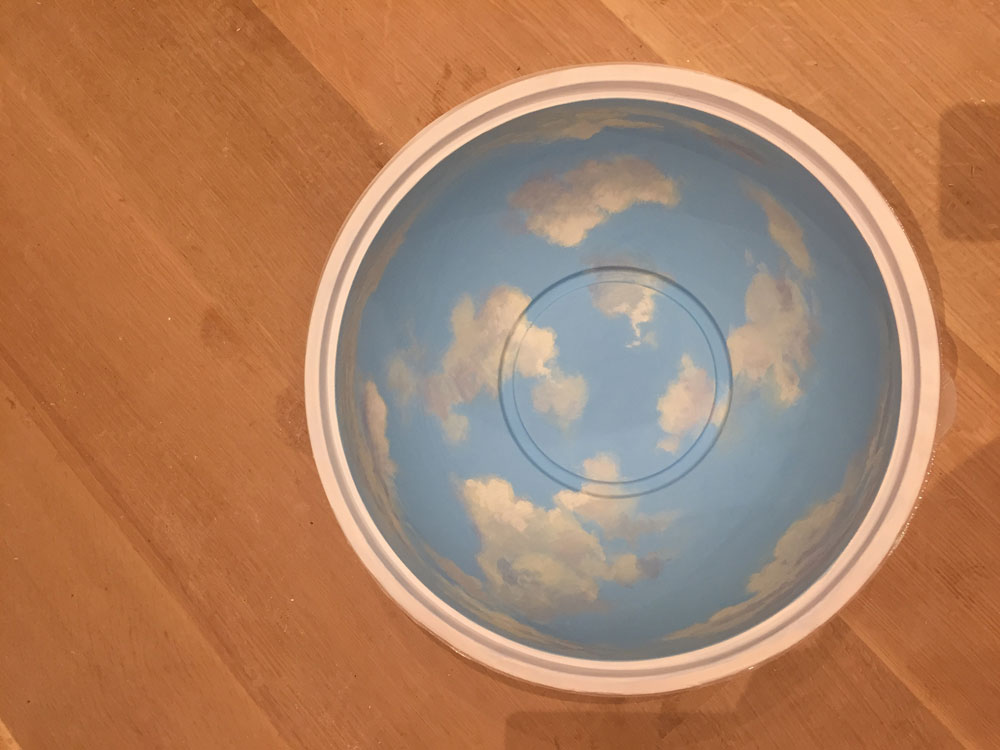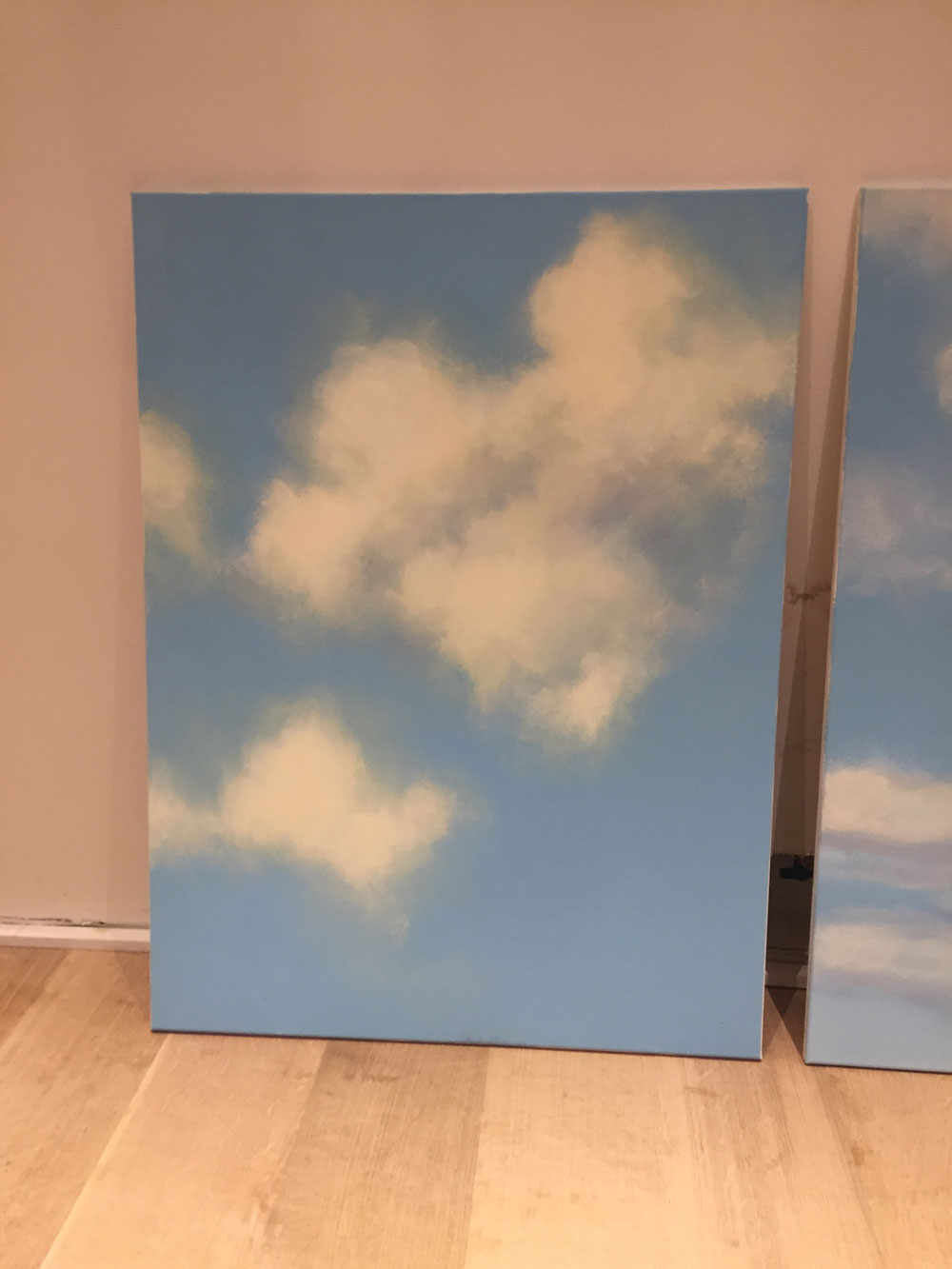 The challenge in such a large composition is not to shy away from the scale, no matter how big the cloud formations are. I gridded the plastic bowl with an overlay so the space could be drawn out in chalk.
It is such a peaceful working space.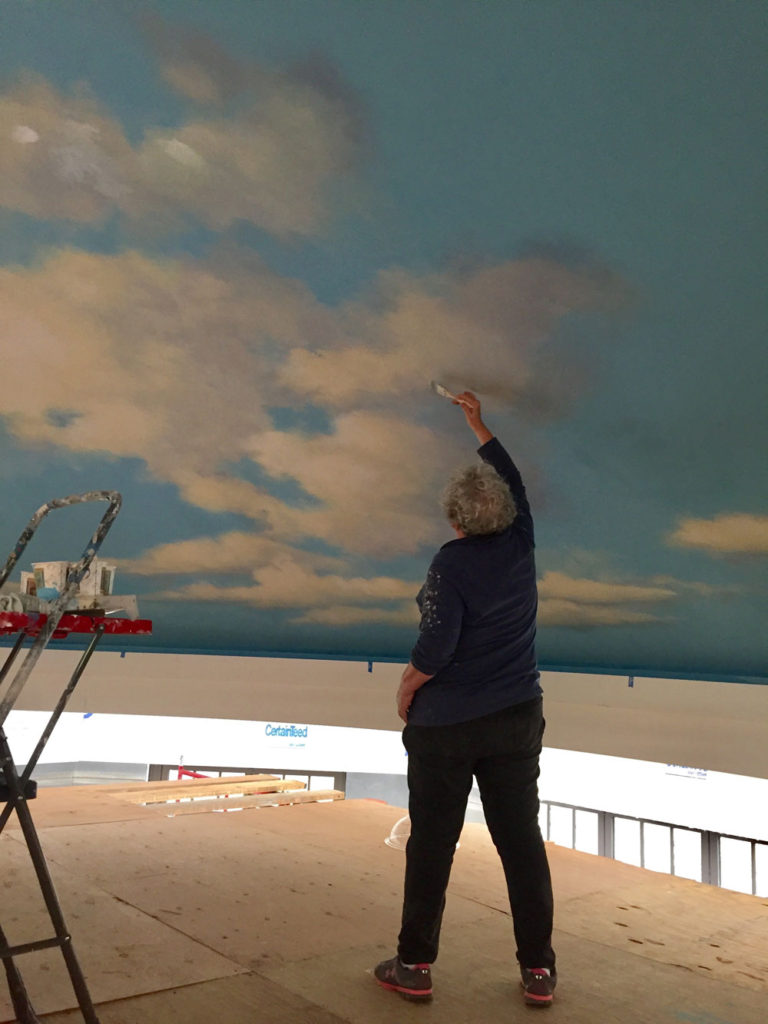 The working platform the owner had erected (fondly referred to as the dance floor) made getting up in the clouds a breeze. Loved opening up the trap door each morning to be greeted by soft, billowing clouds.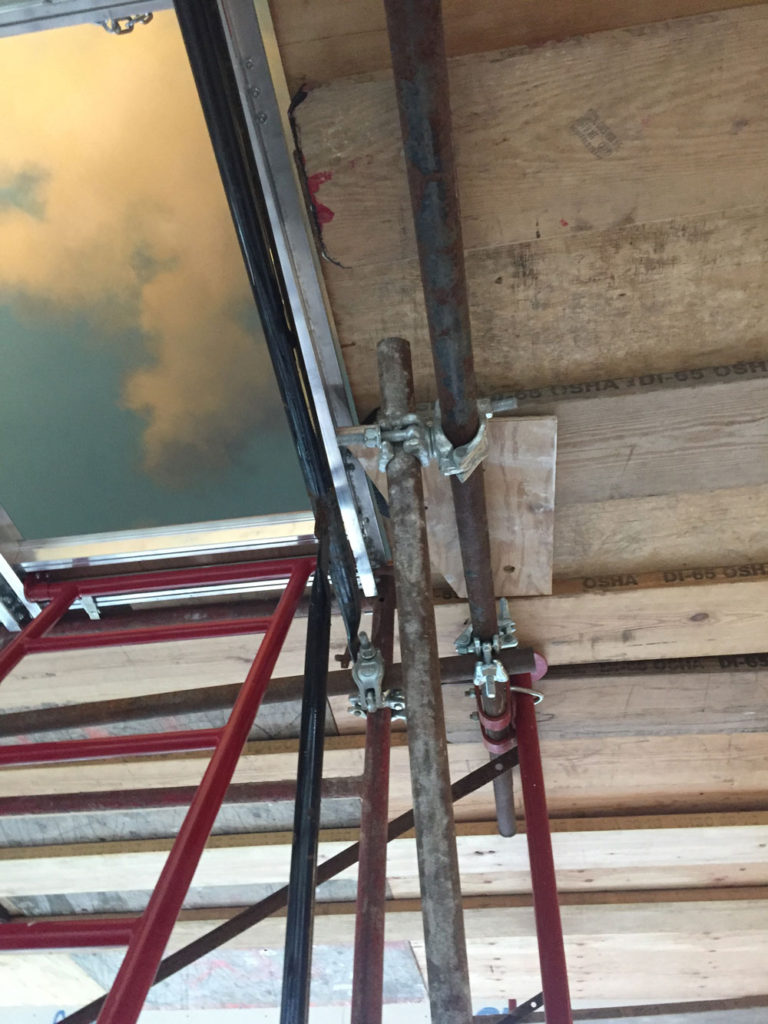 And then there's that moment. It's done, and you just hate to leave.
Here is a closeup of my favorite section. This picture truly shows the cloud colors accurately.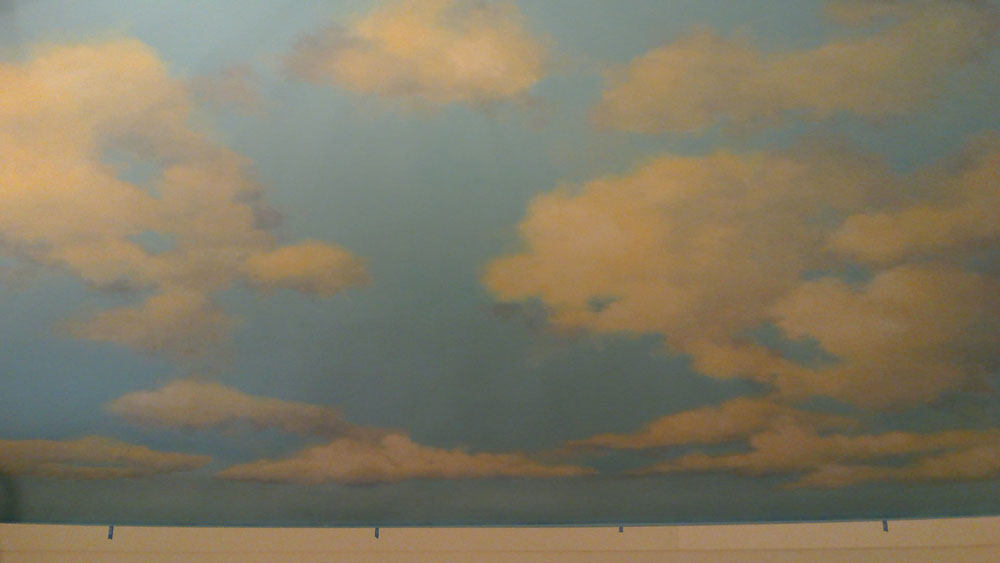 And, yes, in case you're wondering, visitors to the dome saw all kinds of things in the clouds. Isn't that their beauty?
I'd be remiss to not include one picture of the different aspects the clouds will have thanks to the phenomenal lighting system.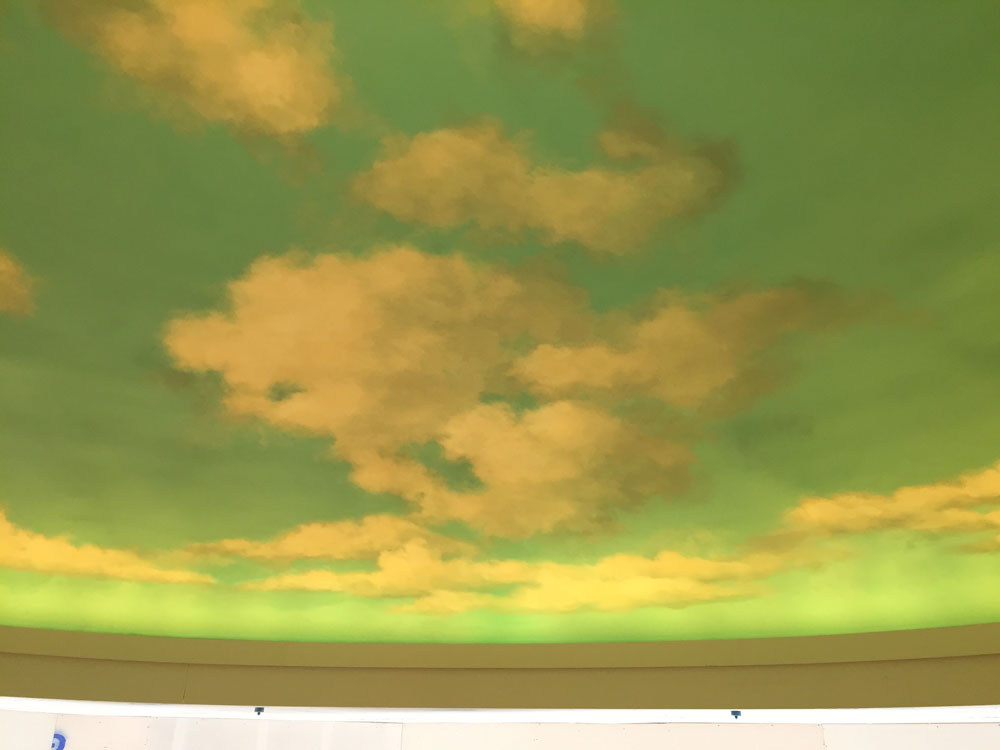 I've got one more to share. Here's the best view yet once the platform was done.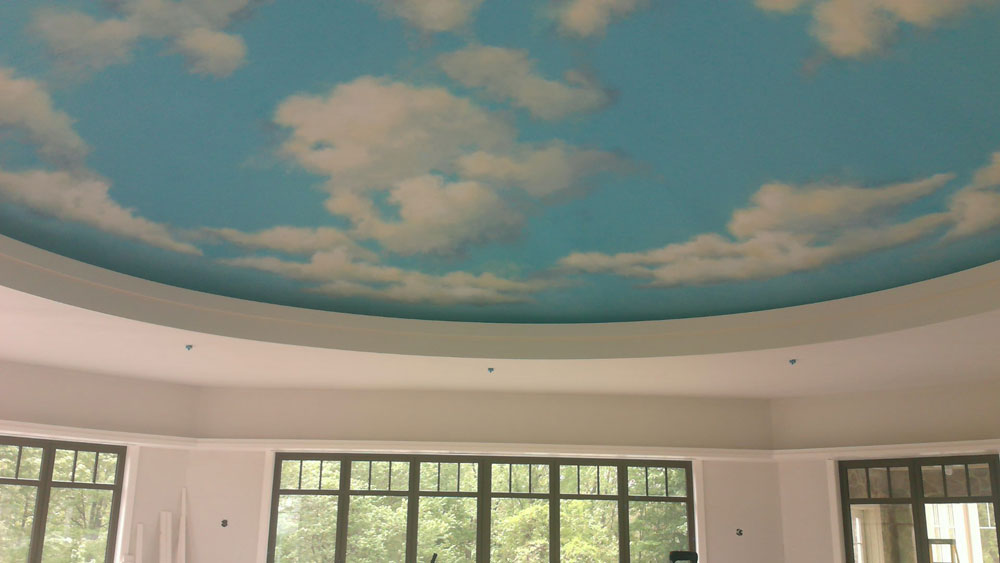 I do promise to share more pictures when construction is done and the pool is in view.
Until then, I'm back on the ground, ready to tackle the next challenge.
Got one for me?