So sometimes a project starts out as a wonderful surprise. When I pulled into the driveway of this home for the first time, I just knew this was going to be something special. Looking at this beautifully restored country church in Fairfield county, Connecticut, I had no idea of what to expect.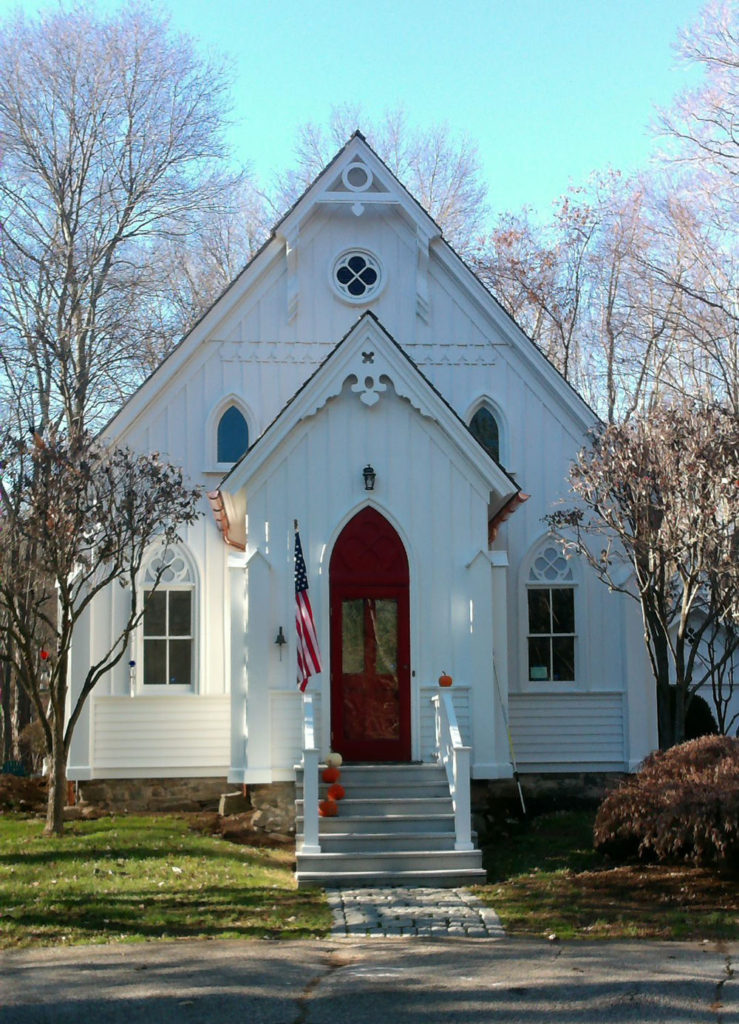 Originally built in 1873, the church was sold and converted into a private residence when the parish outgrew its tiny size in the 1950s. An attic floor was built converting it into a five room home. My client purchased it in 1990. By that time, the deed restrictions dictating that "it not look like a church" had passed and she was able to renovate the exterior back to its original beauty in 1992. The interior renovations started earlier this year and are nearly complete.
When the closet was demolished and the false ceiling removed, an absolutely lovely foyer space emerged. Salvaged wainscoting was used where needed. I experienced the special gift when I "get" a new client and they in turn "get me". It's a special combination of crazy and inspiration, with a dash of whimsy and when it's there, we get magic.
Here is the vision I had for the space.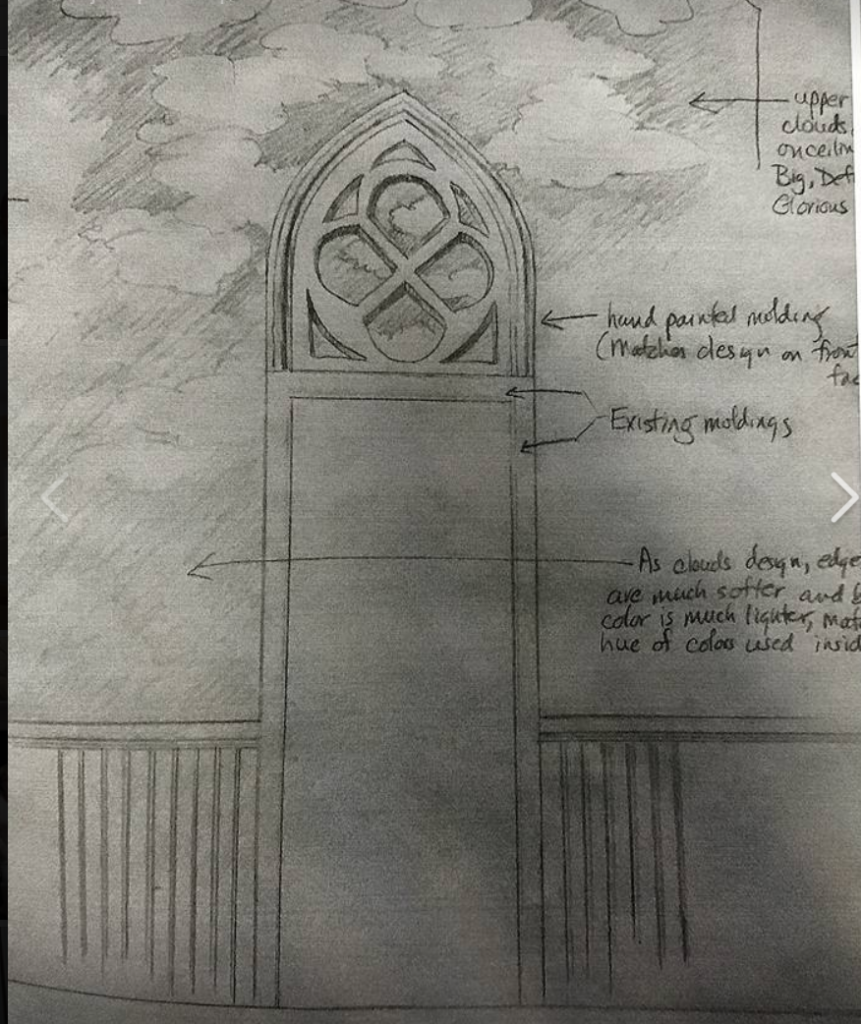 Hold my breath and don't have to wait long. My client loves the idea and soon it's ready to fill the space with clouds. It's a deceptively lofty space. Here's a few shots of the clouds that filled the space.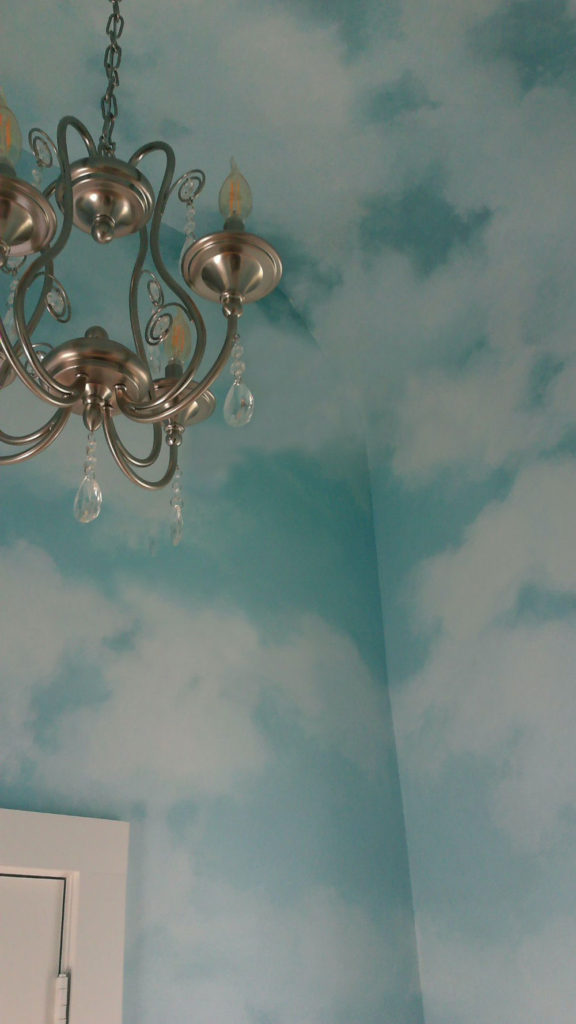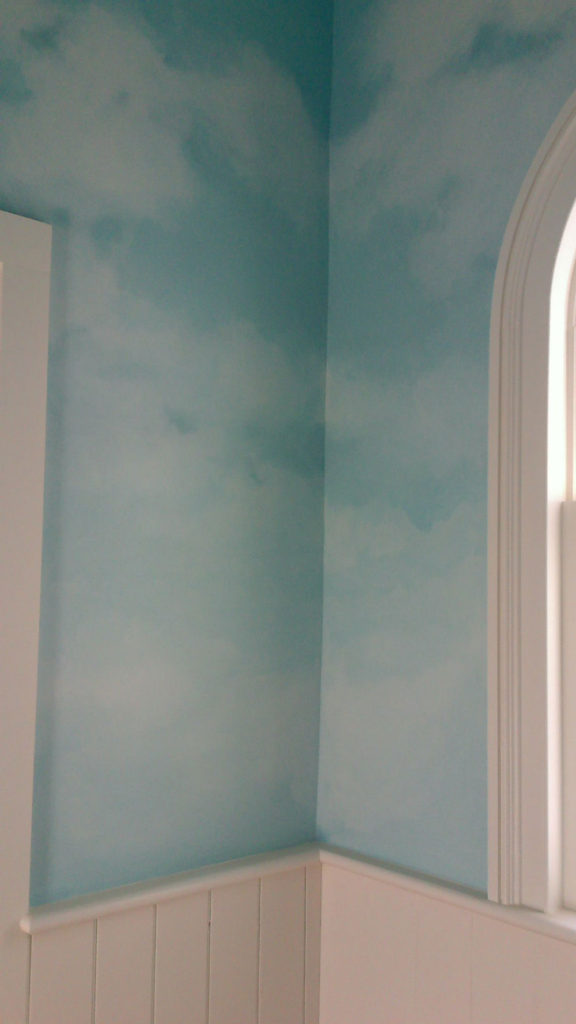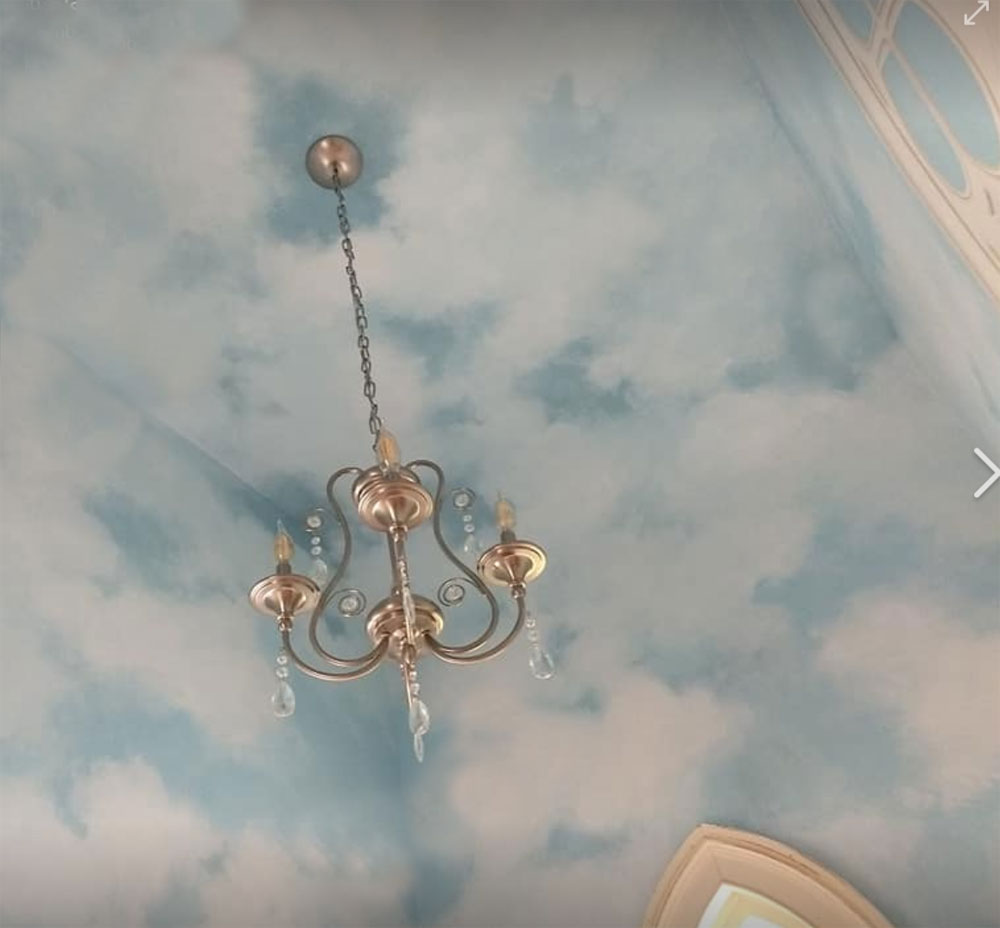 Just so you can appreciate the space, which measures about 6′ by 10′ with a height of 14′, here's me painting.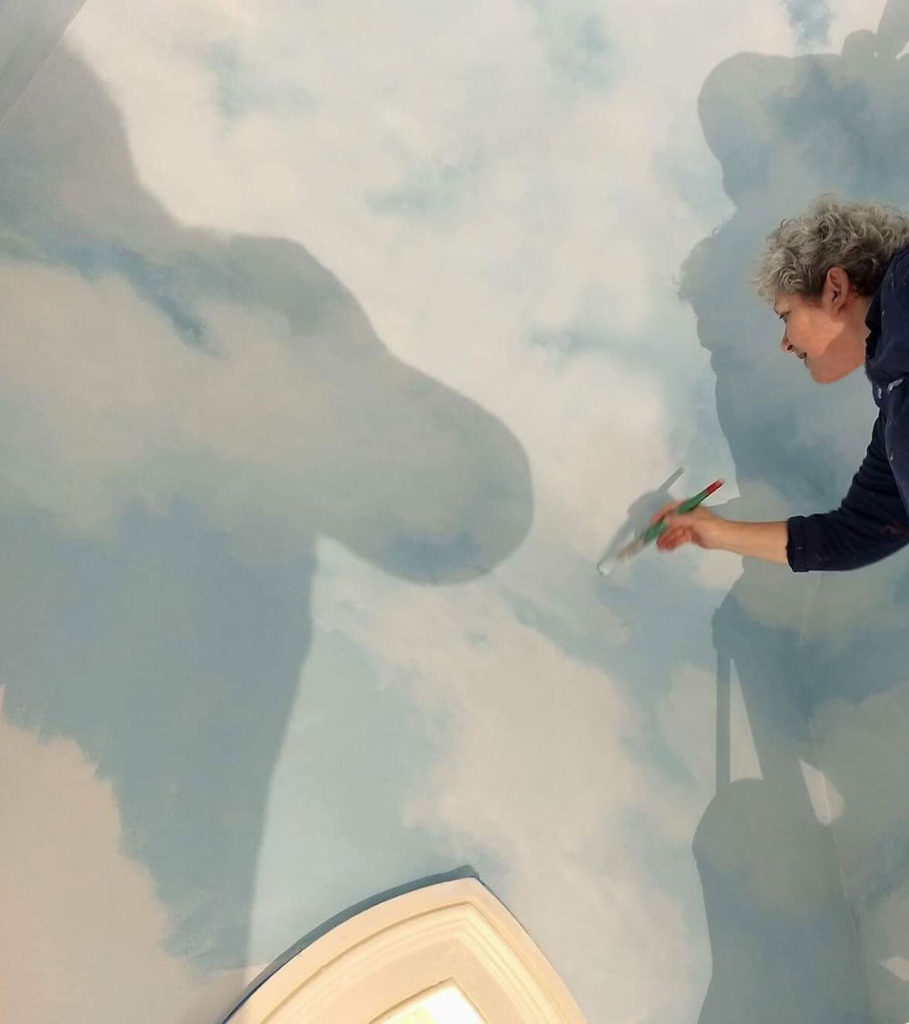 I also painted in the cornerstone with a cardinal, who frequently visits and is fondly named Cardinal O'Malley. Clouds being one of my favorite things to paint can only be topped when I get a chance to paint some trompe l'oeil (a French art term translating literally as "to fool the eye". I decided to add some architectural interest to the square top door frame by adding an arched frontispiece that echoed the details of the front exterior.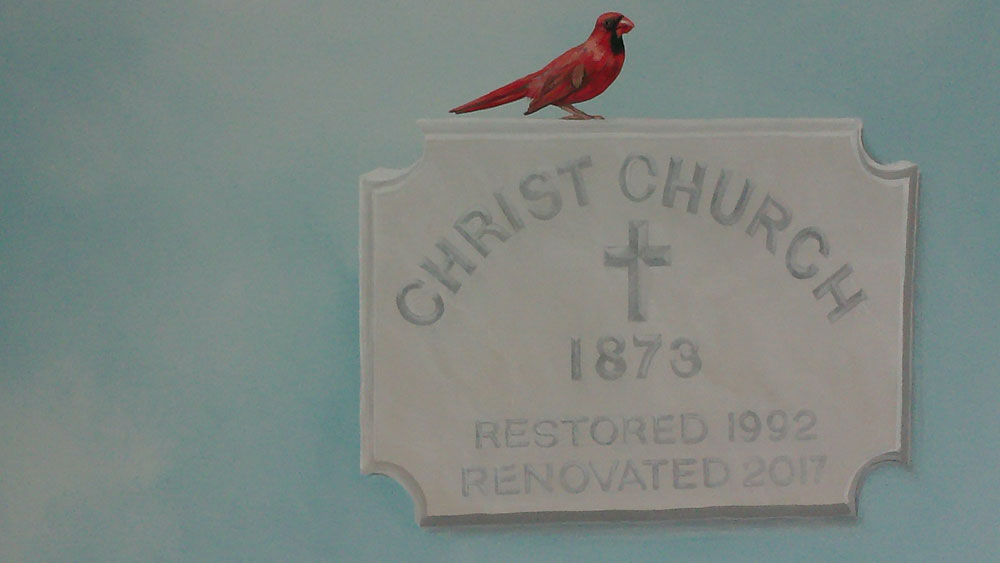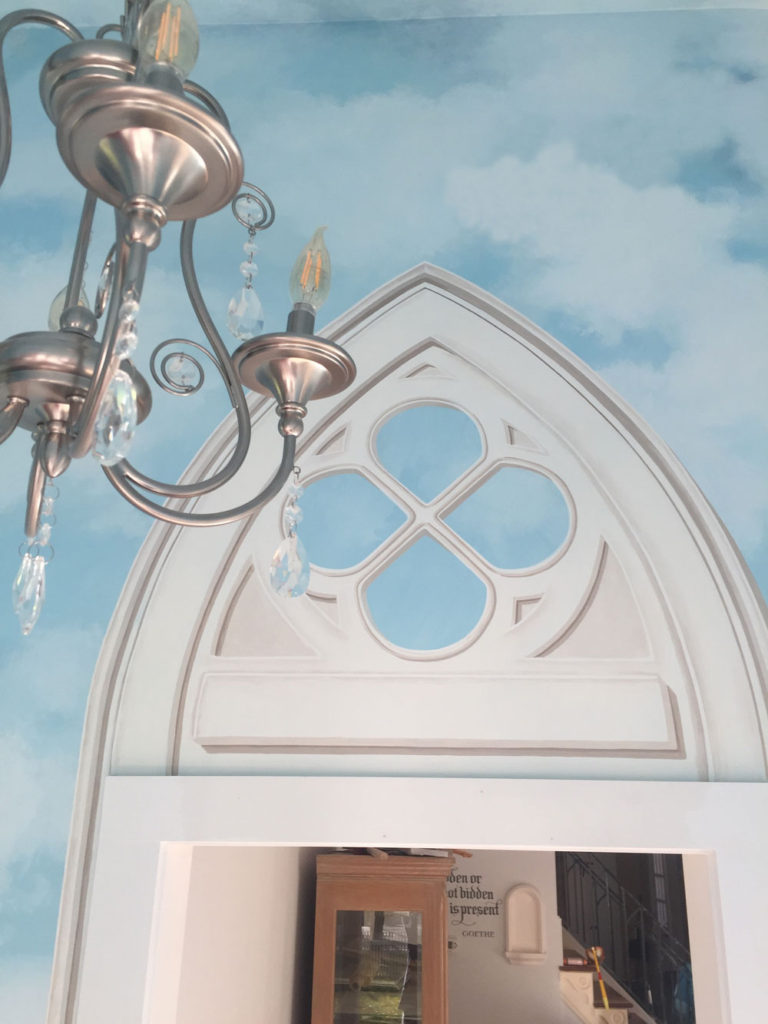 A little video rounds out sharing a sense of the space.
My time in this enchanting home got an extension with another small project. Dust off my sign painting and calligraphy skills to painting this blessing on the wall. I did commercial sign painting for over three decades before I immersed myself in decorative painting. But this, this opportunity to design and create from nothing more than letters is just a joy to my soul. (Thank you to the fabulous Ms. L for this.)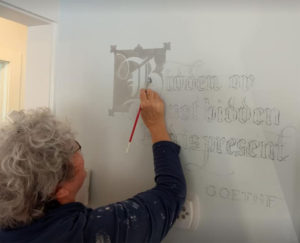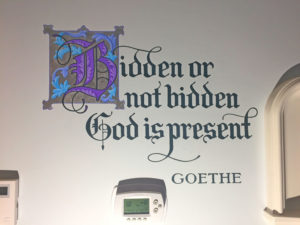 There are a few little spaces calling my name. I'm not ready to say good by. No, not at all.
I loved working and visiting this home. A little bit of the magic stays with me each time I leave.