I was hooked the first minute I walked into the foyer of the beautifully renovated home in Trumbull, CT in Fairfield County, Connecticut. I mean I could taste how much fun this was going to be to paint. Here's what met my eyes.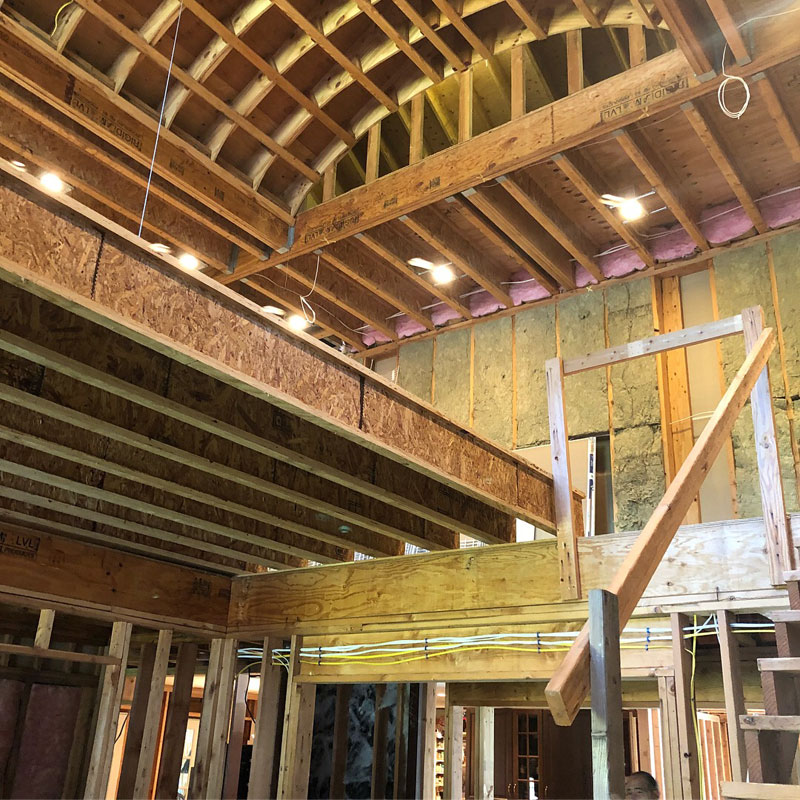 My client was quick to assure me of my safety and was indeed a man of his word. A temporary platform (or as we in the trade are fond of calling it, a dance floor) was going to make this project as easy as painting for days with your arms over your head can be.
After our initial discussion of what the clouds would look like, we started moving from the more stylized clouds of the Gilded Age to keeping the coloring more realistic to New England cloudscapes. Well worth the little side trip I needed to make to Newport to see Rosecliff in person again, and I picked up an inspiration there.
I painted scaled canvases, a half a dozen, so that we could get the configuration and coloring exactly where it needed to be. Here is the final canvas that was my map.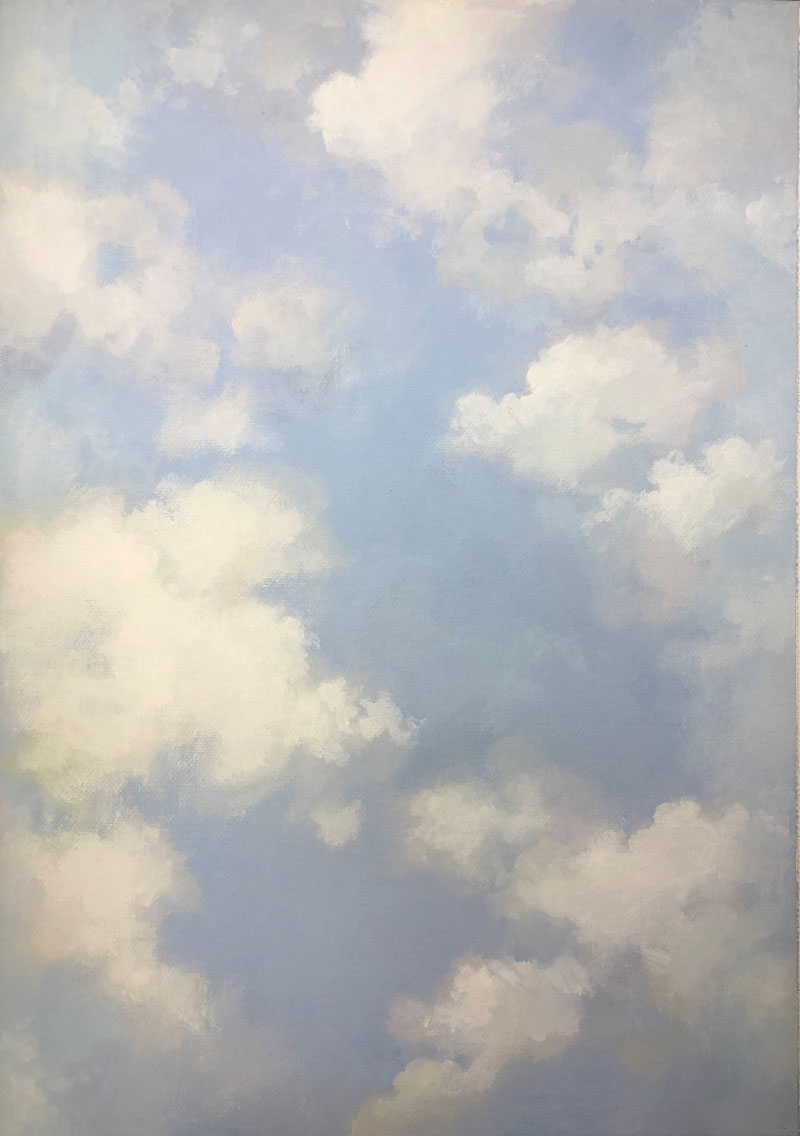 My client is keeping that as part of the foyer's storyboard, and my granddaughter skipped away with the one that had a lot of pink and lavender for her bedroom.
So we were ready to start. I made a color copy of the canvas and laid out a grid of two foot squares. That was my plan, and it turned out to work perfectly.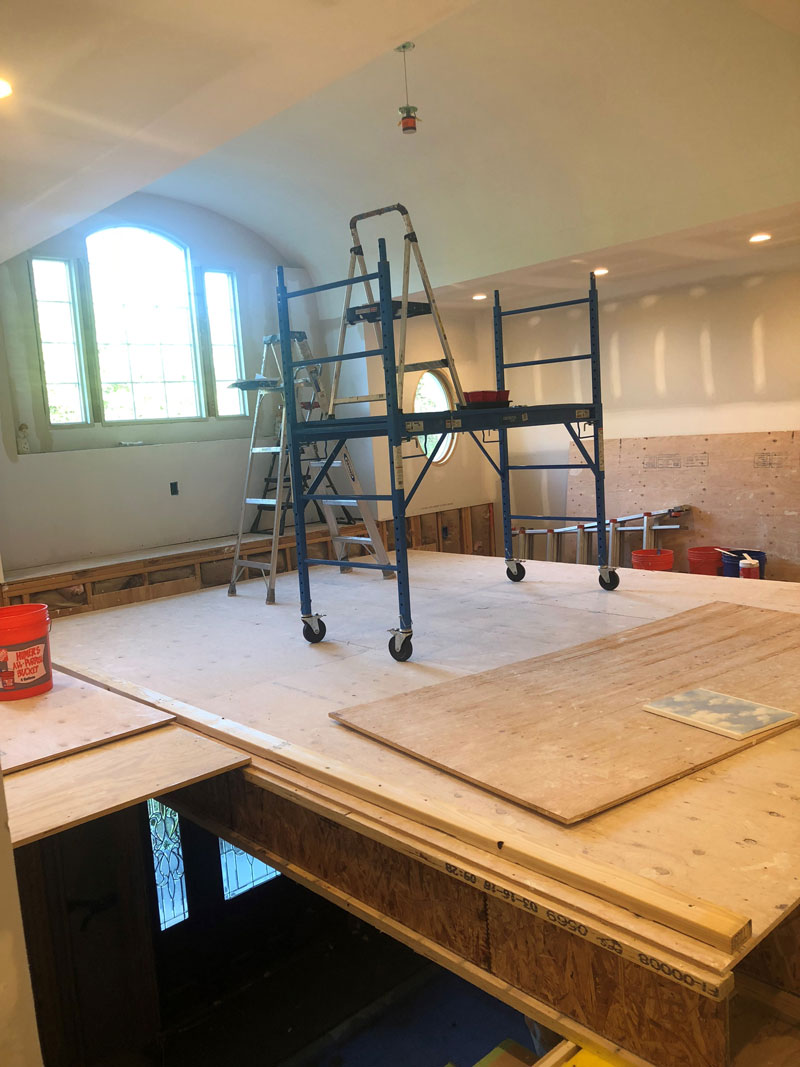 So 54 squares. This would be the most accurate way of keeping the layout on track. When the area is this large and curved, you simply can't view it as one piece so you just have to trust the grid. Here's me on the fifth square.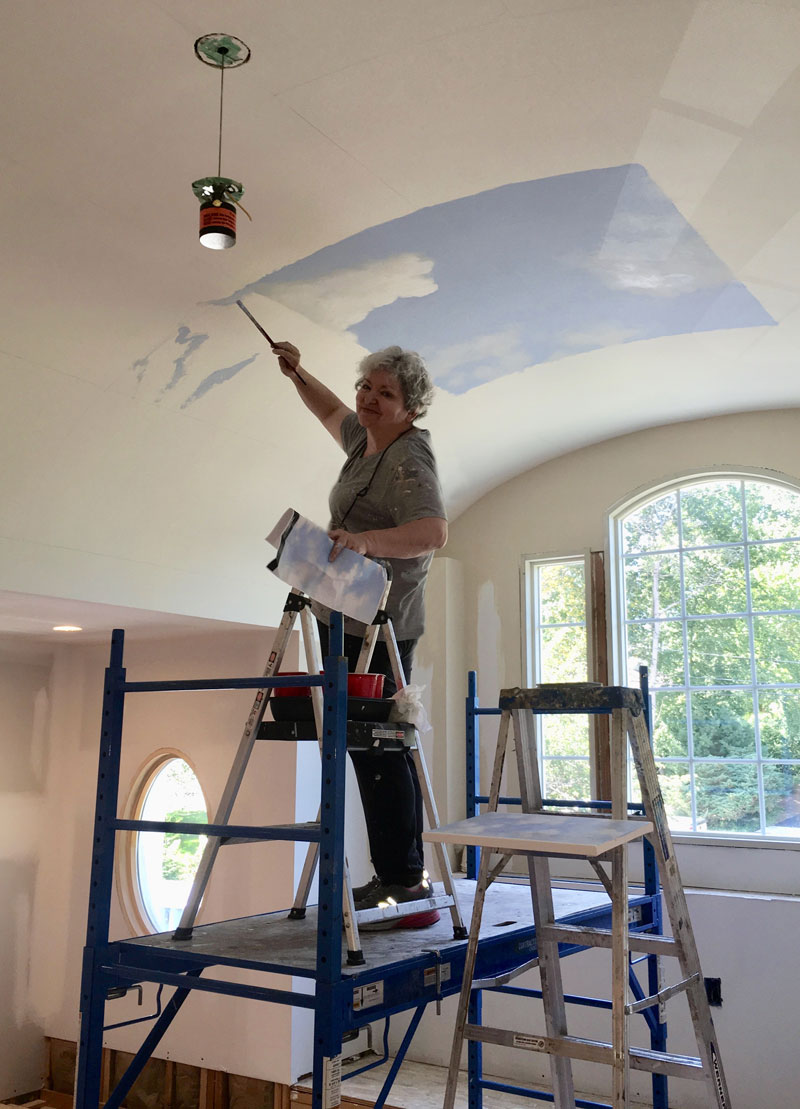 Only 49 to go. Definitely not a good idea to keep track square by square. But before you know it, the ceiling was filling in and coming to life.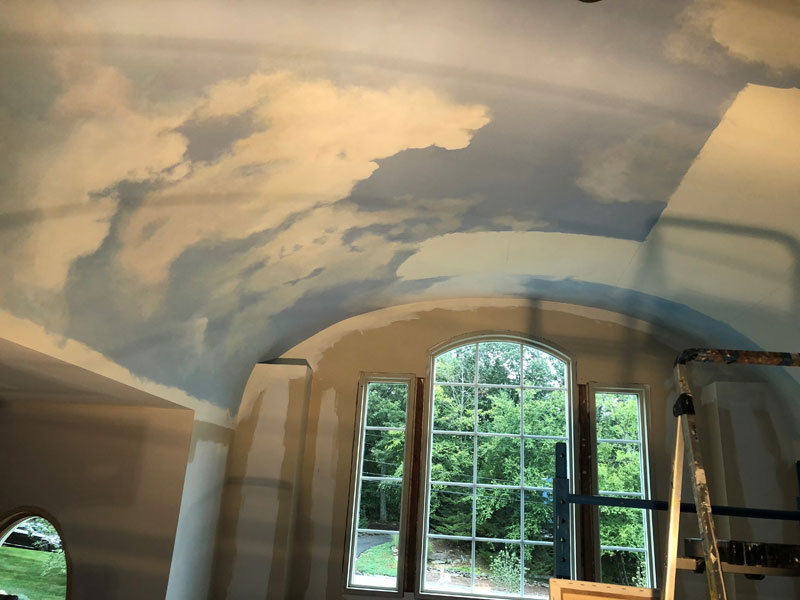 It is intense painting. I had to concentrate just on my square and not get distracted.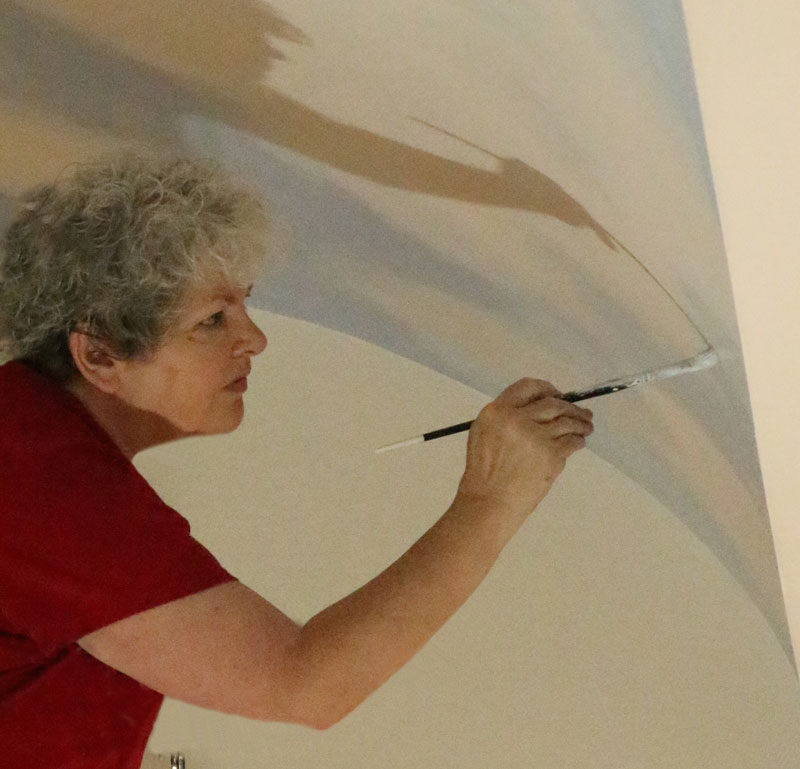 And before I knew it, the clouds were done. DONE! But the space certainly was not. Remember the inspiration I mentioned at Rosecliff. acres of plaster walls painted in trompe l'oeil fashion. Trompe l'oeil is a French term meaning "to fool the eye". Using shadows and highlights, it serves to create dimension on a flat wall. My barrel ceiling ended on one side with windows but the other just cried out for something. Here is the drawing I made for that space.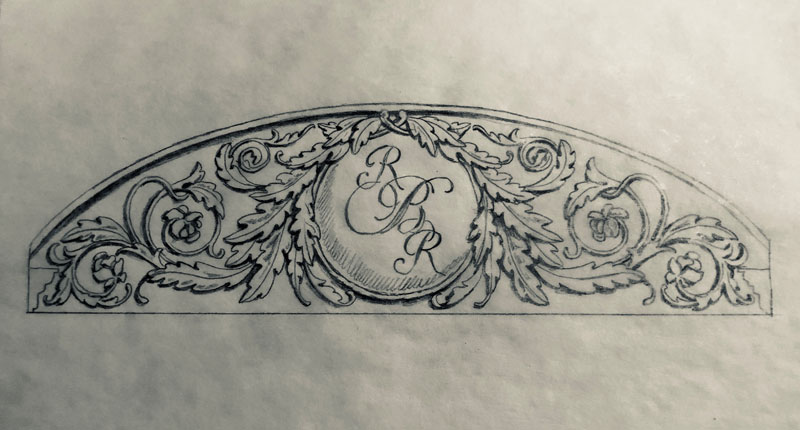 My old sign painting skills came into play for this. Once I had enlarged the drawing, I rolled over all the lines with a small spiked wheel called a pounce wheel. It made small holes that would allow a pad of finely ground charcoal to be pounced through the paper and transfer the design.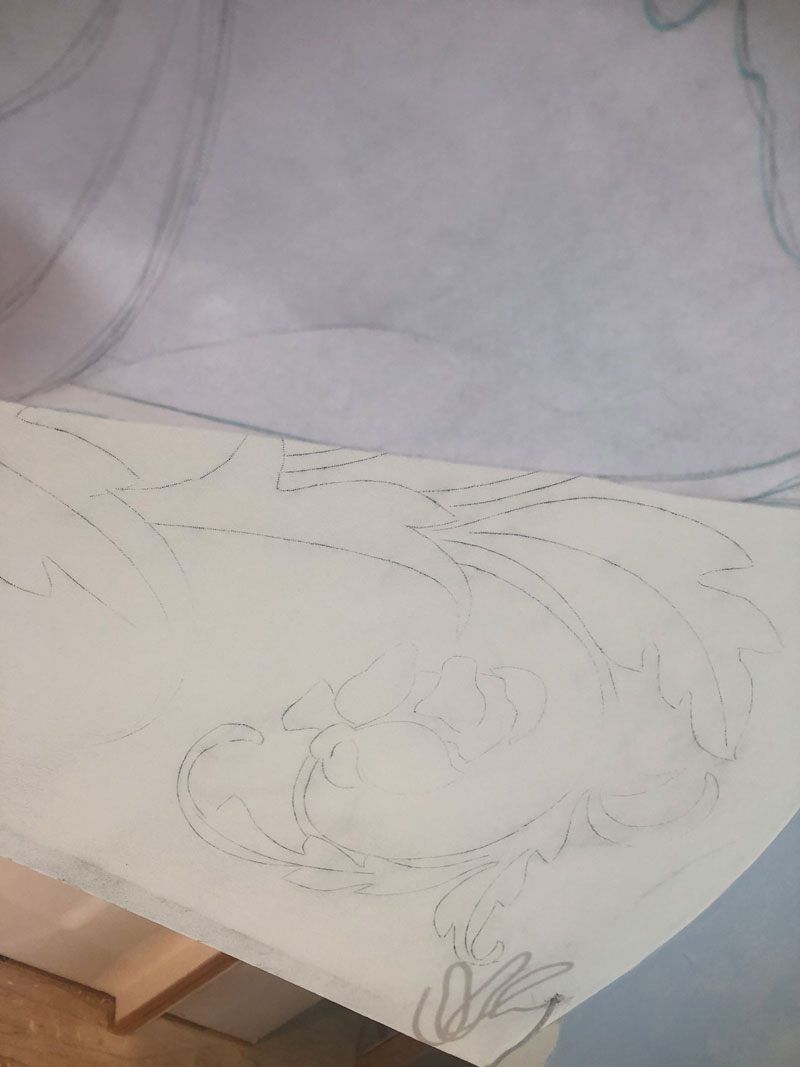 Here you can see the design on the wall.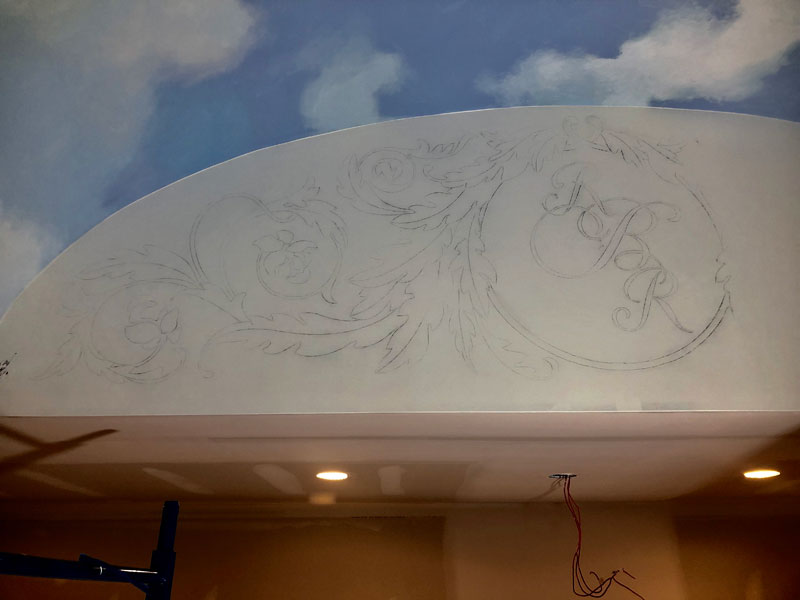 At this point, I lightly went over the design in pencil and dusted the charcoal off. Then, the painting started. Step by step, the ornament came to life; cast shadow, form shadow, shadow accents and then highlights . Here is a progress shot with the cast shadows of the ornament being painted.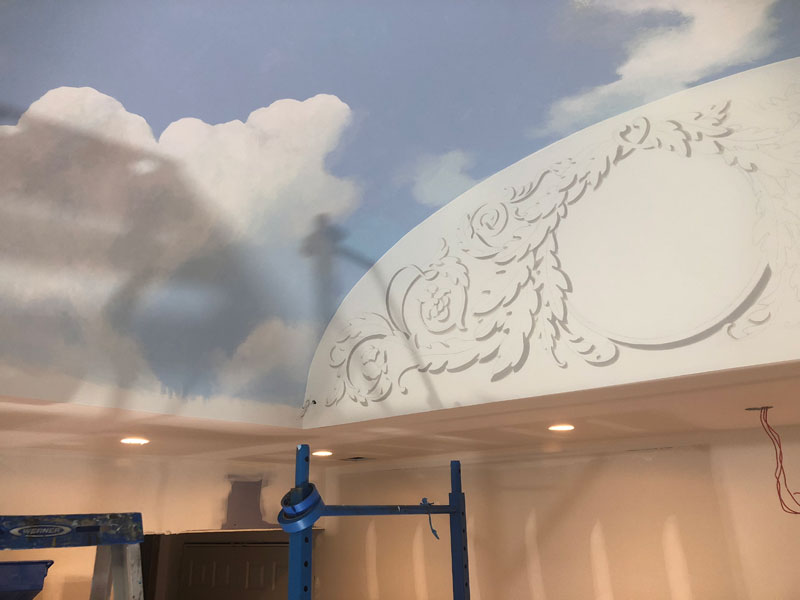 Now, look at it completed.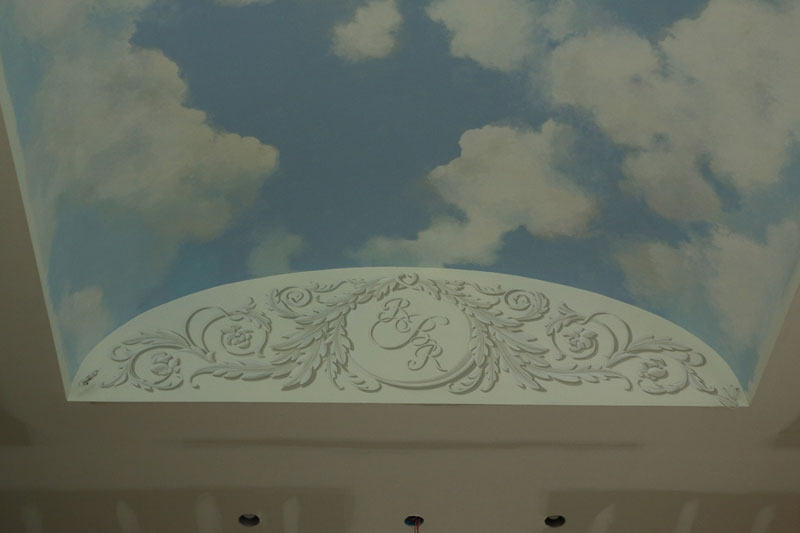 And then, I was done. Still as I'm writing this, torn between being superbly satisfied with the outcome but sad that the ride was over.
My client asked me each and every day if it was a good day. Did I have fun? because I believe that he understood how invested I get in a project like this. And indeed, every day, no matter how tired I was at the end of it, was a great day. Knowing that I had delivered what my clients were looking for in their home is immensely satisfying.
And the final gift (because opportunities to paint in spaces like this are a gift), my client took the temporary platform down so we could see it as it should be seen.(he's going to have to put it back to install moldings and lights). We were all three of us like little kids at Christmas saying look, look!
And here is what we saw.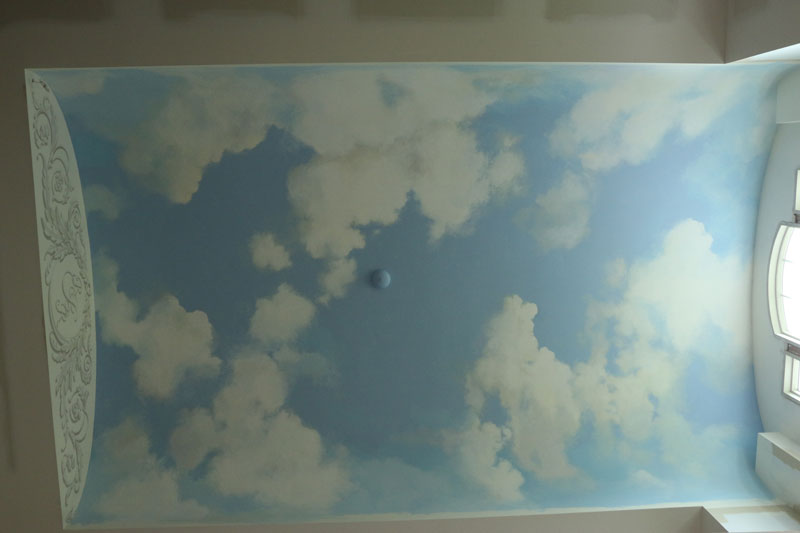 PLEASE, click here to watch the video. It captures a little bit of the magic.
I've still got some magic in my pocket. Could it be for your home?