It started one night I couldn't sleep. It was back in October. I was staring at a corner in my bedroom, an outside corner that puzzled me until I realized why. I'd painted murals around corners that turned inside a room, but this corner turned outward into a small entrance into the bedroom. How would a mural translate going from one side to another?
And then there was no stopping the thinking process that had started. I'd have to paint something. Something (how selfish!) that would be just for me. Trusting my husband Hans would love whatever it might be as much as I would. Turns out, I am a very difficult client indeed. I wanted everything. I wasn't sure. The possibilities were overwhelming until I got a request from someone who had seen a mural I'd done years ago, that was a border of acanthus leaves. (I do hate to leave loose ends of a story. That request is on hold until the potential client decides she will purchase the property she'd had in mind.) But the seed was in place and I had a direction. I love painting acanthus leaves but this time I'd go one step further. The leaves weren't enough. I'd use them to frame a mural. Here's my initial sketch.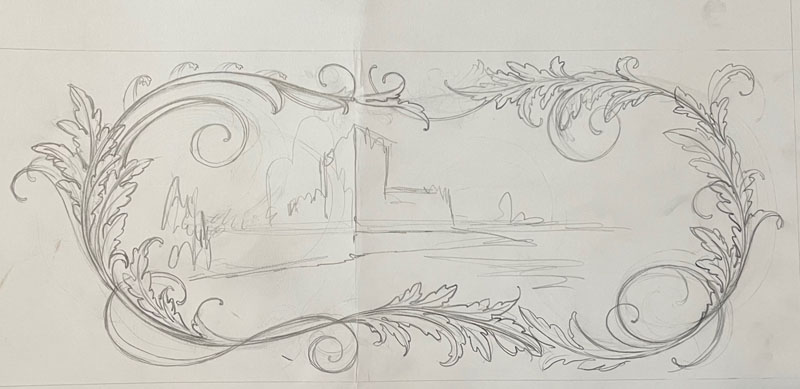 Move the furniture out of the way. Get the sketch up on the wall.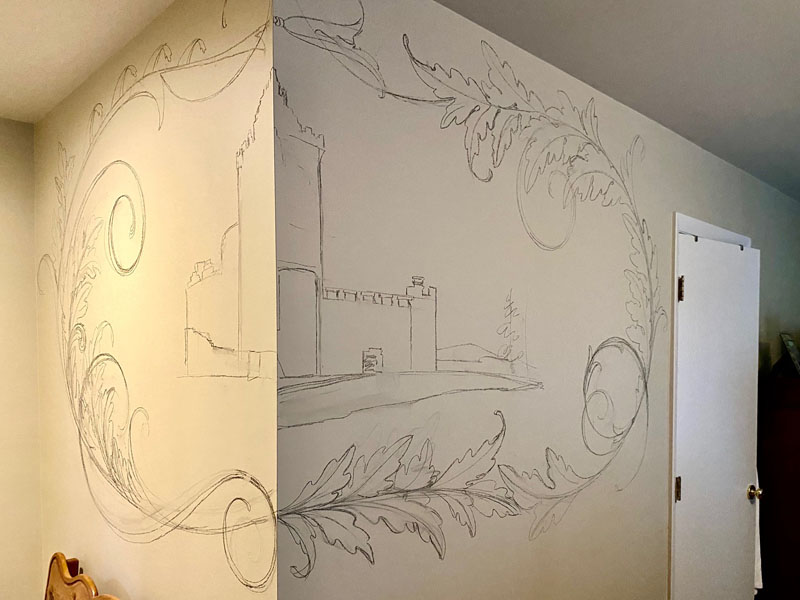 And that was the moment I realized with a sinking feeling in the pit of my stomach what I was getting myself into. The frame was massive. There was one moment I started contemplating forgetting the whole endeavor and just repaint the room. It was a moment and then then it disappeared, and I was committed. I know I mentioned October. We got used to the ladder in the room, the furniture pushed away, the paints and brushes left out every night. I started blocking out the acanthus leaves.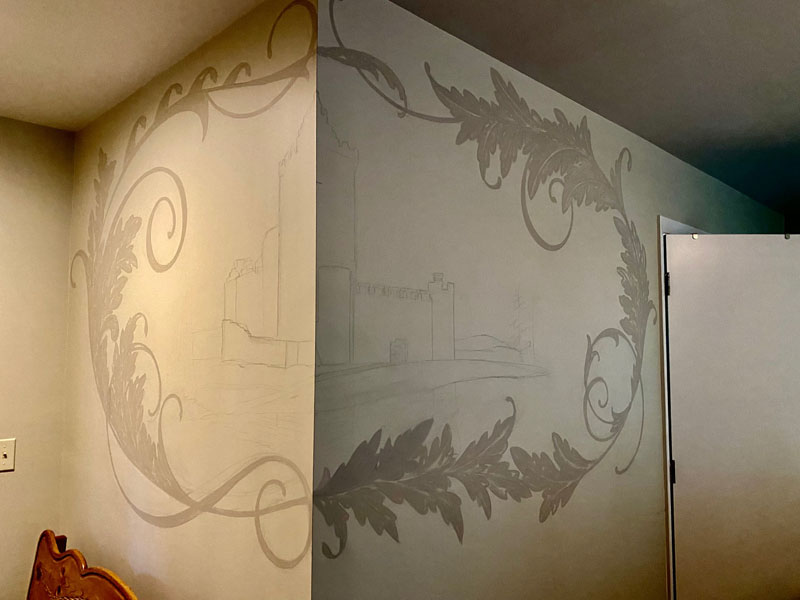 October turned into November. Christmas came and went. I stole hours whenever I could. It was taking shape, but I had created a monster project.
Leaf by leaf, the border became dimensional. I can't describe adequately how much I enjoy painting trompe 'oeil. (A French term meaning to fool the eye. Using painted light and shadow to create dimension.)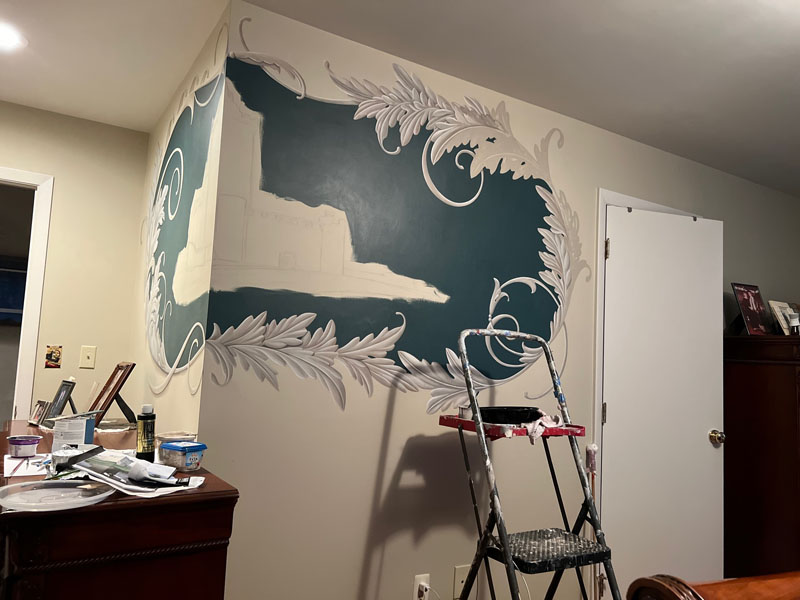 January came and it was finally time to paint the interior mural. I remembered a photo I had found of Ross Castle in Killarney, Ireland. What had gotten my attention was that the castle in the photo was divided vertically right in the middle. One side facing the light source, the other in shadow. Equal to my self-imposed challenge. I'd place the castle right on the sharp corner of my wall and see if I could make it work.
The other elements in the murals? The night sky was inspired by a photo I took in the driveway of my son's home Christmas night 2020. I knew I'd use it someday. The pine trees served well to disappear into the dark teal green background and they happen to be one of my favorite things to paint. I know, the castle itself. I can be ridiculously sentimental sometimes. I wanted the look of a fairy tale, a piece of my very own Camelot. And of course, with swans.
So without further ado. It's the tail end of February. It's done. The room is back to order. And I can look at these walls for a long time.
The left side…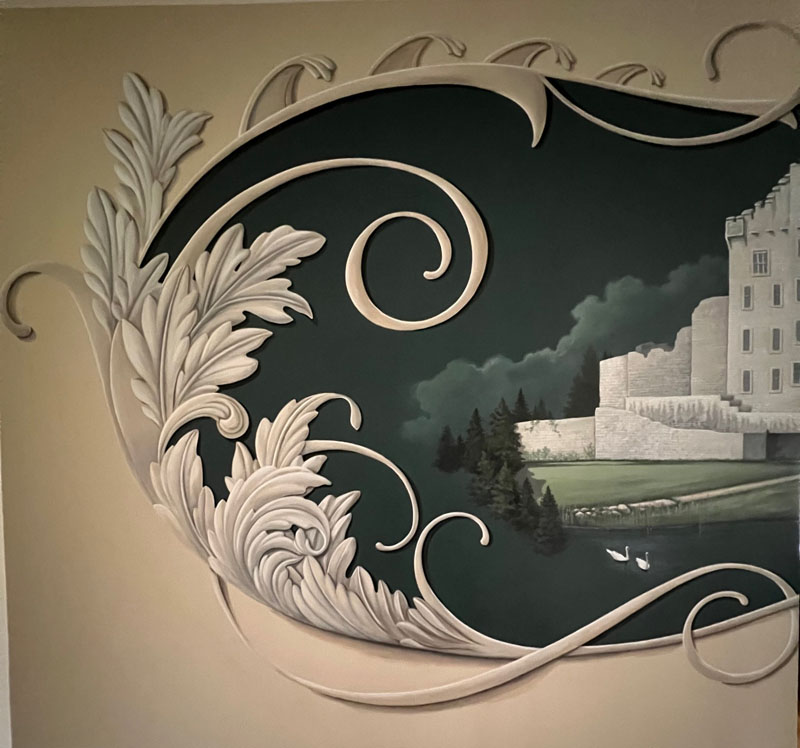 The right side…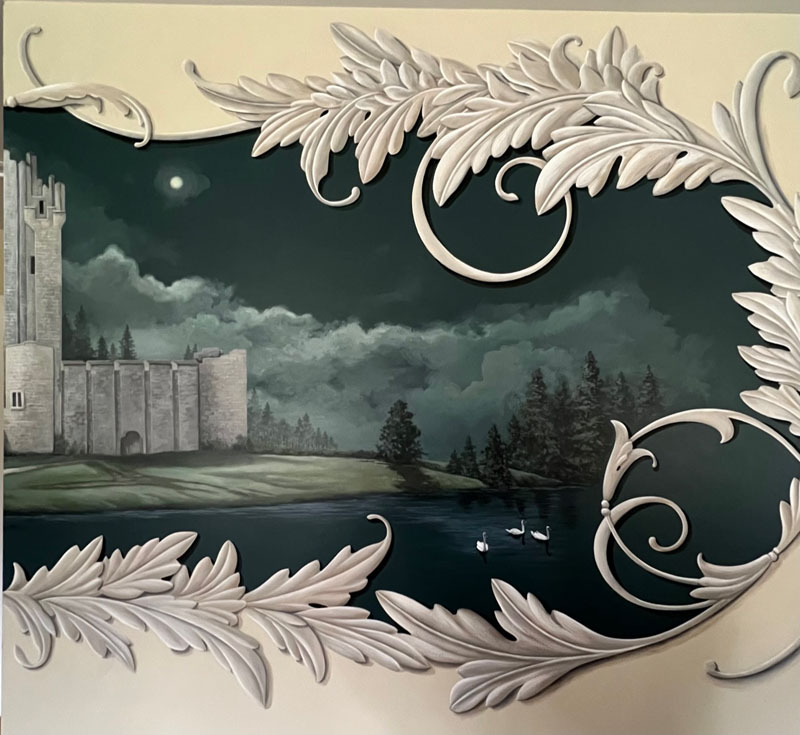 The middle – where the two sides meet…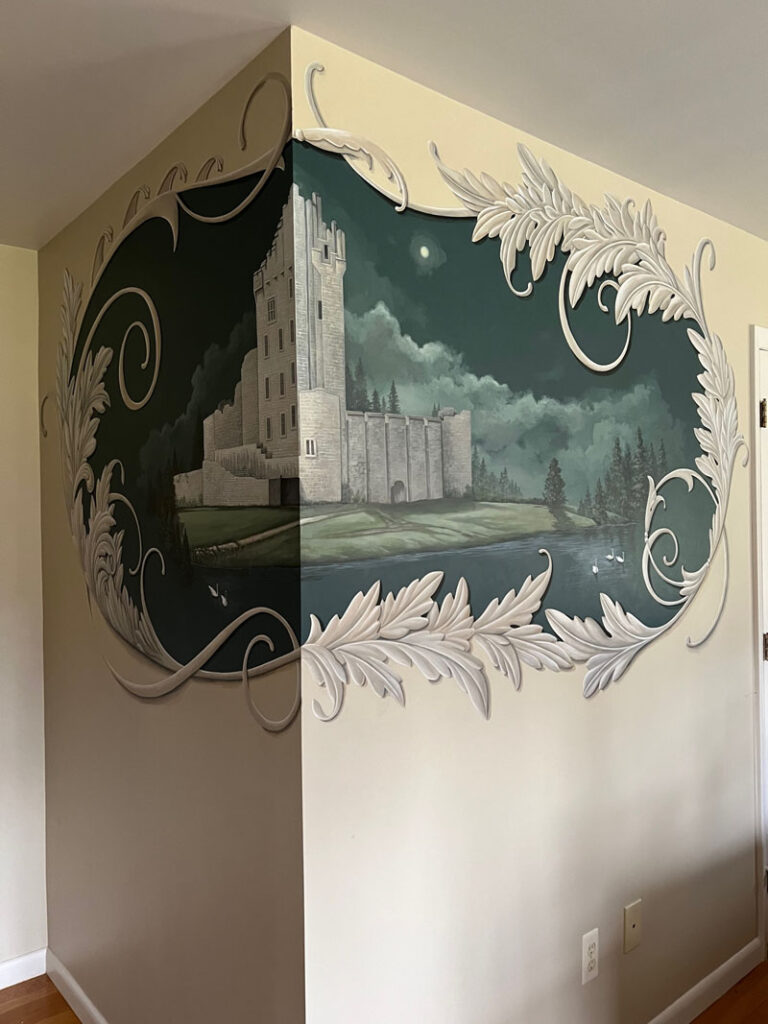 My favorite detail…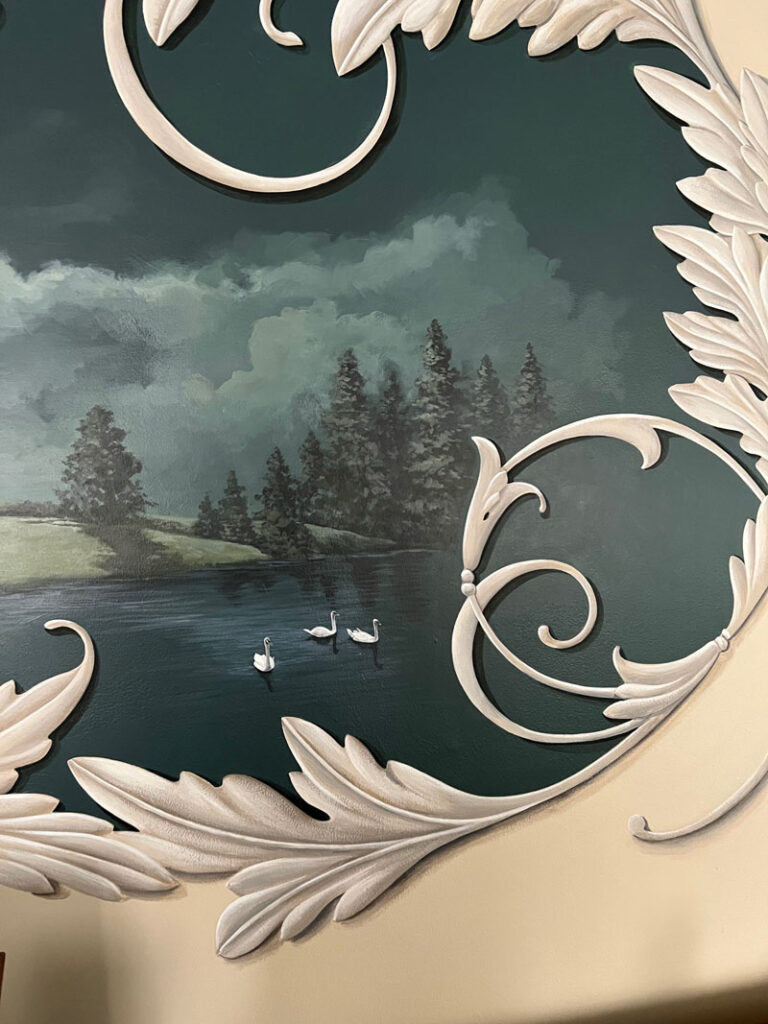 Most murals don't take four months. That happens when the artists has clients with real deadlines and has to squeeze in a few hours whenever possible. I'm grateful for my family's patience in putting up with the process.
There have been several times I've painted something and wished I could keep it with me, wanted it in my own home. But now I've got my own mural. It's a good day in the Leichsenring home.