It's been a while since my last newsletter. I wanted to have enough progress to share, and I certainly do.
To recap, I started this project on site in August. I am painting a very large space in a Masonic Lodge in northern New Jersey. Using trompe l'oeil ( French term meaning "fool the eye" using light and shadow to make a two-dimensional space look three dimensional) , I am creating the Temple of Solomon. The space is 36' by 62' with 16' high ceilings. I am just about done with the tray in the ceiling.

Here's what my sample looked like.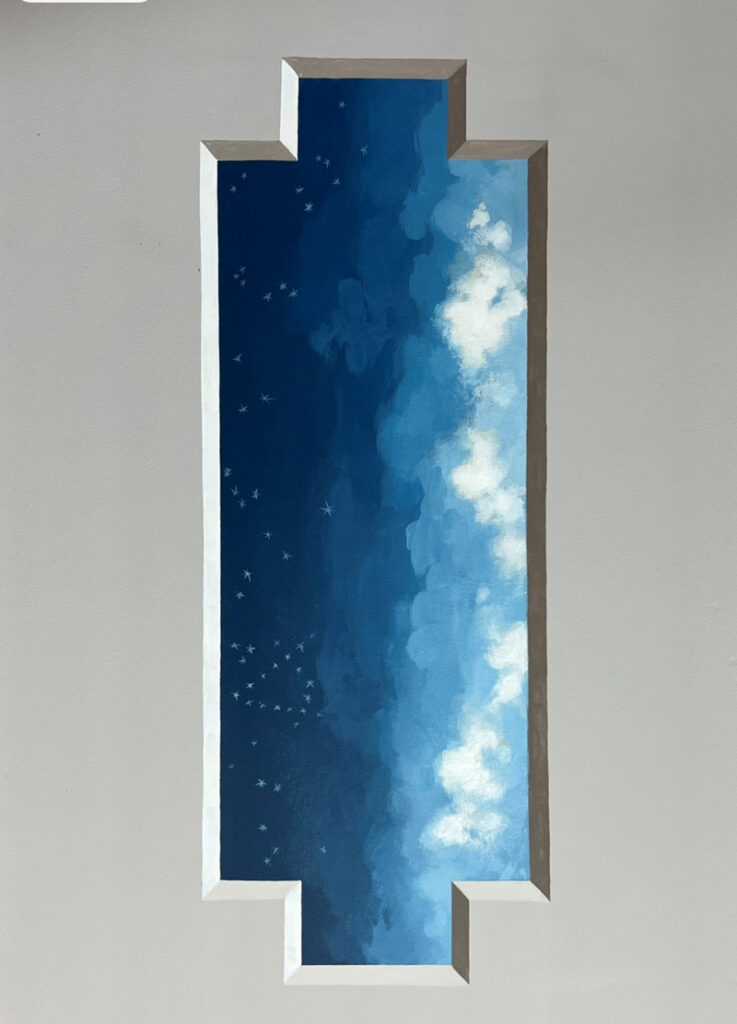 I agonized for a bit, trying to figure out how I would get this tray laid out on the ceiling by myself. I had to avoid the light fixtures as well.
Luckily, I discovered what might be one of the most remarkable tools in my arsenal, a Bosch 3-plane laser. It allowed me to measure easily on the floor and the laser sends out a line that travels around the space in two directions. Crazy. The line can be up to 200' long so it shoots out straight, up the wall, across the ceiling and back to the floor where it started. It does the same thing from the side. The result, the "x" on the floor is exactly below the "x' on the ceiling. All I need to do is roll my scaffold around and mark the ceiling.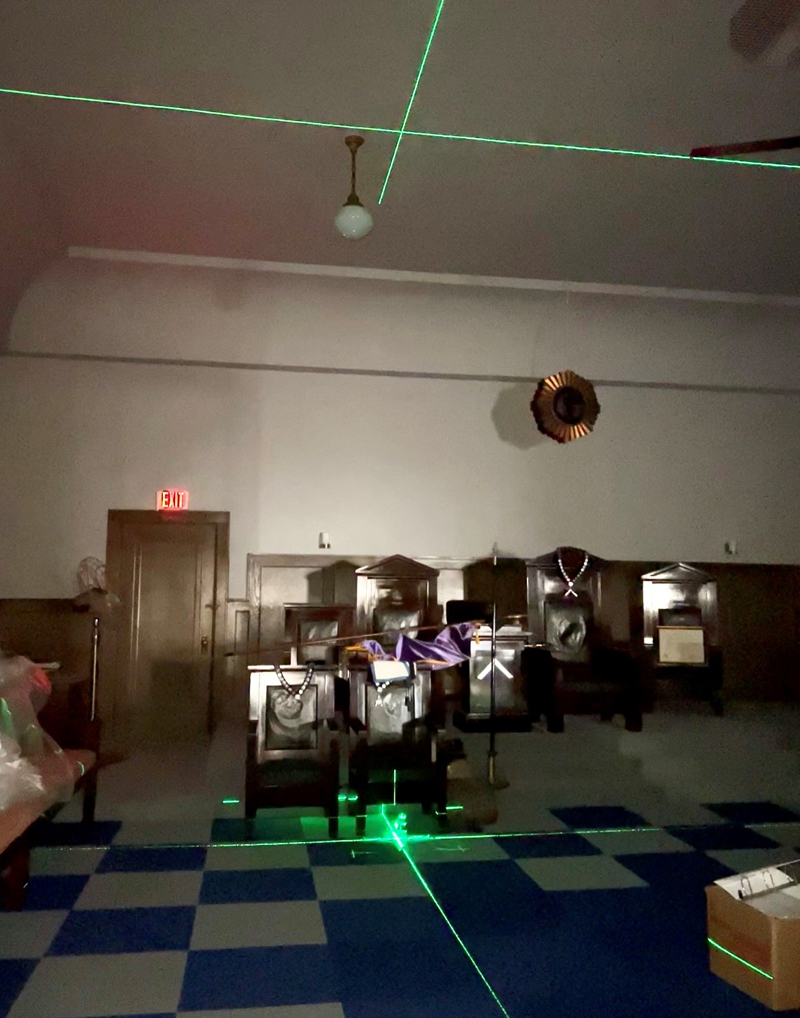 I started in one corner and as I worked around the first large rectangle of the tray, by the time I came to the last corner, my lines actually lined up within 1/8". And perfectly square!
 Here's my scaffold. It measures 5' by 8' and is 10' in height. I've got a 14' A frame ladder making it easy to walk up the ladder and step onto the scaffold.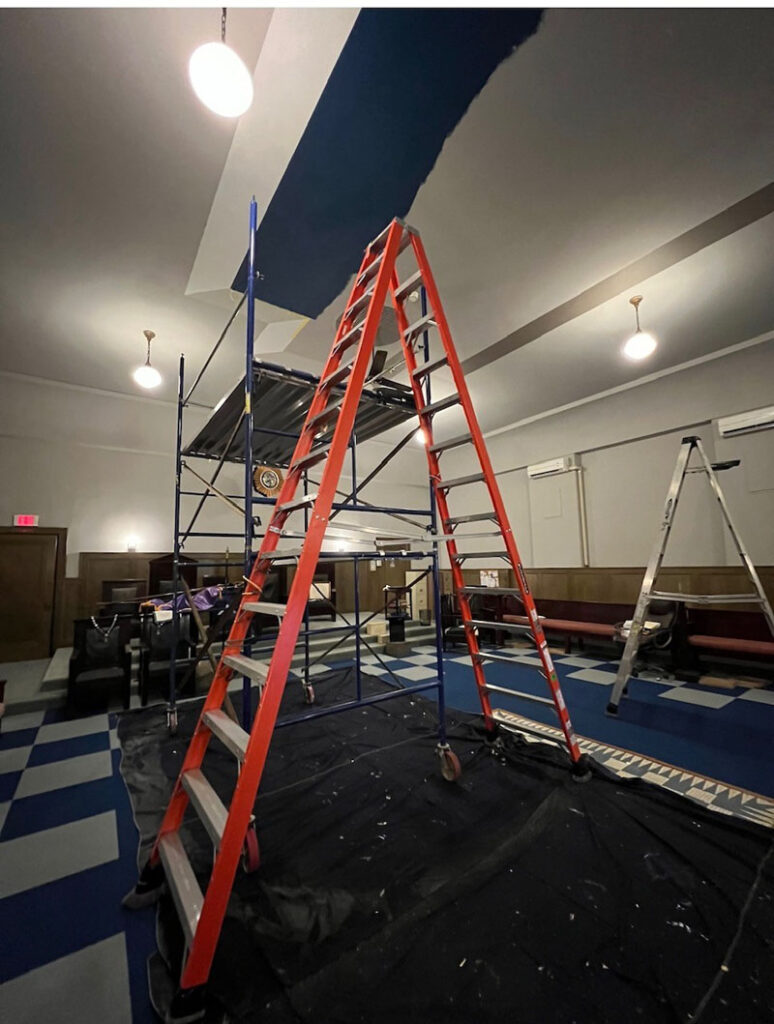 I use bungee cords to attach the ladder safely. This set up allows the Lodge to use their space for meetings without interruption from my work.
I started painting and I've got to admit, I broke one of my own rules. Usually, I'd paint the entire frame before starting the sky but I wanted to see the illusion. It's one thing to work something out on a small piece of board about 20" by 30". Would it really be effective as I pictured it in my mind's eye?
 So I painted a small section of night sky and Eureka! ( when do you really ever get to write that?!) The illusion came to life.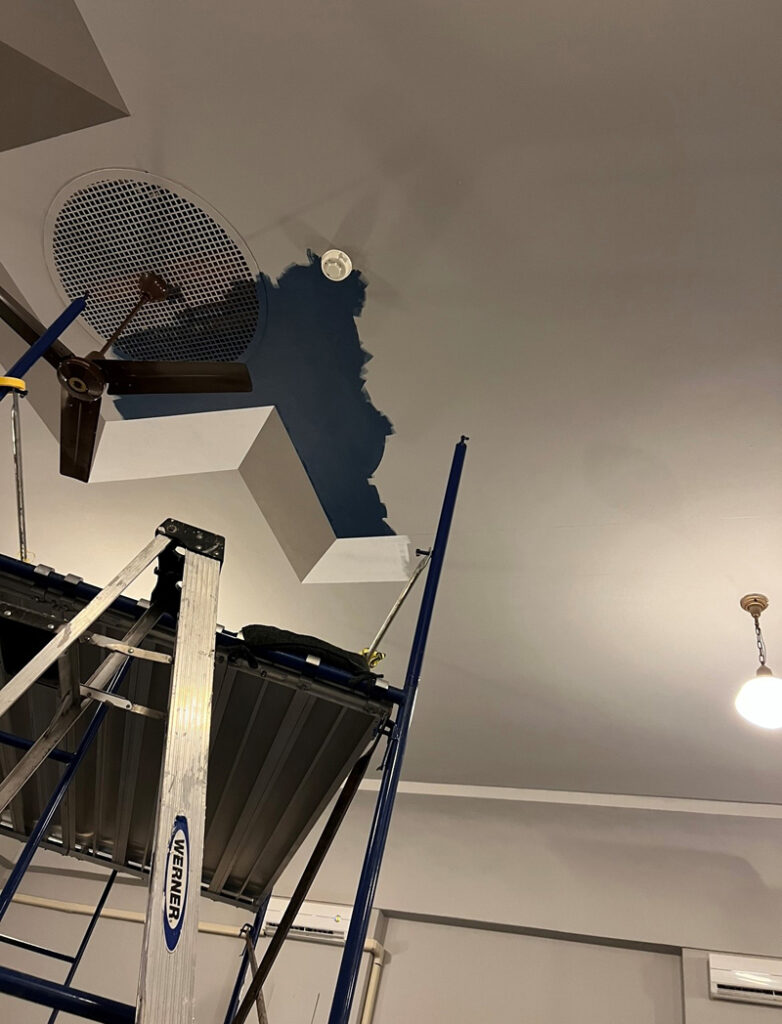 Ok then, back to finishing the tray and start the night sky. I began with a deep blue and pounced successively lighter shades of that color. I used my 3 plane laser to help keep me on track.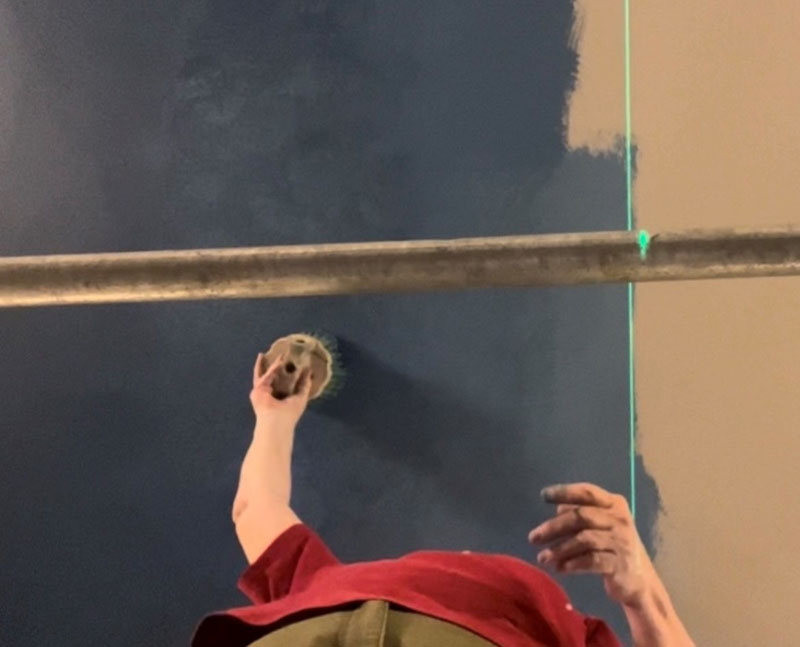 From the scaffold, it is difficult to keep one's direction straight.
Finally, it was time for the fun part, painting the clouds. Huge billowing and gauzy clouds.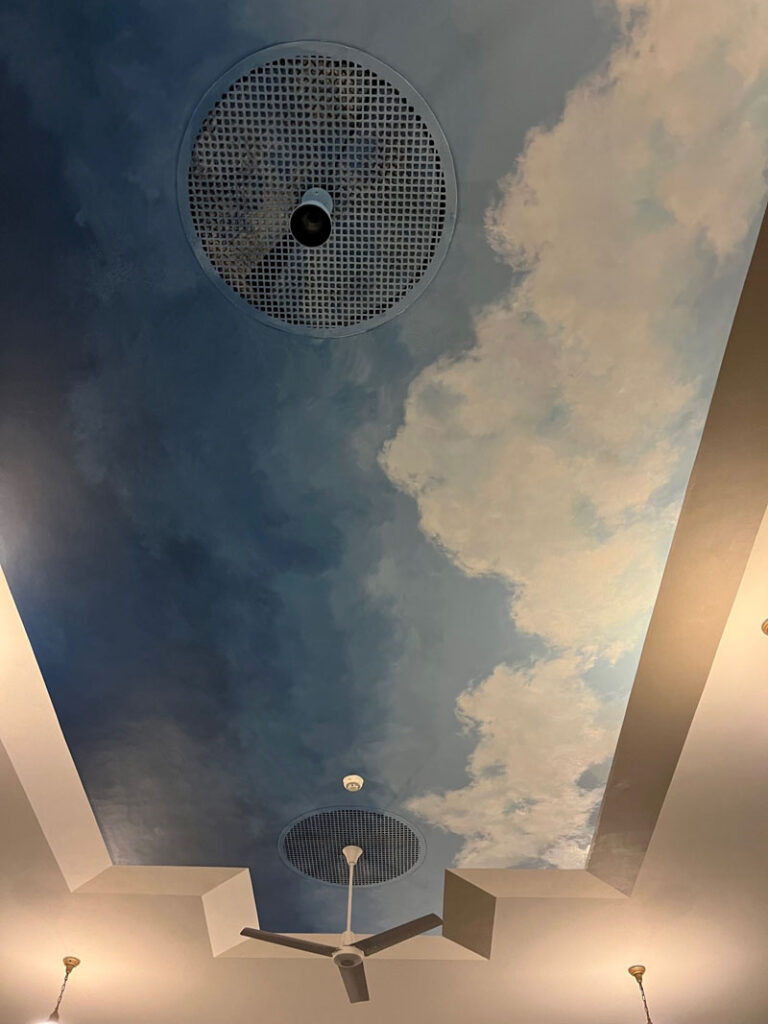 If clouds were fun, then painting the stars rates as insane fun! Armed with a tiny pointed round brush and a toothbrush for the tiniest bit of spatter, the stars appeared. Look closely, one of two custom constellations is visible. Both are Masonic symbols, an idea supplied by a member of the lodge and such a terrific idea.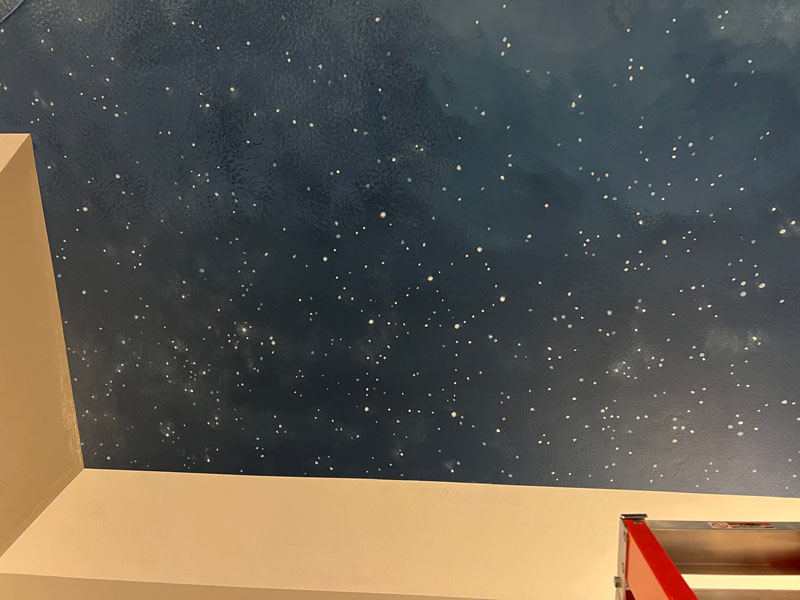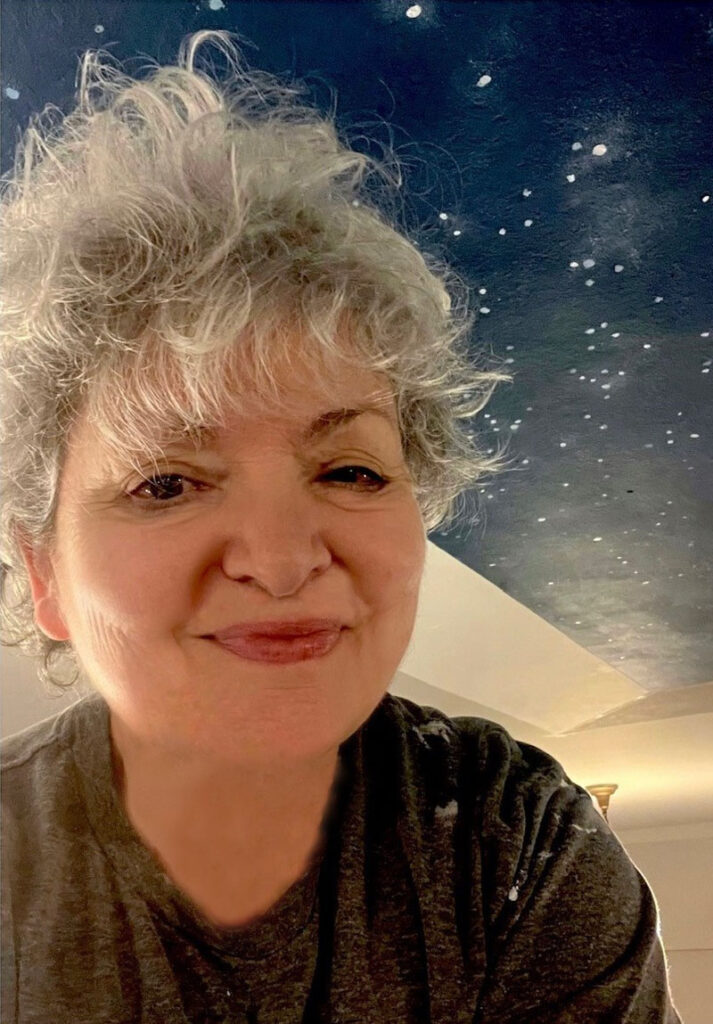 I'm not quite done with the stars but here you can see the clouds and stars.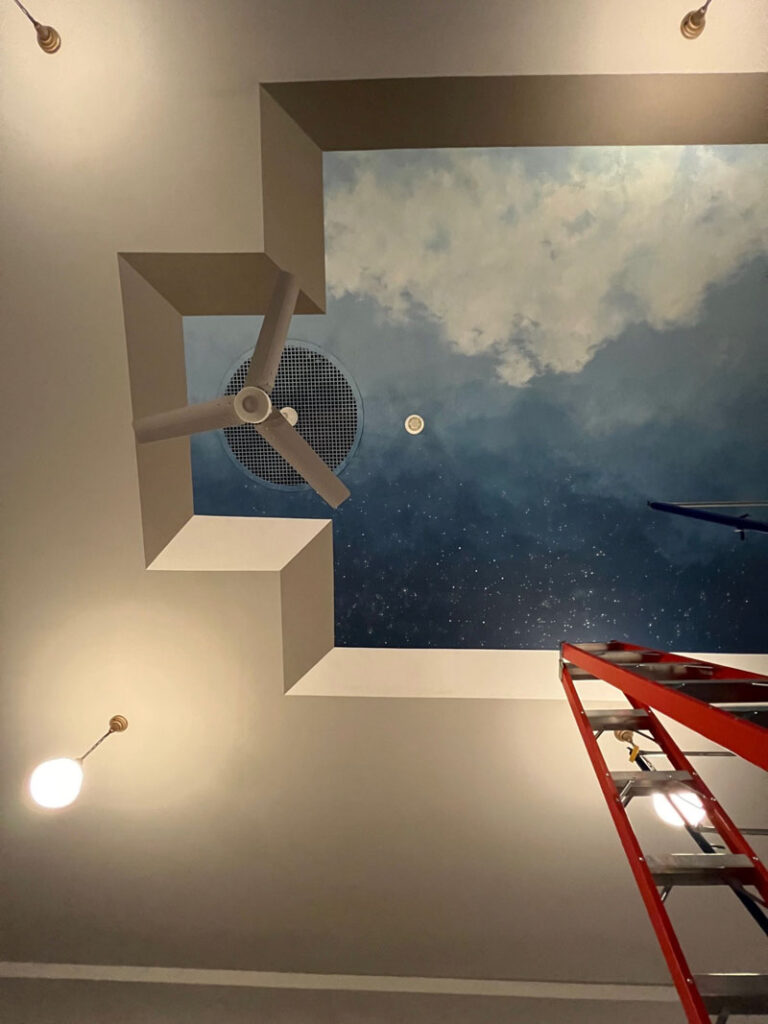 As soon as the stars are completed, here's what comes next.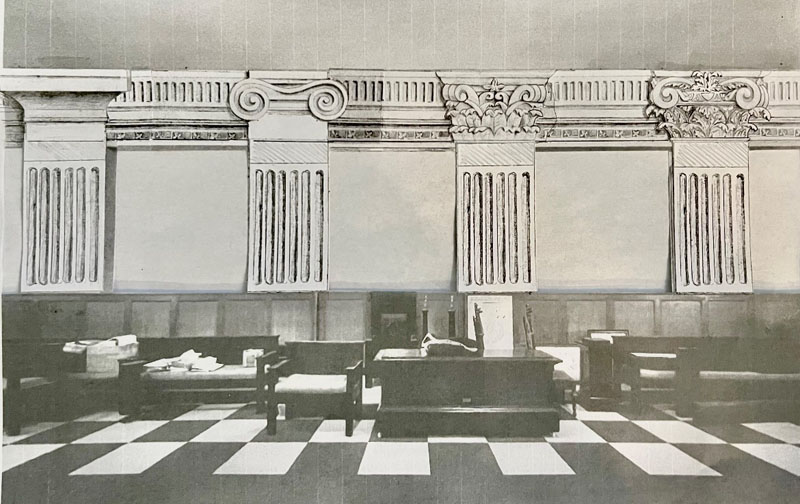 This is one of the 62' long sides. The four columns are on areas that project out 4" on which the heating/air-conditioning units are mounted. The columns are painted in order of increasing complexity, from Doric and Ionic to Corinthean and Composite. I cannot wait to start these walls.
I have waited my entire career for a challenge like this. One of the members, Mitch, asked me recently as he watched climb down from the scaffold for the umpteenth time that day, did it cross my mind just how crazy big this project was, and did I know that when I agreed to do it. So many words come to mind (and crazy lurks there with a grin). It's bigger and more challenging than I anticipated and now that the tray is almost completed, I'm breathing a little easier. But the best word, it's exhilarating!
While this work was going on, I used days off to work on this little gem of a space for my cousin JoAnn. Thanks for your patience with my schedule, Jo. This was a dream to paint for your master bath renovation.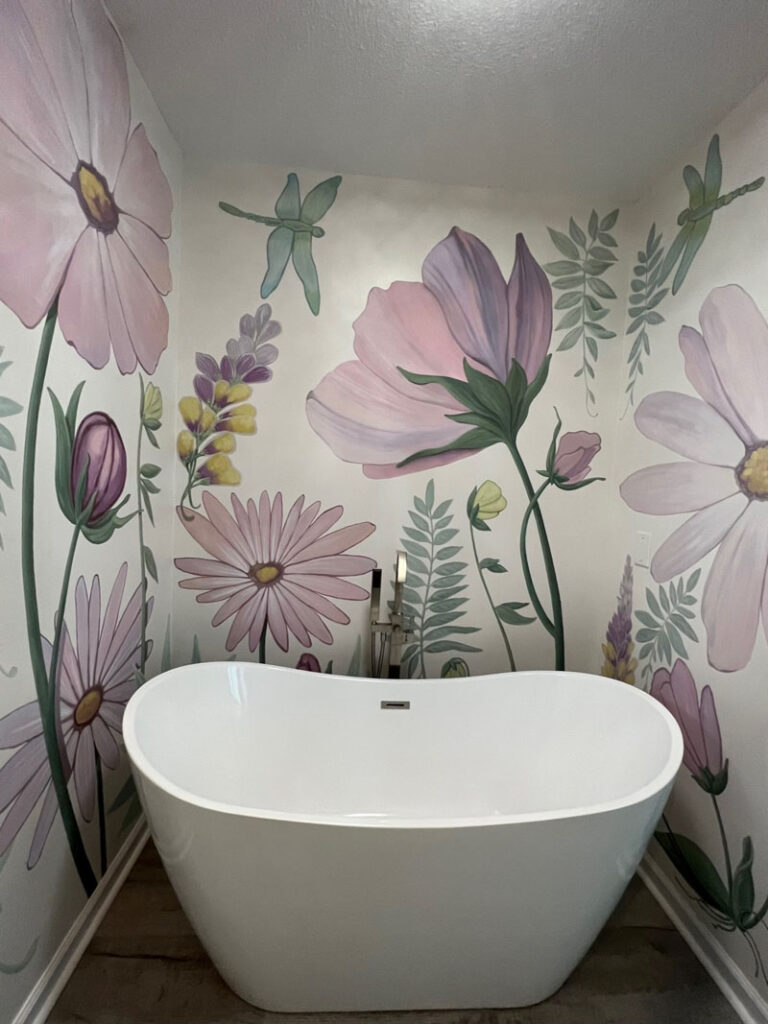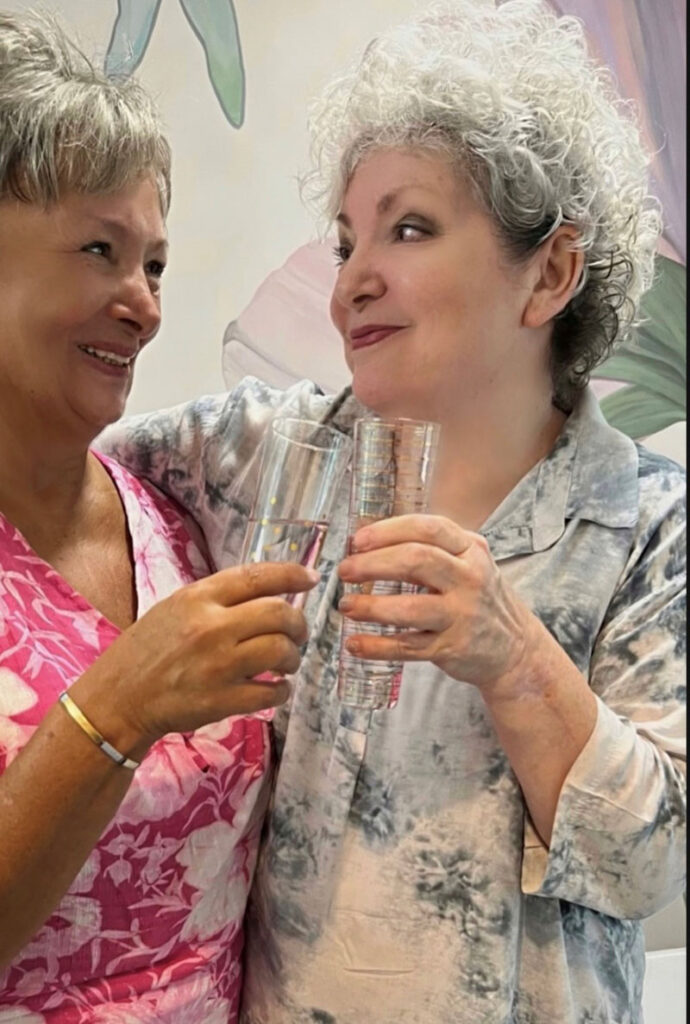 That's it for now. I post regularly on my Instagram account (sharon_leichsenring) and facebook (Leichsenring Studios) at least once a week.
 Onward, painter. The columns are calling my name.