I'm not exactly sure when it happened. The day I officially believed, that perhaps, if I closed my eyes and wished as hard as I could, I could make paint magic.
How arrogant and ridiculous! Years of honing my skills and working in the studio hours on end searching for the perfect, well, whatever, and I was willing to just give credit to "magic". Like it just happened? The possibility may have crept in the day my talented designer friend Arianna Thill (actdesignct.com) posted this on Instagram. "Fairy dust". Indeed.  If it's on IG, it must be true. It tickled my fancy and so appealed to my ego.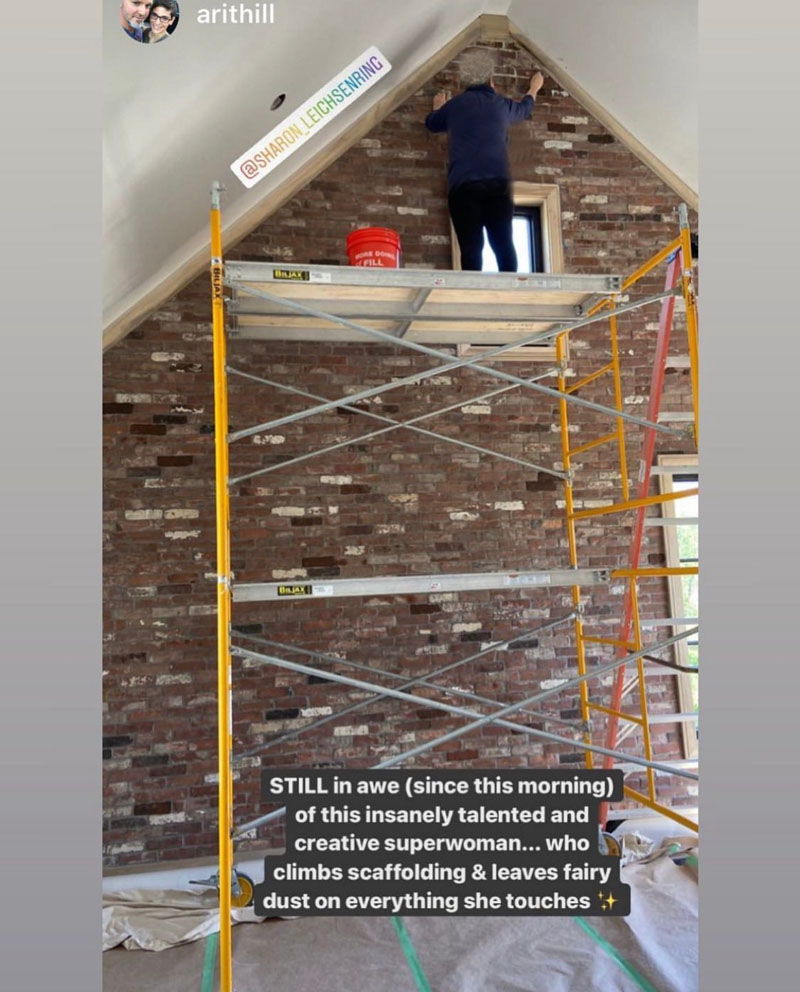 Have I mentioned, artists spend entirely too much time talking to themselves. Out loud sometimes.
But there it was and soon enough comes my current client, she who owns this 100 plus year old buffet. It's been in the family for generations and is in terrific shape. We'll call her Miss C. She's been receiving my newsletter (yes, the very same one you're reading now) for several years and had been contemplating when she would have an opportunity to have me create something for her and her husband. Know that I am sending you a huge thank you through the universe, Miss C, for the appreciation of wanting something I could create.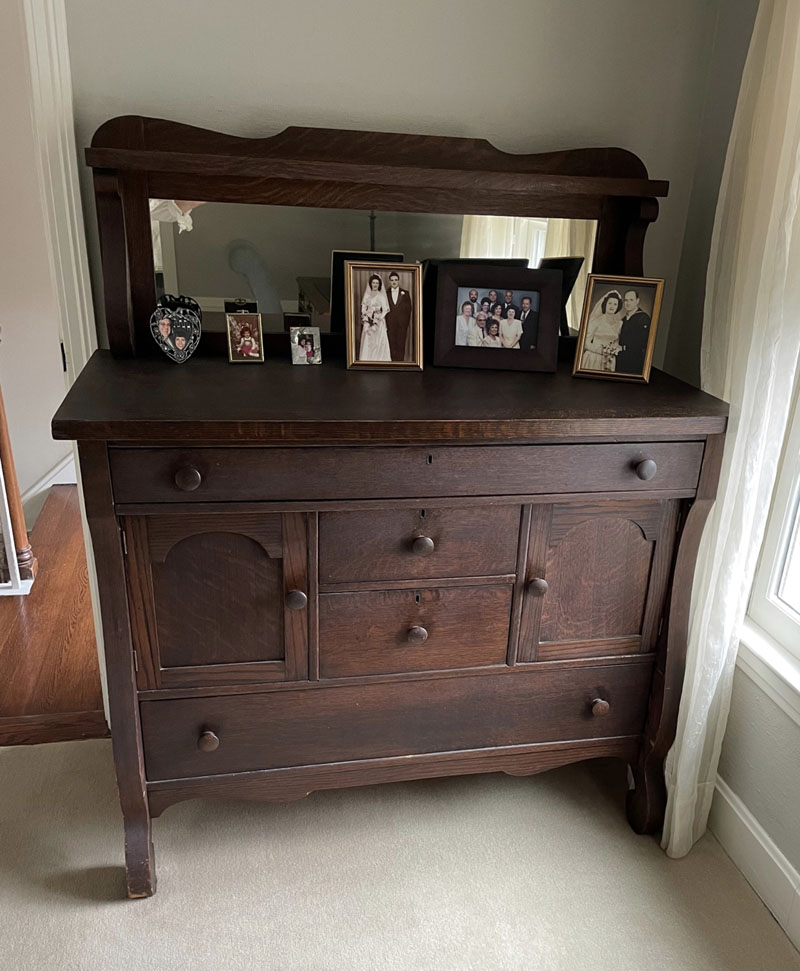 And she said the words, the "magic" words. That's what she wanted. A little of the magic she knew I could create.
And then she said a few more words. This is not going to get better, folks. She told me all the things she didn't want. So, here's this buffet, it's big and bulky. I see the scroll detail, but she nips that right in the bud. She's seen my stuff. She doesn't want scrolls. And, no artwork, mural like. Bam. I was seeing all the luscious artwork in her home and thinking I could treat this like a canvas and she's shut that down.
In a barely audible voice, I ask does she have any idea of what she might like. No. Not a clue. But she has absolute faith that I will come up with something.
I must tell you, I struggled with this. I trawled online searching for inspiration. I considered chalk paint. Not going to even bore you with those samples. They were OK, and I don't do OK. I wondered if I could talk her into some illustrated maps details (I'm just waiting for someone to request that) but no, that was too close to a painting, so no.
So I did the only thing I could. I put myself under pressure. Made an appointment with her a week later and waited until the weekend before where I closeted myself in my studio, hoping the inspiration would hit me on the head.
I'm cleaning up in the shop, waiting for it (you know, the magic), and I spot a sample that I had done for an accent wall. Wait a minute…
I have other options. All the things I could consider for a wall, I could use to make a very contemporary piece of furniture.
The absolutely gorgeous shade of Sapphire from Modern Masters Metallic literally jumped of the shelf. Here are the two samples I finished. I used an old cabinet door so the sample would mimic the raised cabinet edges. I used plaster over metallic paint over tissue. Plus, some surfaces would get simply shiny paint, Benjamin Moore's Advance paint for cabinetry, and lastly, my favorite wall finish, Lusterstone, with subtle mica. I did two different palettes, one safe and beige and the other with that gorgeous blue, clean grey paint and Lusterstone with just a hint of taupe in the gray.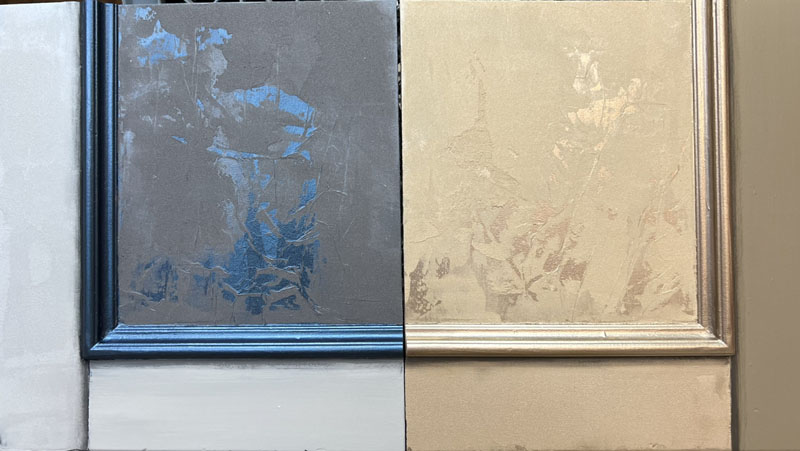 What a moment! The chalk paint samples were discounted in nano seconds, the maps pushed aside and both Miss C and her husband reached for the Blue sample.
So, let's go to the best part of the newsletter, and walk through the pictures. Here's the buffet, drawers removed, getting ready for Stix, my go to primer.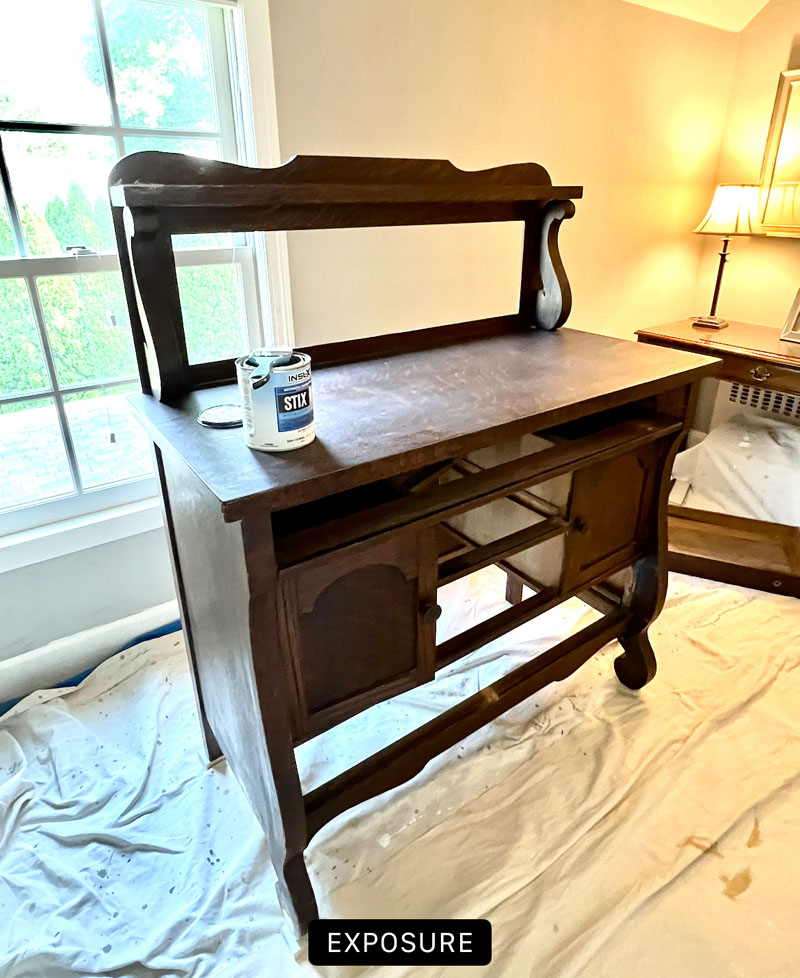 Next, I created a seemingly raised panel on the top, and repeated the finish on the sides, a few of the drawers and doors with tissue and metallic paint.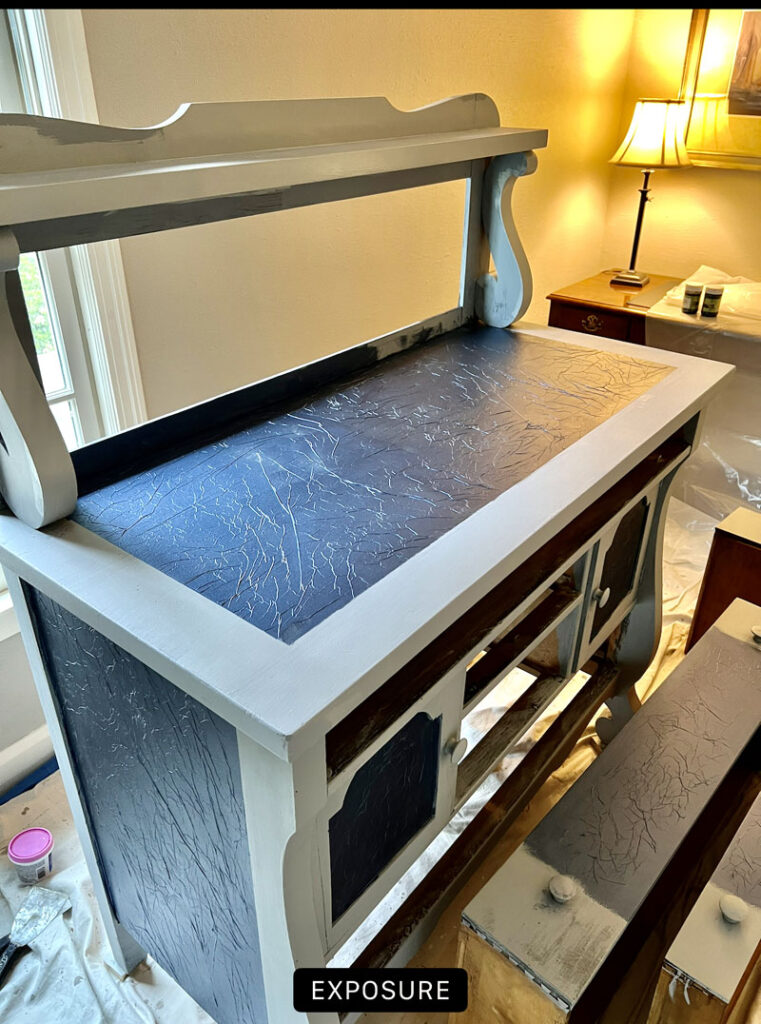 When dry, I troweled my Lusterstone darker mixture over the tissue, allowing for the metallic to glimmer through.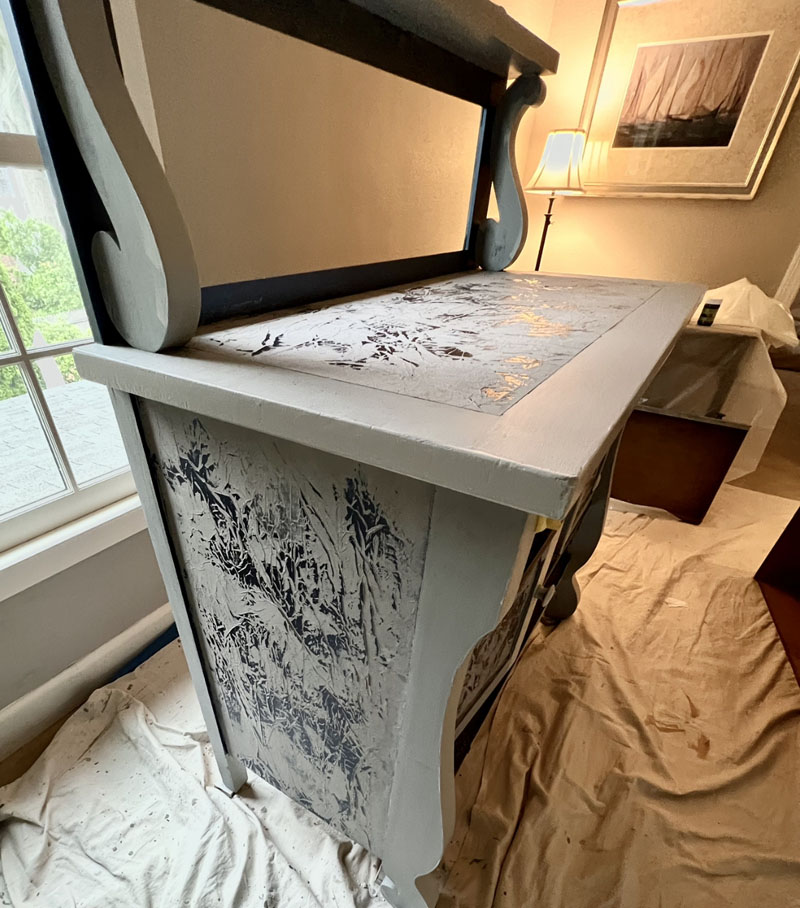 Then, paint where needed on the curvy parts of the scroll and a nice contrast to the tissue. Followed by solid color Lusterstone that makes for a good-looking finish on furniture. A few closeups first. Here's one of the doors. I used a black glaze on the edges to create a little more depth than was actually there. And the drawers , just enough peekaboo plaster .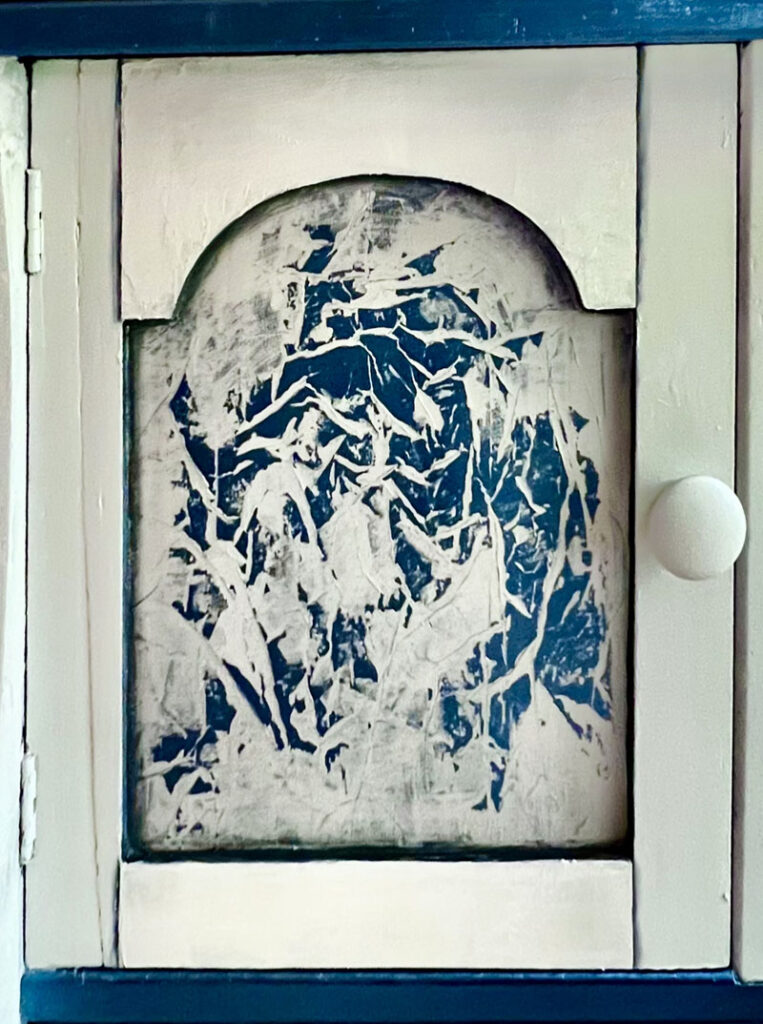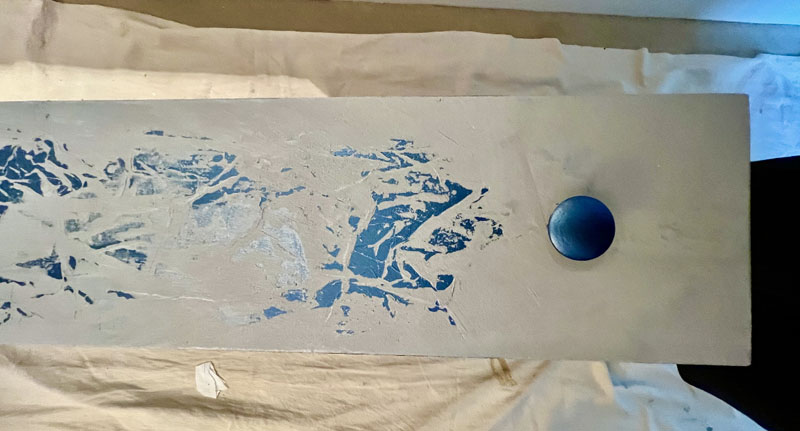 And without further ado, here is the buffet finished.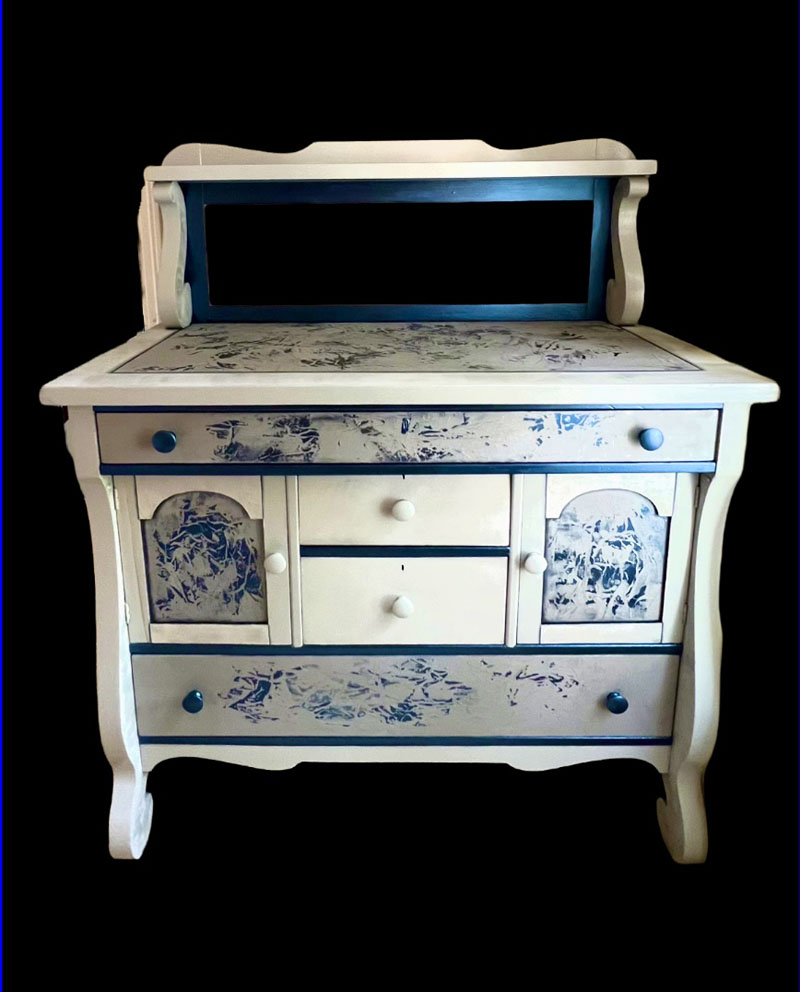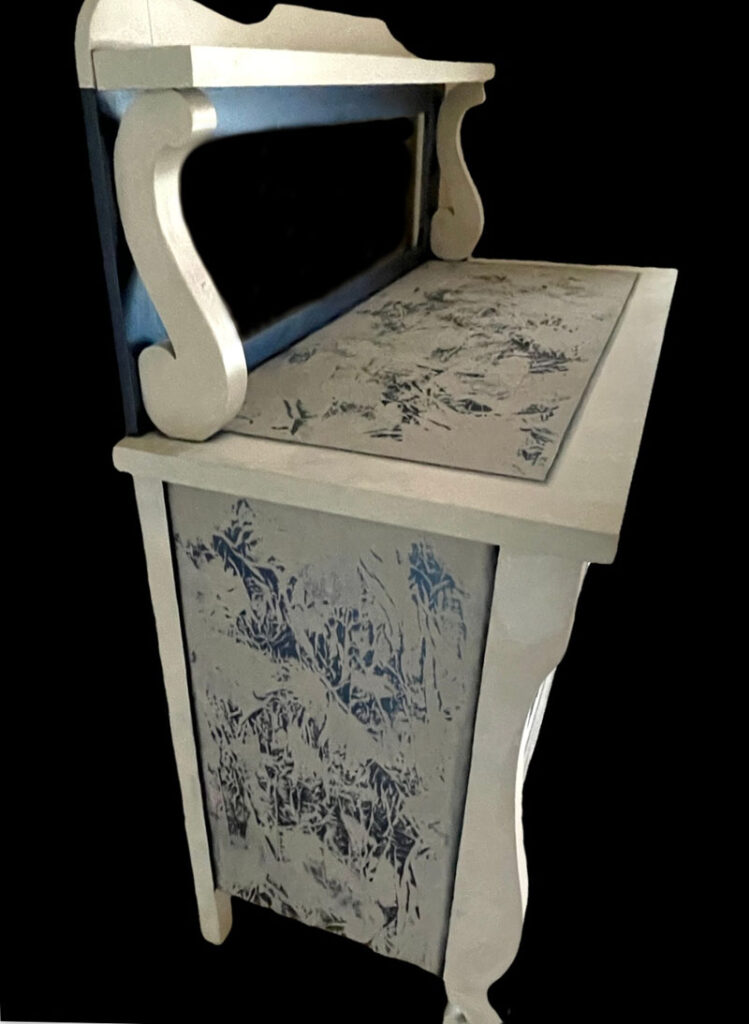 Mission accomplished.
And somebody out there, I've got that map idea floating in my brain. Wonderful cartography details! It might be just what you didn't know until now that is the answer you've been looking for.