I imagine that you are with me in feeling that we have had more than enough winter. Here is the solution that one of my clients had for keeping the wonderful ambience of a favorite vacation place and enjoying it all year (especially during the relentless months of winter).
This bathroom is used by the owner's children, the oldest who is a young teenager. The mix includes 2 boys and one young lady, so it was important to keep from looking too juvenile. The subject chosen is Fort Myers in Florida, a place that has sentimental value for the entire family. The room is literally wrapped with scenes of Fort Myers—the pier, the sandpipers in a single line parading at the water's edge, the small cottages buried in the palms and finishing with the pelican standing guard at the edge of the beach..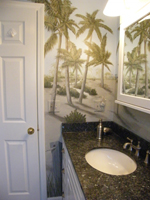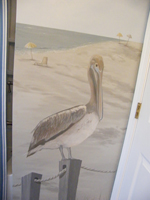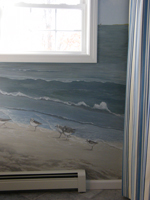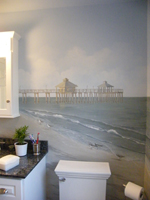 The crisp white of the trim and cabinetry is paired with a charcoal granite filled with glints of silver and blue. The soft cloud filled skies meet the ceiling painted blue. All mural work was executed in fine artists' acrylics.
This project was pleasure from start to finish. Think of a wonderful place that could be painted in your home, a sanctuary any time you need to get away.