From where I sit, there is only one rule to painting furniture: have fun with it. Believe in the power of color, indulge in your whimsical nature and do not be afraid to desecrate a "real" wood finish.
First case in point, my own dream project. This idea had been living in my "have to get this done someday " part of my mind for such a long time. I could almost see it finished, but I admit, I was intimidated by the time I was going to have to put into this cabinet. I'd envisioned my own interpretation of a MacKenzie Childs creation, filled with patterns, stripes and detail. Did I say detail? The plan kept getting more involved.
The starting point-two innocent resin bumblebees, given to me by my cousin Nancy as a thank you for helping her on a fireplace redo. Actually, she gave me four, so I still have another project calling me. But I digress. The bees in turn, called for a bee and thistle motif. I couldn't find a scroll pattern I liked, so I designed my own. Recently, the designers at MacKenzie Childs have added other color palettes, particularly to their black and white checkerboards. Theirs have little snippets of ochre, blue, lilac and lavender interspersed with the classic black and white. I mixed my own palette, to pick up the colors I found in my floor, grey, taupe, raw sienna and charcoal. So here it is.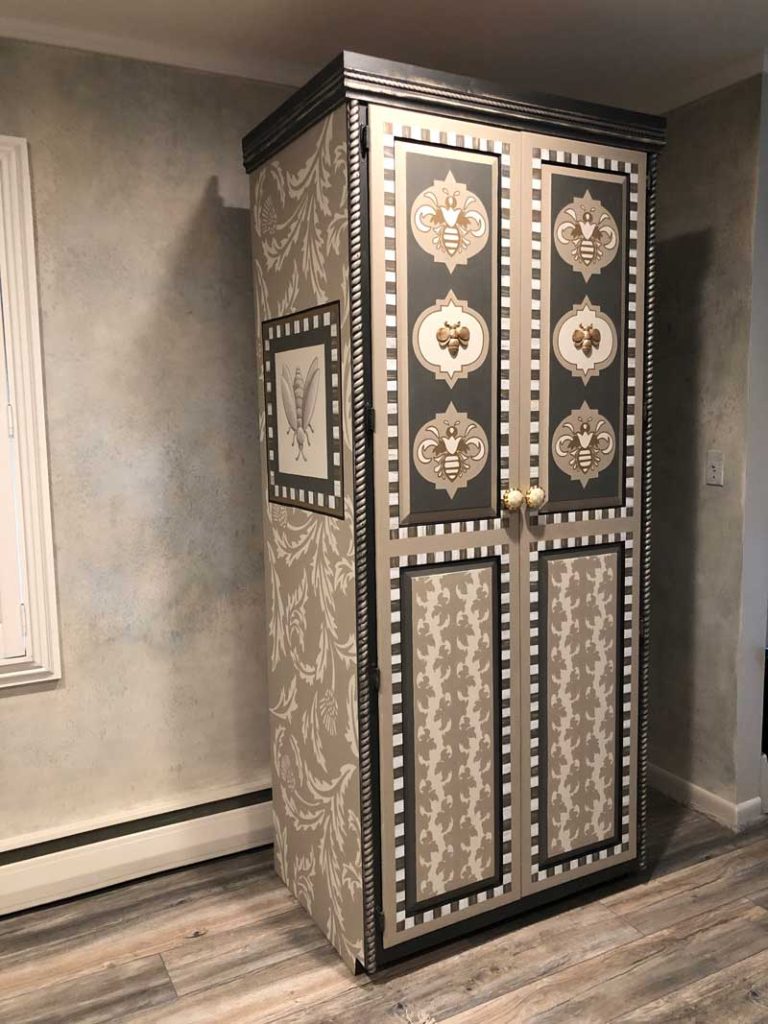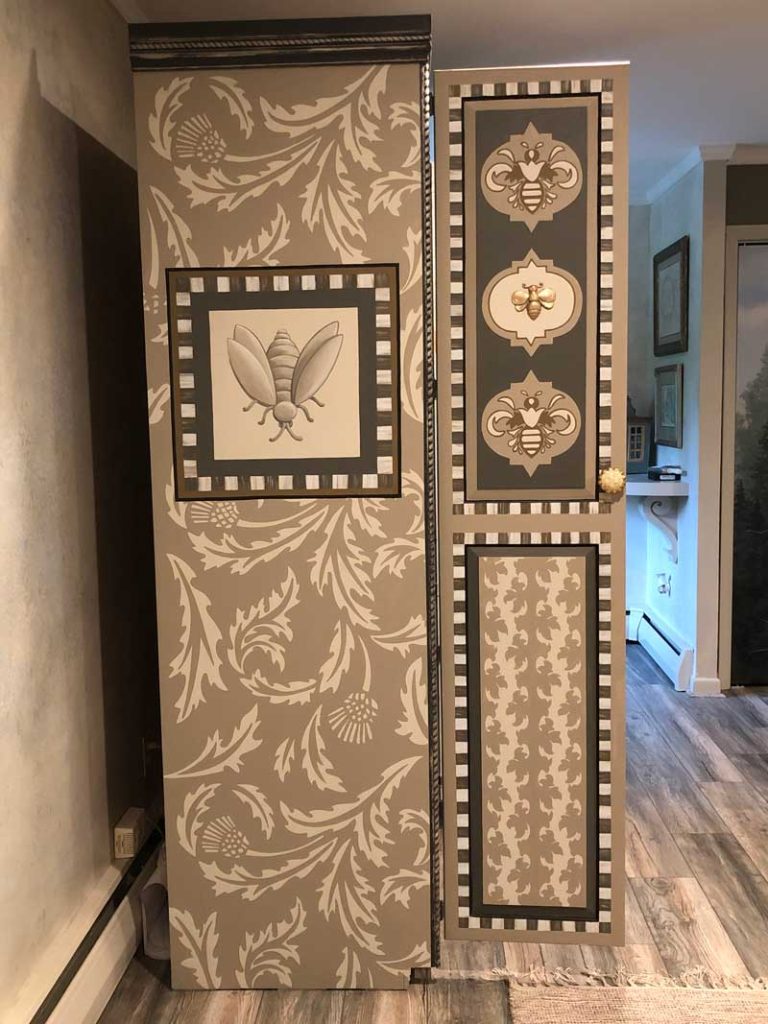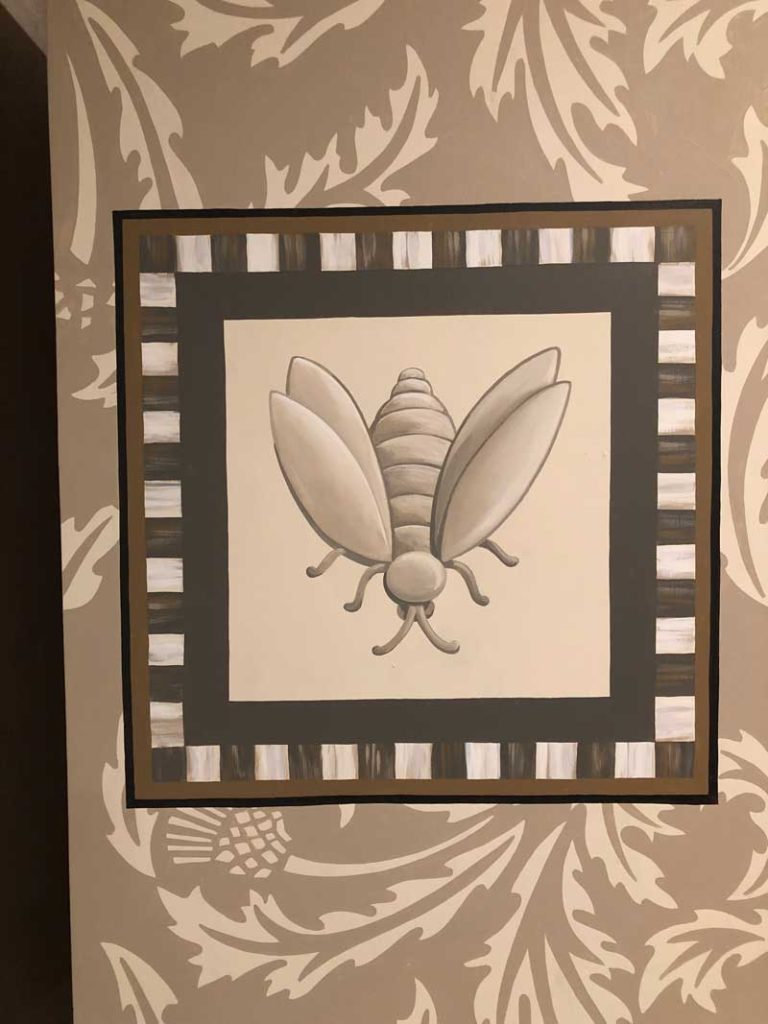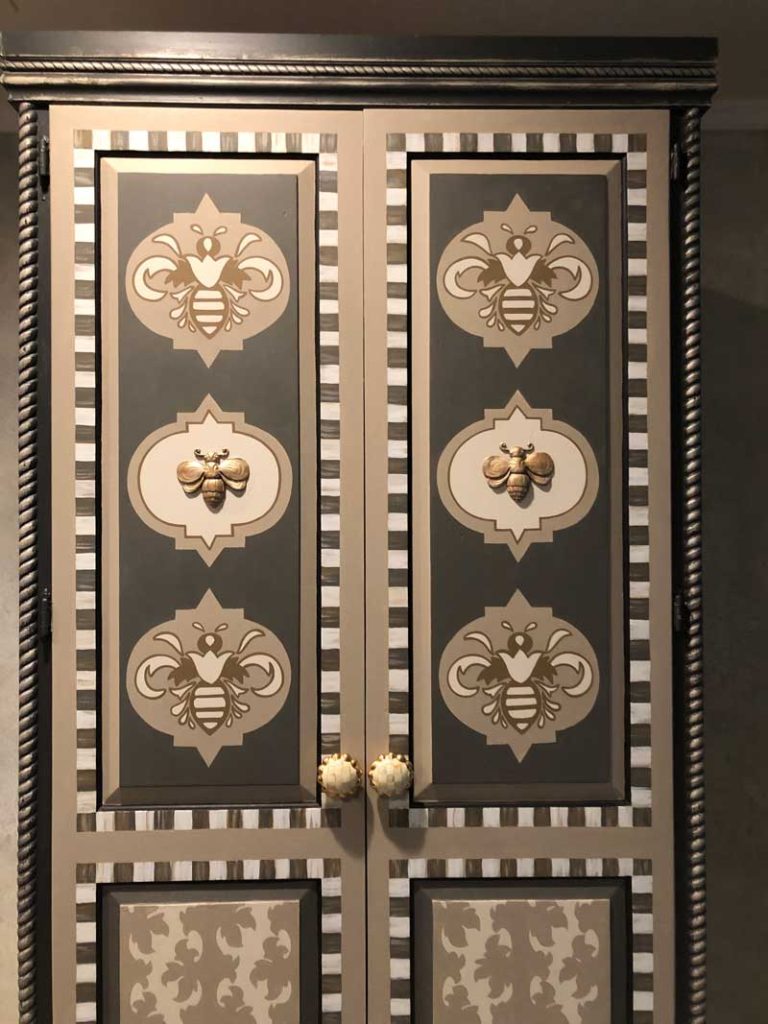 Full disclosure….the side you can't see is not completely finished. It will match the left side you can see. I've got "real " work to get done, so I'll have to finish it when I can steal another ten hours or so.
I get to pinch myself just looking at it. For those of you who may have cringed at the cost of the fully painted armoires in the MK catalog, I assure you, the costs are entirely reasonable given the time.
Thinking about furniture, I thought I'd show you a few pieces I've had a great time giving new life.
Here is a small console table that came into its own with a tissue finish topped with a metallic tobacco glaze.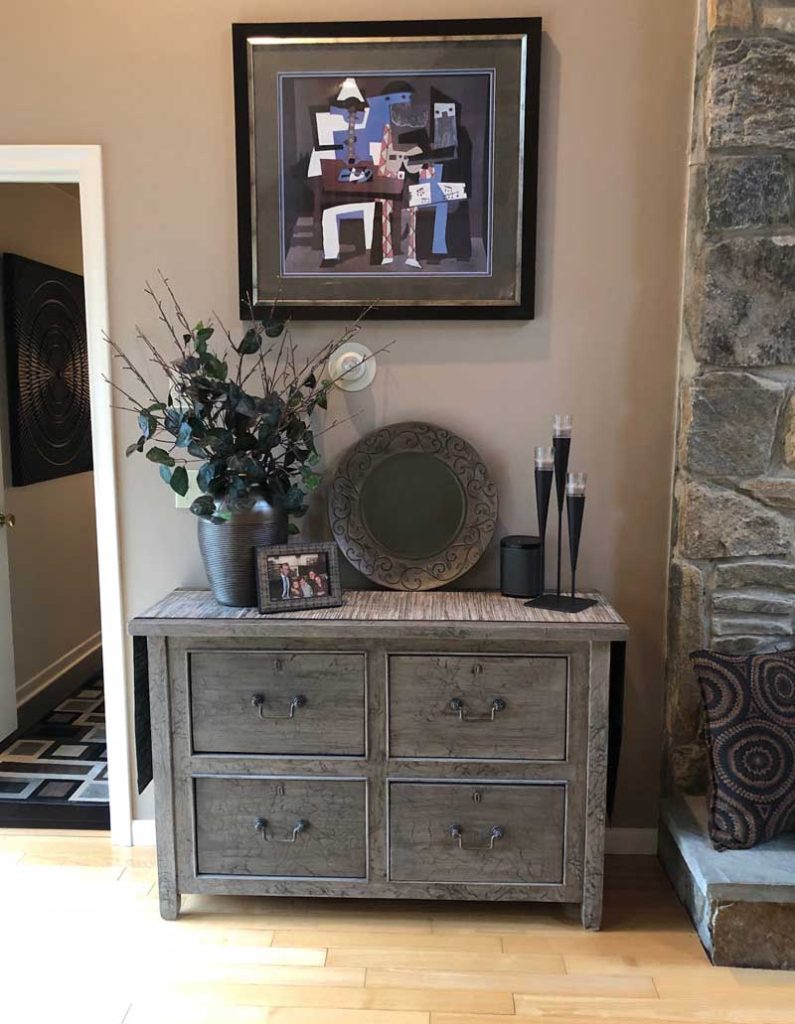 Next, a headboard at Trumbull's I.M. Smitten gallery. The panels feature a raised stencil, which was then covered with a tissue layer. Glaze was added to bring out the relief details in the stencils.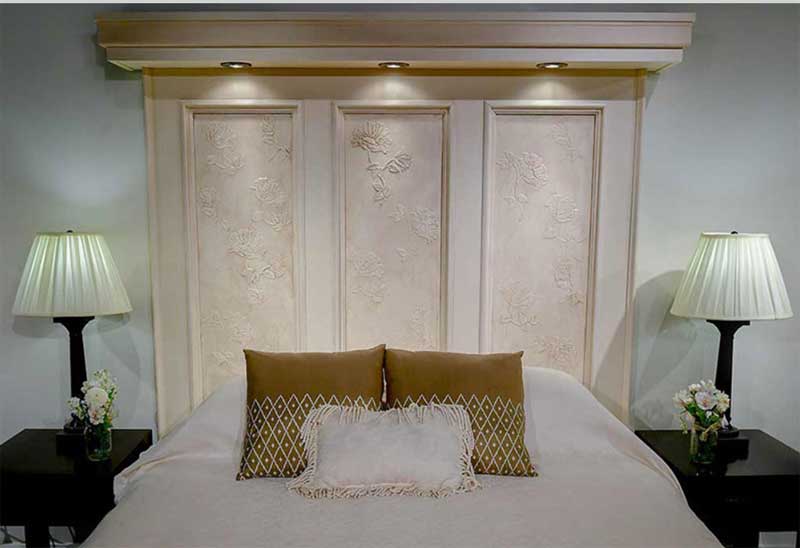 Next is a dated little console table. This is what I started with.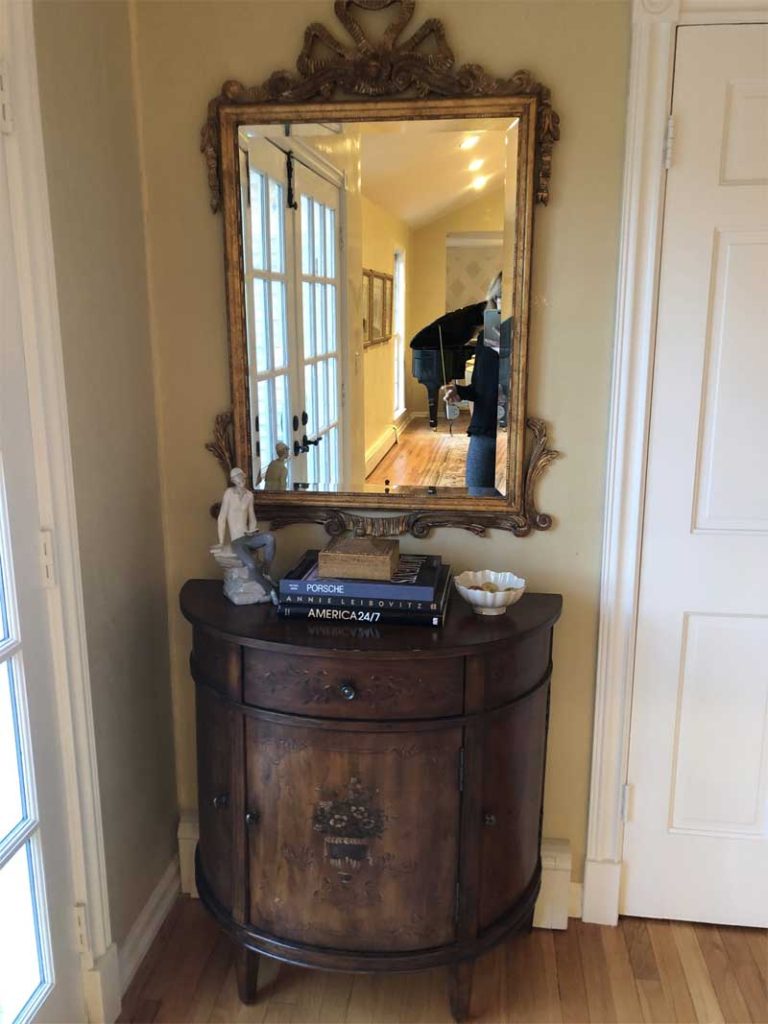 Under direction of interior designer Eileen Segalman, I sketched several possibilities and this is the chosen design.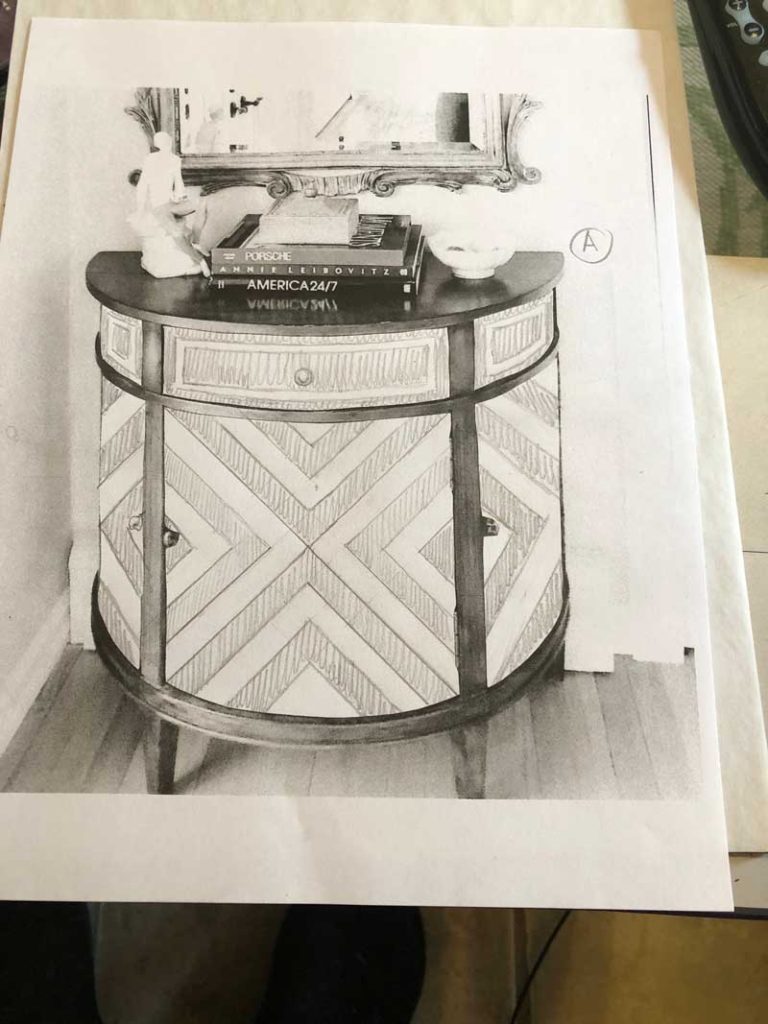 Next, I prepared a sample. The grain of the wood made it impossible to tape these lines. They are all hand brushed.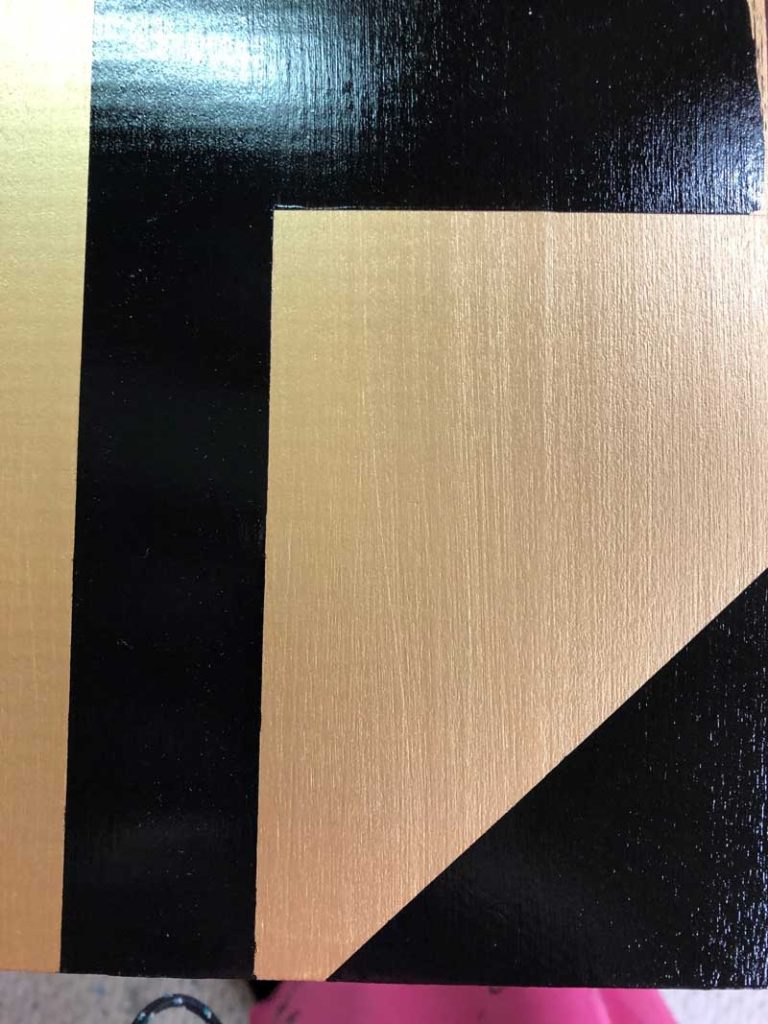 And finally, here it is finished. The perfect crystal knobs are on their way.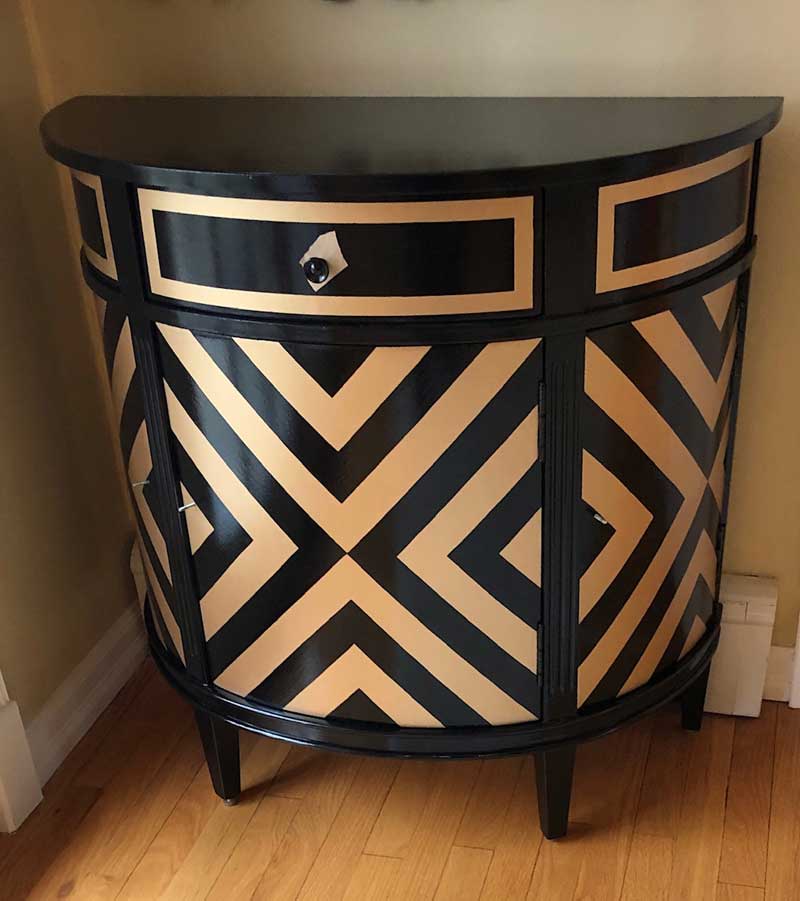 One of my favorite bathrooms, designed by Dyane Prezioso of Shadee Lady Window Treatments and Interior Design, featured this farm home wraparound mural. The vanity cabinet disappears into the artwork.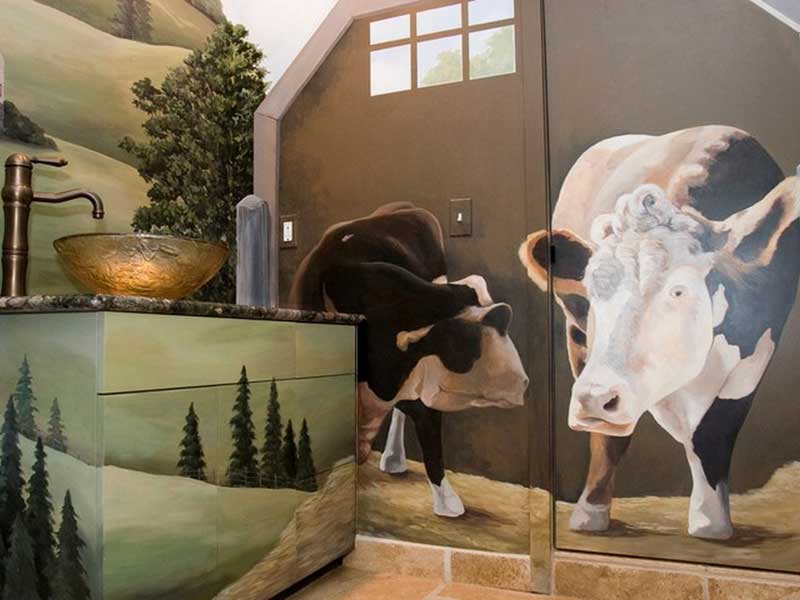 Lastly, one of my favorites from a few years ago was the footlocker that I was tasked to convert to an anniversary gift, with memories of a trip to Venice. I absolutely want to paint one of these for myself someday.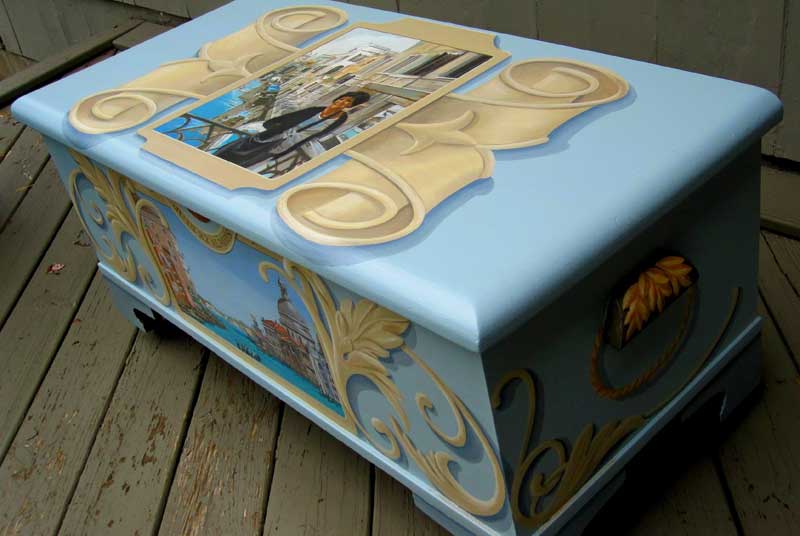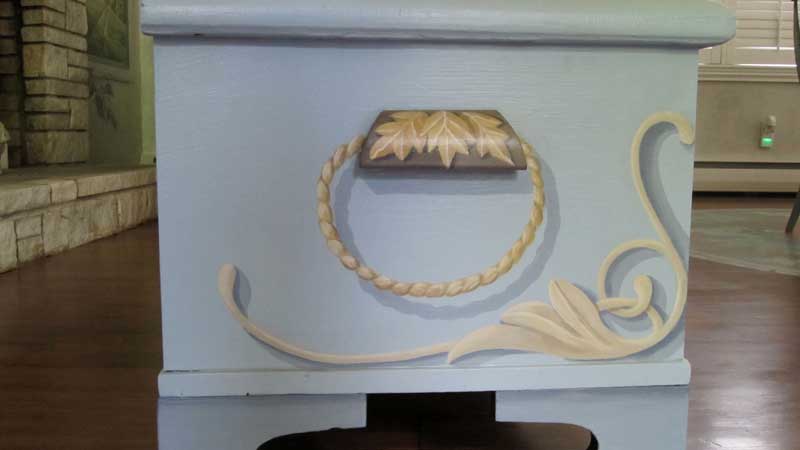 Have I tickled your fancy? I hope so. If you've got a piece of furniture looking for a little paint magic, give me a call.