This month was filled with nothing but loose ends; installations not complete, finished photos still on my dream list. So instead I'd thought I'd share one of my pivotal murals, important to my career for so many reasons and dating back over 15 years, so never included in a newsletter.
The mural in progress and completed.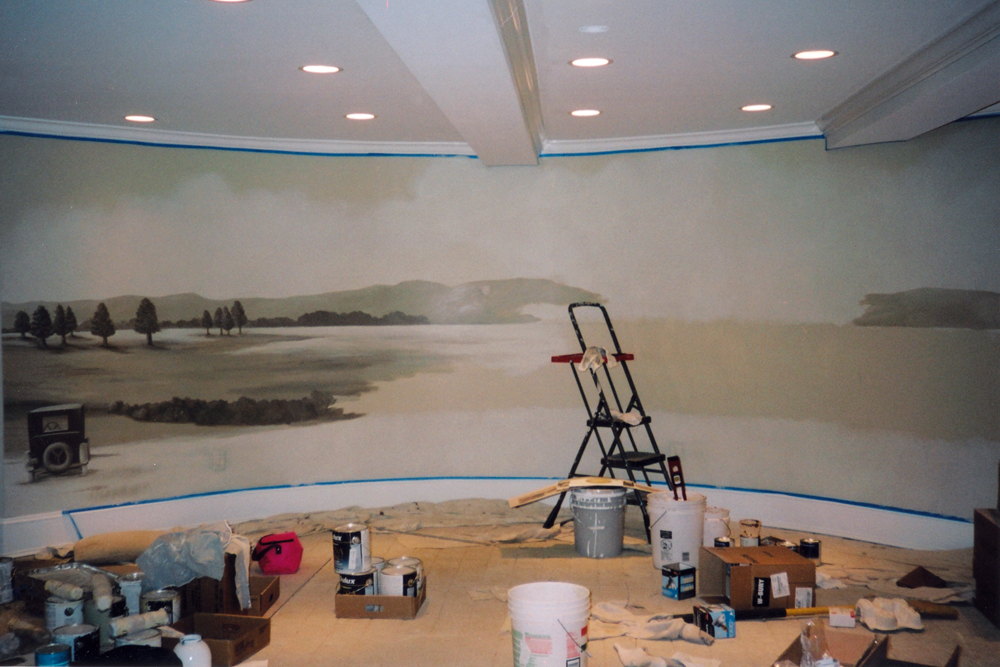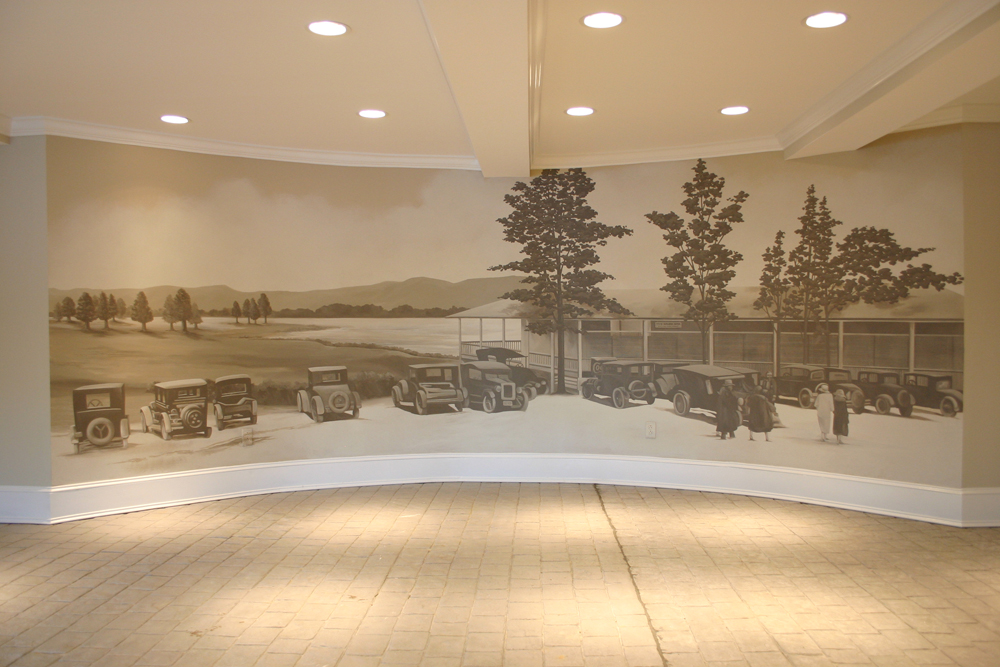 Let me tell you a little about the subject. The sepia toned mural was painted from old photos provided by the Morris Historical Society. Morris is a sleepy, charming little town on Bantam Lake in Litchfield county, Connecticut. I poured over the old and crumbling photos and negatives with my client and found enough reference material to recreate this scene in the lakeside home he was building at the time. The building was a roadhouse on water's edge. Aptly, it was called The Music Box. The cars parked in the lot suggest it was photographed in the early 1930s. The building has changed over the years and now houses a real estate office.
So now , with that backstory, with a proper thank you to each party. Starting with my client, whom I will refer to as Mr.D. It's been a standard of this newsletter not to identify of my clients, unless it's a commercial space in which case, I'm glad to spread the word.
First, I'm grateful to Mr. D, for providing his home as a virtual canvas at a time when I was only about five years into decorative painting as a career, a second for me after over twenty five years as a commercial sign painter. For providing inspiration, brainstorming and having faith in my work. Every time I see a photo of this mural, I'm pleased to tell you, though many years have passed and I've added experience and technique into my arsenal, I wouldn't change a thing.
Next, at the time, a very young photographer, Tom Cain. Young, a teenager, he had both an eye and a handle on technical aspects way beyond my limited knowledge. I thought of Tom then as a very old soul with wisdom well beyond his years. Going back to photograph finished work with Tom was always a highlight of completing good work. Tom continues to rock his genius at Percolate, Inc. I am grateful for the time he poured into helping me build a solid portfolio. More about his involvement later.
Enter into this mix, Janie Ellis, an extraordinary entrepreneur, artist, and founder of Anything But Plain Decorative Painting and Plasters, whom I met at a workshop in Texas. Honored to add the status of friend as well. Janie was forceful in convincing me that I had the makings of a good teacher in my bones. I used to scoff and use the expression myself: "Those who can't, teach". How profoundly wrong that is. Teaching forced me to delve deeper to be able to articulate what I only knew intuitively. Self-taught is perhaps the hardest journey you can embark upon. You become your hardest crtitic. And so teach I did, developing week long workshops in mural, trompe l'oeil and cloud painting. My bonus, meeting more artists with whom I could learn and exchange information , students who became friends and getting to know Texas in such a rewarding way. So thank you, Janie, for setting me down a path I never would haven chosen and keeping my focus.
Janie's influence didn't end there. Her friendship with the faux finish industry icon and HGTV personality Gary Lord led to my work being included in Gary's book "Mural Painting: Secrets for Success".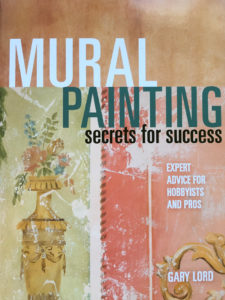 Nothing short of Cinderella being asked to the ball! Thank you, Gary, for including my mural with a section on step-by-step technique. And so, class, what mural did Gary choose for the book? Well the "Music Box" of course. Click here if you want to see more about Gary's book on Amazon.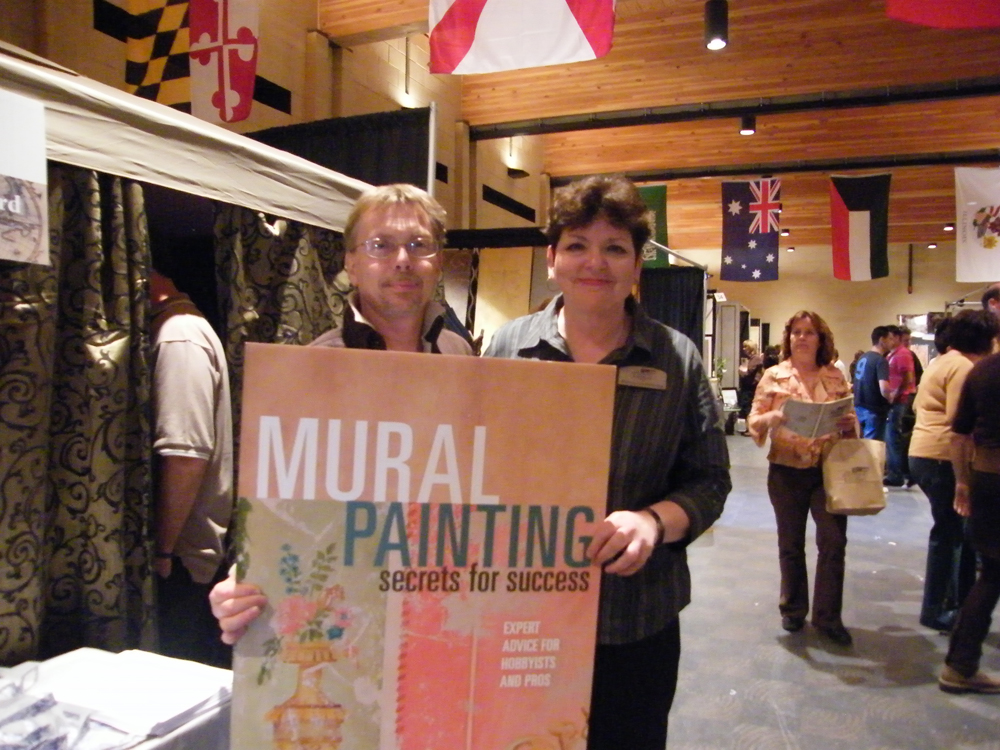 See how this story circles round. And who provided the spot on perfect photographs I needed to supply? None other than Tom Cain. Most sincere thanks, Tom.
Just one mural? Oh, so much more than that. This one mural served as a linchpin to my career. It received recognition in a national competition. It helped confirm my place in my industry and remains one of my favorites.
Is there a place in your life that brings back wonderful memories. Voila! Perfect mural material. Give me a call.