Pick a word.
Any word
Ok, pick a dozen, maybe two.
Give them to Sharon, and…
Wait a minute, let me back up a moment to the beginning of the story.
I was working with a client that was trying to find a way to have a design that showed all the words that were important to her and her family. She told me she also had a photograph she maybe wanted to use. (secretly, this is when I panic cringe. What if it is a picture that is boring or badly taken? How can I avoid hurting someone's feelings?). However, I was more than pleasantly surprised when she showed me the picture. It was a candid black and white that captured her and her husband while on a cruise vacation.
It was just perfect, but too small and we had no negative. I'd had a lot of success enlarging photos of photos I had taken. Steady hand, I snapped a photo, used the filter Warm dramatic and suddenly, the black and white came to life, not exactly sepia, but warm, dark grays and beige tones that were perfect for the room.
I envisioned a simple frame with a scroll silhouette. The picture would be centered and the outside space with words would serve as a mat. Here was my first draft.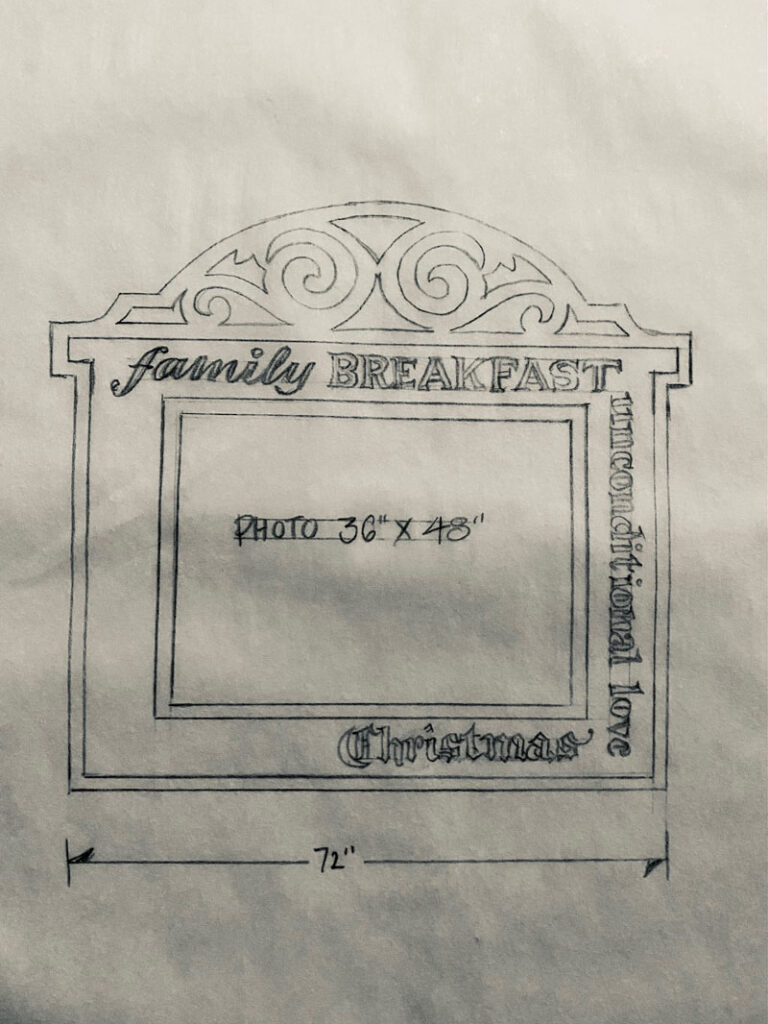 I thought maybe a dozen words but the list jumped from 12, to 15 and stopped at 21 ( a few two word phrases. This is the part that is important. The list took a little time, finding ways to incorporate all the things they were thankful for, their core values and things that made them special to each other.
A little adjusting to the size of the photo so there would be no distortion, and I arrived at a perfect fit.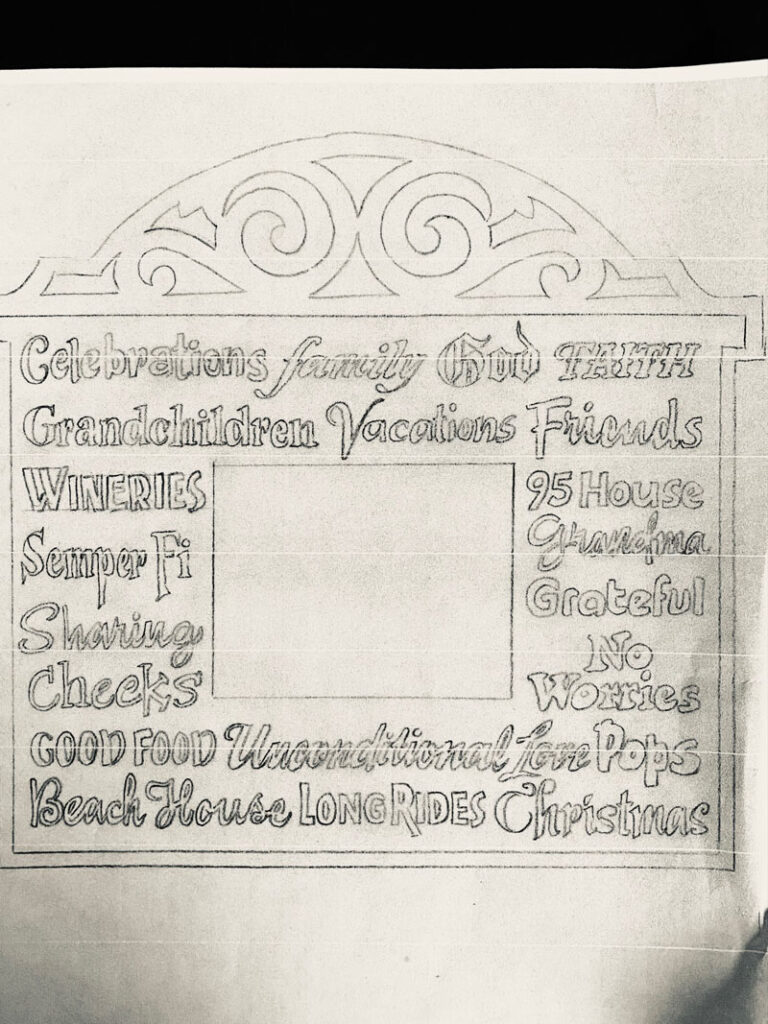 Going to take a moment and risk sounding a little corny, but right there, that is what love is to me when I see this.
Next, here are the mechanics of how things progressed. While the photo was being framed, I started painting.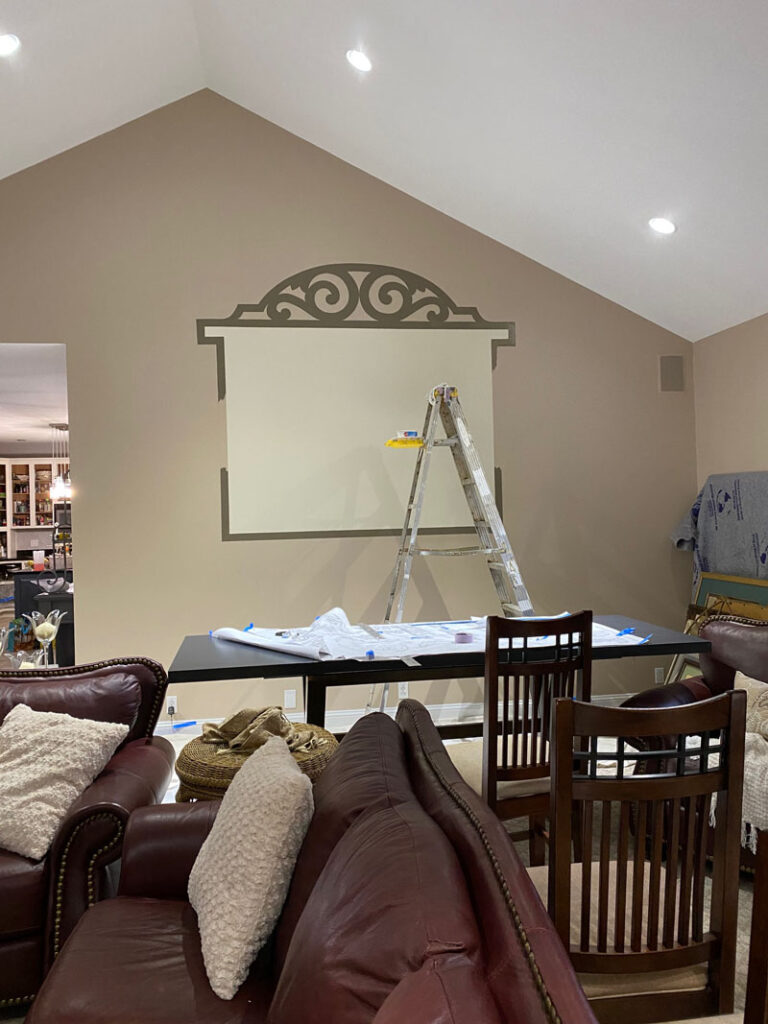 I created a pounce pattern to transfer the lettering.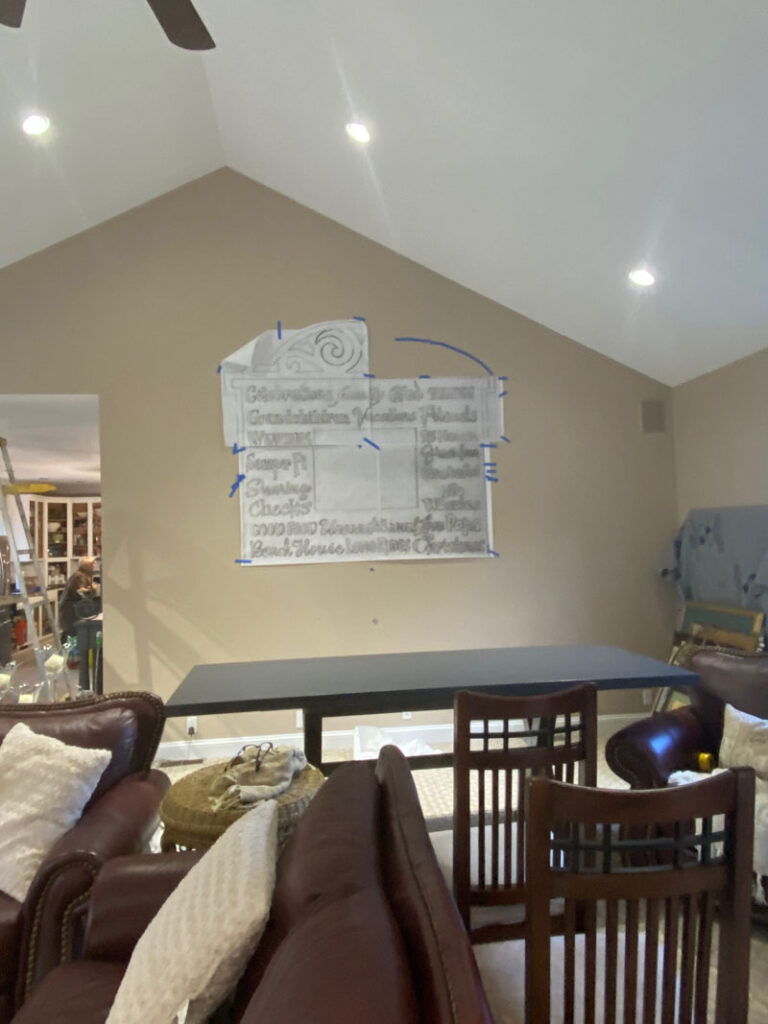 Decades of sign painting had brought me to the fun stuff.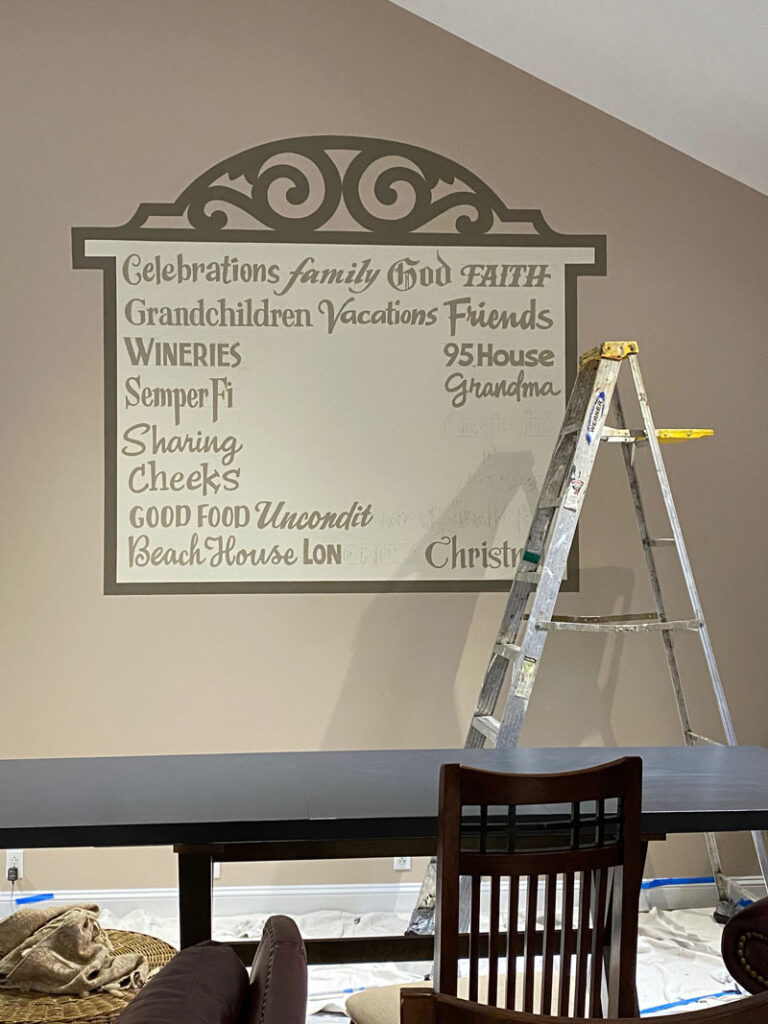 I can't wait to show you. Here is just the artwork itself.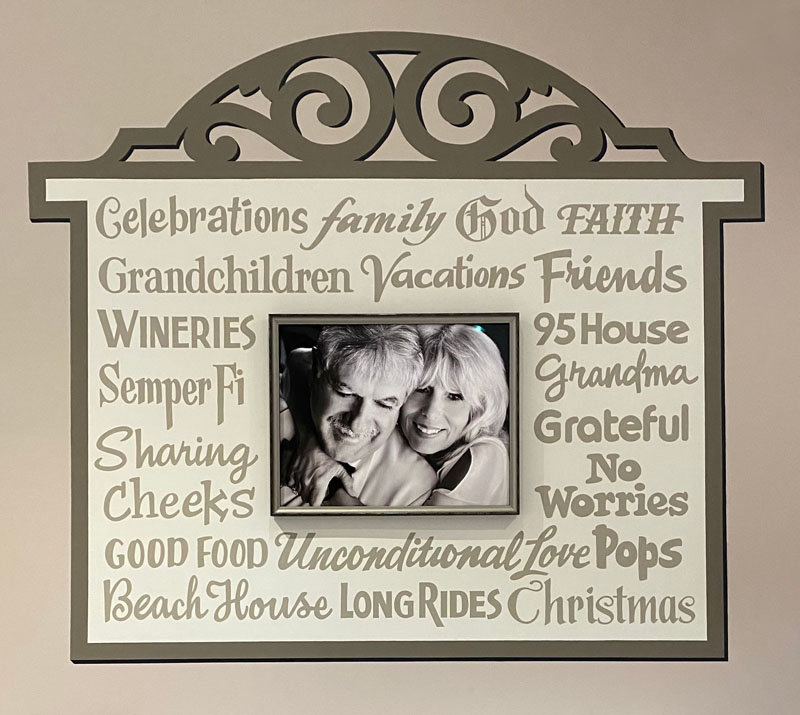 And how it looked in the room.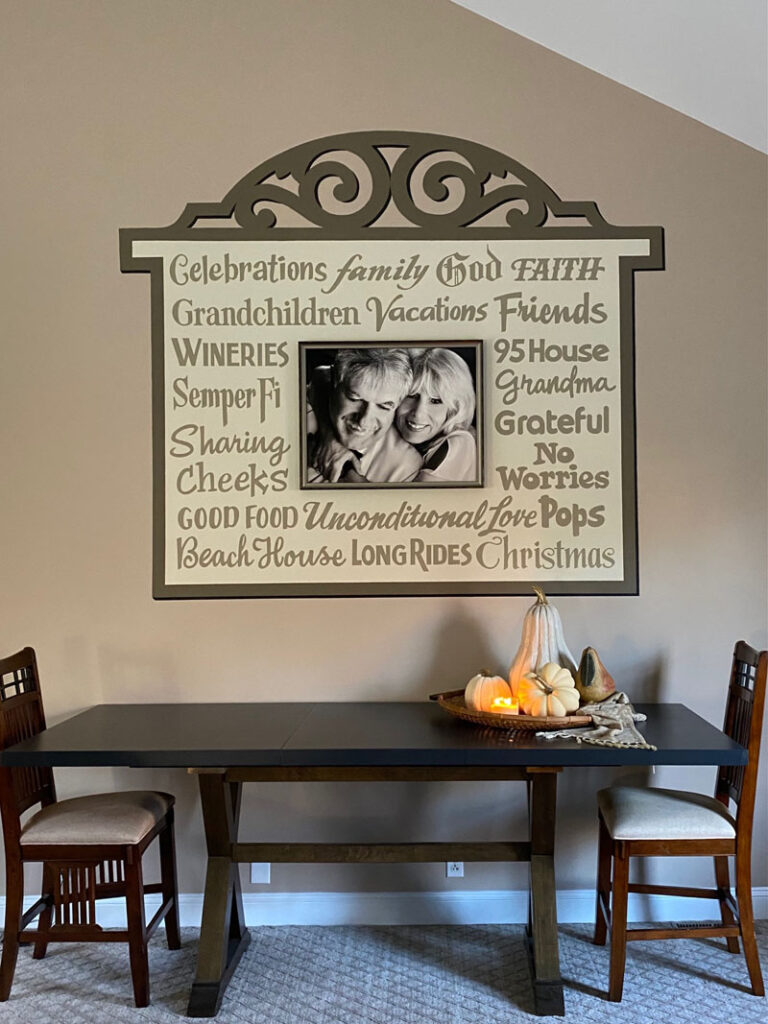 This piece is 72″ by 72″. In a large, vaulted family room, it is painted over a multi-tasking table used for impromptu snacks and computer work.
I'm never comfortable about openly "selling". I'm thankful for each and everyone of you that has commissioned me and allowed me to do the work I love. But I've had a few responses to this piece and I'm sharing it. I've been asked quite a few questions.
Does it have to be this shape? Absolutely not. This was designed specifically for this space.
Does it have to be this size? Again, no. I design by the space where the work is intended.
Does it have to have just one picture? Ok, you get it by now. Your space, your wall worthy words, your photos.
It might be the perfect holiday gift. And no panic, there's only so many weeks til Christmas and Hanukkah but I can make a gorgeous gift certificate and box it ready for gift giving.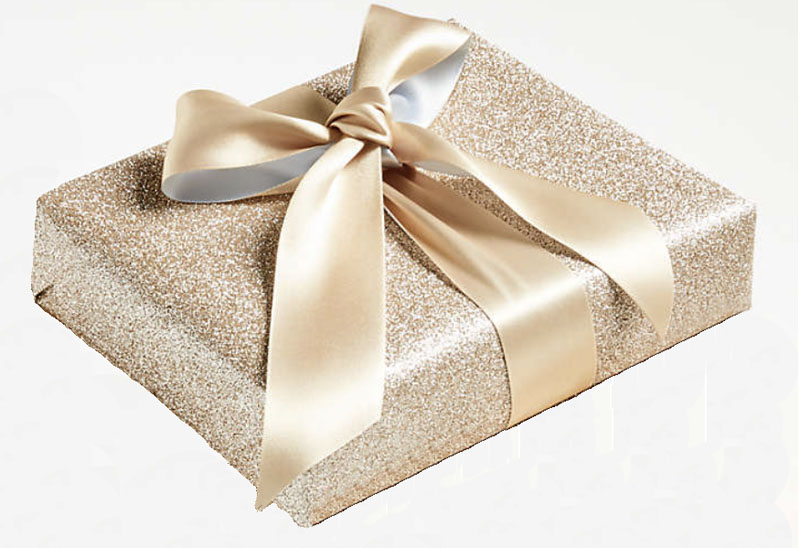 Give me a call if you think you may have just stumbled over the perfect gift.
In parting, I'd like to share how this project so illustrates Thanksgiving to me, especially during this most trying year for all of us. We all talk about what has changed for us, the restrictions of lockdown and the daily struggle to stay healthy.
It was time for me start a list of words for myself, and each and every word on my list was a reason to be thankful and grateful for what I have. I hope you can find time to make a list for yourself and as the list grows, the reasons to be thankful becomes more clear. In that spirit, Happy Thanksgiving to you and your family.