It's the end of the year as I'm writing this newsletter. A time to reminisce. It seems only fitting to share a project that convinced me becoming a decorative artist was truly my future.
This work predates the onset of my newsletters. Although I've grown as an artist, I feel his work has withstood the test of time. You let me know after you walk through it with me.
My client made me laugh showing me the first area I'd be painting.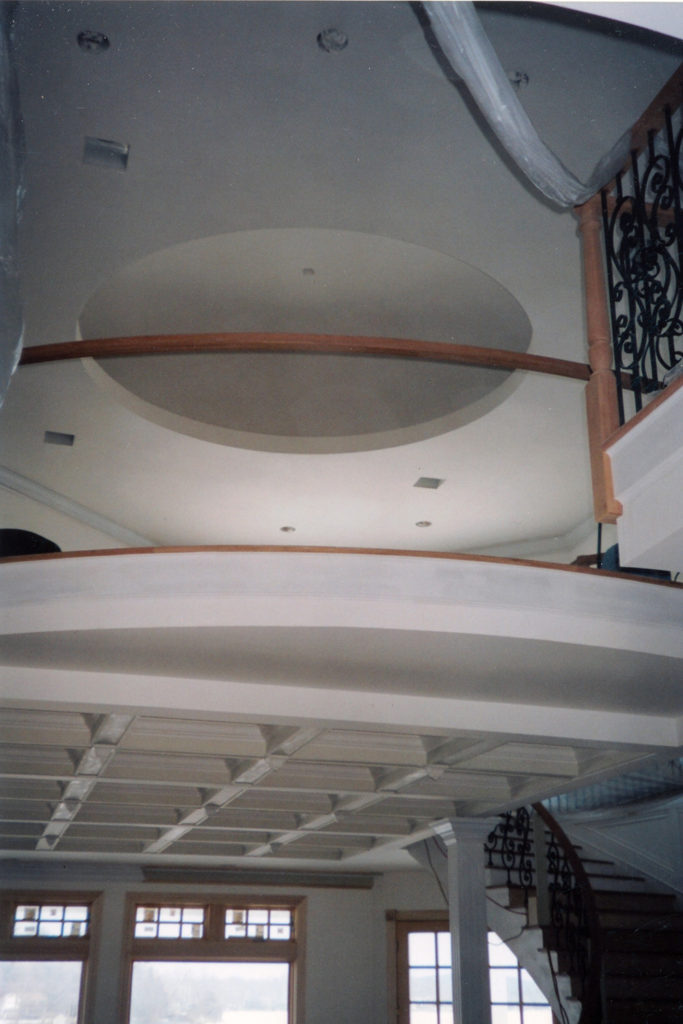 A dome on the second floor. From the windows spread the lovely Bantam Lake in Connecticut's town of Morris. He commented, " I know there are all those theories saying that painted clouds are so much more than white on blue. That is you look closely, you'll find the whole of the rainbow. Pinks, yellows, gray. Maybe so, but I want to see what I see when I look out these windows. I see pure blue skies with white clouds. Give me that, Sharon".
And so I did. Here's the finished picture.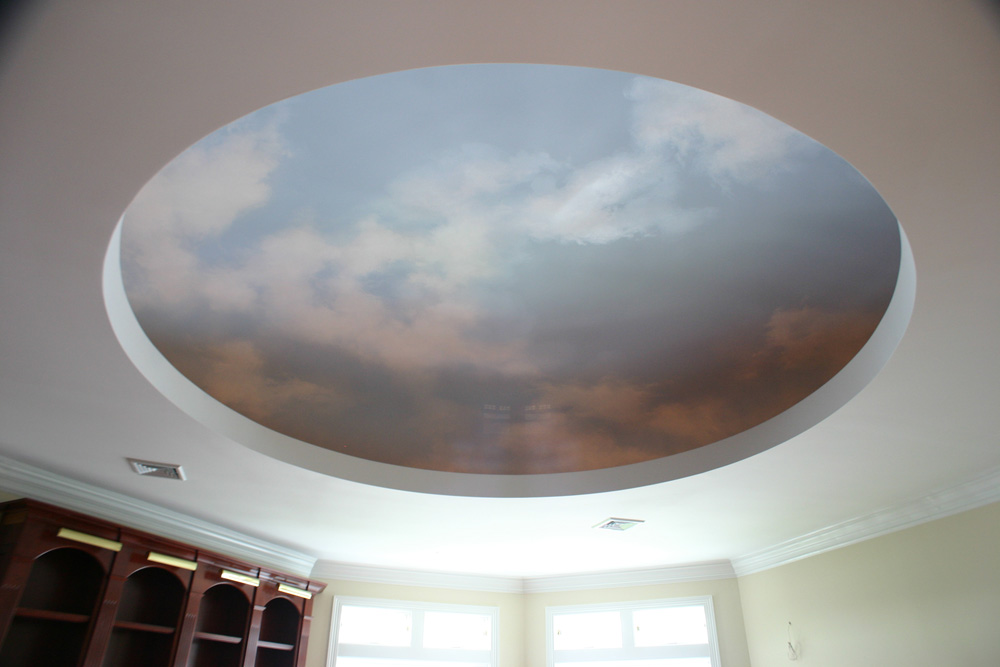 Work moved to the wine cellar. The brick work, including the ceiling, had been completed. I needed to make my mural look integrated with the space. The wine barrels are each painted with trompe l'oeil dates of years that were important to my client.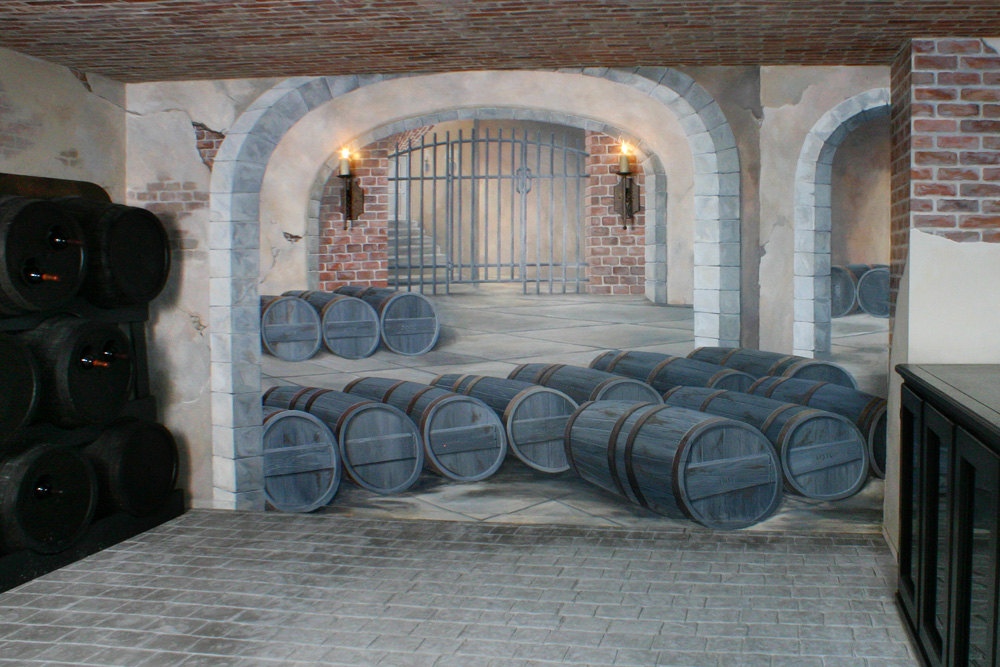 Here's another picture, complete with moss props finishing off the custom shelving built inside of the stacked wine barrels.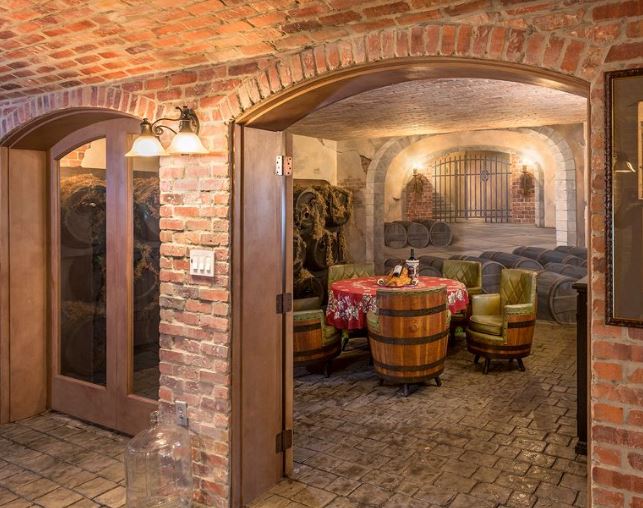 Next was an opportunity to capture a little slice of history. Easily viewed across the lake, a building is seen that is currently a real estate office. Back in the 1930's, it was a dance hall known as the "Music Box". My client had secured what little imagery was available from the Morris Historical Society. Some of the films were damaged. The automobiles were painted in grid fashion, filling in the blanks as each car came to life. Sepia tone preserved the mood. This mural is on a slightly curved wall and measure 8′ x 20′.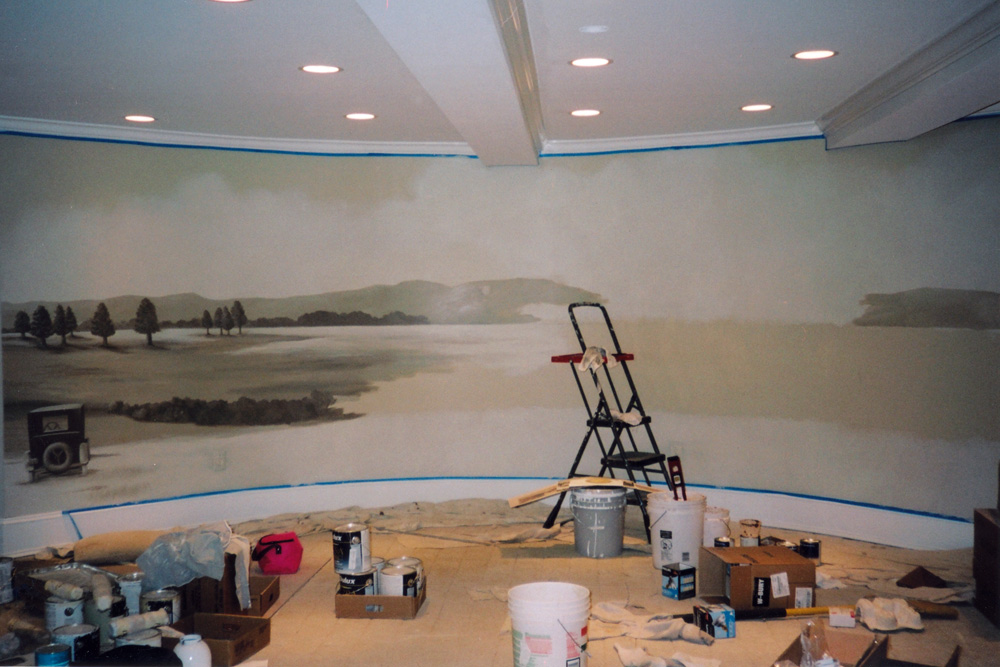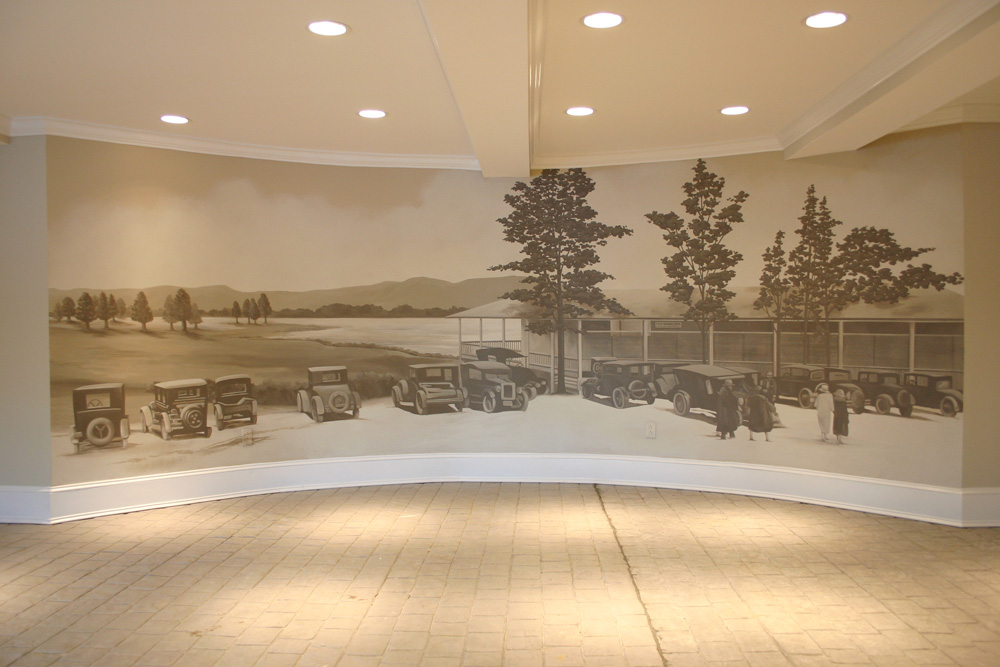 A structural support column then presented itself as the next challenge. We stood looking at this.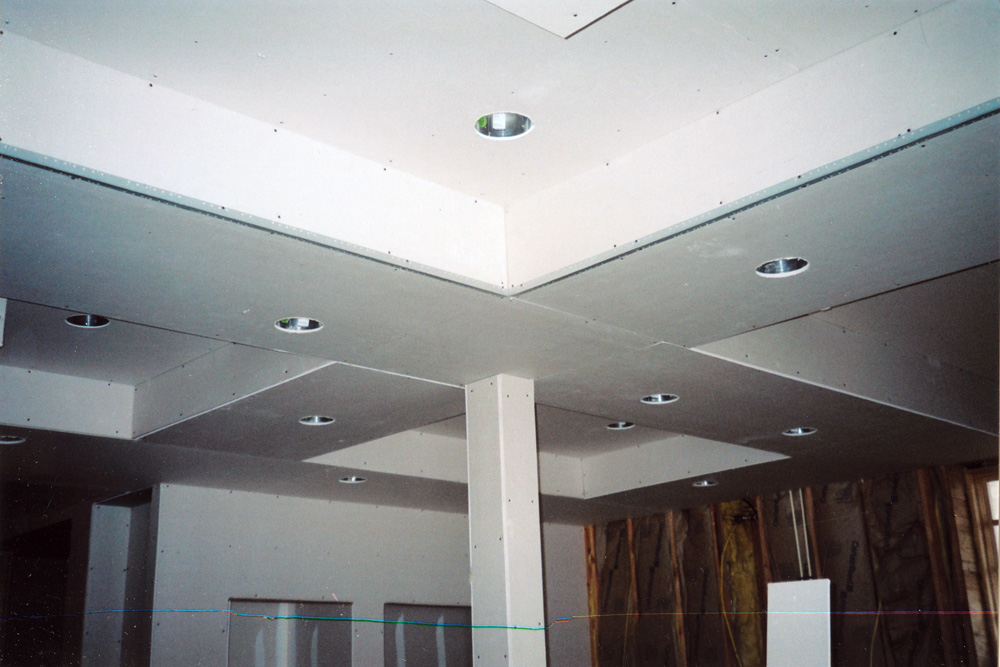 "I see a tree", says my client. "Do you?".
And this was the moment, folks, that moment in time when I realized my gift. I could see it! And I would figure out a way to bring it to life with paint (and a sonotube, a little plaster and some tree branches from my back yard.)
The sonotube was wrapped around the square upright, forming a column. I sculpted bark with cement. The branches were sealed with polyurethane, then attached to the column. Layers of glaze finished the trunk detail, and then the leaf painting began. I see a tree!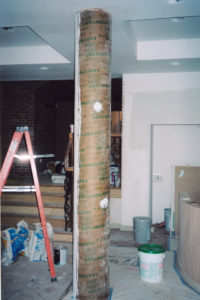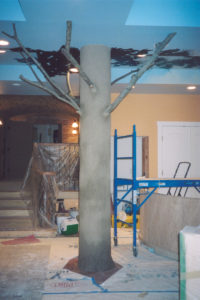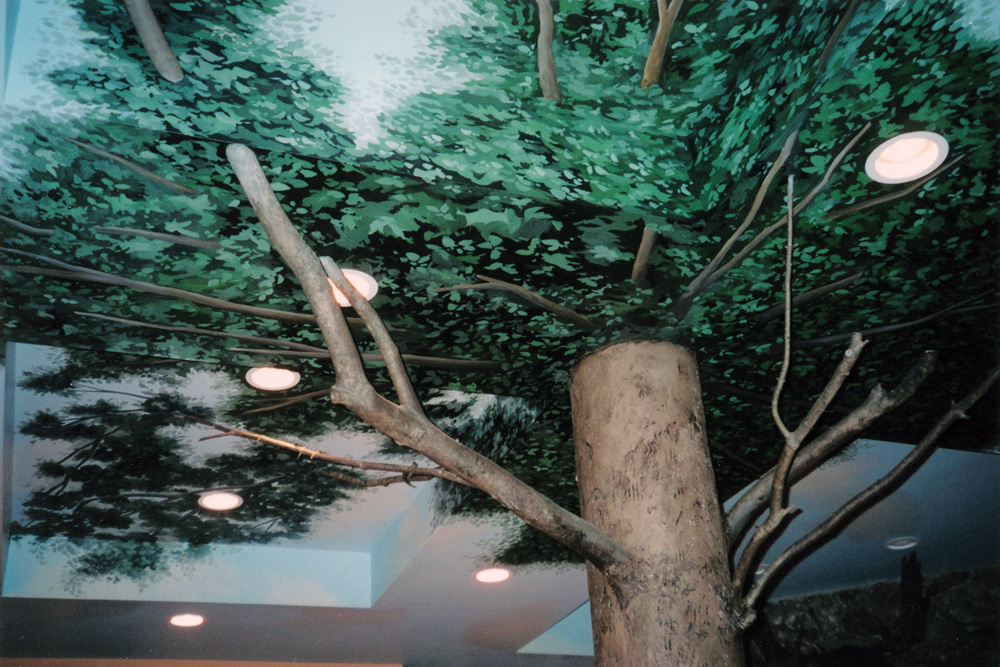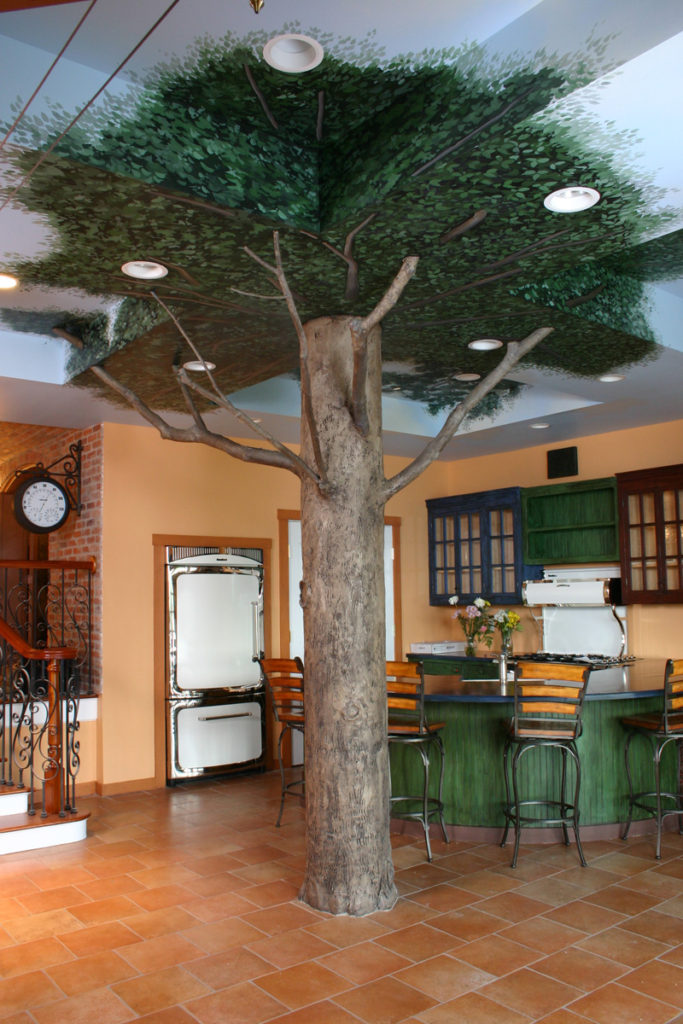 The joy is knowing that each project in this magnificent home called for different types of research. The media room needed an art deco influence. Here is my proposed entrance door drawing.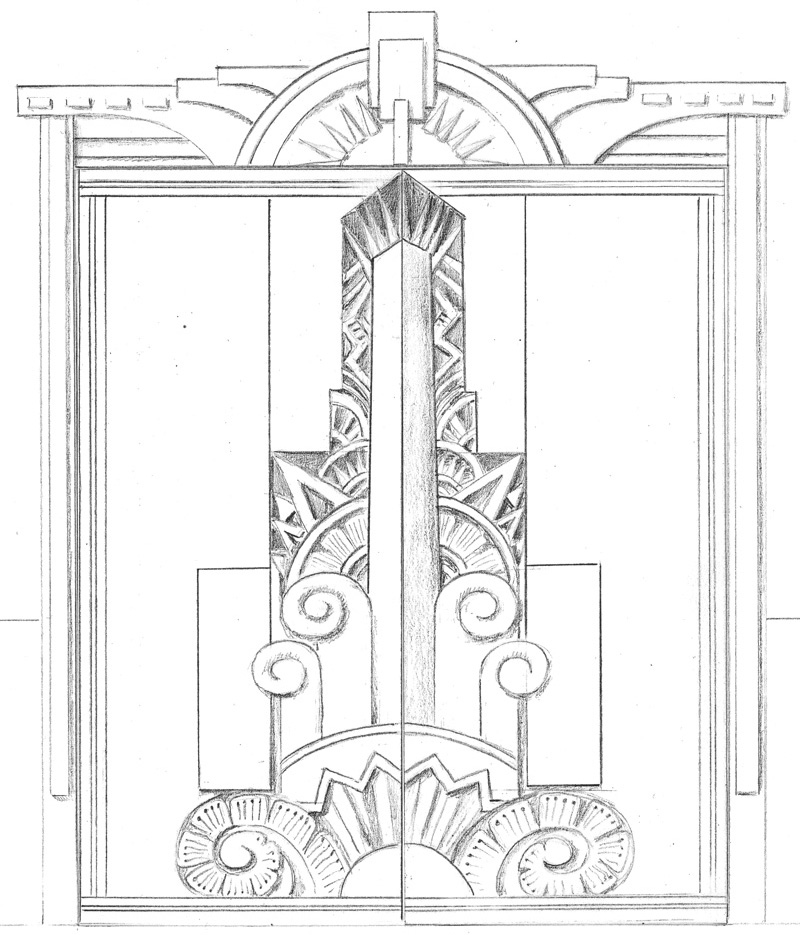 I drew out patterns for the carpenter and we arrived at this construction for the doors.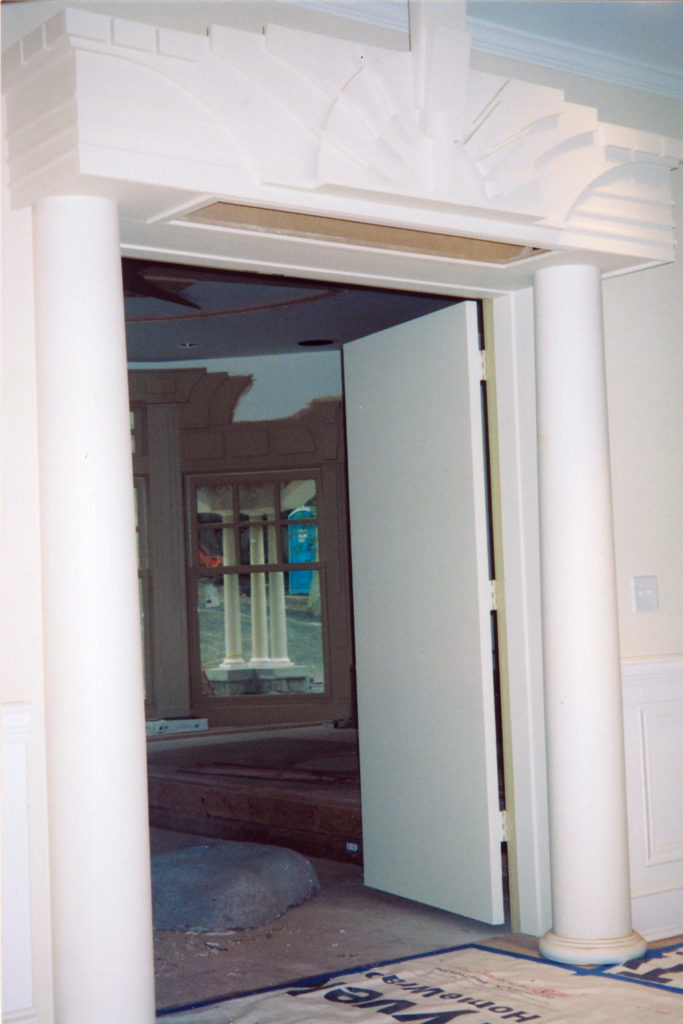 A background of glazed metallic paint was perfect for the art deco design. Loved that I could ask for 2/3 of each column to be added and it happened! Just like that! Fantasy marble in warm brown tones finished this just as I'd pictured in my mind. Here it is completed.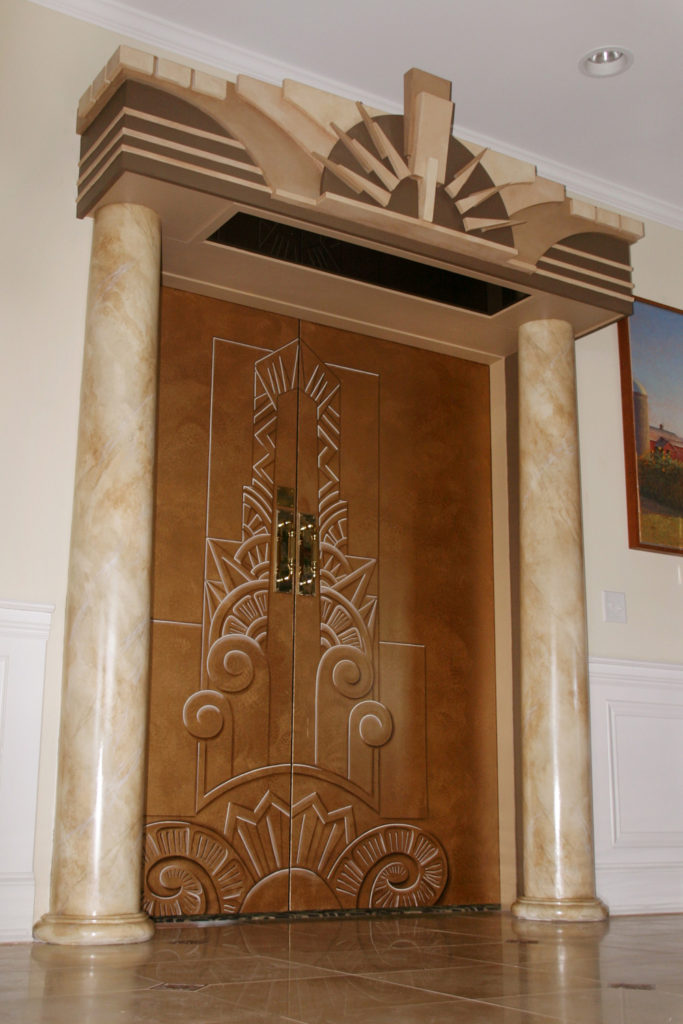 A little brainstorming made the starburst center transform into a base for the zodiac illustrations. The subdued monochromatic palette was a perfect foil for the poster artwork of my client's favorite movie that serves as a screen saver.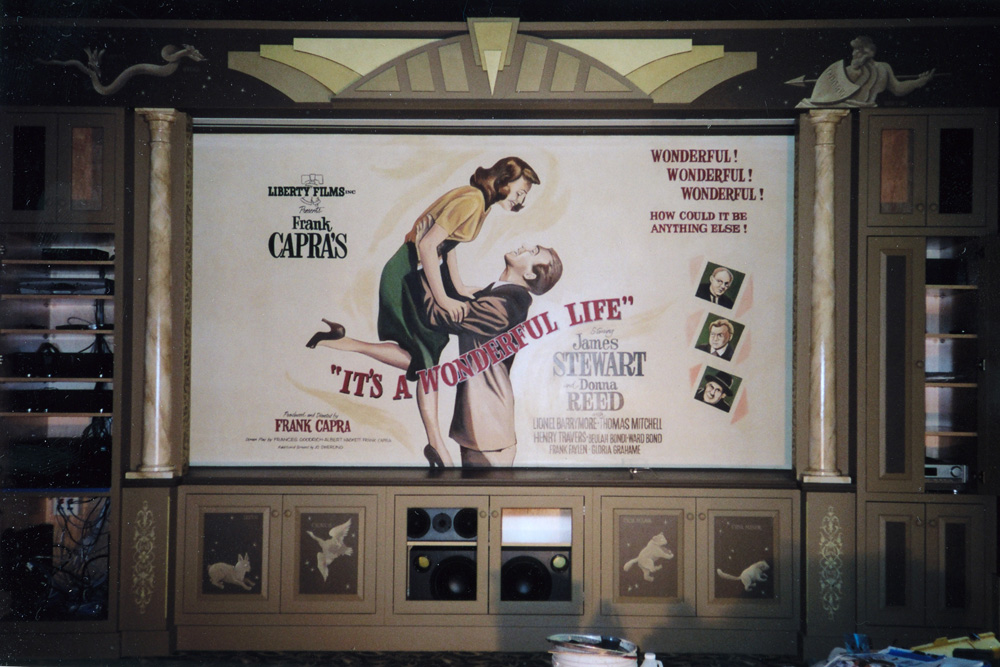 Here's the ceiling and screensaver from a different perspective.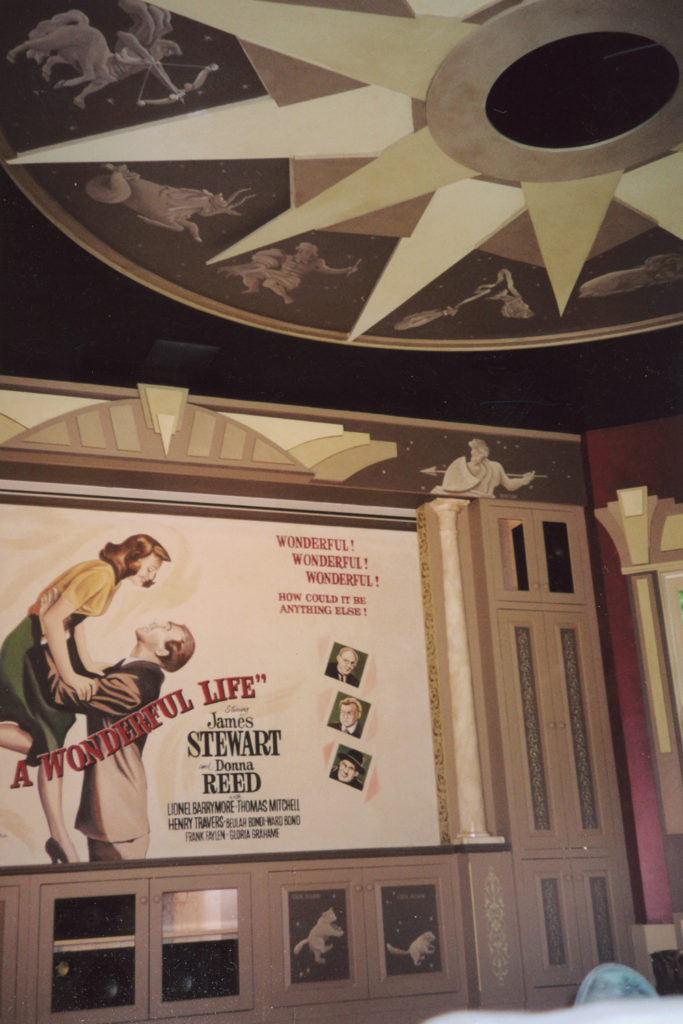 These are the highlights of the tour. I was to spend eight and a half months at this home. As any self-employed artist can appreciate, it was beyond heaven moving from room to room. Each room was different in spirit and materials. I also did a fair amount of artisan finishes as well, including multi-layered lusterstone and glazed tissue. Coffer squares with a simple stippled glaze alternating between detailed trompe l'oeil panels.
What this project did for me as an artist was raise the bar I would set for myself, always, for every project that would come in my path. Never to look at a request and think no way. To always think, I can make that happen.
Going to sound a little "Pollyanna", but spending time with my client and his wife gave me a bonus gift of friendship, something I've been blessed with to continue to receive with many clients that I've come to think of as friends.
I hope you've enjoyed this little walk in my past. I'd love to know your thoughts.
Sharon