Since this project was conceived months ago, it's been living in the crazy part of my psyche. Many are the times I would play back the proposal and wonder: what was I thinking? Surely, this was insane. Up until the actual moment of installation, I questioned the process and for a moment of terror thought this might not work.
Wrong, oh so wrong.
So to the beginning of the story. A tiny powder room, square footage wise, 6 feet by barely 4. But competing with a powerful piece of inspiration. This is the mirror with the dragon frame.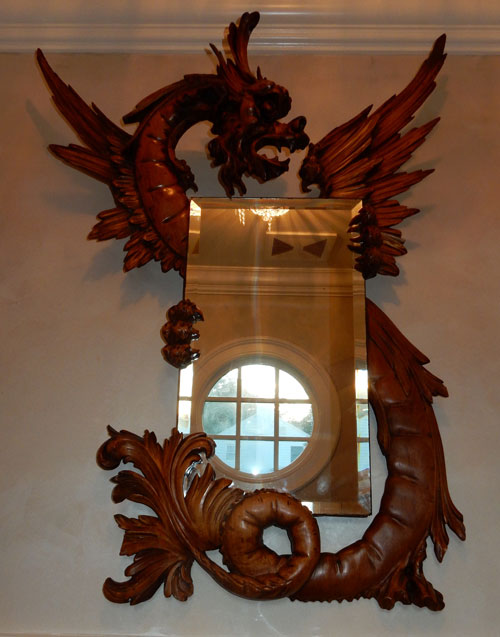 I needed to design something that could hold its own against such drama. And I came up with the idea of a magnificent dragon's tail, unfurling itself across the walls. And that's when crazy entered the picture. I'm currently having a love affair with mica, adding it as a layer to plaster finishes, and I thought, this was the perfect solution. The raw mica comes in blocks, and one splits the sheets apart. I could cut the scales out of mica. They would come alive as light hit and reflected around the room.
I started by drawing out the tail, numbering each scale and tracing each piece of the patter over a piece of mica, cutting them one at a time. Each of the six hundred plus scales is different as it twists and turns. (It's OK, I said crazy first. Think what you will.)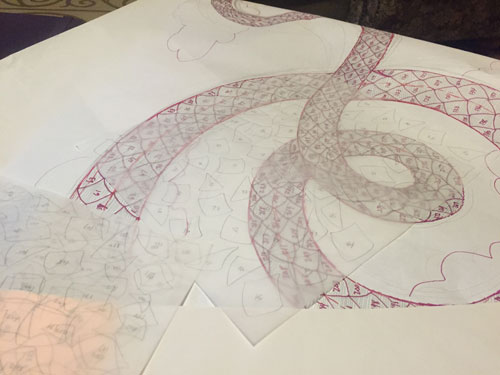 The colors initiated from a stunning piece of marble that had traces of a plum, violet color. Purple was important to my client. Seeing we had crossed into the land of outrageous at the word dragon, choosing a brilliant plum metallic paint for the wainscoting was perfect. The walls were first treated to a multi-layer finish of mica-infused plasters with hints of plum hidden under the delicate ecru and off white  found in the marble. After I drew the tail itself, it was base coated with the same plum metallic paint. The mica was in amber and bronze tones, some thicker than others, so the undercoat is visible.
"Inch by inch, scale by scale. That's how I built this dragon's tail".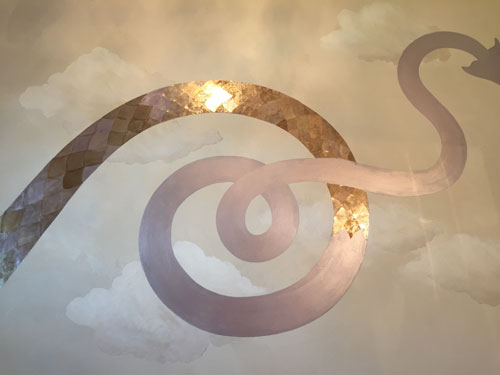 And without further ado, here is the completed tail.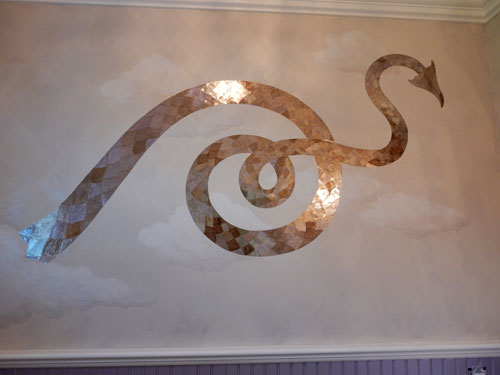 CLICK HERE for a treat. My client found the perfect sink faucet.
During this project, someone remarked that the room had a real Games of Throne vibe. Being a fan, I was thrilled.
I hope this video illustrates how each of the elements contribute to the full effect. The Swarovski sconce and ceiling fixture absolutely dazzle. I had a blast doing this. Love to hear your thoughts.