I've got to admit, this powder room is going to be a tough act to top! Simply put, I loved every part of it, from the planning to the last bird. Oh, the birds! But I'm rushing ahead of myself.
My client, to whom I'm truly grateful for this painting experience, made the initial choice for the room. She had an inspiration picture that she had filed away several years ago, knowing this was her vision for this powder room. It showed a gold leafed wall with traditional chinoiserie painted on top of it.
First, I made two gold leaf samples for her. One was very formal, and as close to perfect as the human hand can make it. The second, done on a brick red bole, the rich color that is behind the gold leaf and adds to his great depth of color, had some irregularities, leaving some of the seams about a sixteenth of an inch exposed here and there. Actually harder to do creating the irregularities, but well worth the effort. It gave a gentle sense of aging to the gold.
Gold leaf is actually incredibly thin pieces of gold that are attached to a tacky sized wall.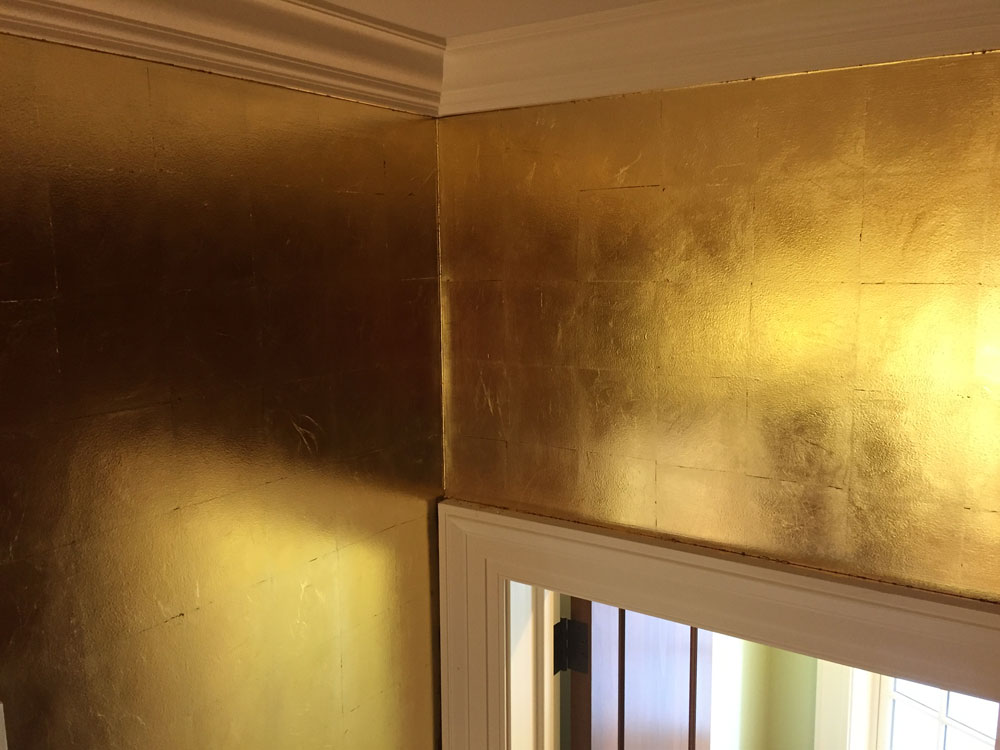 So, I'm breaking form here. I'd like to show you a finished shot first, Usually, I lead up to the big reveal but I'm going to start with a show and tell. So here it is.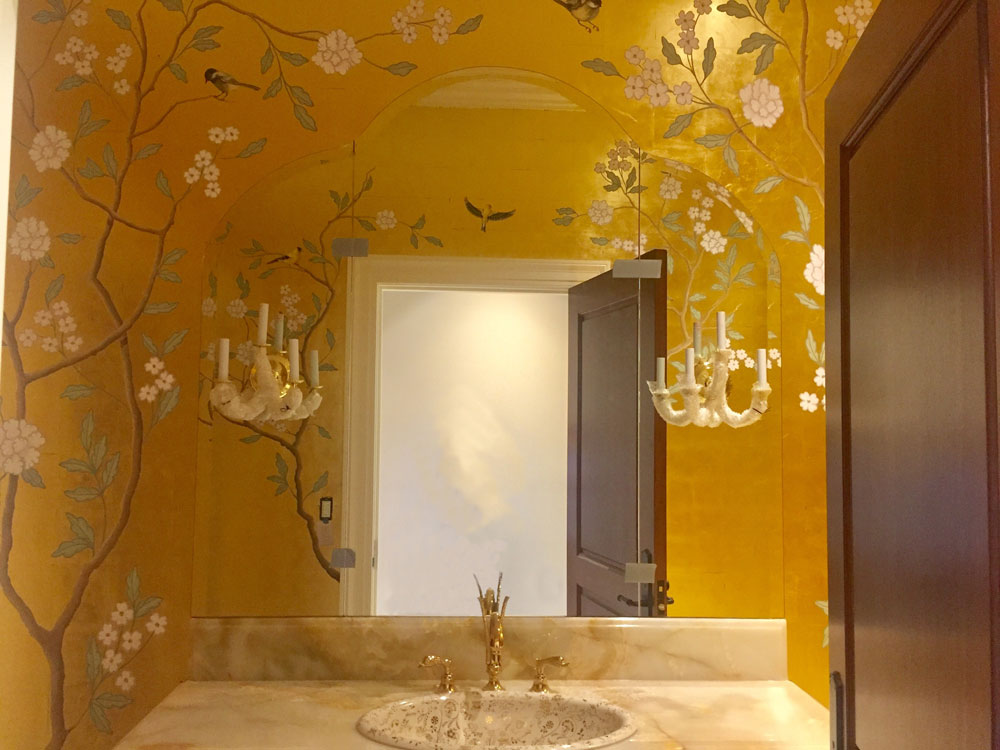 The illumination of the gold leaf and its reflective quality is still amazing to me. I feel like a kid at Christmas every time I look at it. So, now to how I got here.
I first drew scaled drawings of each wall. In this situation, it wasn't enough to see how it would come together. There is a huge mirror on the sink wall that comes into play. Everything on the opposite wall is shown in it and becomes part of the sink wall's composition. So I went old school and made a model out of foam core. I also added the vanity and some mirror like material to recreate that wall. When I put the four walls together, I could see exactly what was going to be reflected.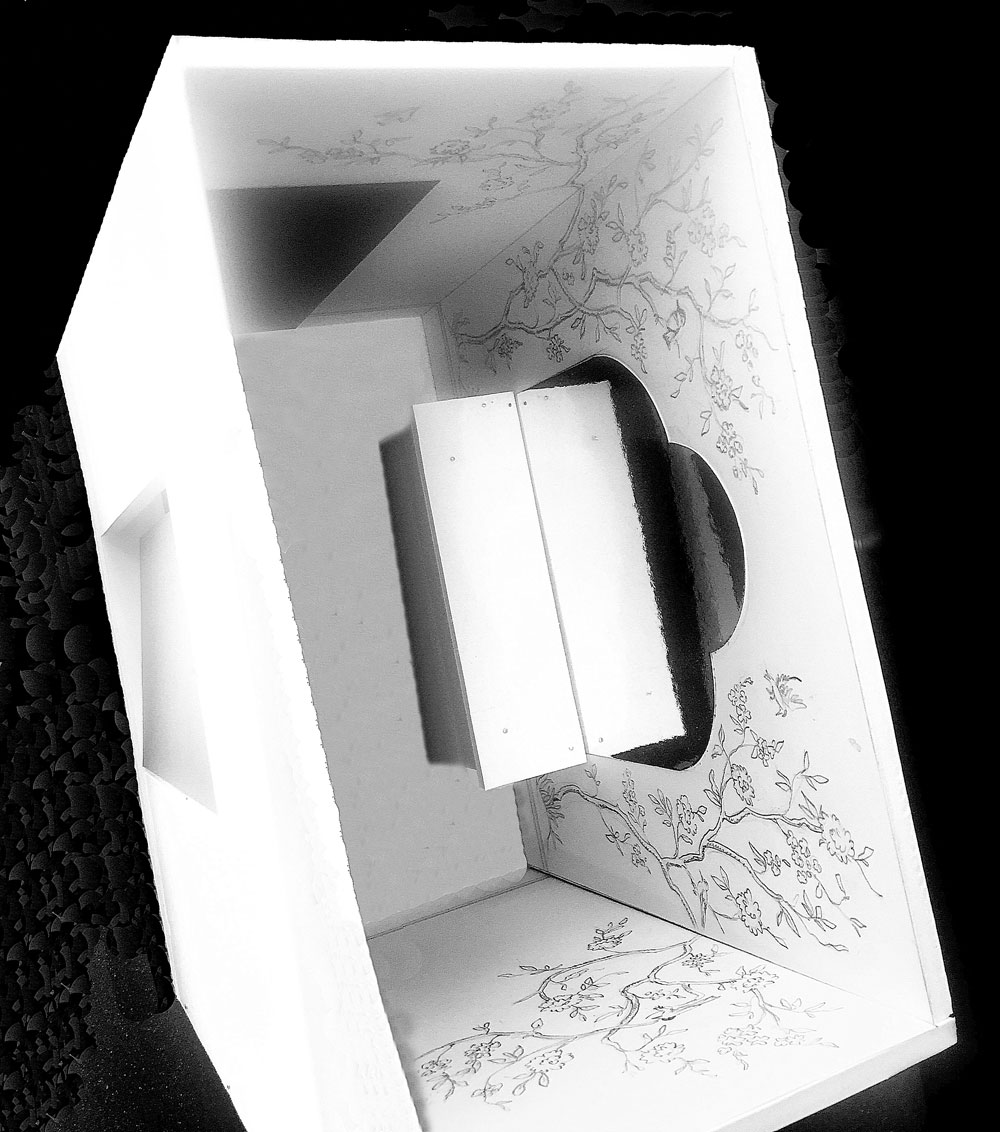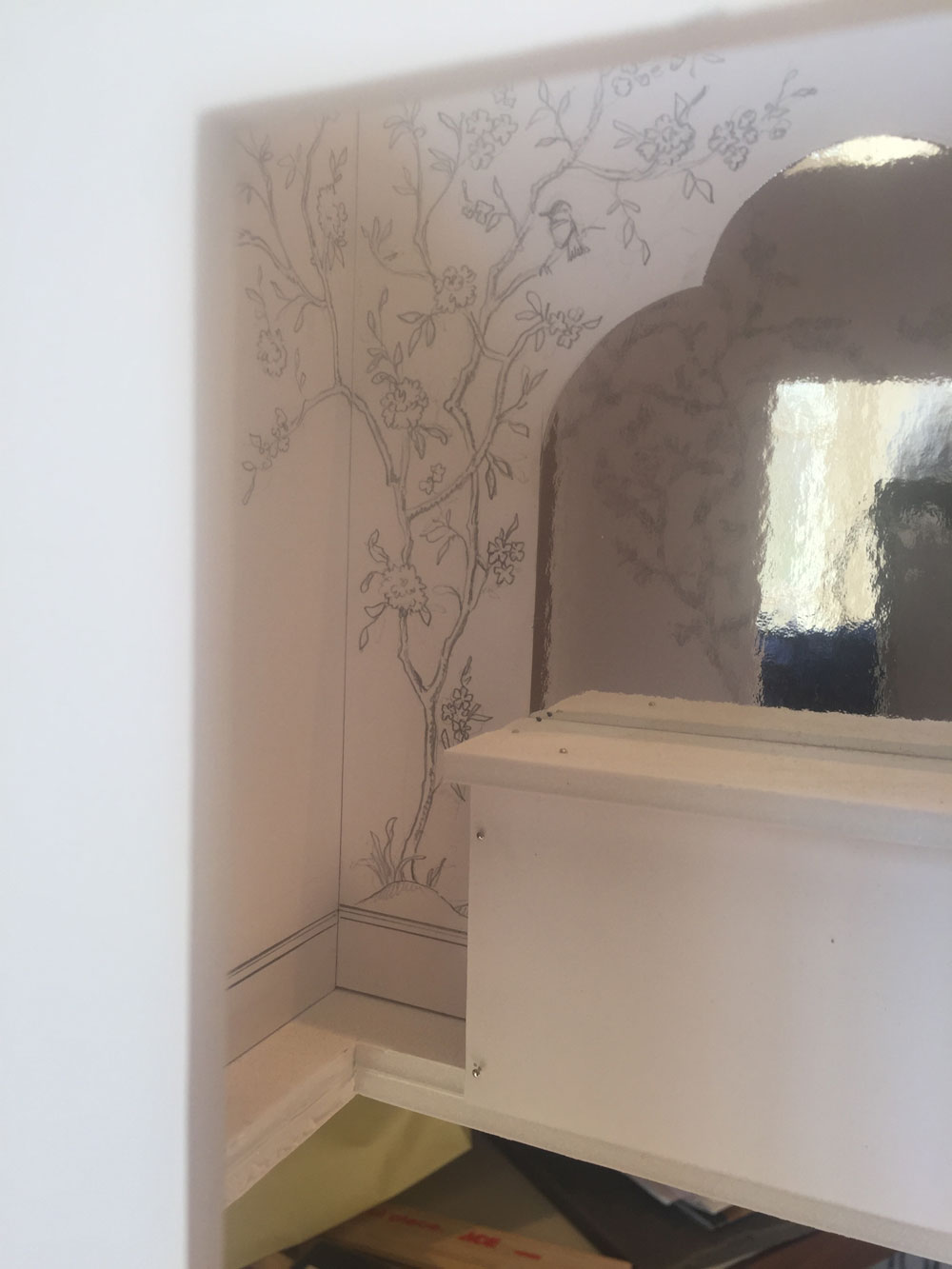 Once the gold was completed, I started painting. The grid of the gold squares made it quite easy to layout the branches. Branches, leaves, flowers painted and then came my favorite part.
Again, kudos to my client who did not want to use traditional chinoiserie birds, which, though lovely, are quite stylized. After a discussion, we decided on native Connecticut goldfinches and chickadees, to be painted more realistically. What an unexpected delight the birds were. Here are three of my favorites.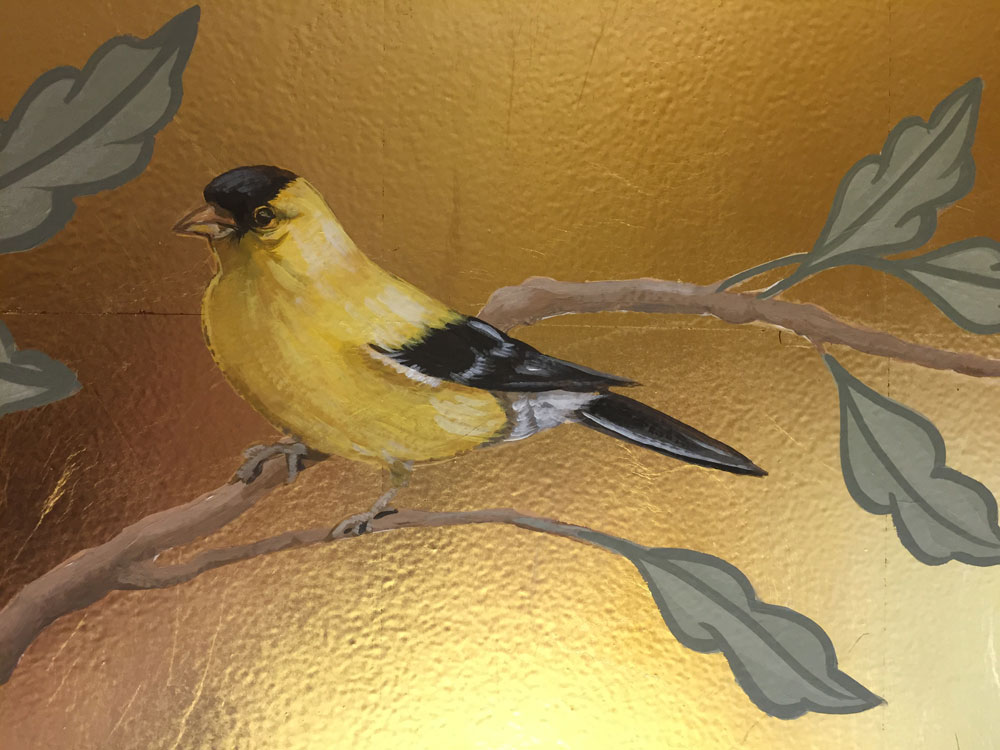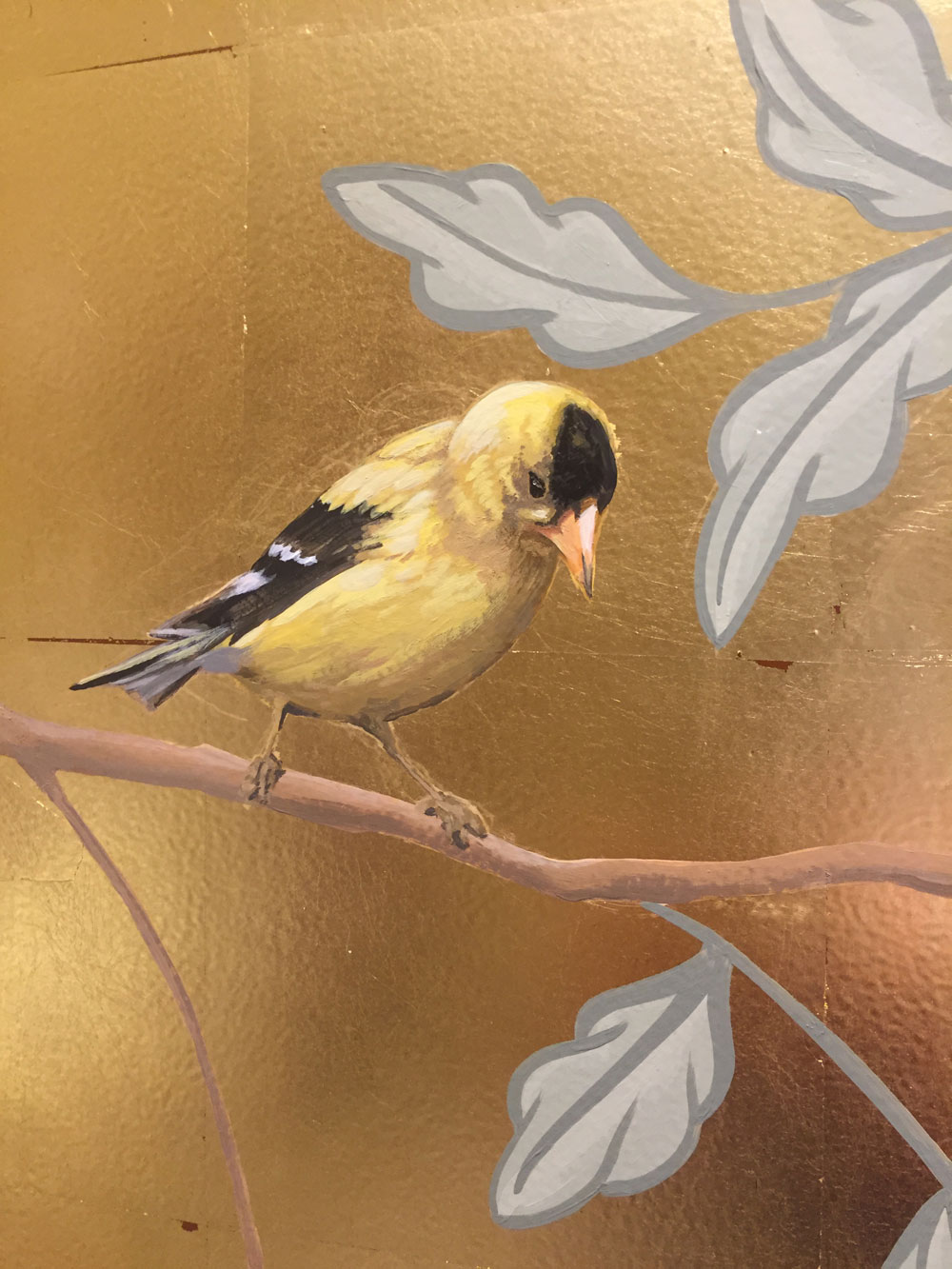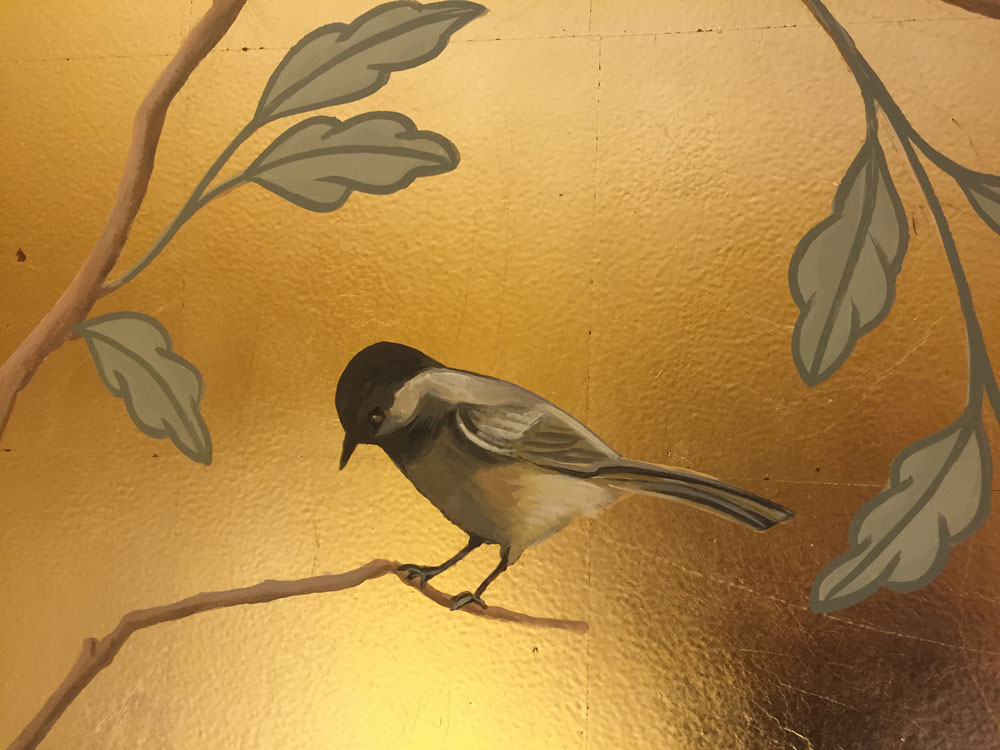 This powder room is truly a feast for the eyes. Do look at the elegant vanity, the marble and sink. The gold plays perfect counterpoint.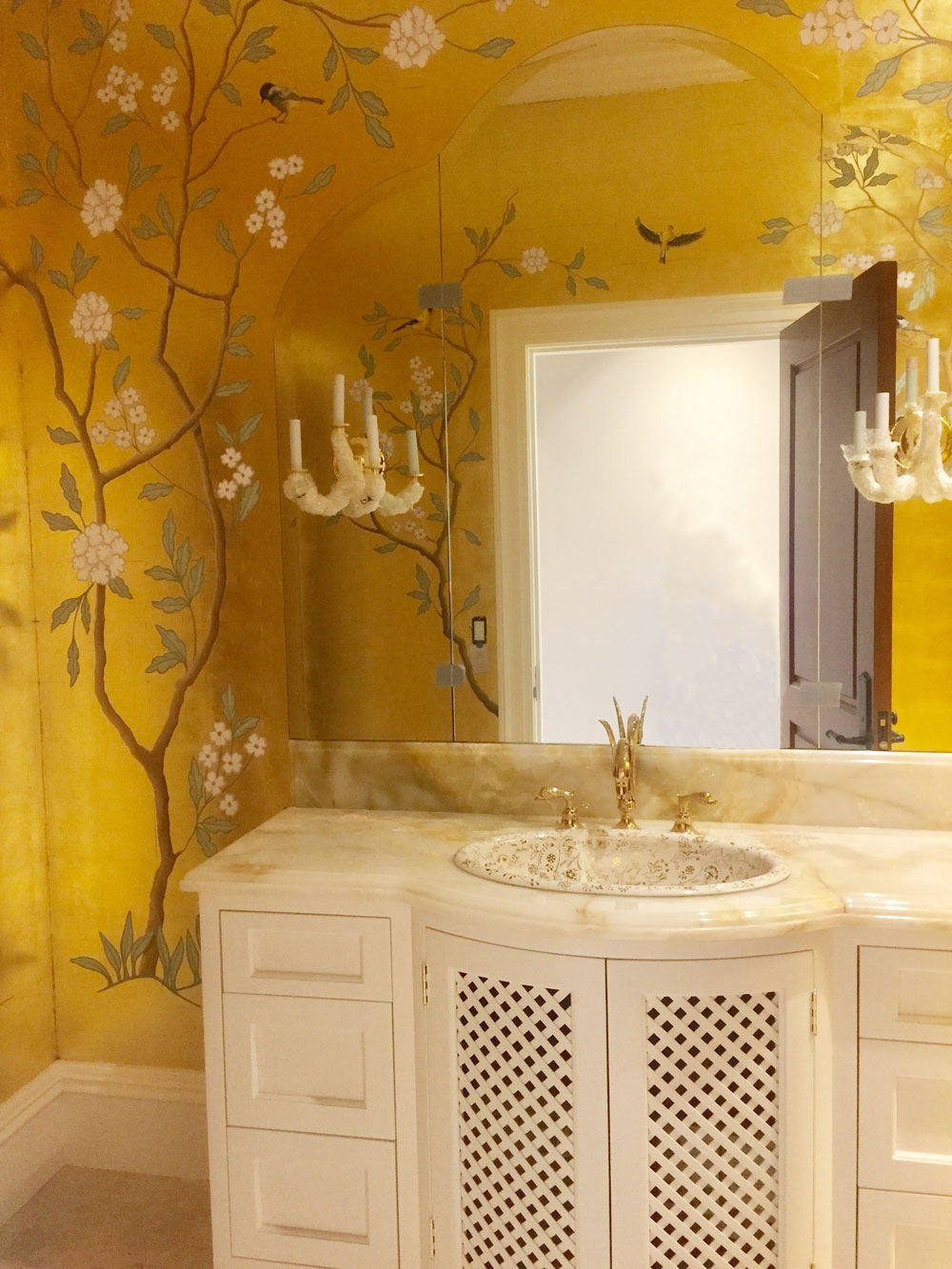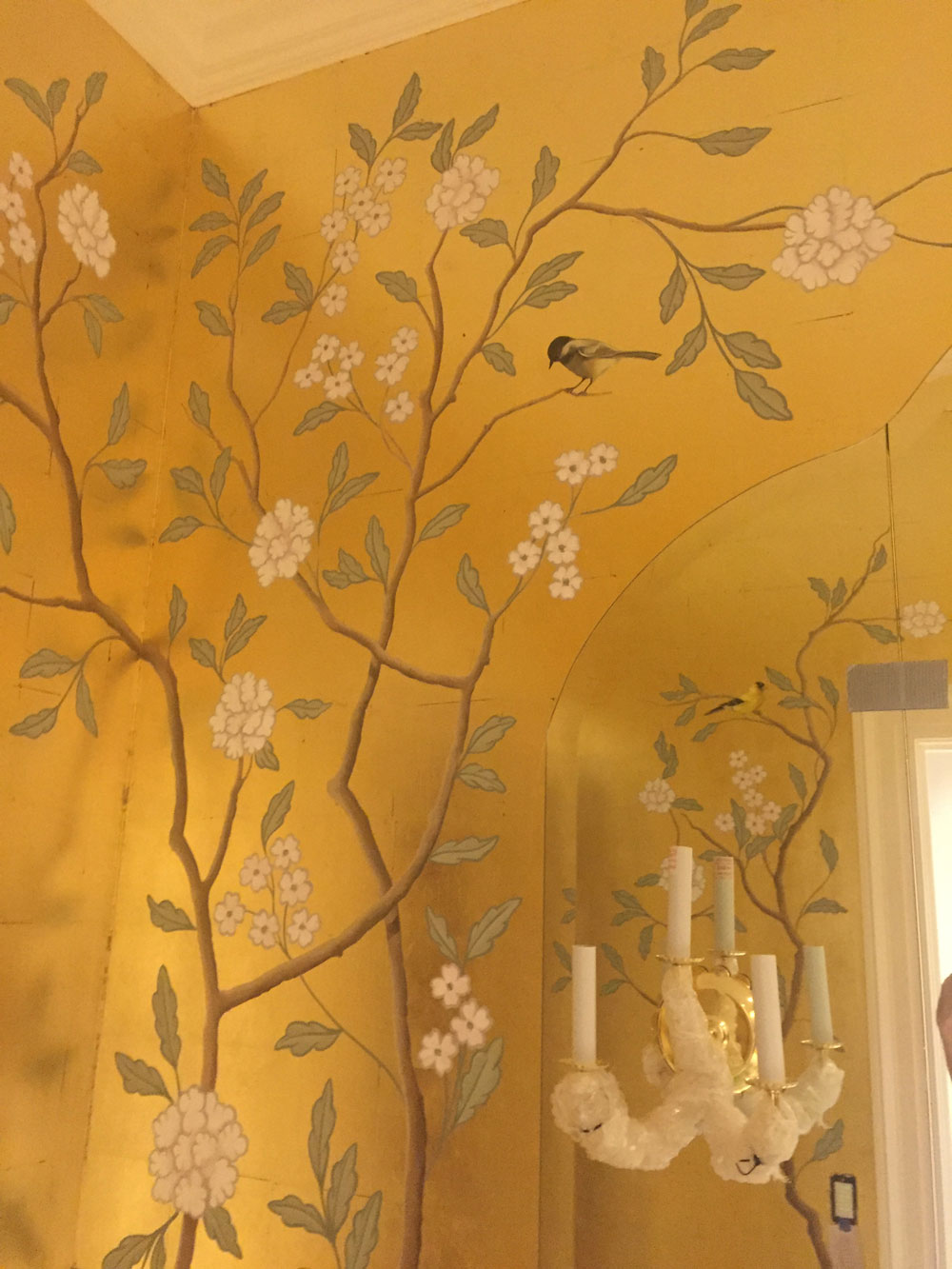 Over forty five years of painting experience created this. I first learned how to leaf when I was a sign painter. Those years of controlled brush work gives me the painting skills I used for this. Imagination and a touch of whimsy added to the mix and the profound good fortune to find a client to make this possible.
Don't keep your vision stashed in your files too long. I'd love to realize them with you.
The effect of watching a room being leafed and polished is nothing short of dazzling. Here is a video showing you how.