This project needs so many words to describe it. It was an honor being able to share in the magic of my client's horses. It was far more difficult painting horse portraits than people because I had to try to understand a whole different way to visualize personalities. It was also a pleasure working on this huge canvas which measures 6′ by 9′ in my own studio. My husband would come in with a cup of coffee and say "the horse whisperer at work". But horse whisperer I am not, but hopefully, a paint whisperer, yes I am.
My client, the extraordinary Wendy J, offered me entrance to a very spiritual and grounding place with this commission. There are a total of seven horses in the composition, the smallest shown being a family favorite who has truly, no pun intended, crossed to greener pastures. It was so much more than just drawing them and getting their coloring down right. It was understanding their personalities and how they feel about each other that brought this to an entirely different level.
Here is the original pencil drawing. From left to right, meet Moon and Esse . Moon is only a few weeks old in this painting. She is protected in her mother's presence. Next is the quiet Teddy. Center stage is Billy ( more about him in a bit). In the distance is the light gray Peper, a precious part of the family's memory. Next is the inimitable Hershey, the original Mr. Cool. He is not threatened by any of the antics of his fellow horses. And lastly, comes Andi, nibbling quietly in the grass.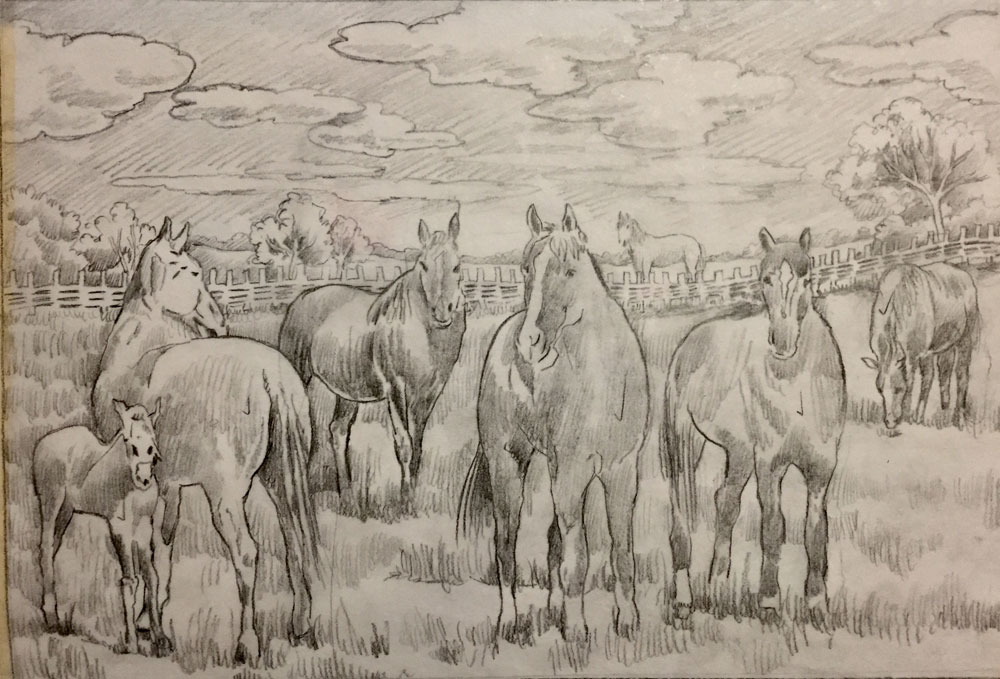 I completed a sky very similar to the owner's home and painted in the distant fields.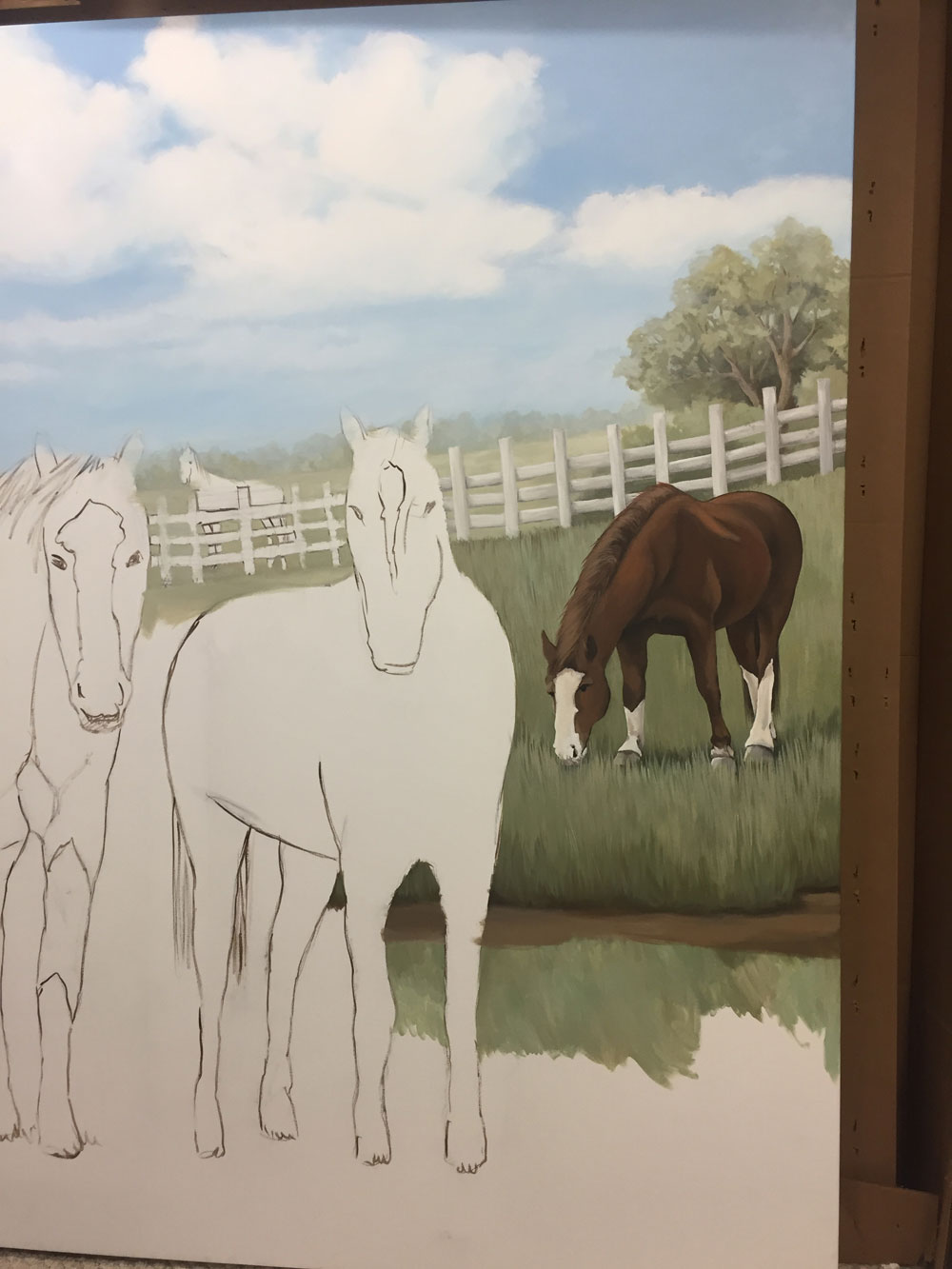 You can appreciate the size of the painting in this photo of me working.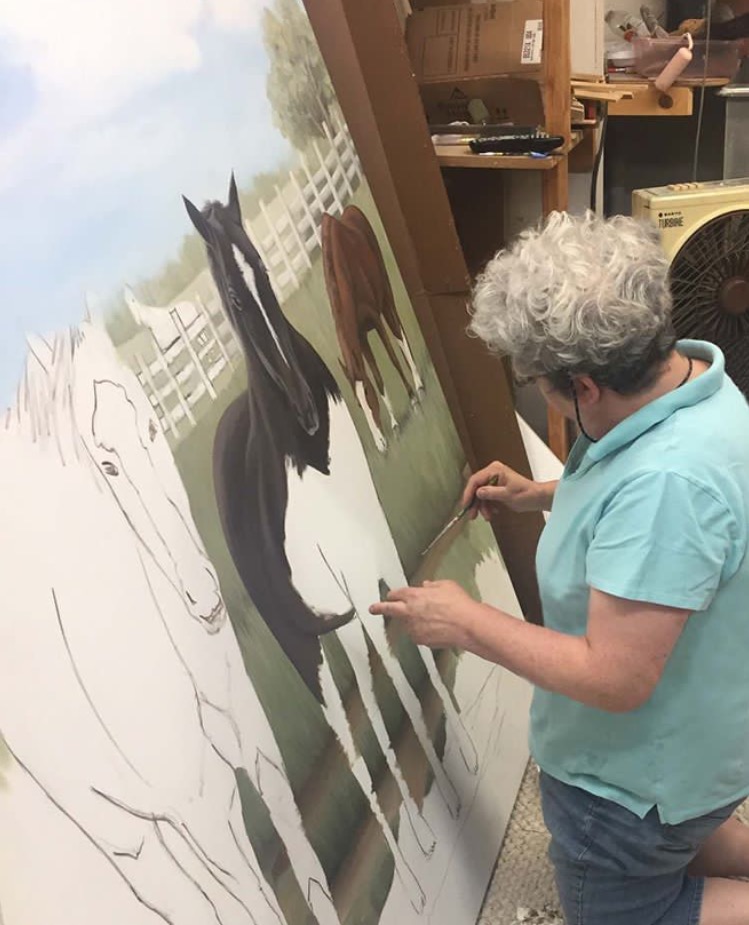 Wendy came to visit the project in person. We had been communicating back and forth via texts and it became apparent that the most volatile personality in the group, Billy, was just not correct.  Changing him midway turned out to be not only easier than I thought, but the new Billy that replaced him was spot on.
I first checked how he positioned with the other horses. Check. OK.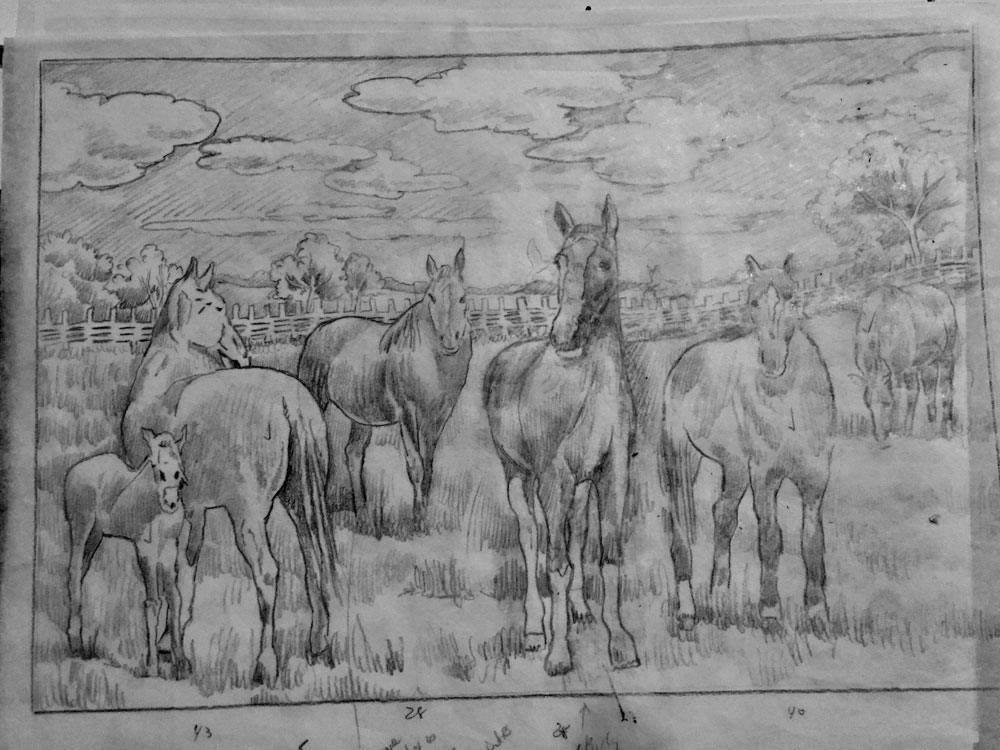 Then I blocked him in white.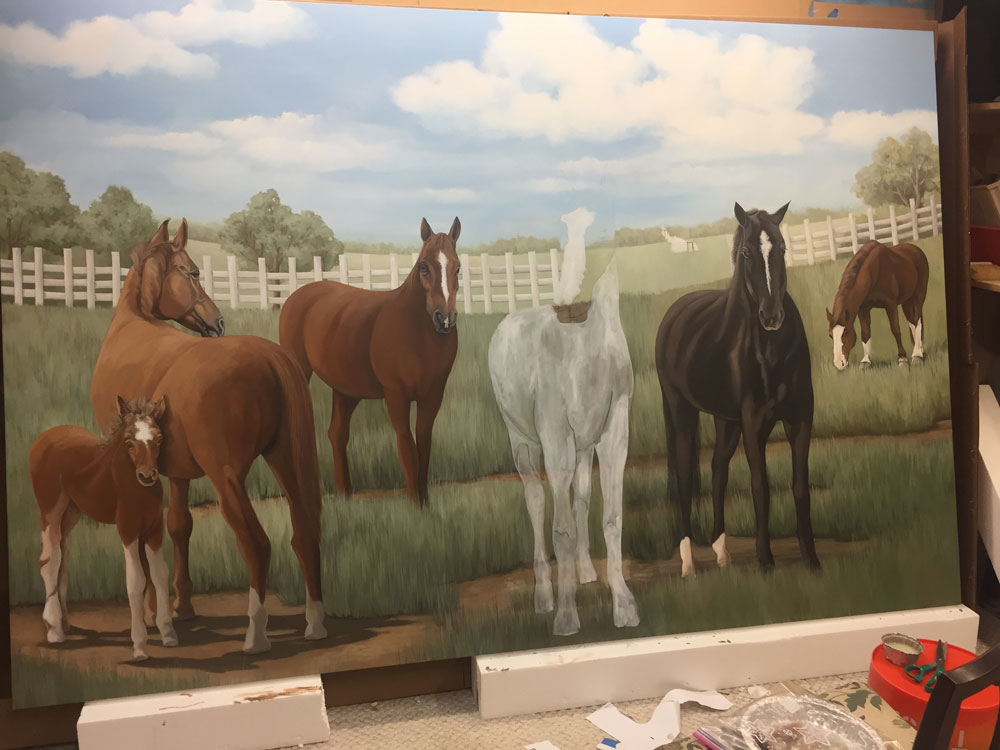 And then the whispering got ridiculous. I was talking to this horse. I was. And no, he didn't talk back, but I swear, he was looking at me. I don't think anything I have ever painted felt as real as when Billy's eye was completed.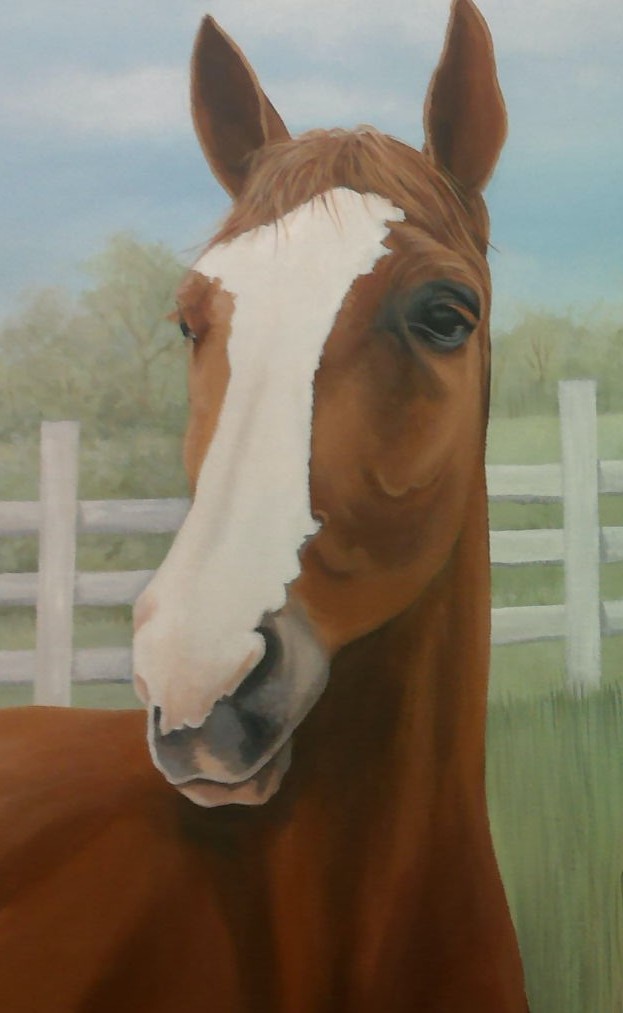 And without further ado, here it is.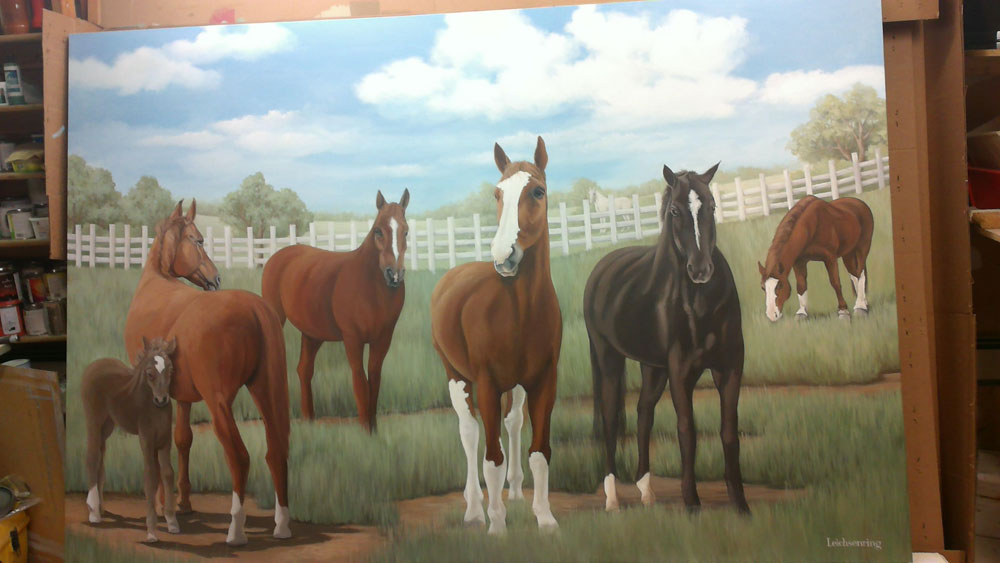 I thought you might enjoy a few close-ups as well. Here is the mare Esse.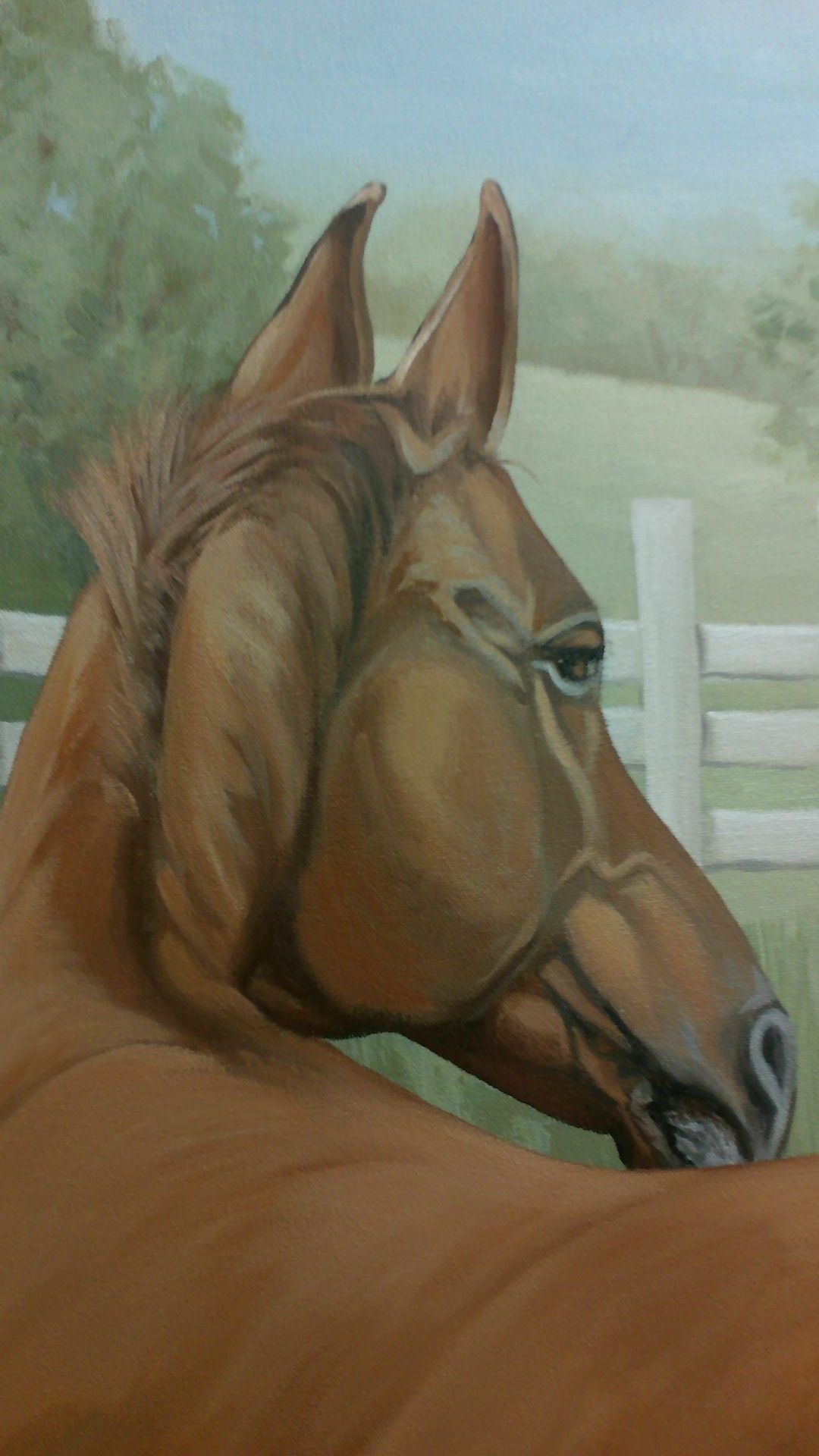 And then with her foal Moon.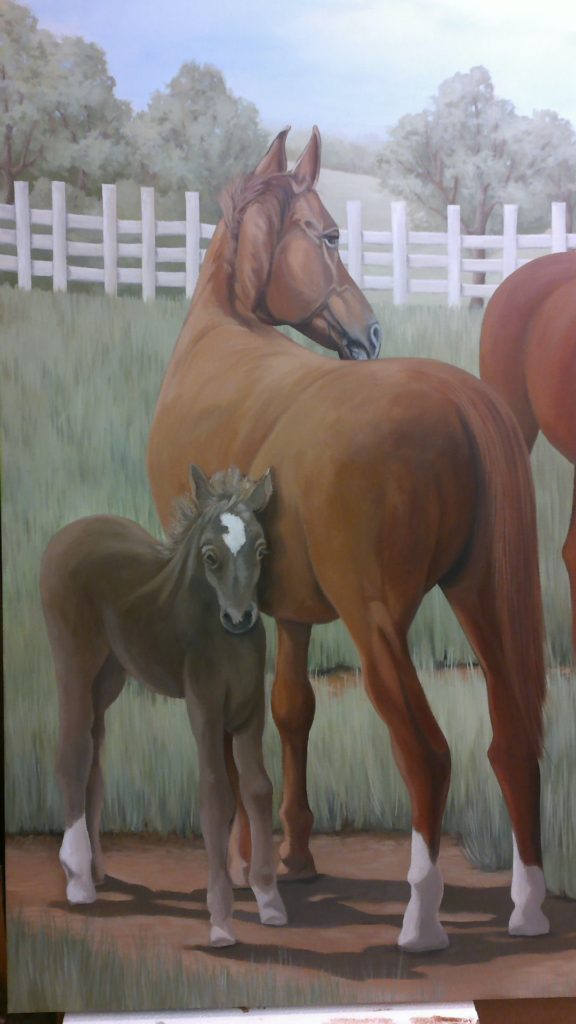 I talk a lot to Teddy as he seems unfazed by the brilliant Billy.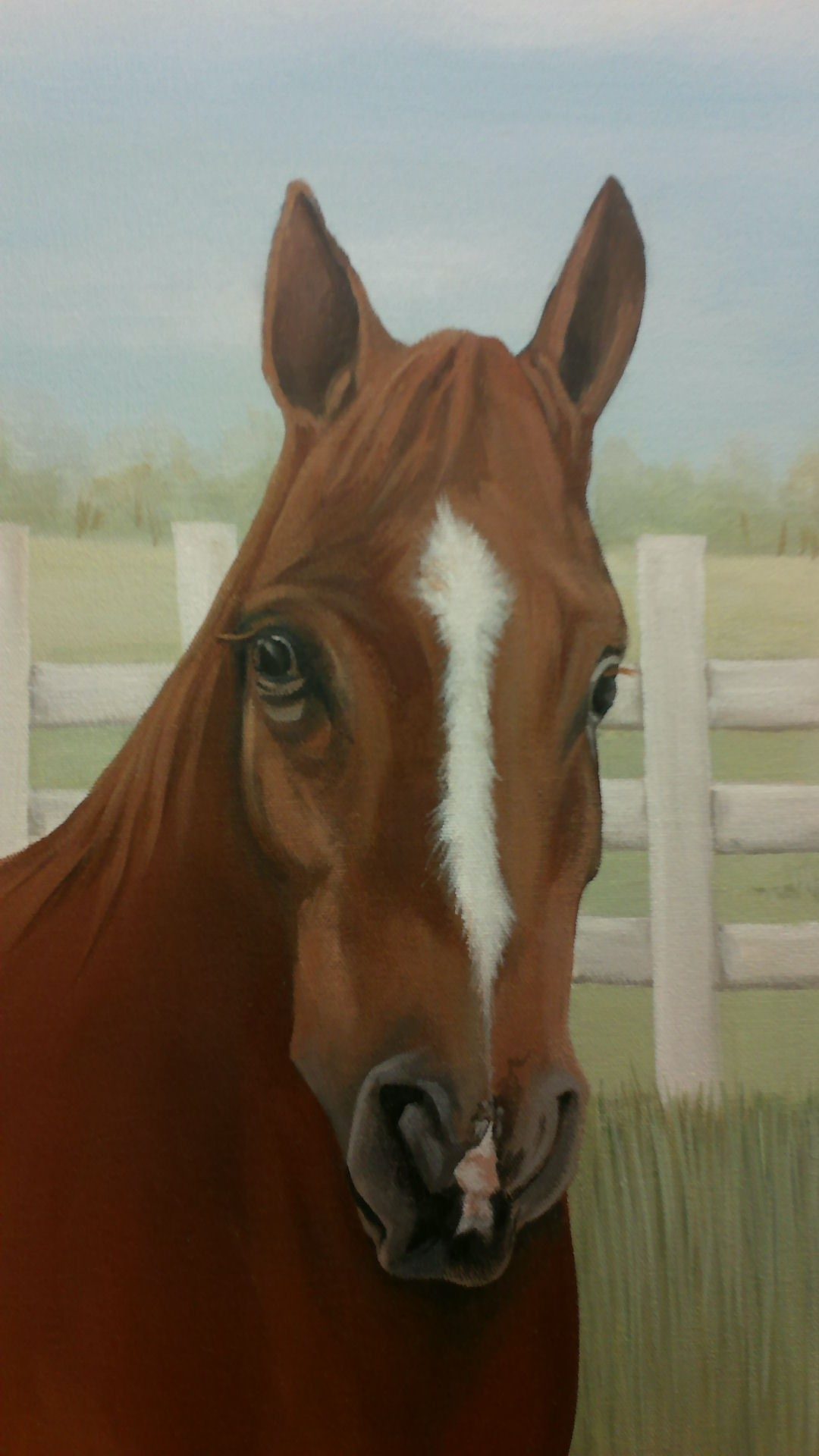 The stretched canvas will hang unframed so there are no detractions. In my own head, I have thought of this painting and called it "The Gathering". Only when it was finished did I realize, that Wendy is the force that brought the gathering together, and though unpainted, she is there in every stroke and in a way, I am in there too.
I whisper in paint. Can you hear me?