From the start, my client made it clear that his son, in whose room I'd be painting, was indeed my client. The young man had some very clear directives of what he wanted and my job was to listen and see if I could come up with a design that would include all of them.
Here's the room as we first contemplated where the mural would go.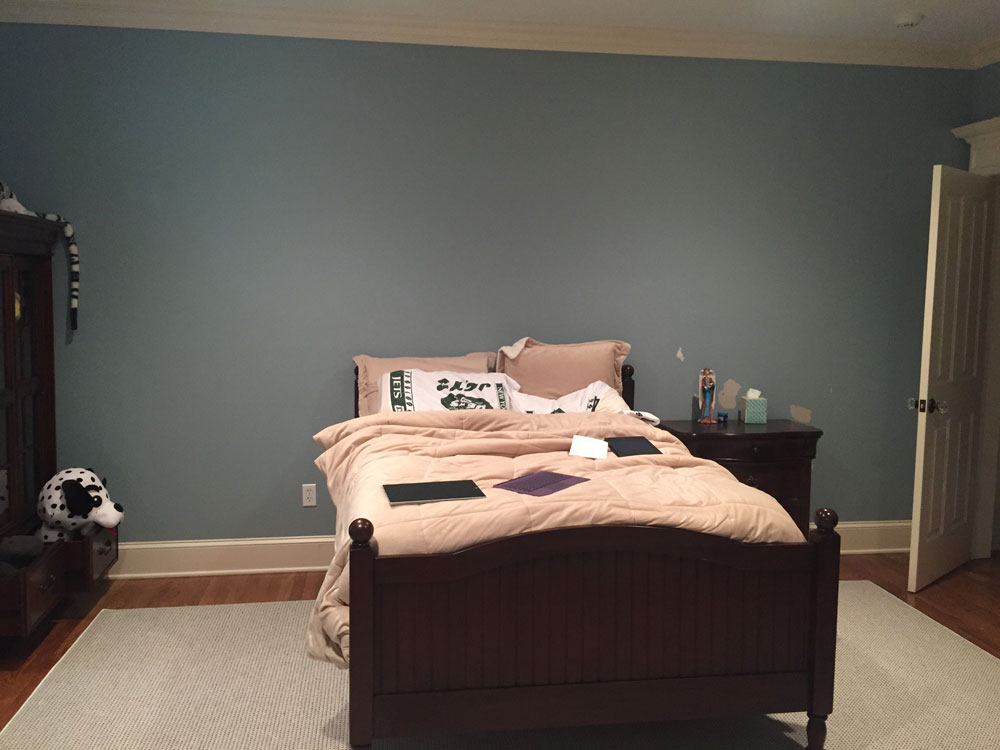 Moving the bed to the adjacent wall freed up the best wall for the mural. It allowed an unencumbered view to the large window and the mural would be completely viewable. My target wall was big. Subtract for moldings, the painted area was 8′ by 17′.
The first requirement was a bright blue sky with dramatic clouds and a meadow, Ok, then add add some hot air balloons, vapor trails (I have to admit, that's where being a twelve year old boy comes into play; I would never have thought of that) and maybe some flowers.
Hmmm….remember, I said, that's a lot of square feet here and meadows, though pretty, are not enough to sustain it. That's where the hot air balloons became front stage. They gave focus and color, lots of color to hold their own against a bright blue sky. Oh, wait a minute, he asked for sunrise too! So I had to transition from the soft color of early sunrise to the daytime brights of blue and white. With the wall space I had, not a problem.
So, here's the scaled drawing with a go ahead.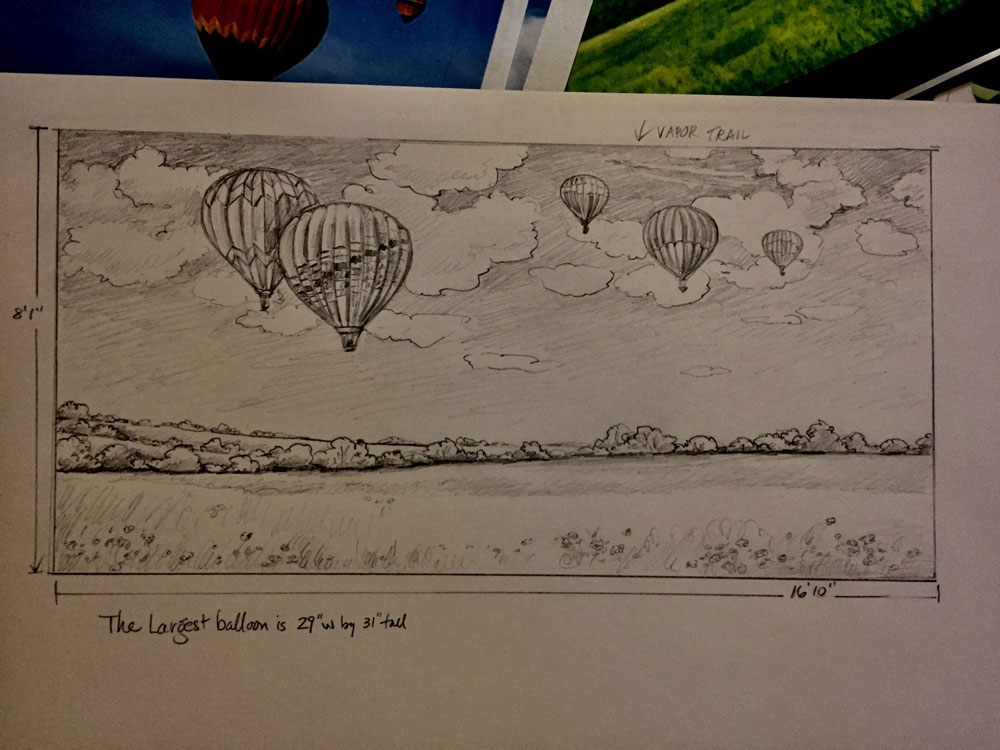 And painting begins with simple blocking in of the the sky, starting with bright blue overhead, to a softened Yellow- white, creating atmospheric perspective.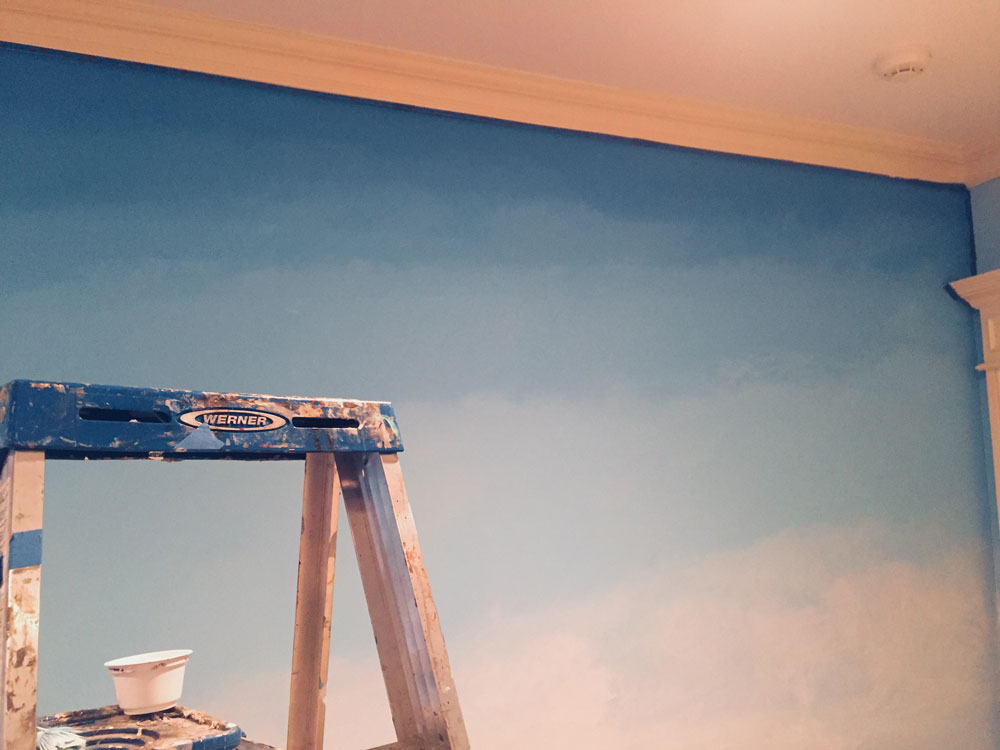 That done, it was time to create the massive clouds requested. I have thousands, literally, of reference cloud photos. This one came in handy.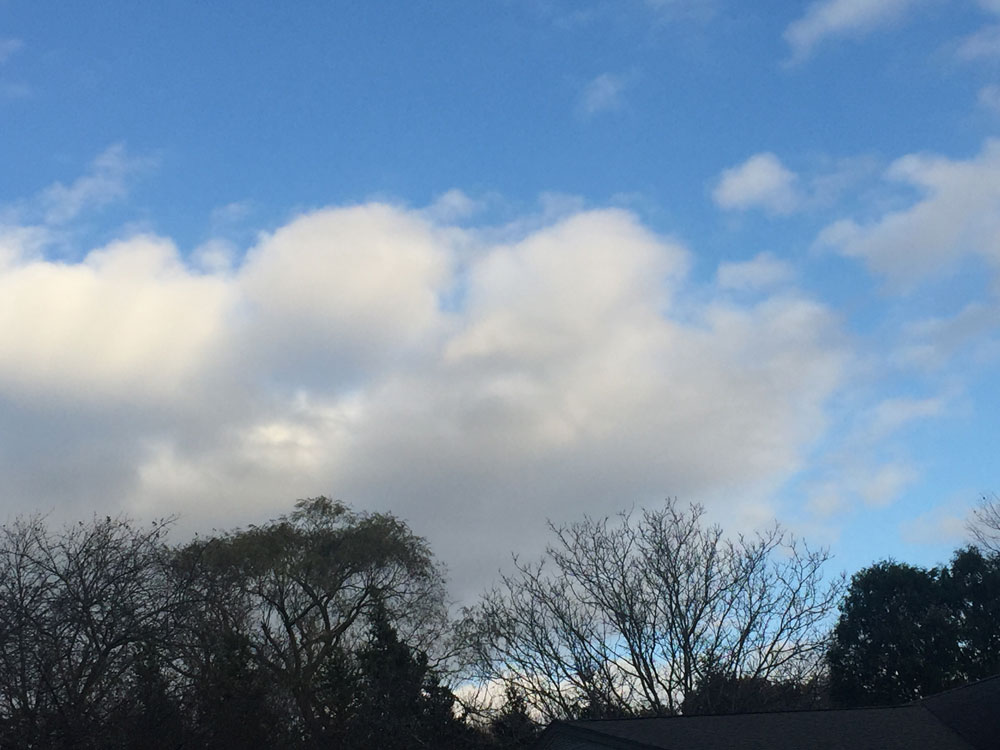 I had made paper templates that were sized for the balloons. This is when it becomes so imperative to trust the strength of the design. They were going to be big. They needed to be to hold this composition together. Just to check before I sketched them in, I taped them in place.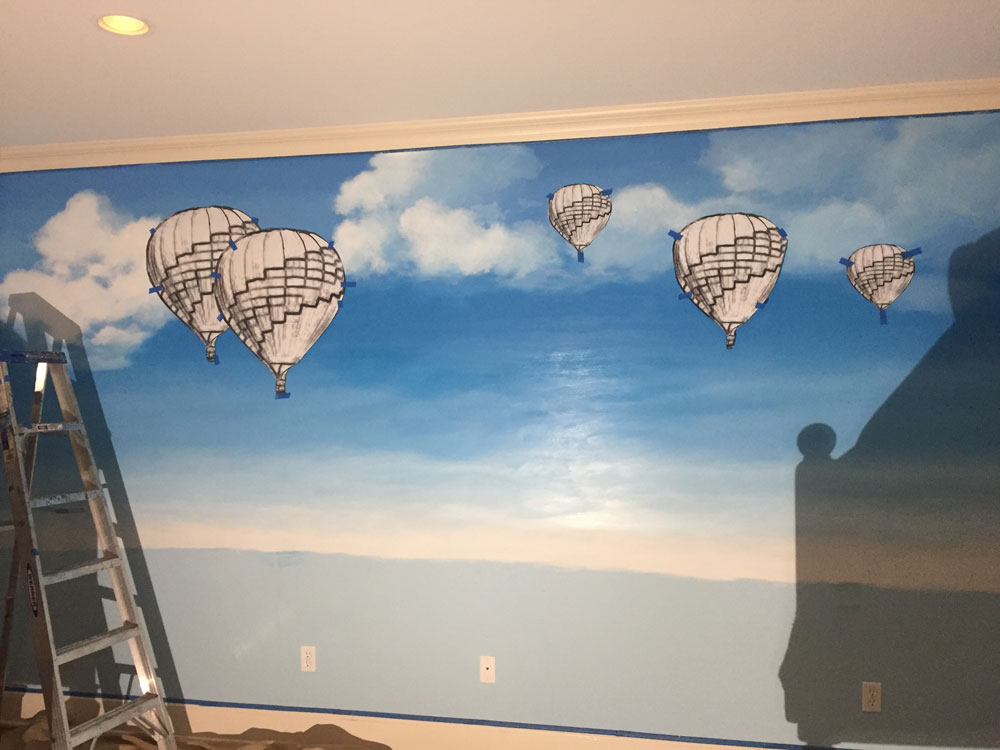 and I am loving it. Pull of the paper and start drawing each one in with the patterns my young client had chosen.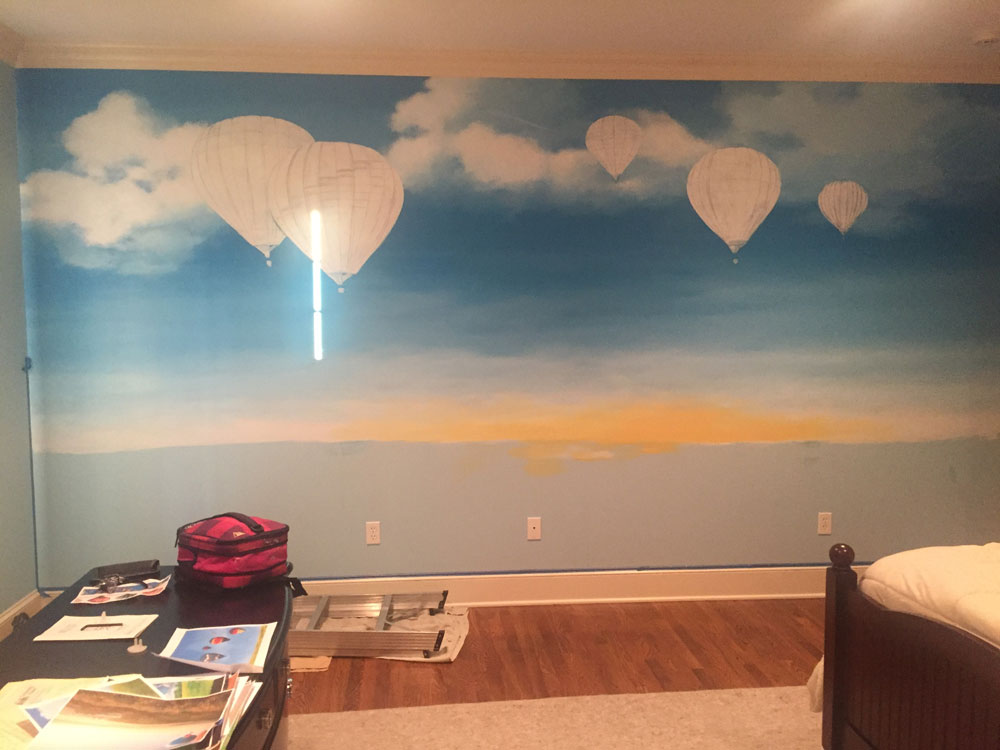 And so if I wasn't already in a good place, let the happy painting begin! The bold contrast of blue and white was a hardy support for these extremely bright balloons.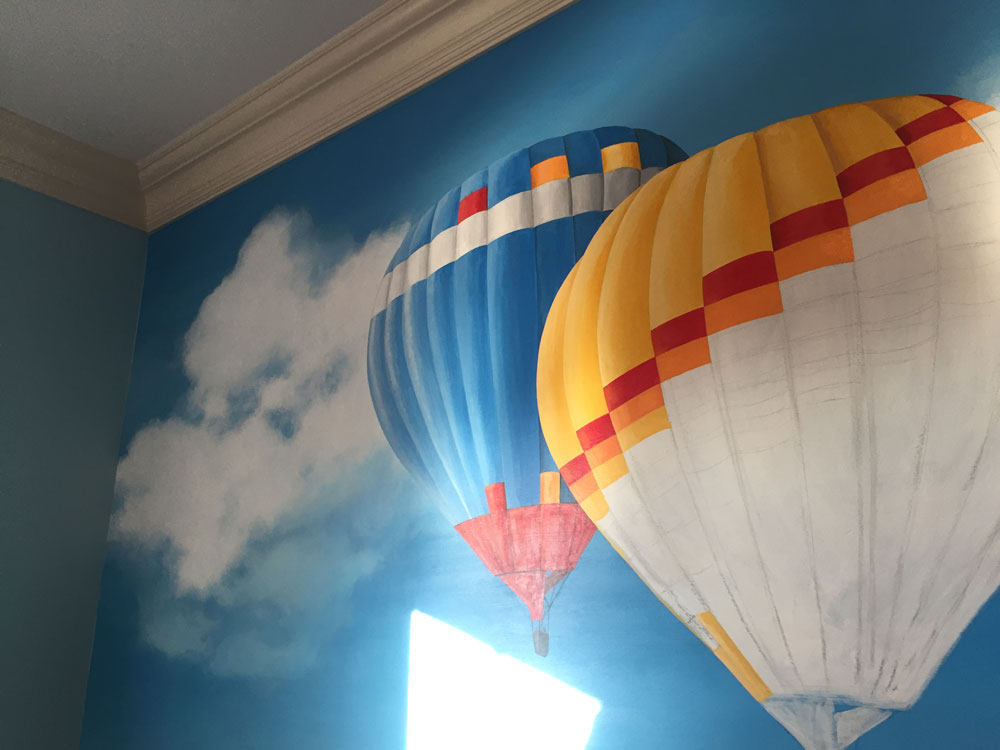 With the balloons done, a soft skyline of distant trees to stand soldier against the sunrise. Lastly, time for the flowers. A few hundred of them if you were counting, done impressionistically so they didn't compete with the balloons. Here's the rough block in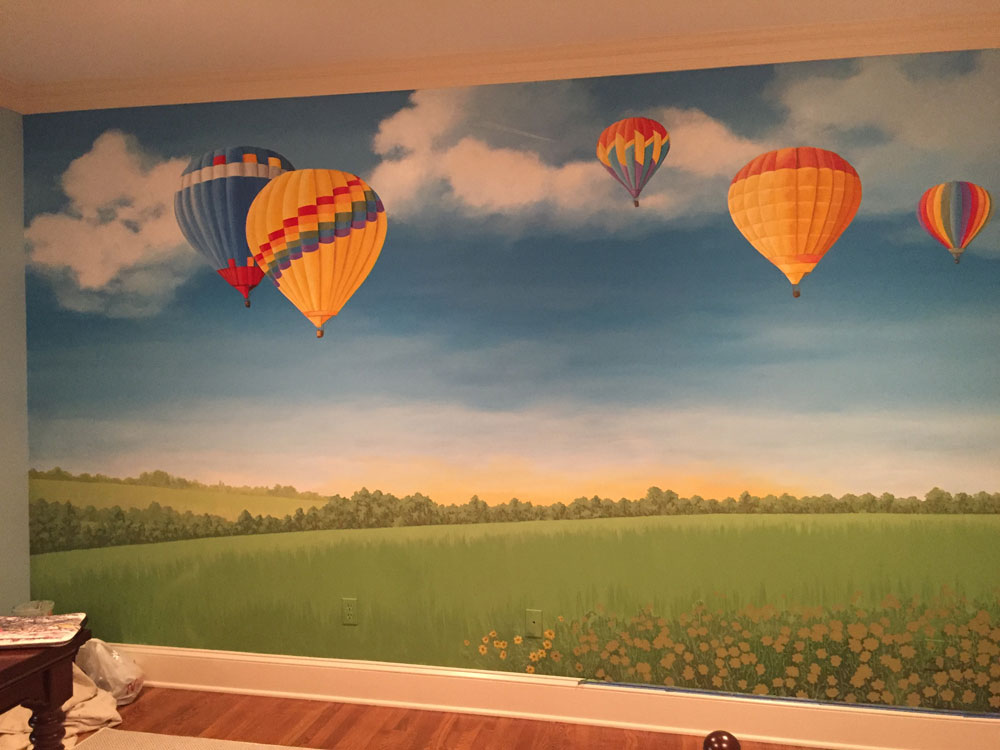 and a closeup of the finished swell of blossoms.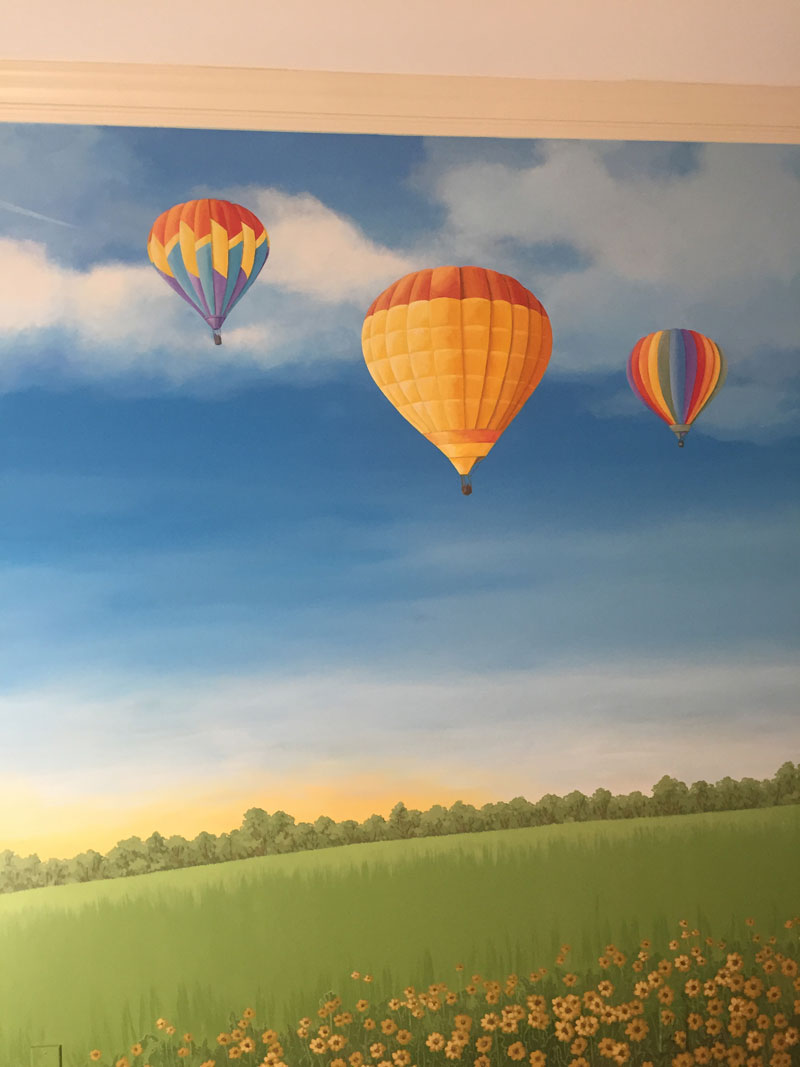 And without further ado, the finished wall!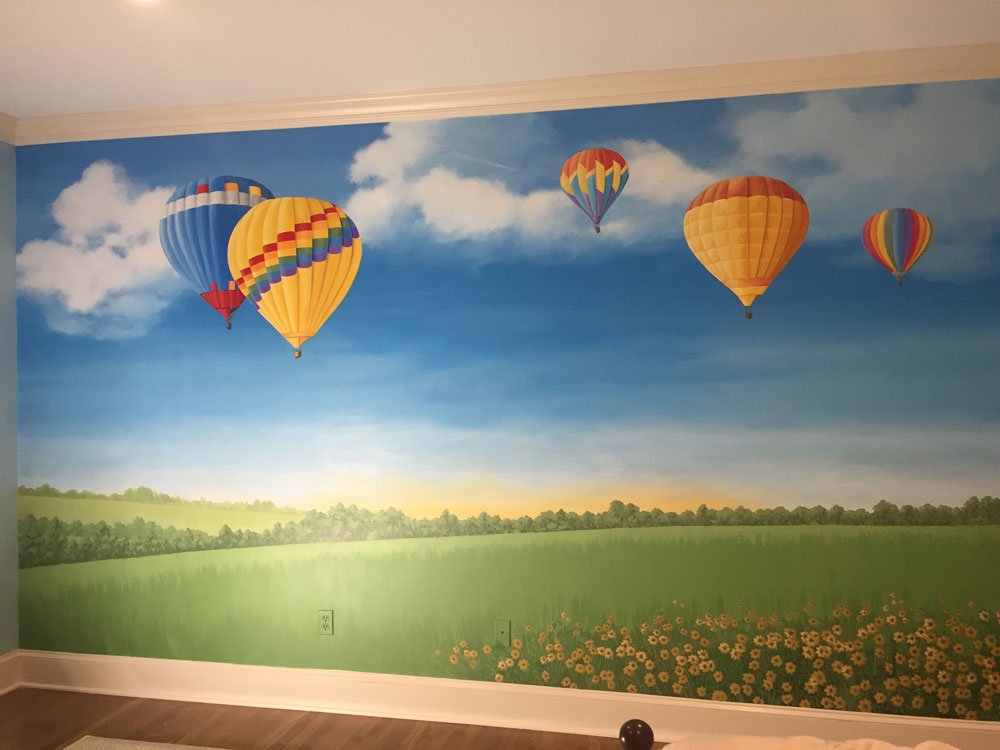 It's a perfect formula: Listen, design and paint! Happy artist and clients all.