I'm working on a mural design right now. It's a tricky one, more of a puzzle at this stage. I've got to weave in my clients' favorite Central Park NYC locations, and in a very natural way, add in the Eiffel Tower and a pair of European landmarks that have a great deal of importance. I'll be sharing more about it when I start painting, but that won't be happening til spring of next year.
But. Right.Now.
This is the most challenging part, to make the transitions from vista to vista feel effortless. Not contrived at all. My magic elixir, add trees. In this case it will be winter branches, heaped with snow.
I know it will work, as I've used trees before for just this solution. Trees, actually, (besides clouds or maybe scrolls, but we're not talking about that right now) might be my favorite thing to paint.
Pictures say it better. So, this mural which is in a private residence in Branford, CT, portrays many historical vistas of the now bygone Branford Driving Park, first used for horse races, then automobile in the early 1900s. Check out just how elegantly the trees frame each vignette and bring your eye visually to the next.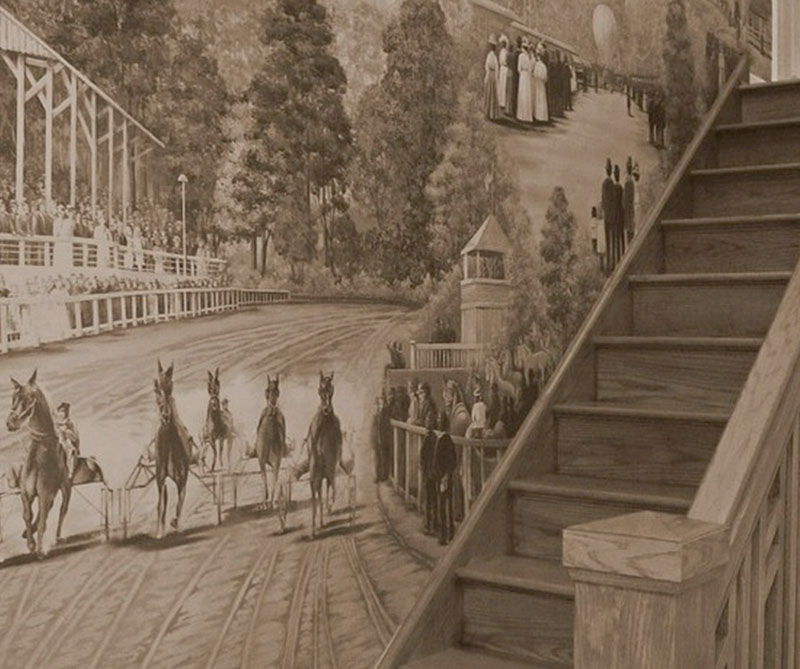 I'd like to take you on a stroll of projects that feature trees.
This is a huge mural that encompassed the stair surround, below the stairs on the foyer floor and on the opposite side, continued to the second floor landing. It features a tree and landscape found on the actual property, truly bringing the outside in. I've also got some closeups of the bark on the trunk, the lovely impressionistic leaf work and a small stone house I can see from the yard.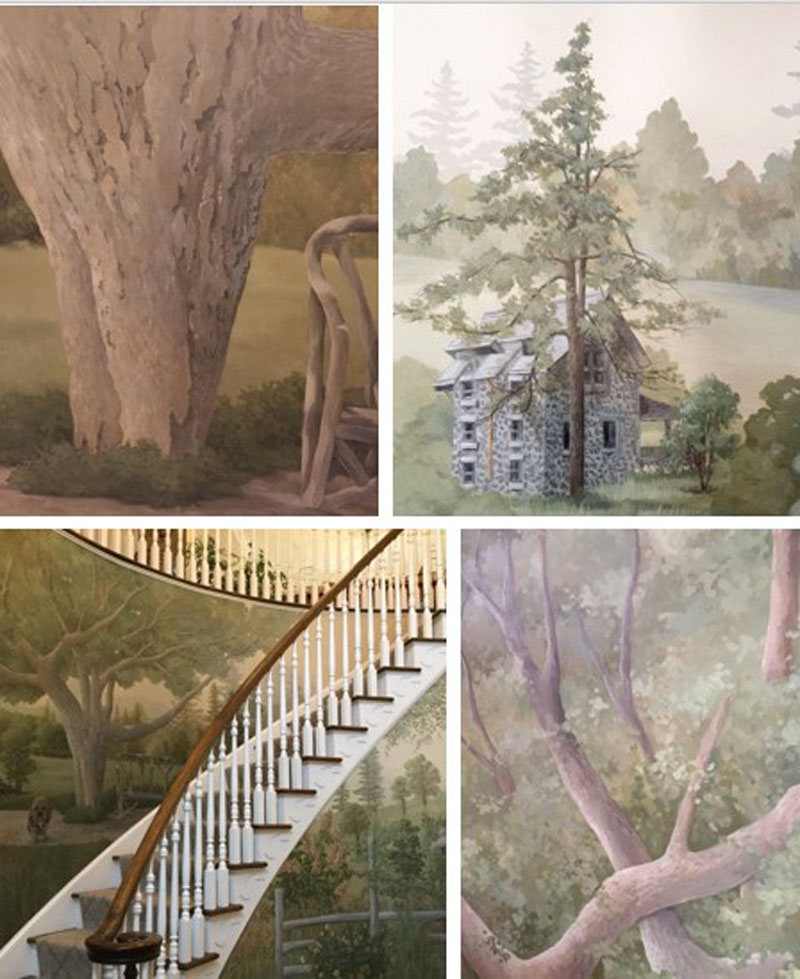 Trees are a very satisfying solution. In this kitchen, the large space above the counter looked awkward with a painting hanging there. I painted a window with molding to match the architecture in the adjoining rooms, and then placed the view of two favorite trees which had been on the property but were since removed. There were lots of Hallmark moments tied up in those trees, school pictures, team get togethers. So I put them back in view. Take a look, the finished work and my concept sketch.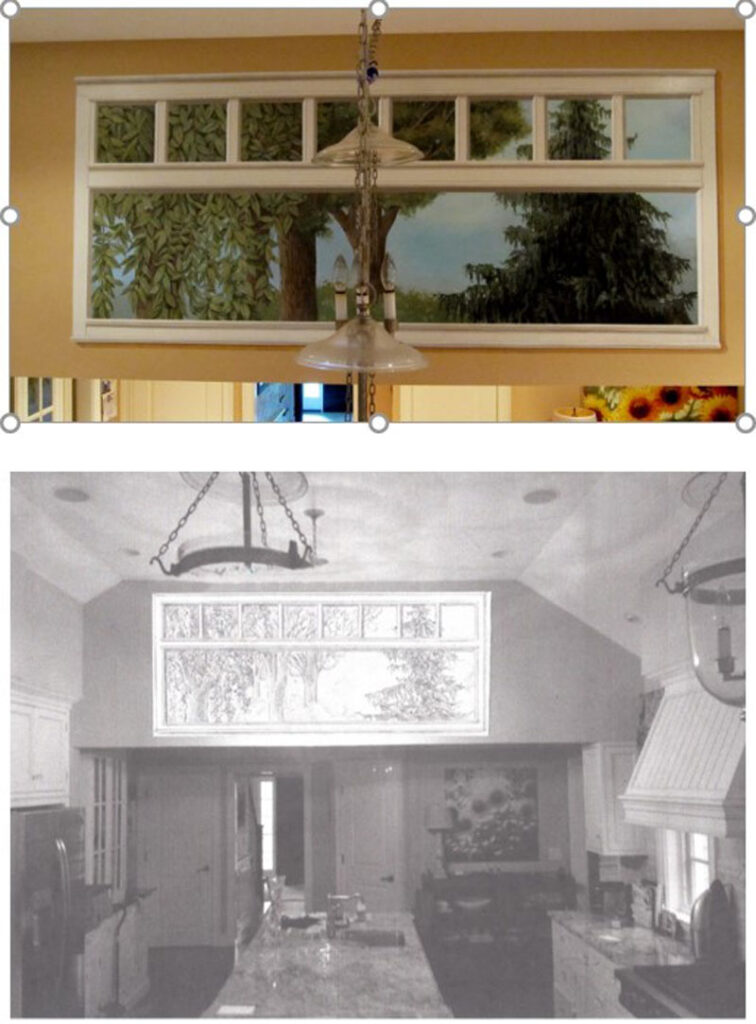 A whole forest of trees fills this next master bath, complete with a few vaporous fairies here and there. The canopy of leaves fills the rise in the walls and the ceiling, camouflaging vents and lights.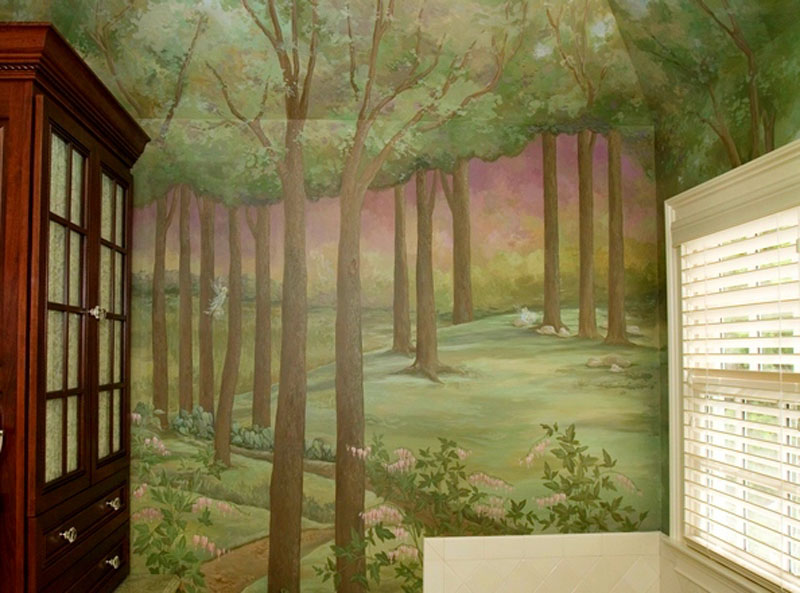 Another master bath, filled with images of Versailles. I worked with my client commissioning a stained glass window that would follow the proud lines of trees in the grounds of Versailles.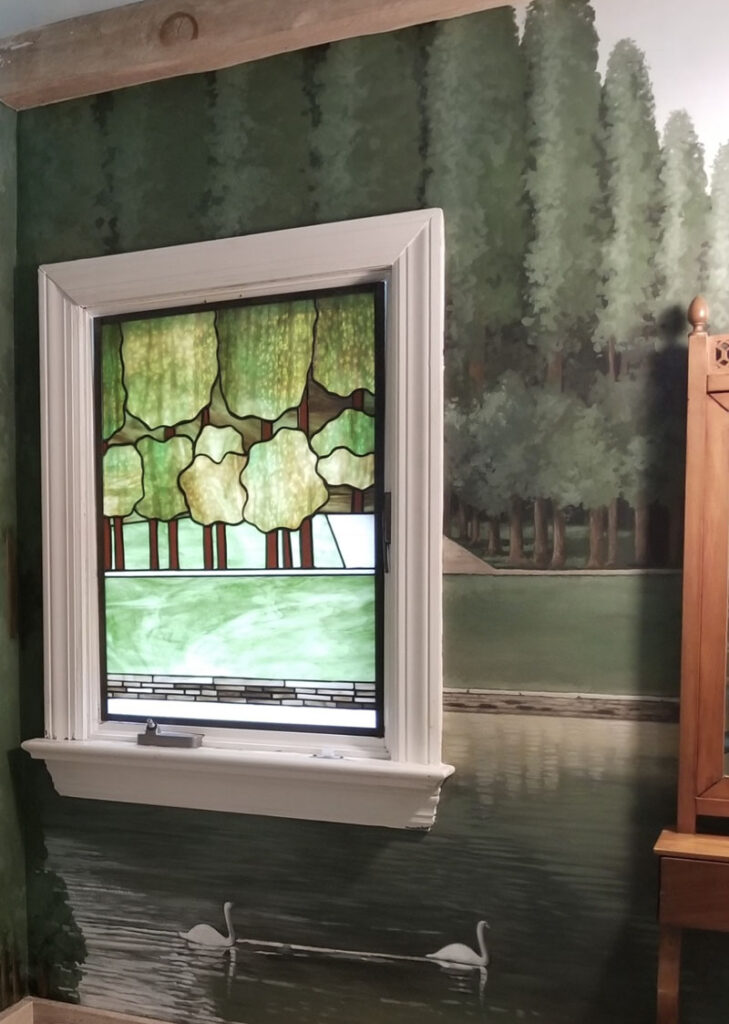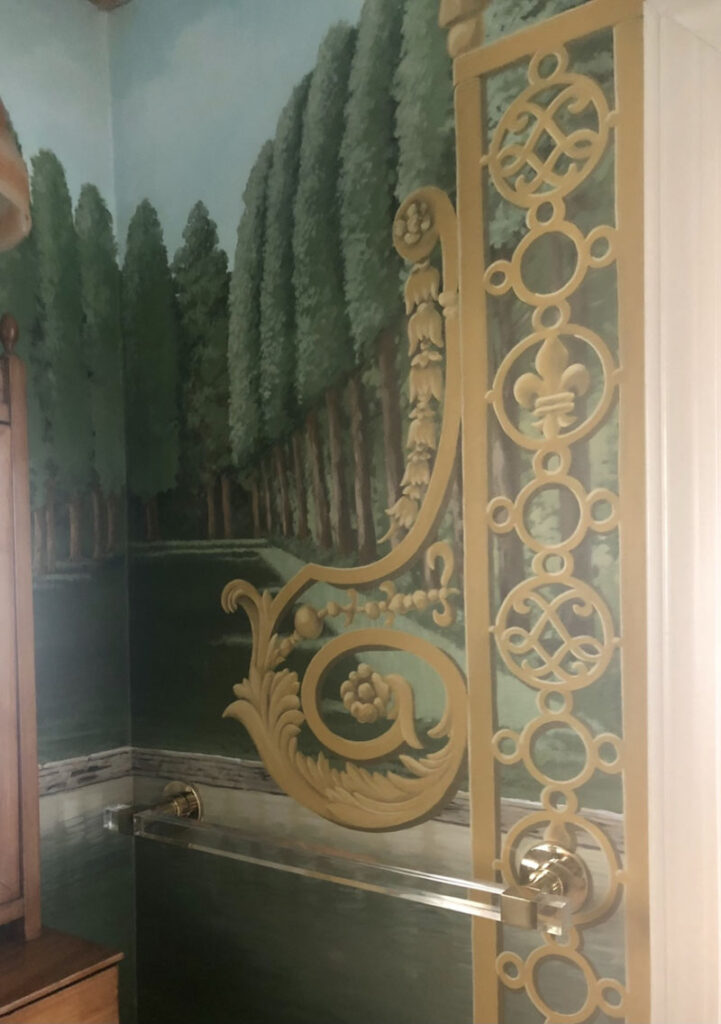 Next is one of my favorite dining rooms. I've included the palette and drawings and you can see how supportive the trees are to its sophisticated Edenesque design.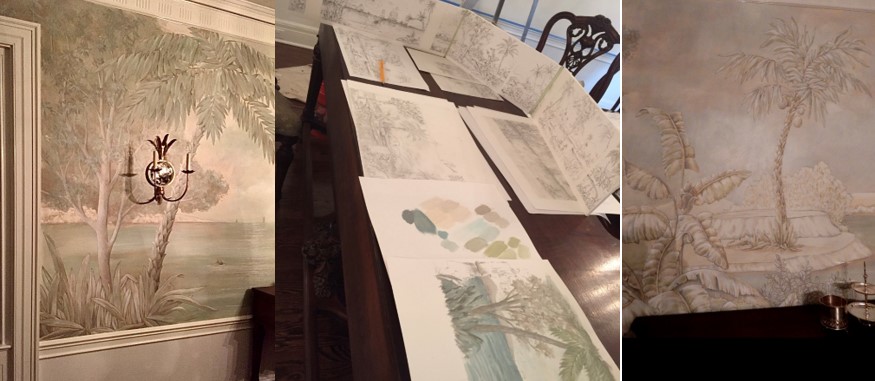 This canvas , one of three, is at the head of a set of stairs. It's the view the owner would see if there were such a window. I'm showing fall, but there are also winter and summer panels as the calendar changes.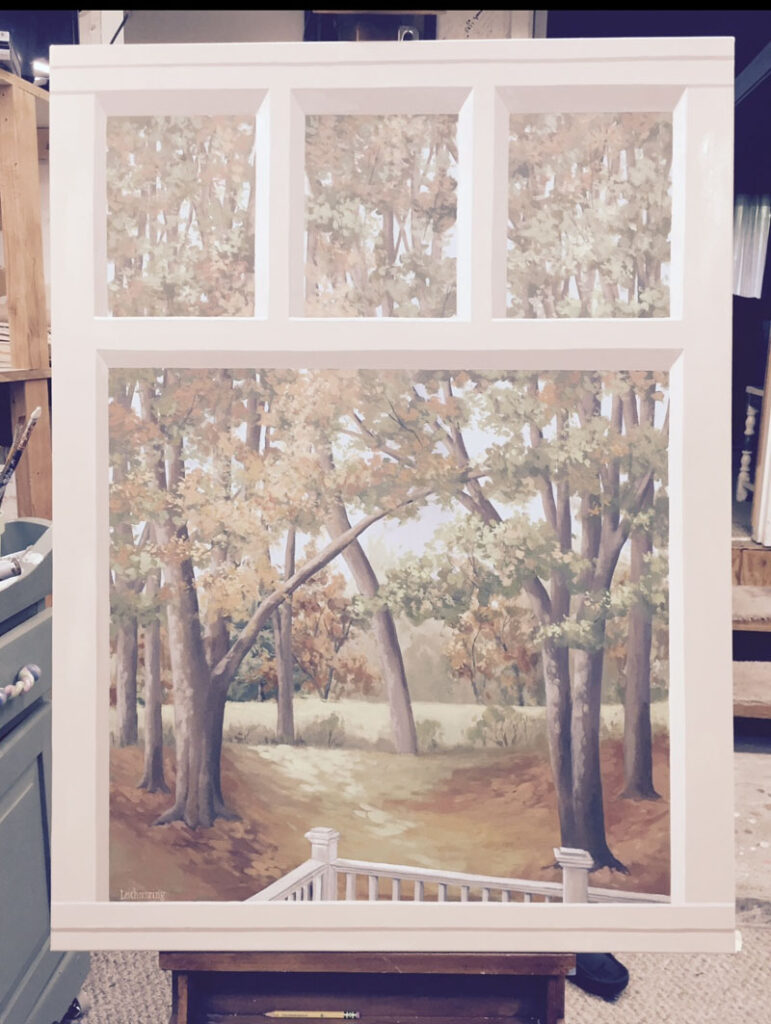 A little paint magic, and we've got palms here in Connecticut.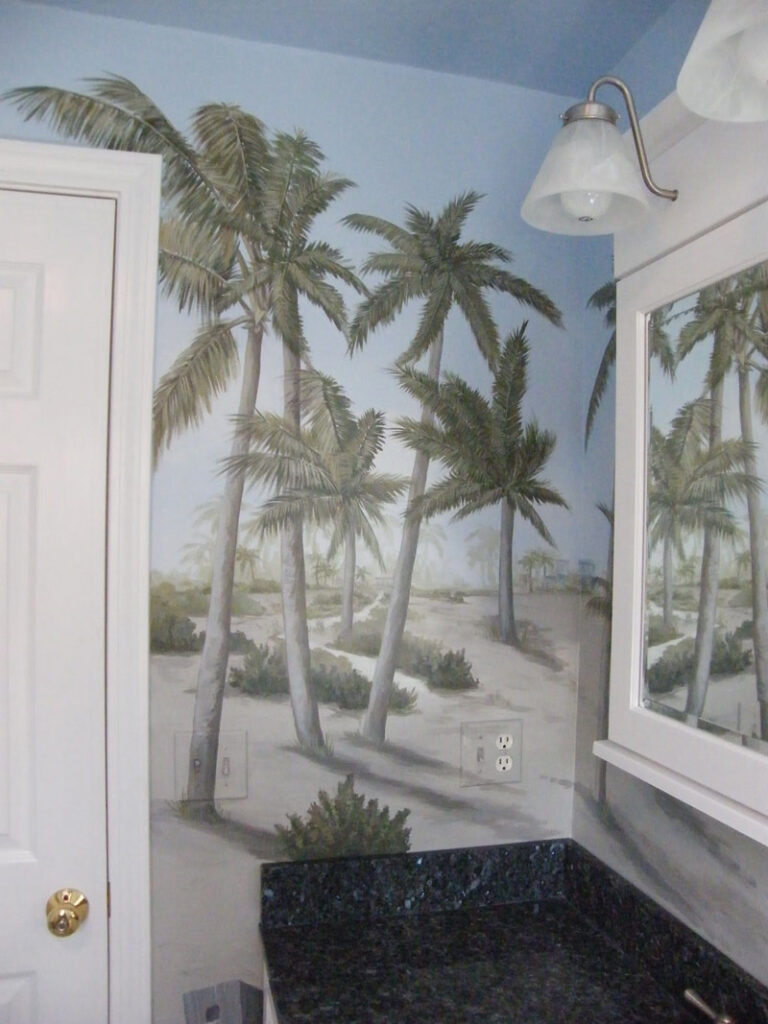 Cherry blossoms, served two ways. Lovely in a little girl's bedroom, or dramatic painted on a headboard.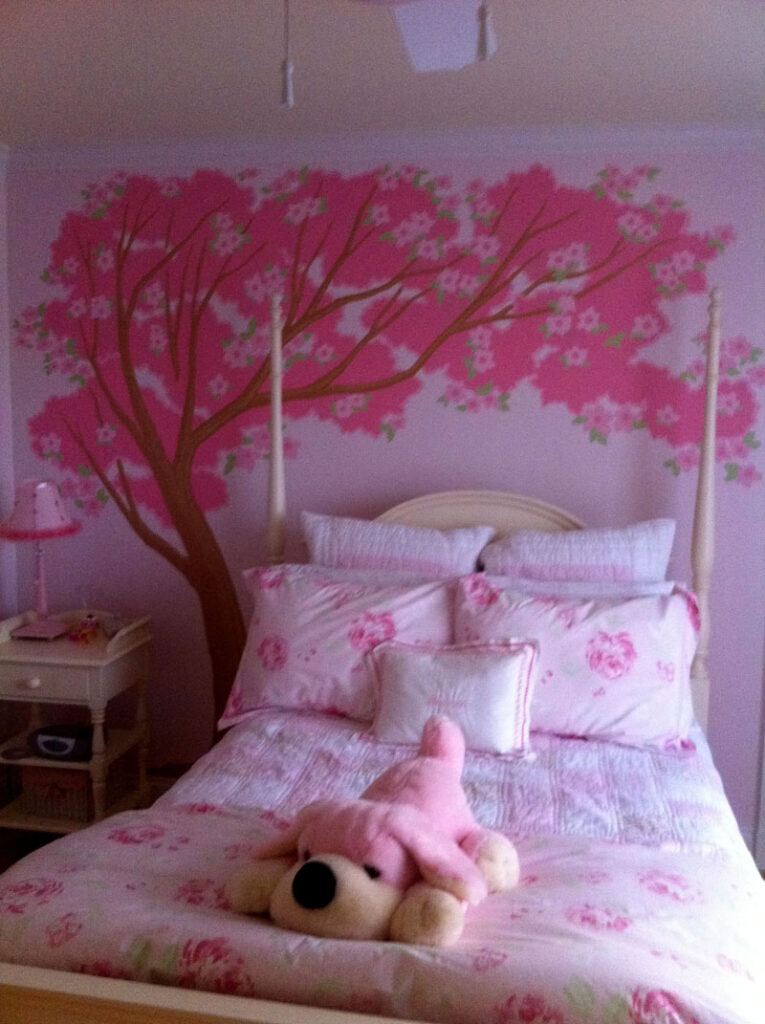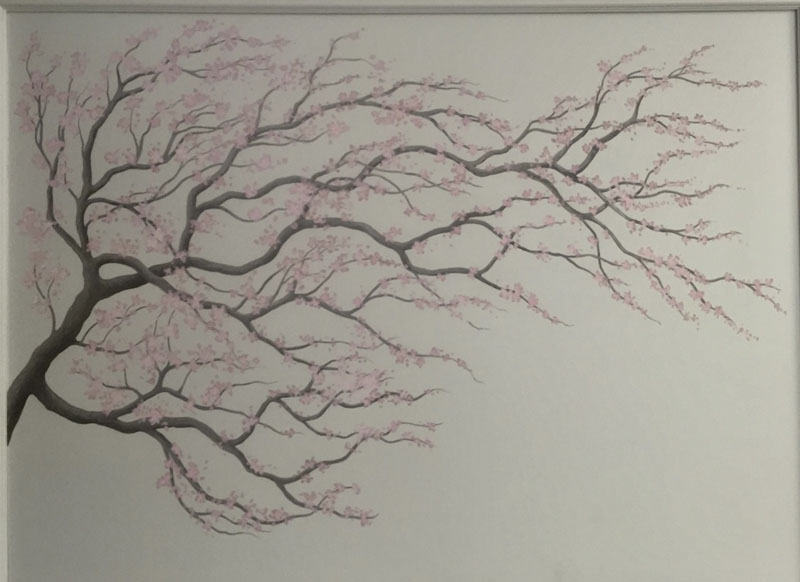 This next foyer mural was designed with the view my clients loved but it was in their backyard, where visitors hardly got to enjoy it. Easy solution, bring it round to the front door.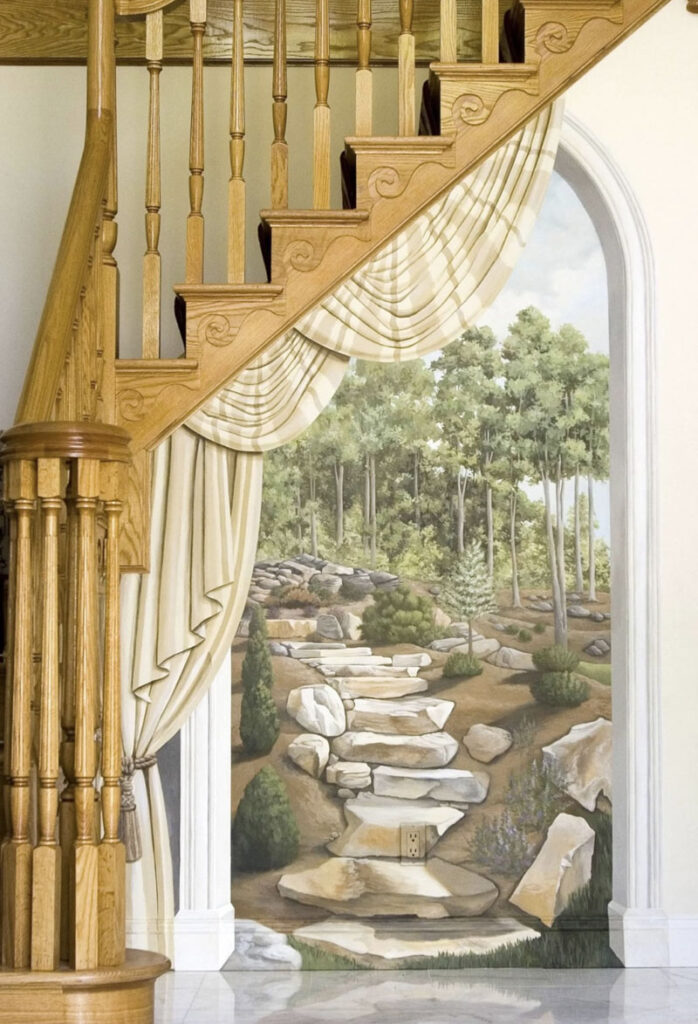 The immersive mural experience in this home gym brought the large palms across the moldings and onto the ceiling. The area to the left would later be mirrored after the flooring was installed.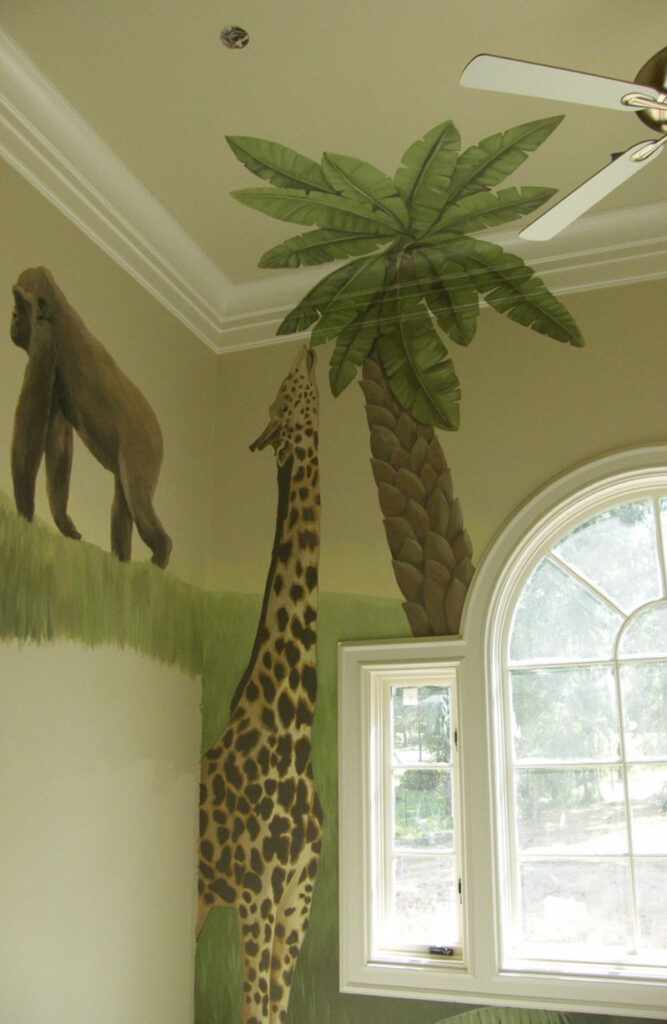 And then there's these birch trees in a triptych. Gallery wrapped canvases.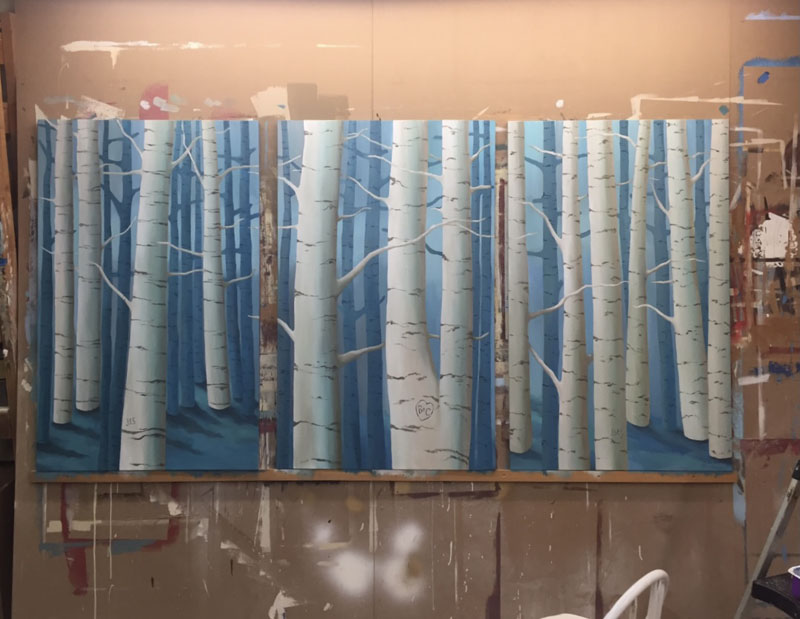 And why stop at paint. These are the "Whispering Pines" in East Texas. I carved bas relief style and then glazed them to bring out the detail. I'm showing you the scaffolding as well so you can appreciate the size.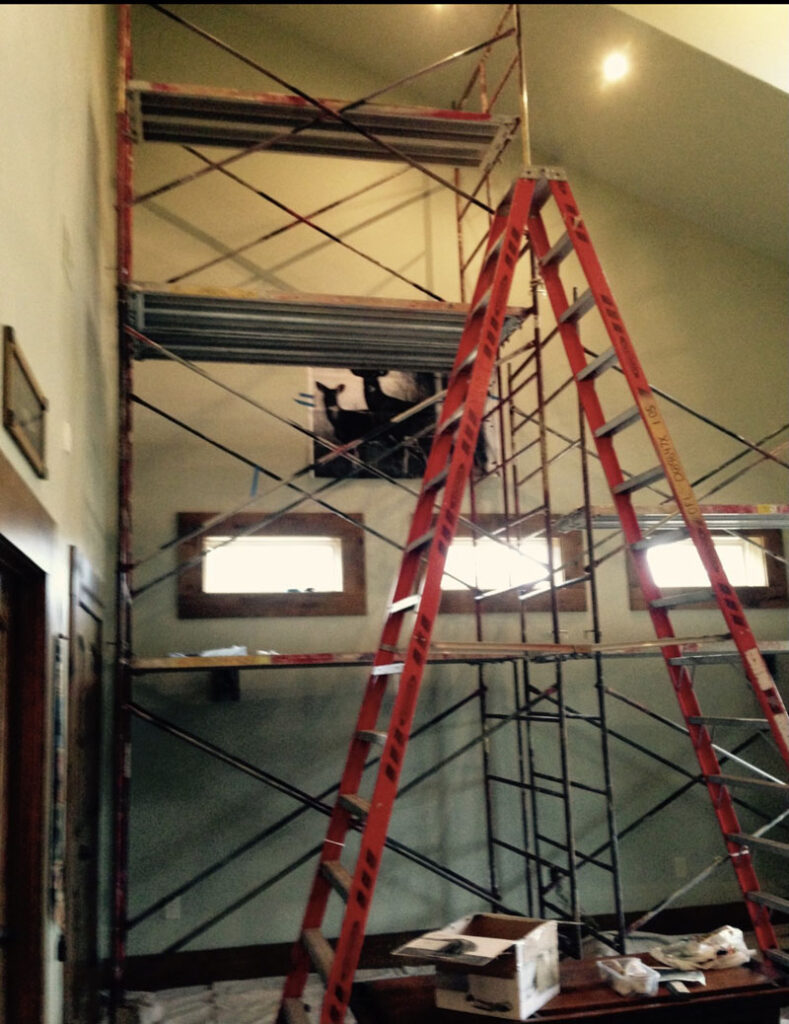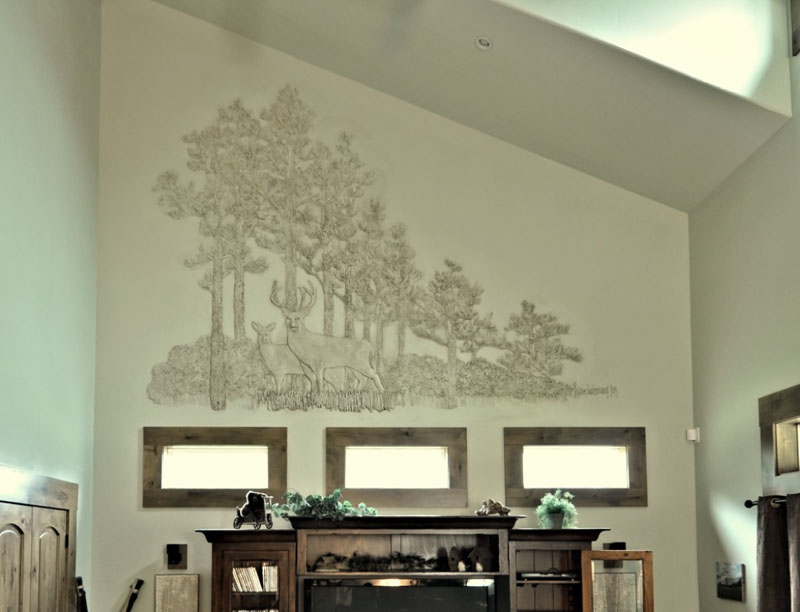 I cannot lie. I love trees. I'm typing this and look to my left, this simple scene is on the side of my fireplace. This is the view my husband and his siblings saw walking to school in Musberg, Germany decades ago..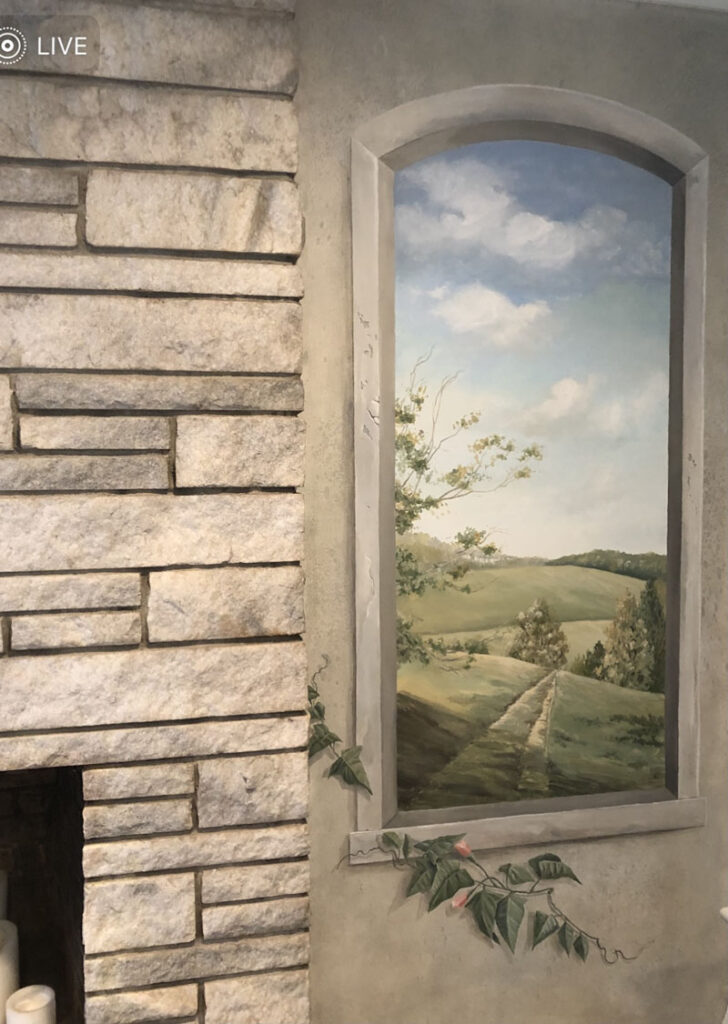 Turn my head a little more and I see the door I painted during lockdown Covid 2020. It's finished now with my oldest two granddaughters keeping me company but since we are talking about trees, I'll show you that portion. I love the fairy tale atmosphere.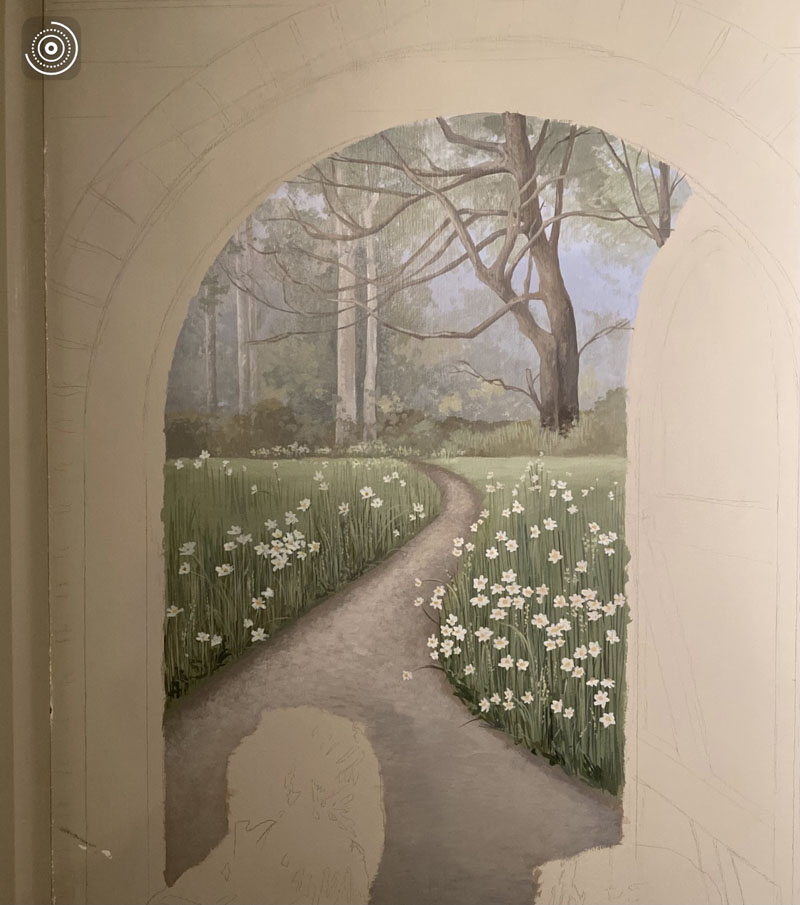 Turn my head right and I'm looking at my laundry room bifold doors. I am often a harsh critic of my own work, but these trees are perfect for me.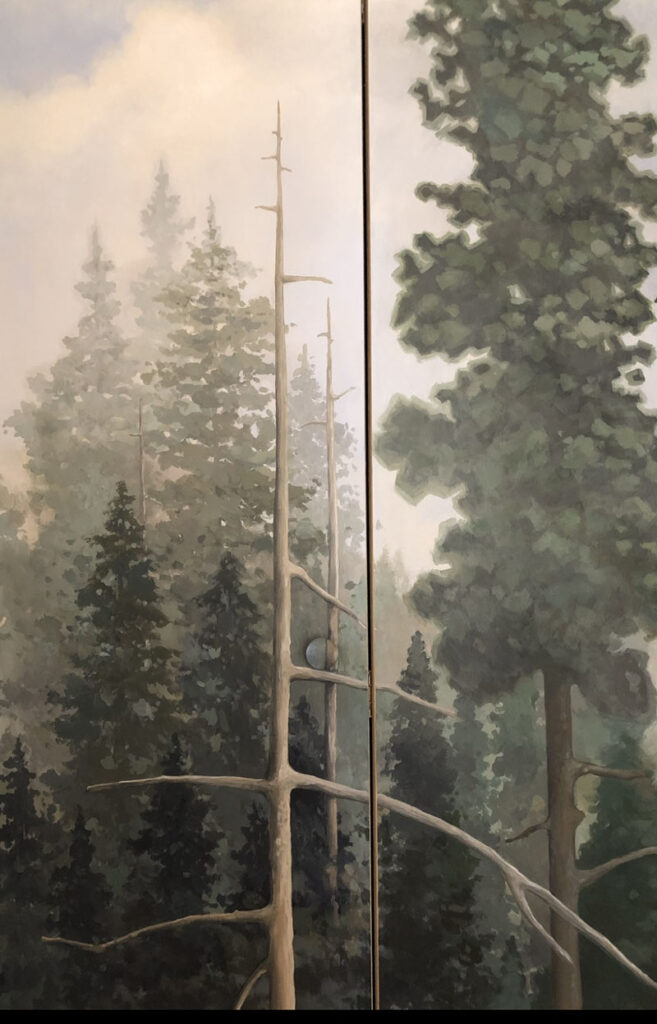 What could I make perfect for you?