So… these two projects are all about views and direction.
Once I got this title in my head, I just couldn't resist the play on words. The first project is a Humidor/Wine room that needed a little artwork to put it over the top. The room offered four areas that would make perfect window "painted views".  Perfect to complement the beautifully crafted Spanish cedar cabinets. A decision was made to pay homage to the owner's family roots. His family is from San Fratello in timeless Sicily while his wife's family is from the glorious area of Cosenza in Calabria.
I took a photo of the area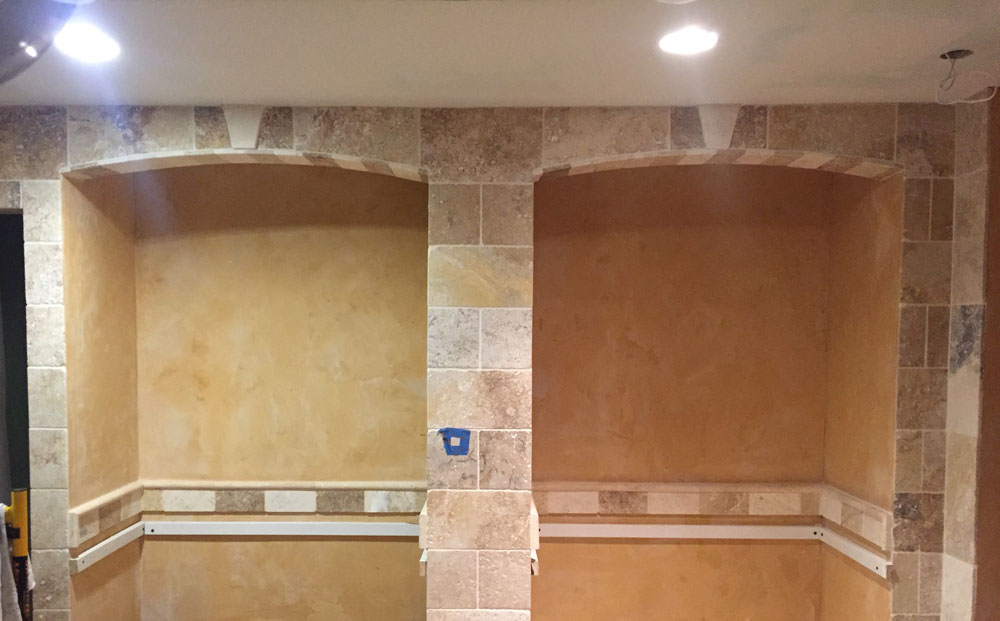 and sketched in what the possibilities could look like.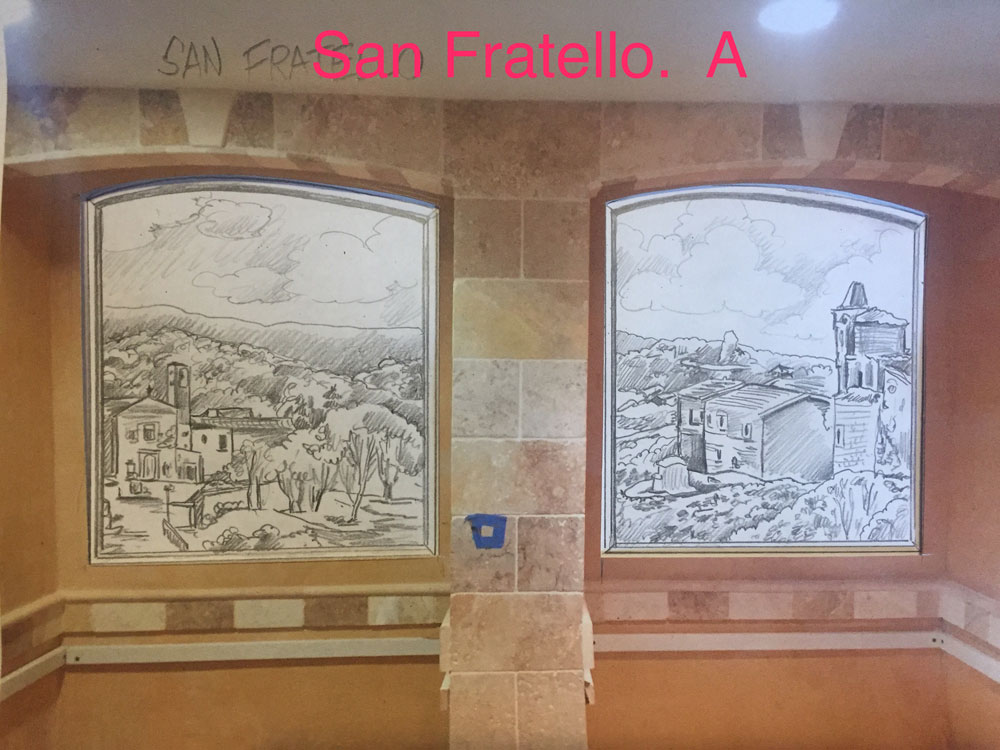 Within the confines of this small space, the views came to life quickly.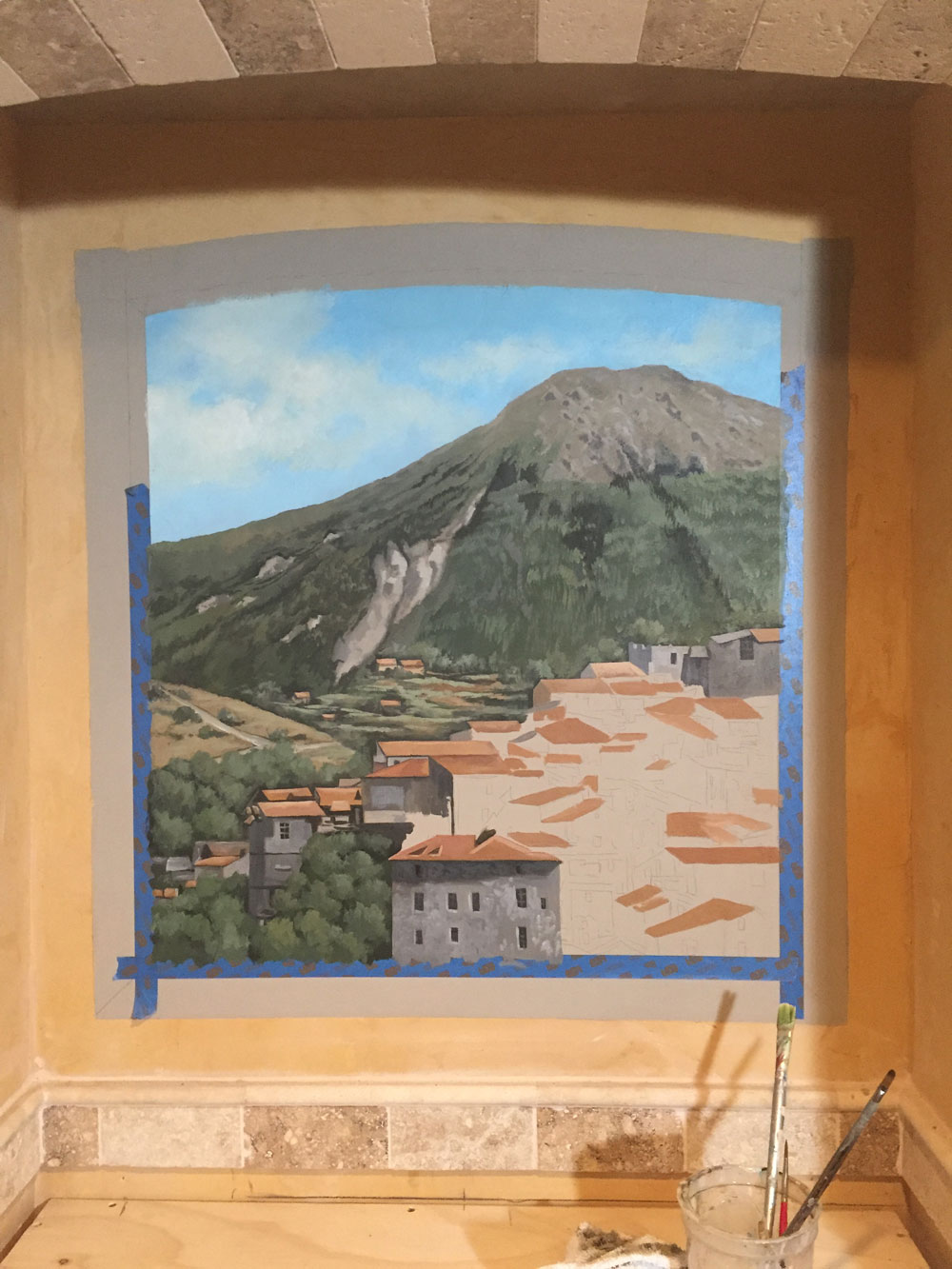 Here's the finished walls.
Here's a little video to show the space. I am looking forward to a visit back when it's all put together.
So, you know where this client came from making it time to explain the twist.
A call from Peter Sinnott (Homeworksny.com) is always a treat. I'm a big fan of Peter's exquisite design, and bonus, he always sends me to the most delightful places to add my talents to his projects. This was no exception as I headed to Charlestown, Rhode Island to the spectacular Shelter Harbor Golf Club. I was going to paint a compass rose in the main hallway, with colors chosen to match the lovely coastal palette Peter had crafted. After centering the pattern on the floor, using my iphone compass to set it due north, I checked with the manager just to have a second check. Lovely he says, looking at the pattern, but it's not pointed north.
Hmmm… my compass says it is. So we try his. As he had pointed to where he knows the sun rises and sets, we expect north to be, well, where it should be. But alas, his iphone points elsewhere. Soon we have four phones on the color, not touching or in close proximity because we've figured out maybe it's a magnetism issue. So out sails the manager to purchase a real compass.
He returns, placing it on the floor. It circles wildly, refusing to point north. OK, perhaps it's because it was an inexpensive instrument, costing less than $20. Back out again, to get a super-duper expensive model because for sure, we know every person is going to test their iphone and we need solid verification when the club opens for the season.
The new model is set in place, and it joins its cheaper brother, circling around, looking for north. Artist here getting a little nervous; I need to start and we are going nowhere, when someone remembers that the frame of the entire building is steel, which renders all compasses useless.
So, we went outside with our collection of phones and actual compasses, which all spun in unison to due north. Some easy math brought the calculation back to my workspace. Whoosh!
Time to get to work. What made this job an extra delight was that it had to be painted in oil, bringing back memories of my old sign painting days.
And without further ado, the finished compass rose.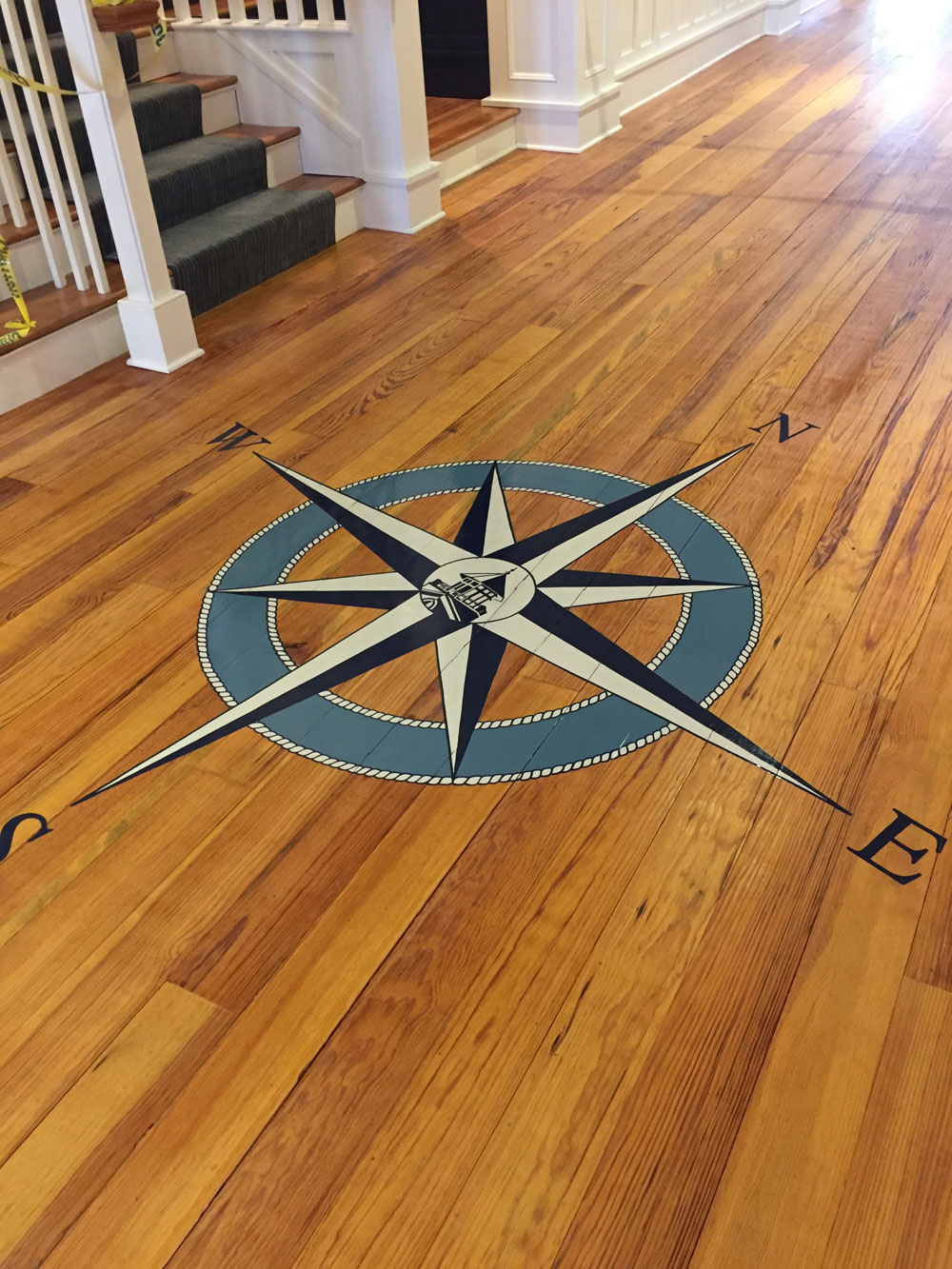 Every day, every project, I am reminded that I simply love my work.
Have an idea of where I could take an idea with you? Give me a call.