It was the perfect solution, this backsplash I painted for my best friend almost ten years ago. Just perfect, well, until it wasn't. As much as we love something, it works in the moment, it reflects our taste at the time until it all changes. Quick trip down memory lane, here's a shot of the " best backsplash in the world"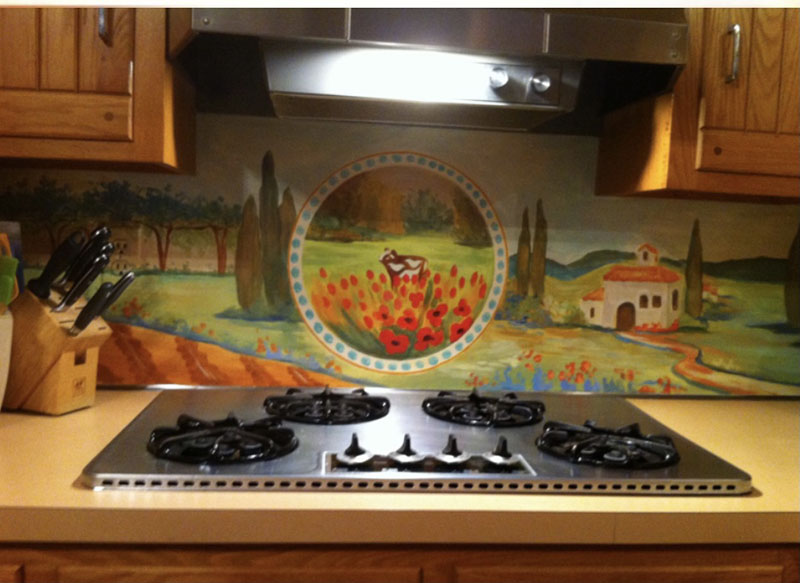 It's whimsical, loose, colorful and if you want to know more about it, check out the post at www.Leichsenringstudios.com/my-best-friends-kitchen/
But I digress. It was going to be a major change in the kitchen. The cabinetry was going to be repainted, a subtle off-white color. So before I fill you on my contribution, let me show what's involved in what is arguably the best painted cabinet work I've seen. Huge shoutout to Brennen Zaborowski at www.classicrefinishers.com (203-731-0838). The prep work and taping was meticulous. These cabinets are forty years old, in excellent shape. The finish is layers and layers of rock hard lacquer. Here's the kitchen taped and contained, ready to be sprayed.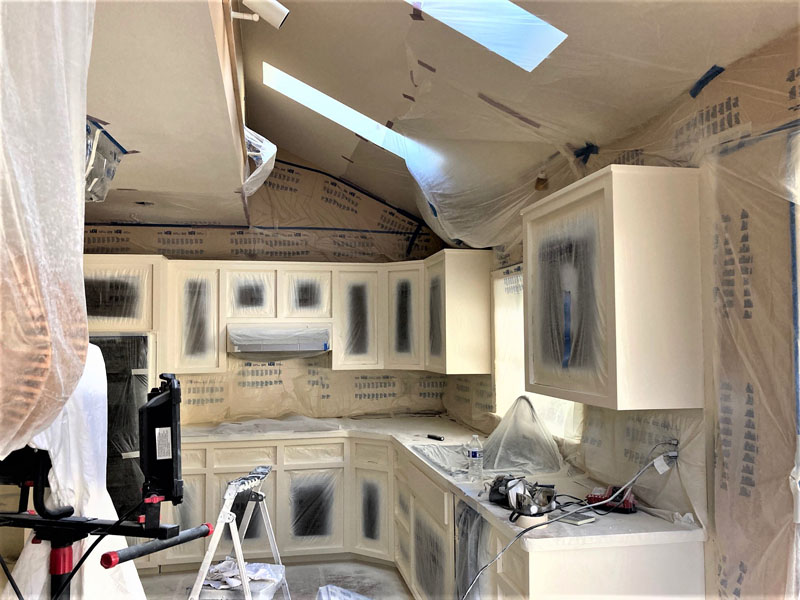 The frames were sprayed on site, the doors and drawer fronts on his shop. Now take a look at what the surfaces look like when finished.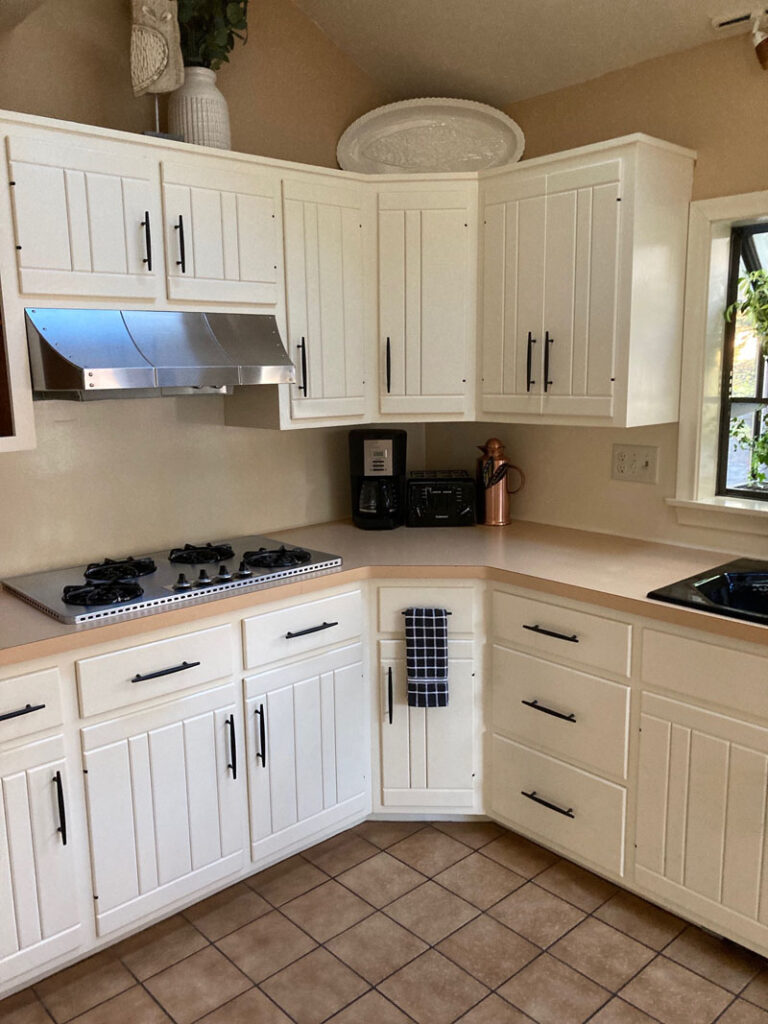 Phenomenal work, finished off with well chosen contemporary hardware and handles. I was the finishing piece to bring in the dynamic border that would make these cabinets pop.
Here are the samples I created for consideration.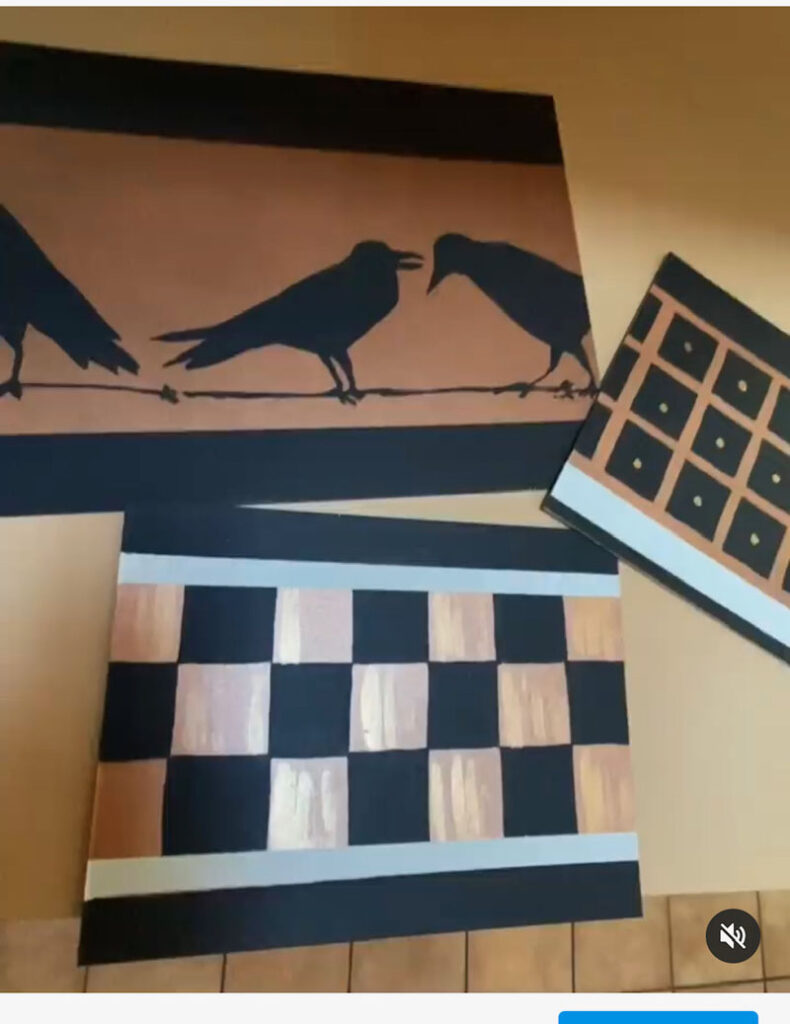 The copper background is a metallic copper paint that was then glazed with raw umber. The bright copper strokes are fine artist acrylics in bright copper. After much debate, we decided to use only the checkerboard design. The challenge in this was keeping the single color stripes razor sharp but using a looser hand in the checkerboard so it didn't look too machine done.
Here are the stripes laid in.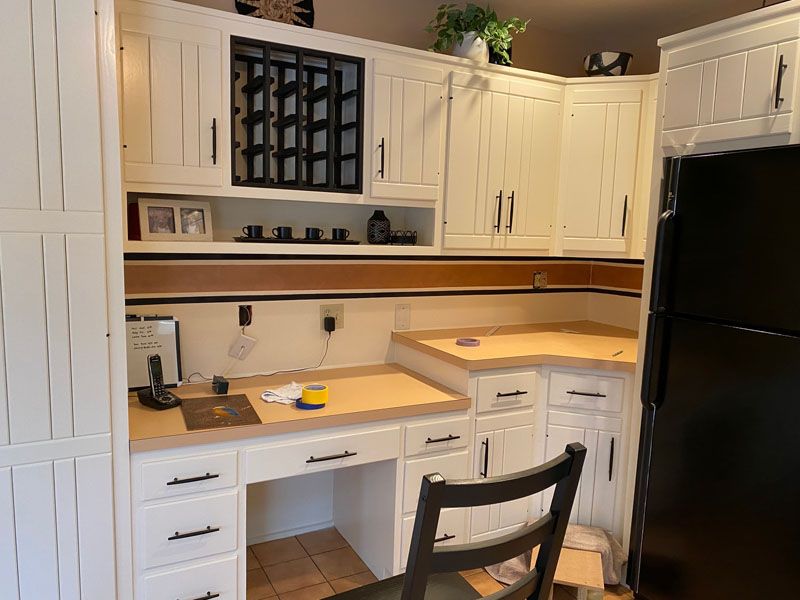 You can see how it separates the cabinets from the backsplash which are the same color. And then came the checkerboard with random copper accents. We decided not to count how many squares exactly ( somewhere over 250, but who's counting? ). What I never calculated was how awkward it was going to be to get my hands and shoulders into the deeply recessed corners. The results, however, made all the aches and pains fade quickly.
Take a look.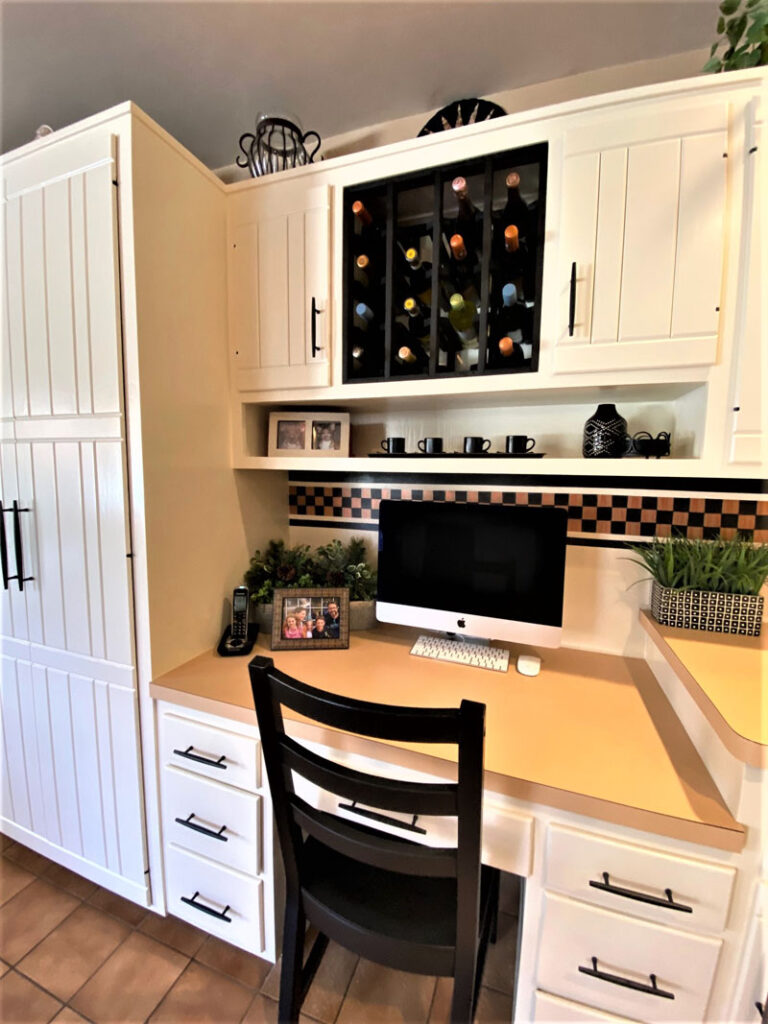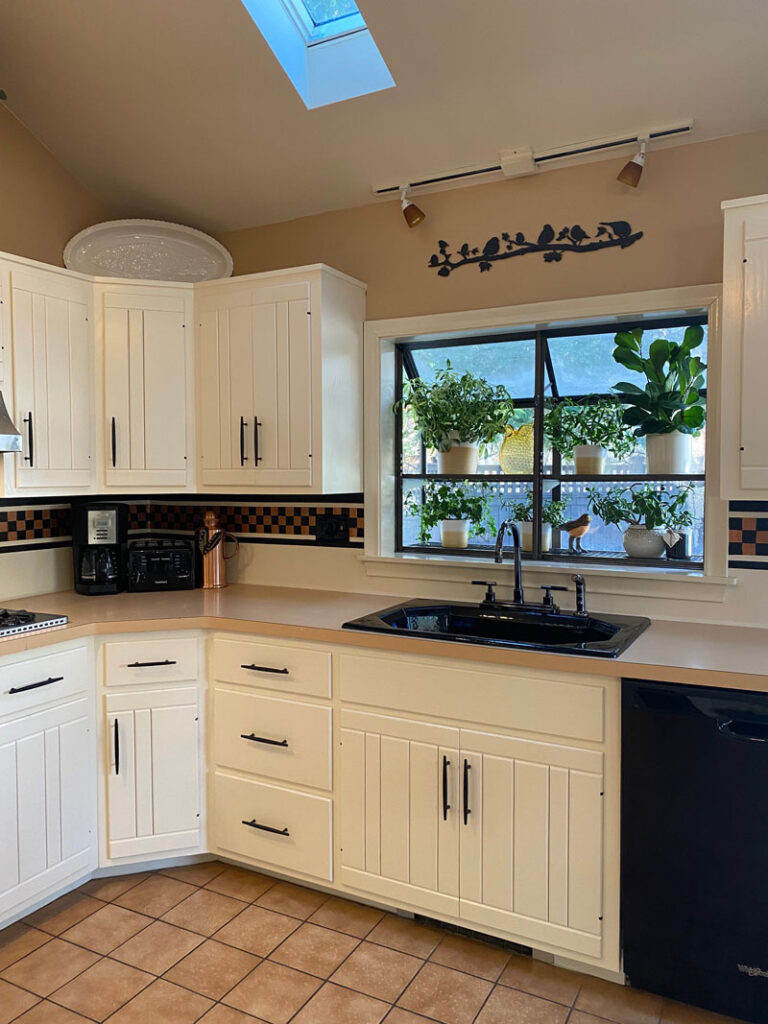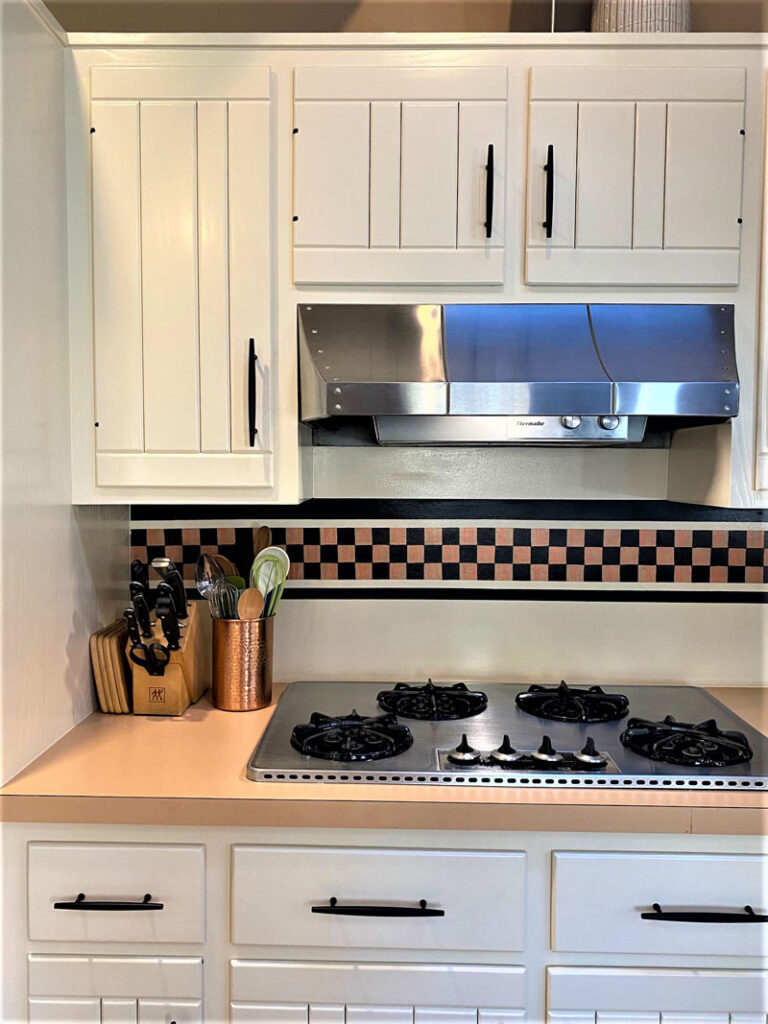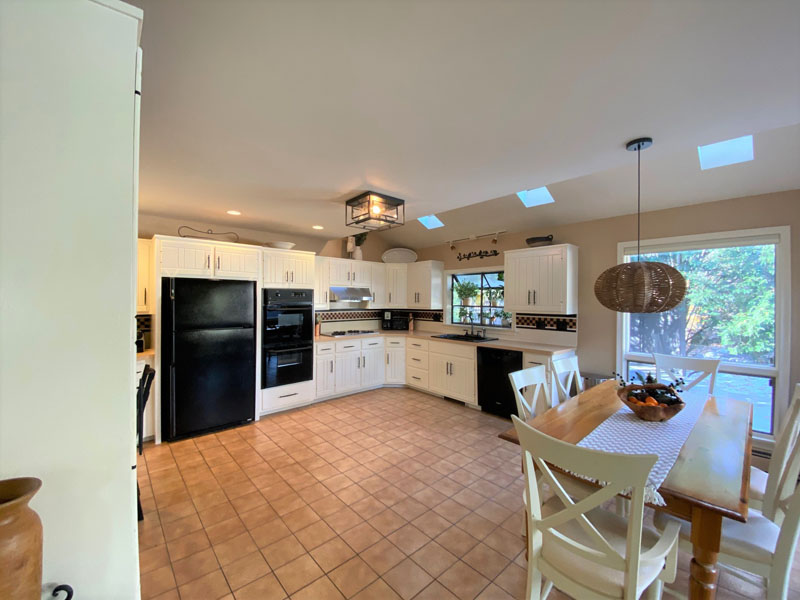 I think you'll agree, this new look is stunning.
This is what custom decorative art is all about. Sometimes a mural, other times a plaster finish. Here its as simple as stripes and squares, but they are the perfect answer. And once again, Maggie has the "best backsplash in the world".
Looking for something that's perfect for you? Give me a call.