I can't say it enough. The opportunity to create a mural in a powder room makes my heart smile. It's a chance to create a contained world in a very small space. In this case, the powder room is a scant 61" square but my painting area was 85 square feet. My heart is more than smiling here, it's doing jumping jacks! My client, a woman of extraordinary vision is requesting pure, undiluted magic. Bring a Viking village to life!
Challenge on. Here are the first two proposals.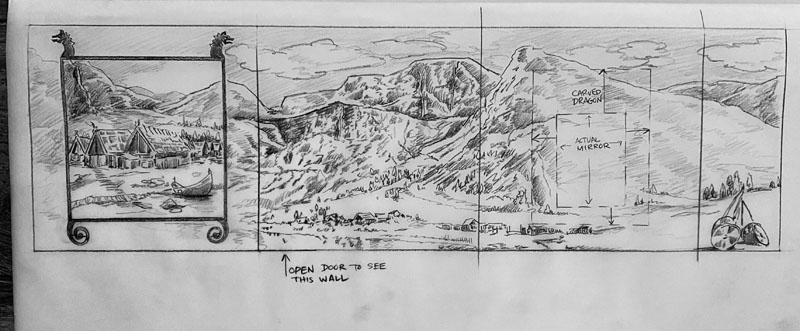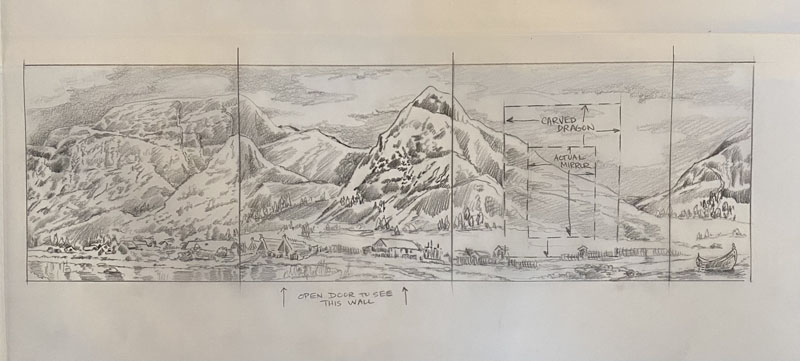 Did I forget to mention the magnificent mirror driving this concept? A carved dragon wrapped around the mirror. More about this mirror later. Suffice it to say, the dragon carvings will appear on the ships, on the long houses and on the high seat in the mural. Also, it is paired with draw dropping dragon sconces.
Here is the final approved drawing. 

I'll show you photos of the entire mural, but let's just set the mood with this video.
Here are the four walls. I've included the wall with the mirror before the mirror was hung so you can see it without the sconces and mirror.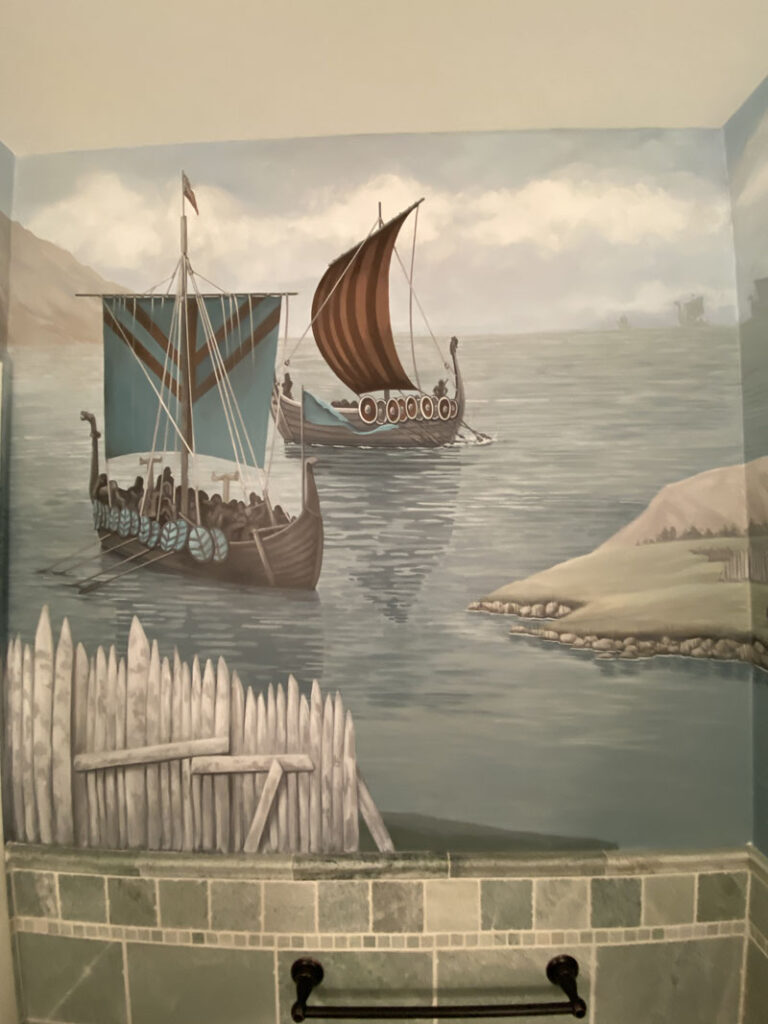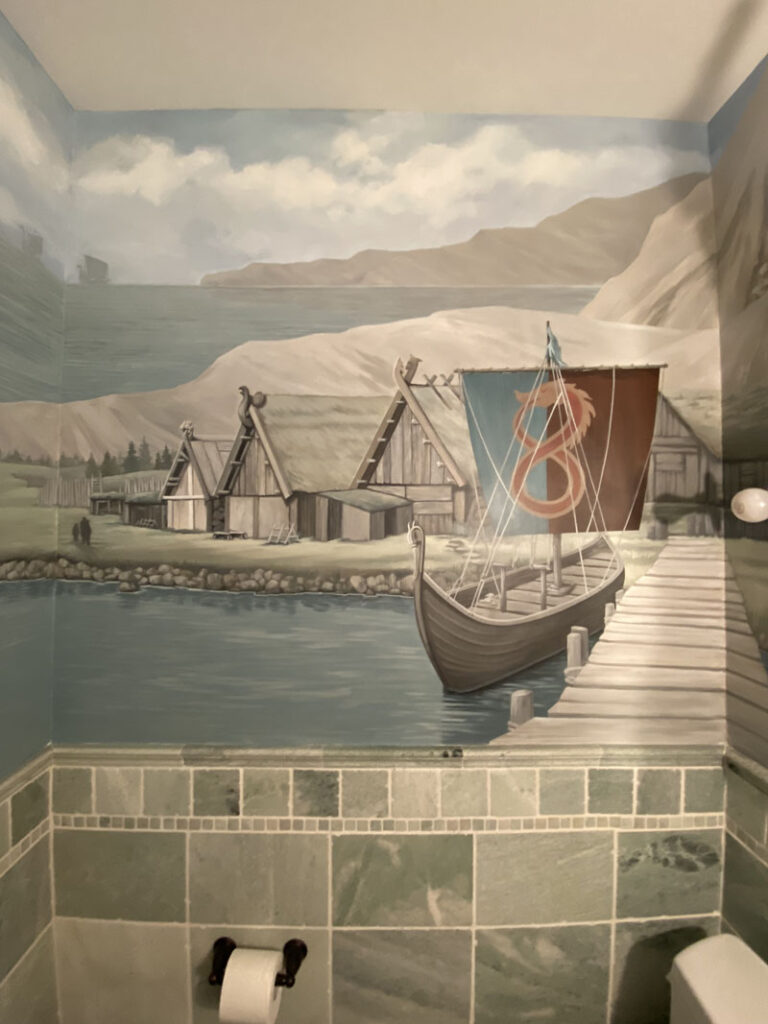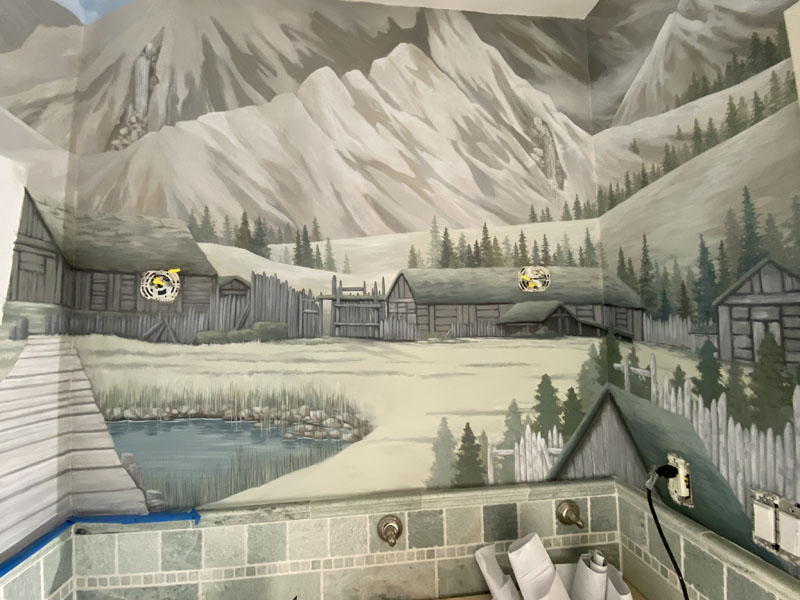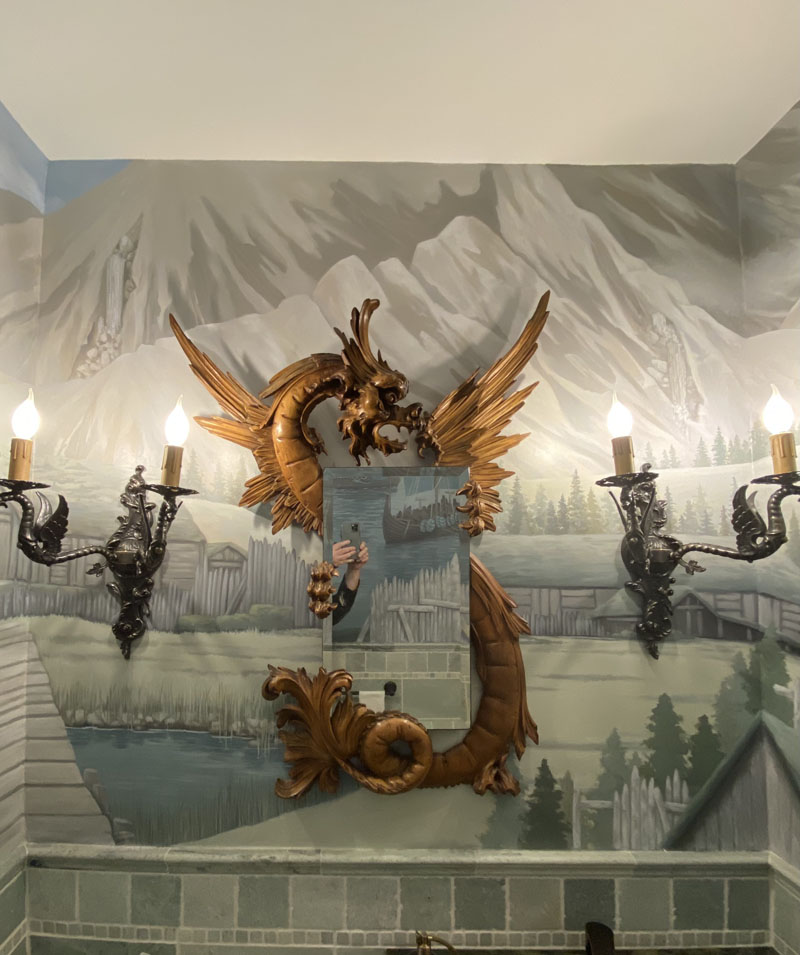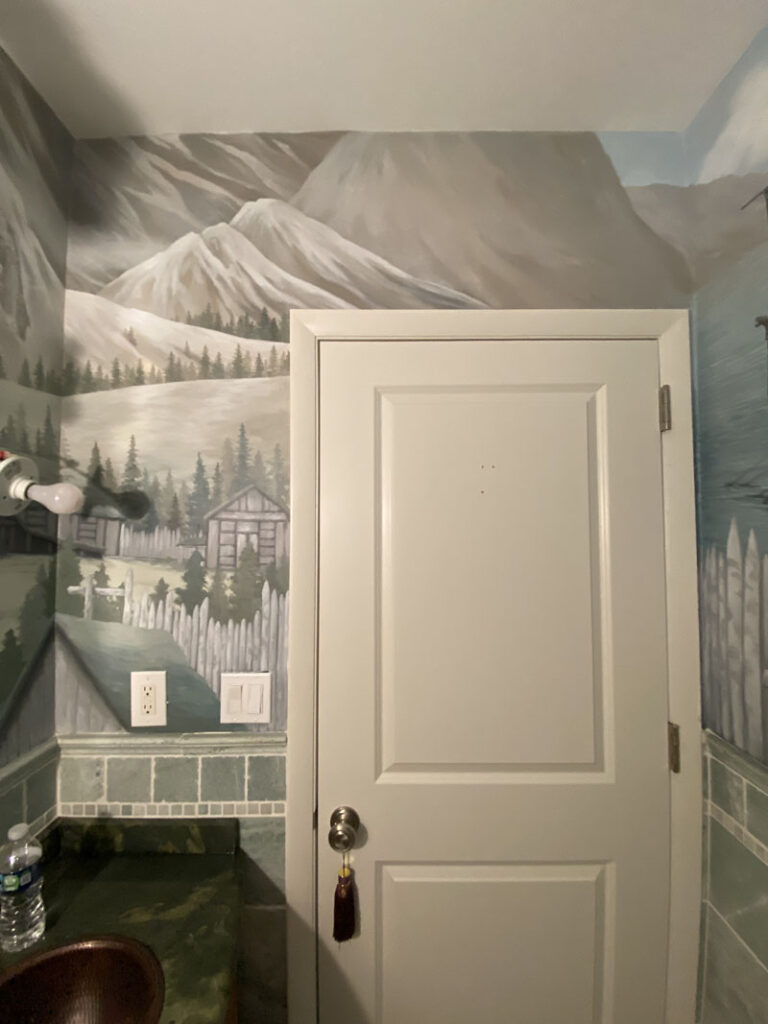 The high seat was added at the end with background found by my client. History has it that when the Vikings were approaching an area of land where they would build their settlement, two huge carved pillars were tossed overboard. Where they landed after floating to shore marked the place where the high seat of governing would be built and placed between the two erected pillars.
My client chose the animals for her high seat. On the pillars, a dragon and a deer. On the high seat you will find a raven, a bear, a wolf and a swan. This area is just under 5" square.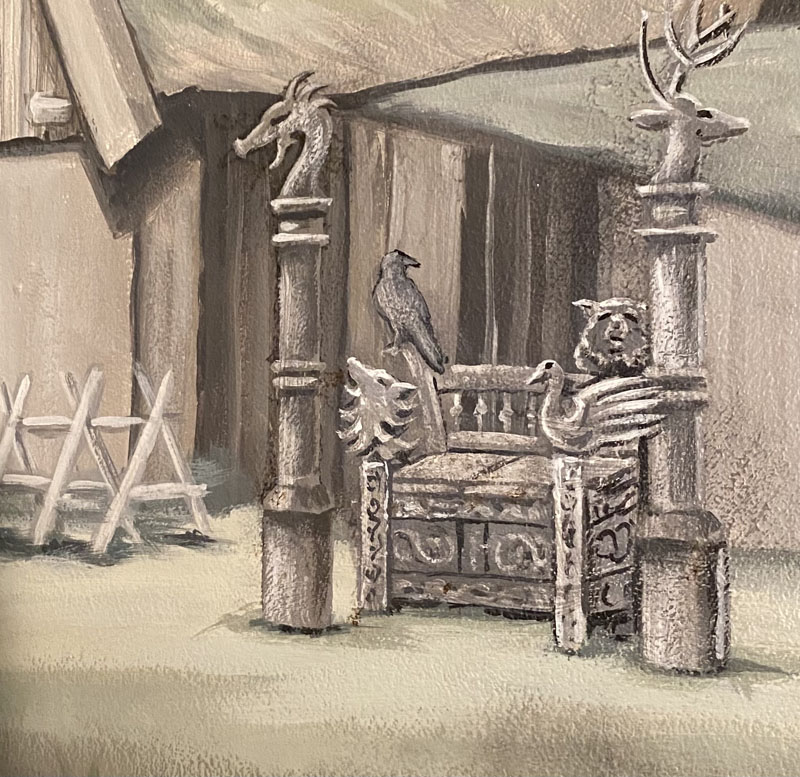 Here are two corner views that are among of favorite vistas in this mural.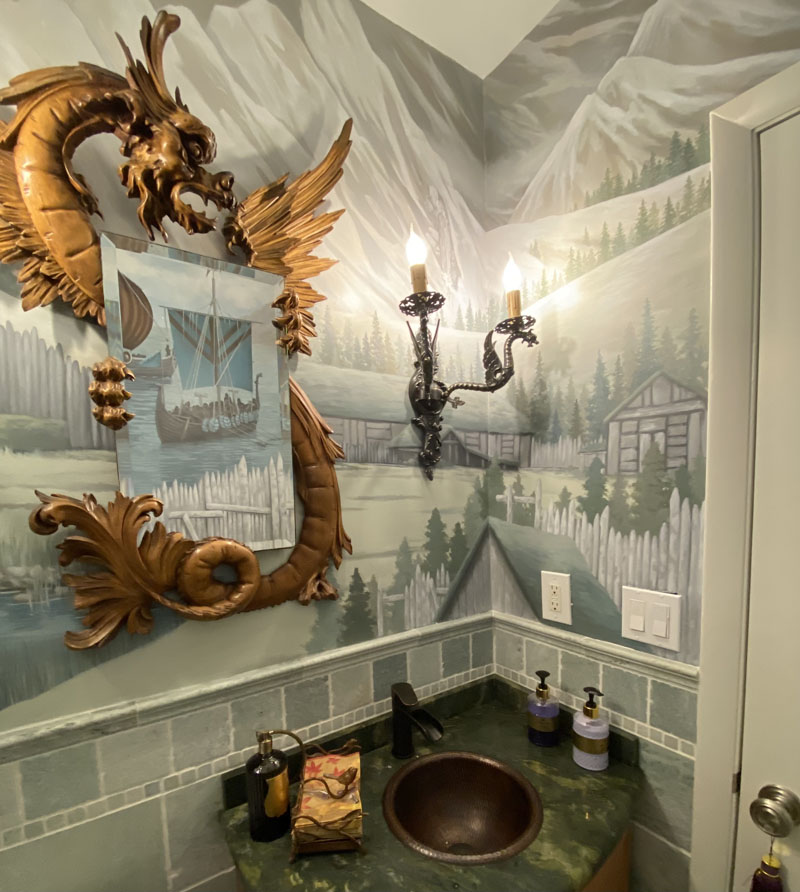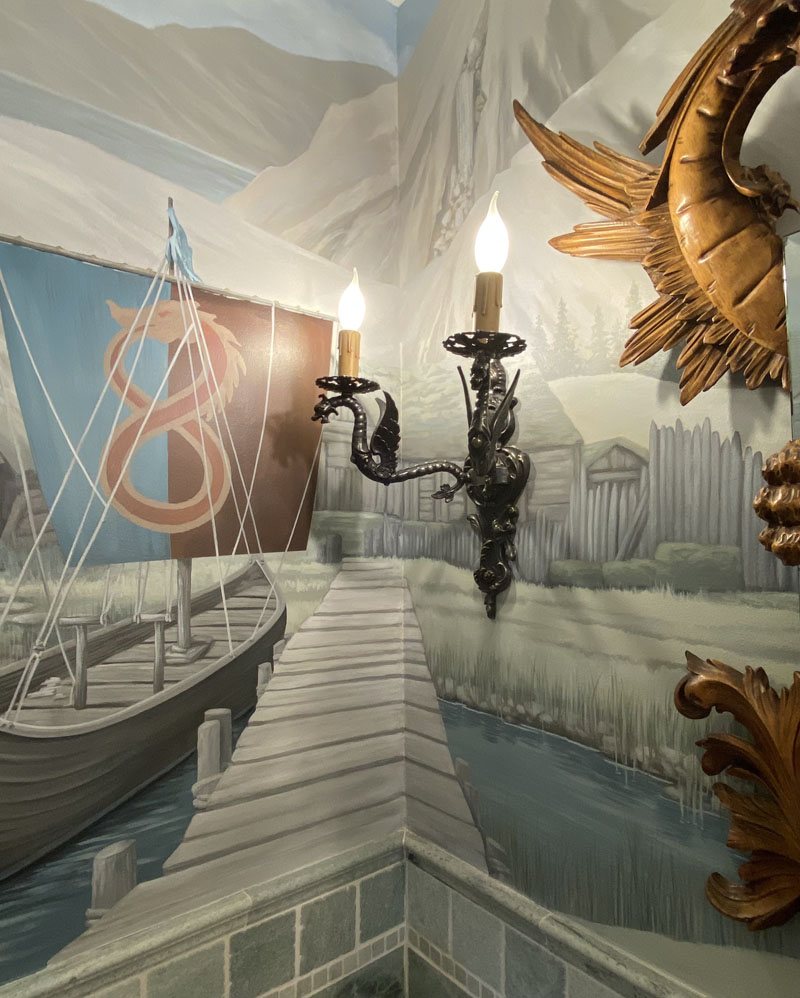 I did promise you more about this carved dragon mirror. This is not the first occasion I painted a powder room designed around it for the same client.
Curious?   Click to read about the dragon's tail I created with over 600 pieces of hand cut mica.
I hope you enjoyed your visit to my little world. There is just no limit to what I can create with paint. No limit!   Taking this moment, dear reader, to wish you a Happy and Healthy New Year. Thank you for coming along on this year's journey.